Fri, Jun 13th 2014, 8:18AM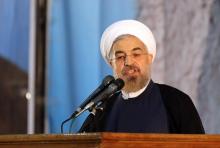 Iranian President Hassan Rouhani promised Iraq's beleaguered Prime Minister Nuri al-Maliki his government's full support against "terrorism" on Friday as Sunni Arab militants advanced towards Baghdad.
Shiite Iran is a key ally of co-religionist Maliki, whose government has been left in disarray by the collapse of its security forces since Monday across a swathe of northern and north-central Iraq, including second city Mosul.
Rouhani told Maliki in a telephone call that Tehran would do its utmost to "combat the massacre and crimes of the terrorists," his office said.
Iran "will not allow the supporters of terrorists to destabilise Iraq," he said, welcoming a call by top Shiite cleric Grand Ayatollah Ali al-Sistani for Iraqis to volunteer to join the fight against the militants.
Foreign Minister Mohammad Javad Zarif telephoned UN chief Ban Ki-moon to express Iran's deep concern over the offensive, spearheaded by Sunni extremists of the jihadist Islamic State of Iraq and the Levant group, Iranian media reported.
ISIL's offensive was a "danger that goes beyond borders," Zarif said.
Neither Rouhani nor his foreign minister gave any details of the support that Iran was offering.
But a former army intelligence officer said Tehran could offer military advice similar to that which it has given Syrian President Bashar al-Assad in his own battle against Sunni-led rebels.
"We already defeated them and their tactics. It can be done once again," the retired officer said.
Iran has had military advisers in Syria since 1980 when Damascus took Tehran's side when now executed Iraqi dictator Saddam Hussein sent in his troops, sparking a devastating eight-year war.