Thursday, March 15
6:30 - Thursday, May 3
6:30 pm
Washington, District of Columbia 20036
Event Information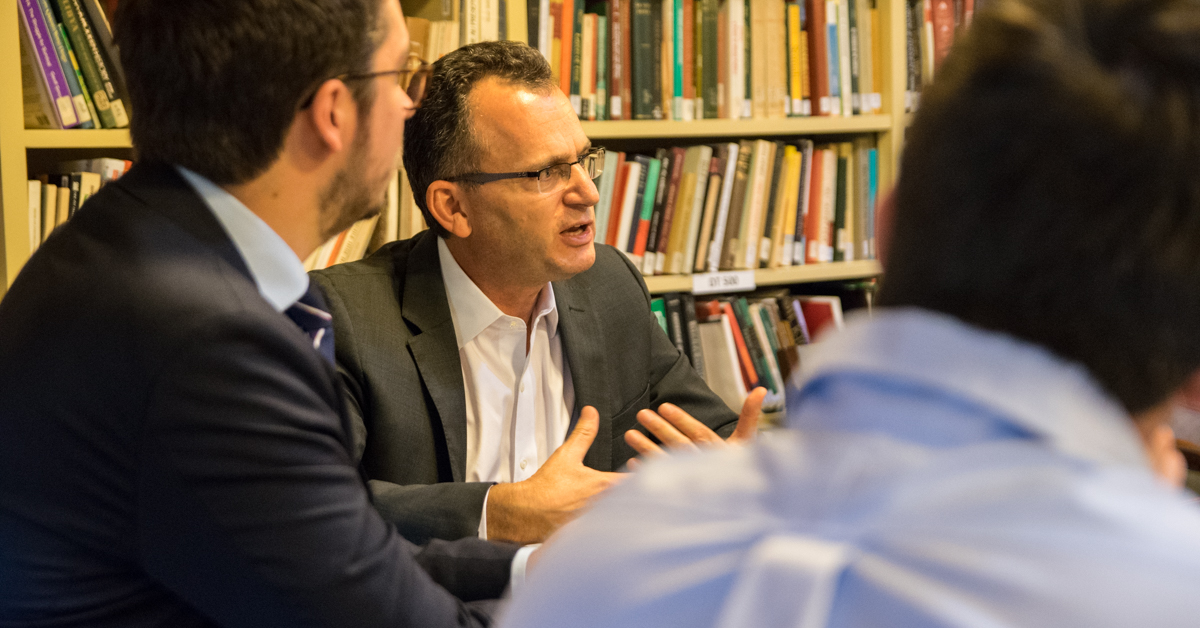 The Middle East Institute's Department of Languages and Regional Studies is pleased to announce a new regional studies course being offered for beginner to intermediate students of any age who wish to gain a better understanding of today's issues facing the Middle East.
Dates & Time
March 15th to May 3rd
Thursdays, 6:30 PM to 8:00 PM
Course Description
This course will offer students an in depth look into the future of the Middle East and what changes can be expected in the coming decade through weekly lectures and discussions led by MEI's renowned experts. Key issues will include the future of terrorism and cyber crime, gender equality, environmental impacts, renewable energy, and human rights. The completion of this course will give students the opportunity to gain essential knowledge on the Middle East that can be used in future life experiences and career endeavors. 
Tuition
$320
Contact Information
Middle East Institute
1319 18th Street NW
Washington DC 20036
languages@mei.edu
202-785-2710
Course Lineup
OVERVIEW: THE MIDDLE EAST IN 2030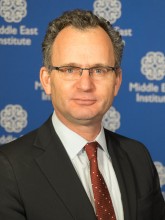 Paul Salem, Senior Vice President of Policy and Research Programs
Paul Salem focuses on issues of political change, transition, and conflict as well as the regional and international relations of the Middle East.  He has a particular emphasis on the countries of the Levant and Egypt. Salem writes regularly in the Arab and Western press and has been published in numerous journals and newspapers. Salem is the author and editor of a number of books and reports including From Chaos to Cooperation: Toward Regional Order in the Middle East (ed. with Ross Harrison, 2017), Broken Orders: The Causes and Consequences of the Arab Uprisings (In Arabic, 2013), "The Recurring Rise and Fall of Political Islam" (CSIS, 2015), "The Middle East in 2015 and Beyond: Trends and Drivers" (MEI 2014), Bitter Legacy: Ideology and Politics in the Arab World (1994), Conflict Resolution in the Arab World (ed., 1997).  Prior to joining MEI, Salem was the founding director of the Carnegie Middle East Center in Beirut, Lebanon between 2006 and 2013.  From 1999 to 2006, he was director of the Fares Foundation and in 1989-1999 founded and directed the Lebanese Center for Policy Studies, Lebanon's leading public policy think tank.
A FUTURE OF EQUALITY: hUMAN RIGHTS TRENDS AND CHALLENGES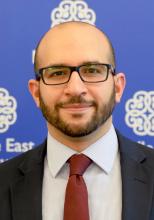 Ibrahim al-Assil, Fellow
Ibrahim al-Assil is a Syrian political analyst and civil society activist and serves as a resident fellow at the Middle East Institute. He is also a non-resident fellow at the Orient Research Center in Dubai. His work focuses on the Syrian conflict with an emphasis on different aspects of security, civil society, political Islam, and political economy. Al-Assil is the president and a co-founder of the Syrian Nonviolence Movement, an NGO formed in 2011 to promote peaceful struggle and civil resistance as a way to achieve social, cultural, and political change in Syrian government and society. In 2013-2014, he frequently visited northern Syria, where he lead an initiative to train Syrian activists about strategic planning and project management and conducted studies on the current status and potential role civil society plays in northern Syria. Al-Assil is an avid blogger and has been published in a variety of media outlets. Also, he was chosen by the Swedish Institute in 2013 as a young leader from the MENA region.
THE PROSPECTS OF A POST OIL ECONOMY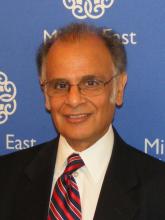 Zubair Iqbal, Scholar
Prior to joining the MEI as adjunct scholar in 2008, Dr. Zubair Iqbal worked with the International Monetary Fund (IMF) for 35 years, retiring in 2007 as Assistant Director of the Middle East and Central Asia Department. Before joining the IMF, Iqbal worked as Senior Research Fellow, Department of Economics, Islamabad University, Islamabad, Pakistan.
At the IMF, Iqbal held multiple postings ranging from those for the development of macroeconomic and exchange and trade policies for adjustment and growth in member countries, strategies for IMF-member country relations, design of adjustment programs for the balance of payments assistance and technical support. During the period, Iqbal participated in missions to 54 countries in Africa, Asia, the Middle East, Europe, and Latin America. During the last two decades, the primary focus was on the Middle Eastern and Central Asian countries, including as mission leader to 16 countries, both oil producers and oil importers. He also served as senior advisor to the Saudi Arabian Executive Director to the IMF. In addition to operational work, Iqbal conducted and guided research in trade policy issues, role and effectiveness of foreign aid, external debt, Islamic banking and finance, regional integration (primarily in the Middle East), and transition from oil dependence to more diversified economies. In the process, he wrote or edited 5 books and over forty articles in the IMF and external research publications.
While at the MEI, Iqbal has coordinated discussions of the Working Group on Pakistan's economy and has been writing notes and articles on regional developments, including Pakistan's economic challenges, factors underlying the democratic movement in the Arab world, and outlook for the future. In addition, he has been commenting on the regional developments on the Voice of America, BBC, and Bloomberg, besides national and international newspapers.
U.S. Security Assistance: Challenges & Opportunities

Bilal Saab, Senior Fellow and Director of Defense and Security Program
Bilal Y. Saab is senior fellow and director of the Defense and Security Program at the Middle East Institute. He specializes in the Levant and the Persian Gulf. Previously, he was senior fellow and director of the Middle East Peace and Security Initiative at the Atlantic Council's Brent Scowcroft Center on International Security, where he also created and chaired the Gulf Policy Working Group and led the Middle East Crisis Simulation Series. Saab is a term member with the Council on Foreign Relations.
A native of Lebanon, Saab has experience living in the Middle East for more than two decades. Throughout his career, Saab held various research and analytic positions in the United States, Europe, and the Middle East including at Brookings, CSIS, Center for Nonproliferation Studies, Center for the Study of Terrorism and Political Violence, Middle East Institute, and Lebanese Center for Policy Studies. A prolific and widely published scholar in peer-reviewed academic and policy journals (for a list of publications and speaking engagements please consult the publications page of his personal website), he is often called upon to brief and publicly testify before various executive and legislative agencies in the U.S. Government and European governments. Saab has contributed to and appeared on American and international media outlets including NPR, PBS, Associated Press, Washington Post, New York Times, Wall Street Journal, New Yorker, and Bloomberg.
The Evolving Geopolitical Landscape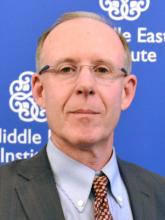 Ross Harrison, Scholar
Ross Harrison is a scholar at The Middle East Institute and is on the faculty of the School of Foreign Service at Georgetown University. From 2007-2013, he was professor in the practice of international affairs at Georgetown, serving as chair of the international commerce and business concentration in the Master of Science in Foreign Service (MSFS) program. Ross is also on the faculty of the political science department at the University of Pittsburgh, teaching courses in Middle East politics. He annually teaches a course on strategy and international security to senior Georgian government officials at the Georgian Foundation for Strategic and International Studies in Tbilisi, Georgia, funded by the U.S. Department of State.
Harrison authored Strategic Thinking in 3D: A Guide for National Security, Foreign Policy and Business Professionals (Potomac Books, 2013), which currently is a required strategy text at the U.S. National War College. Related to the book release, he has lectured at the U.S. Department of State, the National War College and National Defense University, Georgetown University, and the Matthew B. Ridgway Center for International Security Studies. He has also been published in policy-related outlets such as The National Interest, Al Monitor, The Middle East Journal, and Parameters (the U.S. Army War College Journal). Harrison lives in Washington, D.C. with his wife Mahnaz.
THE EVOLUTION OF TERRORISM & CYBERCRIME
Charles Lister, Senior Scholar
Charles Lister is a senior fellow at the Middle East Institute. His work focuses primarily on the conflict in Syria and on issues of terrorism and insurgency across the Levant. Since September 2016, Lister has managed the Middle East Institute's Countering Terrorism project. Prior to this, Lister also managed nearly three years of intensive face-to-face engagement with the leaderships of over 100 Syrian armed opposition groups, on behalf of the multinationally-backed Syria Track II Dialogue Initiative. 
Lister is a frequent source of briefings on the Syrian insurgency to political, military and intelligence leaderships in the United States and across Europe and the Middle East. He appears regularly on television media, includingCNN, BBC and Al-Jazeera, and his articles have been widely published in the New York Times, the Washington Post, BBC, CNN, Foreign Affairs and Foreign Policy, among others. 
Lister has previously held positions as a visiting fellow at the Brookings Institution's Doha Center in Qatar and as head of MENA at IHS Jane's Terrorism and Insurgency Center in London, UK. 
The Potential for Renewable Energy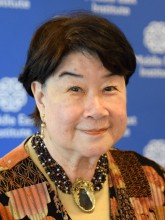 Molly Williamson, Scholar
Molly Williamson speaks extensively on U.S. foreign policy. She is a scholar with the Middle East Institute, a consultant, and a member of the Boards of the International Executive Service Corps, the American Academy of Diplomacy, and Noble Energy. She is a retired Foreign Service Officer, having served six U.S. Presidents, achieving the rank of Career Minister. Williamson has had a unique combination of senior executive policy positions in four Cabinet Departments of the government. Her postings include: senior foreign policy advisor to the U.S. Secretary of Energy, Deputy Assistant Secretary in the Departments of State, Defense, Commerce, U.S. interim ambassador to Bahrain, and Chief of Mission and Consul General in Jerusalem during the Madrid Peace process which culminated in the Oslo Accords. 
eNVIRONMENTAL CHANGE & HUMAN SECURITY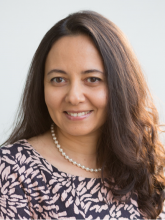 Amal Kandeel, Scholar
Amal Kandeel is a non-resident scholar at the Middle East Institute. She specializes in the political economy of the Middle East, and particularly in water and food security, agriculture and climate change, and poverty and rural development issues. Her work has been focused on Egypt, as well as on Jordan, Syria, Morocco, and the UAE.
Amal worked previously as an independent analyst and advisor, lecturer, and writer on socioeconomic development and political economy issues in the Middle East, providing specialized services to organizations that included the Library of Congress, Georgetown University, the United States Institute of Peace, and Qatar National Food Security Program, as well as other U.S. and Arab organizations. She has lectured in venues in the United States, Egypt, Jordan, and Germany on peace and development, economics, food and water security, and international water law. Her work and articles have been published inside and outside the United States, including by the United States Institute of Peace; Economists for Peace and Security; MEC, London; Arab Studies Quarterly; Middle East Policy; The National, UAE; Al-Arabiya News; and Saudi Gazette. During her advisory work, she also founded and led Pioneers International, a services company established to facilitate the adoption of progressive development solutions and technologies in Middle East countries.
*Instructor line up subject to change