Podcast
Thu, Sep 28th 2017, 10:13AM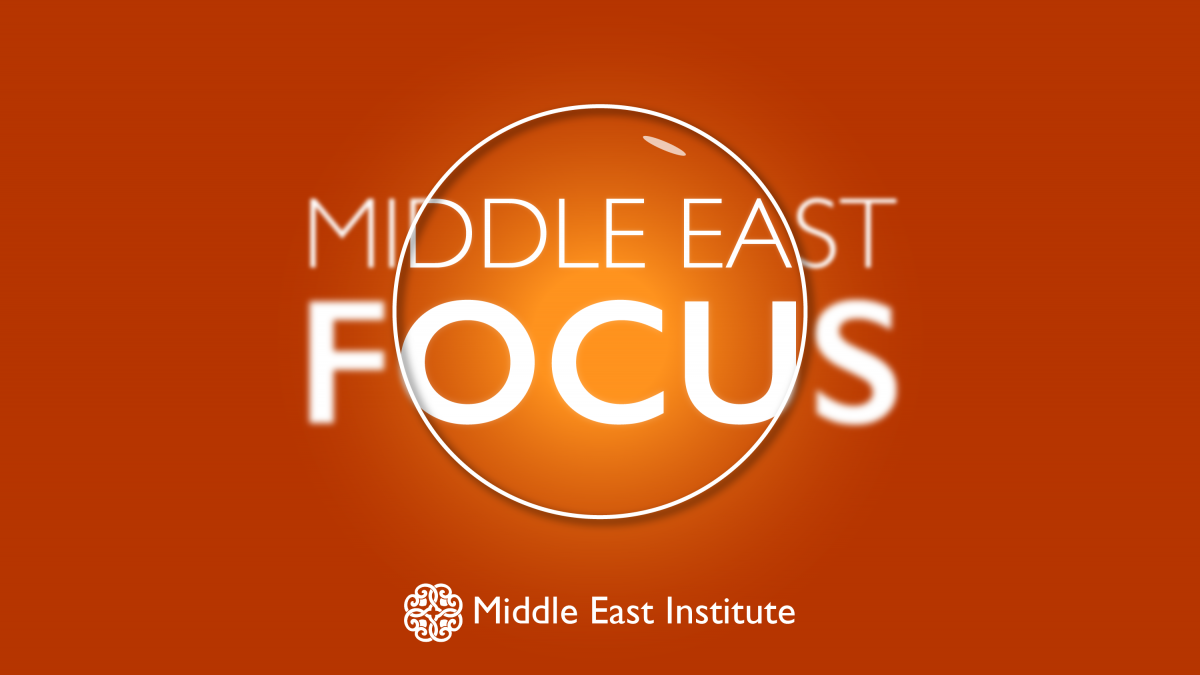 Middle East Focus is a weekly podcast featuring discussion and analysis on U.S. foreign policy, contemporary political and social issues in the Middle East, and the arts and culture of region. It is hosted by Paul Salem.
 Subscribe on iTunes
Latest Episode
December 12, 2017 - The big news in recent days has been President Trump's very contentious decision to recognize Jerusalem as Israel's capital. It was a decision roundly condemned by allies in Europe and the Middle East and marks a major shift in U.S. policy. MEI expert Eran Etzion, Yousef Munayyer, and Nathan Stock join host Paul Salem to discuss the fallout.
---
Past Episodes
December 7, 2017 - The killing of former Yemeni president Ali Abdullah Saleh marks a major turning point in Yemen's ongoing civil war. Nadwa Al-Dawsari (POMED) and Gerald Feierstein (MEI) join Paul Salem to discuss the immediate fallout and what lies ahead.
December 1, 2017 - From mixed signals over U.S. policy toward Syria's Kurds, to an alleged kidnapping plot involving Michael Flynn, to the implication of President Erdogan in an international corruption scheme, U.S.-Turkey relations have struggled to find solid ground. Nicholas Danforth, senior policy analyst at the Bipartisan Policy Center, and Gonul Tol, director of Turkish studies at the Middle East Institute, join host Paul Salem to explain these stories and what they mean for both countries.
November 16, 2017 - The war in Afghanistan has dragged on for 16 years, appearing to many Americans to have no end in sight or positive outcome. However, as Gen. Mattis recently testified, "Violence and progress in Afghanistan continue to coexist." What is that progress, and what does it mean for Afghans themselves? Saad Mohseni, chairman and CEO of Moby Media Group, and Ahmad Majidyar, director of MEI's IranObserved project, join host Paul Salem to discuss the positive changes taking place in the country.
November 9, 2017 - Last weekend's arrests of prominent Saudi government officials and leading businessmen on charges of corruption has sent shockwaves through Saudi society as well as global center of finance and commerce. The developments also impacted Lebanon, with Prime Minister Saad Hariri announcing his resignation from the Saudi capital of Riyadh. MEI experts Gerald Feierstein, Jean-Francois Seznec, and Randa Slim join host Paul Salem to discuss these developments.
November 4, 2017 - Last week's terrorist attack in New York City utilized similar tactics to other low-tech attacks carried out in western Europe, closely following the ISIS playbook. Jasmine El-Gamal, Charles Lister, and Will Wechsler join host Paul Salem to discuss what the attack means for U.S. counterterrorism policy and the future of the fight against ISIS.
October 26, 2017 - In their new report for the Atlantic Council, "U.S. Strategy Options for Iran's Regional Challenge," and an essay version published in the Washington Quarterly, Bilal Saab and Kenneth M. Pollack lay out a "pushback" strategy to weaken Iran's regional influence. The co-authors join host Paul Salem to weigh the strengths and weaknesses of this and other strategies in this week's podcast.
October 19, 2017 - Who will win the spoils from ISIS' demise in Syria? The Syrian civil war is entering a new phase with the liberation of Raqqa, as well as the Turkish intervention in the north. MEI experts Paul Salem, Charles Lister, Ibrahim al-Assil and Gonul Tol discuss the latest developments in Syria.
October 11, 2017 - The Russians dramatically stepped up their involvement in the Middle East in 2015 when they intervened militarily in the Syrian conflict to support President Assad. Since then, Moscow has become a hot destination, with more heads of state from the Middle East visiting the Russian capital than Washington this year. MEI experts Robert Ford, Gerald Feierstein, and Gonul Tol join host Paul Salem to discuss what this trend means for the region.
October 4, 2017 - On September 25 Iraq's Kurdish region pressed ahead with a controversial independence referendum. MEI experts Randa Slim, Gonul Tol, and Ahmad Majidyar join host Paul Salem to discuss the implications of the vote and what happens next.
Sep 26, 2017 - President Donald Trump spent a portion of his first speech before the U.N. General Assembly attacking Iran. MEI experts Gerald Feierstein and Ahmad Majidyar join host Paul Salem for a discussion of the speech and what lies ahead for U.S.-Iran relations and the nuclear deal.