This essay is part of the series "All About China"—a journey into the history and diverse culture of China through essays that shed light on the lasting imprint of China's past encounters with the Islamic world as well as an exploration of the increasingly vibrant and complex dynamics of contemporary Sino-Middle Eastern relations. Read more ...
---
Over the past two decades, tens of thousands of Chinese workers have flowed into Algeria. A Chinatown has sprouted in Boushaki City, a subdivision of Bab Elzzour on the eastern outskirts of Algiers.[1] Although the Chinese quarter is not marked by a pagoda-style three-arched gate or adorned with red lanterns, other visible signs of a significant and growing Chinese presence dot the landscape of the capital, including the Algiers Opera House in the Ouled Fayat suburbs, which opened its doors in July 2016 — the product of a $40 million gift from Beijing. Meanwhile, a Chinese construction team is busy at work building the Djamaa El Djazair mosque, which features the African continent's tallest minaret.[2]
Indeed, China's footprint in Algeria has expanded since 2001, much as it has throughout the Middle East and the continent of Africa. In 2014, the Sino-Algerian bilateral relationship was elevated to a "Comprehensive Strategic Partnership," and since then has further developed. This essay discusses the roots, substance and scope, and limitations of the blossoming Sino-Algerian relationship.
ROOTS OF THE RELATIONSHIP
The steady growth of the Chinese presence in the Maghreb[3] is a reflection of the relatively recent transformation of China's capabilities, status, and aspirations. Yet, the foundation for the friendly and fruitful relationship between the People's Republic of China (PRC) and Algeria was laid six decades ago.
The PRC was an early and enthusiastic supporter of the Front de Liberation Nationale (FLN). When the FLN declared the Algerian provisional government in December 1958, China was the first non-Arab country to recognize it.[4] By that time, Mao had come to regard Africa as a newly important factor in world politics. As one scholar has written,
Peking [Beijing] regarded the Algerian Front de Liberation (FLN) as an avant-garde anti-colonialist movement and sought to shape it, along the lines of the Viet-Minh movement in Indo-China, into an instrument of revolutionary strategy against France and the West generally.[5]
The Chinese viewed Algeria not just as the linchpin of the anti-colonial and anti-imperialist struggle in Africa but also as a means of validating their revolutionary-ideological claims ...
The Chinese viewed Algeria not just as the linchpin of the anti-colonial and anti-imperialist struggle in Africa but also as a means of validating their revolutionary-ideological claims[6] and later as a prize in the inter-communist rivalry with the Soviet Union.[7] But even today, Beijing's rhetorical framing of its intentions and activities in Algeria, and in Africa generally, proclaims an "imagined fraternity with African anti-colonial and developmental struggles" and an image of China as a uniquely non-exploitative international actor.[8] That said, Beijing's support for the FLN also stemmed from practical political considerations. Beijing sought to leverage aid projects in Algeria and elsewhere in the developing world in order to obtain support for its "One China" policy and to bolster its claim to represent China at the United Nations.[9]
Between 1958 and 1962, the Chinese provided military assistance (i.e., funds, arms, and equipment) to the Armée de Libération Nationale (ALN), the armed wing of the FLN, with diplomatic missions elsewhere in Africa (e.g., Morocco, Guinea) serving as transit points for their activities.[10] After Algeria gained independence in 1962, China provided various forms of material support: donating shipments of wheat, laminated steel, school equipment, a 13,000-ton freighter, and four transport aircraft; extending a $50 million low-interest loan;[11] and dispatching a medical team and supplies.[12]
During the 1960s, China became progressively more involved in Africa, with Algeria serving as a bridgehead for aid to the continent's national liberation movements.[13] On the political front, China and Algeria closely coordinated their efforts in the United Nations on issues ranging from the Arab-Israeli conflict to apartheid in South Africa.[14] Yet, China encountered a number of challenges and limitations in consolidating its relations with Algeria. In providing aid to post-independence Algeria, China found itself outmatched by the Soviet Union and the West.[15] China's relations with Algeria soured over the new revolutionary government's increasing cooperation with the Soviet Union.[16] In fact, policy toward Algeria became a source of Sino-Soviet friction[17] while the intensification of the rivalry between Moscow and Beijing, in turn, complicated China's relations with Algeria, which, aiming to advance its own ambitious agenda, sought to promote Third World solidarity.[18]
During the radical initial phase of the Cultural Revolution (1967-1971), which produced intense domestic upheaval, China reduced its activities in Afro-Asia. Thereafter, China embarked on an effort to revive its foreign policy, but focused most of its attention and an extensive aid program on Southern Africa, as opposed to the Maghreb.[19] During the 1980s, the Chinese and Algerian economies followed markedly different trajectories. Reforms initiated by Deng Xiaoping in 1978 precipitated China's opening up to global markets, within the span of little over a decade transforming the country into a manufacturing powerhouse. In contrast, Algeria's economic situation deteriorated markedly, worsened by the collapse of oil prices and decline in the value of the dollar.[20] The 1990s was a decade marked by acute economic and political crises that gave way to a protracted period of brutal conflict.[21] During this "dark decade," China reportedly sold an estimated $100 million in arms to Algeria,[22] though in other respects commercial relations remained flat.
RENEWED PARTNERSHIP
The pace and character of progress in the development of the bilateral relationship since the early 2000s has, to a large extent, been shaped by internal developments in Algeria. With security and stability to the country restored, and flush with cash from windfall oil revenues, the Algerian government enacted two policy initiatives — the Economic Support and Recovery Plan (or PSRE, 2001-2004) and Complementary Growth Support Program (or PCSC, 2005-2009) — designed to revitalize and diversify the economy. The PSRE and PCSC featured a massive public investment program, with emphasis on basic infrastructure and housing. Enter China …
1. Engineering and Construction Contracts
China has played an important role in Algeria's construction boom. [See Figure 1.] Chinese state-owned companies quickly moved to secure major contracts,[23] initially in the low-cost housing sector. They were subsequently awarded contracts for many other, larger infrastructure projects: the building of the new airport in Algiers, the Olympic Stadium of Oran, the Foreign Office, the Constitutional Court, the country's largest prison and five largest hotels, as well as its first national shopping mall; the expansion of the railway network and the East-West Highway; and the construction of a 750-km water pipeline from Salah to Tamanrasset.[24] Chinese companies have also had some recent success in the downstream energy sector.[25]   
Figure 1. Number of Chinese Construction Contracts in Algeria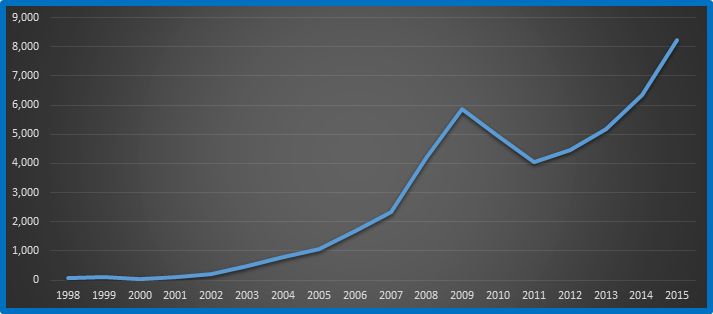 Source: China Africa Research Initiative (CARI), http://www.sais-cari.org/s/Uploaded_ContractData-nnc5.xlsx.
2. Bilateral Trade
In the early 2000s, China's share of Algeria's foreign trade was negligible. Since then, however, the value of Sino-Algerian trade has risen dramatically. [See Figure 2.] Algeria has become China's most important market in the Maghreb. Meanwhile, China has overtaken France as Algeria's largest source of imports. Algeria-China transactions are now settled in yuan instead of U.S. dollars.
Figure 2. China's Bilateral Trade with Algeria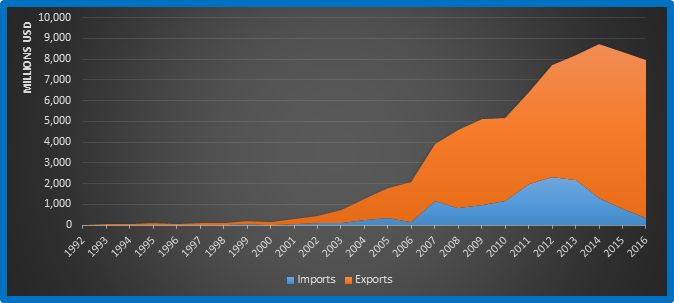 Source: U.N. Comtrade Database, https://comtrade.un.org/data/.
Several specific features of Algeria-China trade are worth highlighting. First, there is a large trade imbalance, with Algeria recording increasingly large deficits. Second, similar to the composition of trade between China and many other resource-rich developing countries (though not depicted in Table 1), Chinese imports from Algeria are dominated by crude oil and petroleum products while exports to Algeria are made up almost exclusively of manufactured goods. Third, the era of "suitcase traders" has effectively come to an end, as import-export enterprises have proliferated, bolstered by the arrival of Chinese traders, who have adapted to the Algerian market and become firmly anchored in the country.[26]
3. Joint Venture Investment
Over the past several years, Chinese joint venture activities in Algeria have become increasingly diversified, ranging from investments in the mining sector[27] and cement production[28] to railway[29] and petroleum industry[30] equipment manufacturing. However, Chinese companies seeking to capitalize on investment opportunities in Algeria have found progress to be anything but smooth or uncomplicated.
Chinese state-owned companies have sought to establish a foothold in Algeria's oil sector since restrictions on foreign investment were loosened in the late 1990s. An initial breakthrough came in October 2002, when Sinopec joined with Algeria's national oil company Sonatrach to develop the Zarzaitine oil field. The next year, China National Oil & Gas Exploration & Development Corporation (CNODC), a subsidiary of CNPC, built a $350 million refinery in Adrar.[31] Nevertheless, Western firms have continued to dominate the landscape, handling more than three-quarters of the prospected areas.
Automobile and commercial vehicles manufacturing is a second area where Chinese companies have sought to invest but encountered roadblocks. In recent years, China has emerged as an automobile manufacturing powerhouse, and Algeria as a lucrative export market. In fact, China exported more cars in 2012 and 2013 to Algeria than to any other country.[32]
Responding to strong demand signals, Chinese auto companies pivoted from treating Algeria simply as a target destination to attempting to set up production sites that could be used as platforms for tapping into African and European markets.[33] In 2008, China and Algeria entered into an agreement to establish the Jiangling Economic and Free Trade Zone in Mostaganem — a deal focused on car assembly that involved the Chinese Jiangling Motors Cooperation and Jiangxi Coal Corporation Group and their Algerian partner, Groupe Mazouz. However, the project has been on stand-by since the enactment of the 2009 Complementary Finance Law, which requires foreign investors to have Algerian partners as majority shareholders.[34]
In July 2016 the FAW-African Investment Company, a subsidiary of First Auto Works (FAW), signed a joint venture agreement with Algeria's Arcofina Group to build a car assembly plant in Tlemcen — more than three years after the partnership was first announced. Whereas some sources have attributed the delay to cumbersome industrial land policies,[35] others have claimed that it resulted from the awarding of a three-year production monopoly to Renault.[36] Chinese automobile companies seeking to capitalize on the growing Algerian and regional automobile markets face stiff competition not just from Renault but from other European as well as Asian auto manufacturers.
The strategic shift by Chinese auto and commercial vehicles toward localized production, it should be noted, was as much thrust upon them as it was freely chosen. In February 2015, Algeria issued an executive order requiring all foreign car dealers to establish assembly plants in the country, as part of a broad effort to attract foreign investment and stimulate local production, and more specifically to reduce the country's dependence on foreign vehicles and import bill.[37] The recently established joint ventures between Anhui Jiamghuai Automobile Company (JAC) and Emin Auto to build a light-load truck assembly plant in Ain Temouchent province[38] and between Chinese automaker Foton and Algerian car dealer KIV to build a car and truck assembly plant Annaba province[39] — as well as JV deals signed by Hyundai, Volkswagen, and other global carmakers following suit — have all had to conform to this requirement.
4. Defense Trade
Recent developments in Sino-Algerian defense trade reflect changes on both sides of the provider-customer equation. One of the main features of the new global arms map is China's emergence as the world's third-largest weapons exporter.[40] To be sure, China still accounted for only 6.2 percent of global arms exports from 2012-2016, far behind the United States and Russia, the world's two top arms exporters. Nevertheless, in recent years China has begun fielding and making available for sale more advanced equipment, and has made inroads into markets hitherto dominated by the US and Russia, along with France, Germany, and the United Kingdom.[41] Algeria has become China's number one arms customer in Africa.[42]
Although Russia continues to be Algeria's primary military hardware provider, China has broken into the Algerian market in several weapons categories. 
Although Russia continues to be Algeria's primary military hardware provider, China has broken into the Algerian market in several weapons categories. In May of this year, the Algerian military publicly released imagery showing Chinese-made LZ45 155 mm self-propelled howitzers (delivered in 2014) being used in tactical exercises.[43] According to the Stockholm Peace Research Institute (SIPRI), over the past five years, Algeria has also acquired from China 50 C-802/CSS-N-8 anti-ship missiles and 50 FM90 surface-to-air missile systems from China. This past July, the Algerian Navy took delivery of the third and final C28A corvette ordered from China in March 2012.[44]
5. Migrants, Merchants, and Managers
By 2009, the number of Chinese workers in Algeria surged to about 50,000, making Algeria the host of the largest Chinese community in North Africa and one of the largest on the continent.[45] Since then, however, several notable changes have occurred. For one thing, many of the workers who arrived in Algeria during the height of the country's building spree returned home upon the completion of contracts and the expiration of their temporary work permits.[46] For another, Algerian authorities have curbed the influx of Chinese workers by limiting work visas to three months and imposing a quota of 20 percent Algerian workers in Chinese construction projects.[47] Still, a 2014 estimate by China's National Bureau of Statistics put the number of Chinese workers in Algeria at 71,452.[48] According to Foreign Minister Lamtane Lamamra, Algeria issued more than 55,000 visas to Chinese workers and tourists in 2015.[49] Figure 3 depicts the number of Chinese workers in Algeria, including those engaged in contracted projects and labor services.[50]
Figure 3. Chinese Workers in Algeria


Source: China Africa Research Initiative (CARI), "Chinese Workers in Africa," http://www.sais-cari.org/s/Upload_LaborData-cxbm.xlsx.
Although estimates as to the size of the Chinese community in Algeria vary, a few general observations can be made regarding its composition. First, the Chinese community is more heterogeneous than might be assumed, consisting not just of migrant workers but of merchants and managers staffing the more than 850 Chinese companies operating businesses in Algeria.[51] Whereas for some Algeria is a temporary economic opportunity, for others it is a permanent home.[52] Second, the Chinese "community" is informal and not immediately visible. Third, there have been few, if any instances, of overt hostility or violence between Chinese migrant workers and locals since the widely reported brawl that occurred in Bab Elzzour in 2009.[53]
New Frontiers, Familiar Risks
Although the ancient Silk Road terminated in Damascus, China's "Belt and Road Initiative" (BRI) envisions extending the maritime trade route into the Mediterranean Basin through a network of seaports. In January 2016 Algeria's Transport Ministry, China Harbour Engineering Company (CHEC) and China State Construction Engineering Corporation (CSCEC) signed an agreement to build a deep water container port of El Hamdania, located west of Cherchell City on the central coast.[54] With this ambitious venture seemingly on track now that a consortium of Chinese banks has stepped in to fund the project, Sino-Algerian relations have reached a high water mark. Yet, the fact that the Algerian authorities had to turn to China to finance construction indicates that there are problems beneath the water line.  
In fact, there are two sets of factors that could impede the further development of Sino-Algerian relations. The first set consists of concerns about the practices and performance of Chinese companies operating in Algeria. The second pertains to questions related to the policy environment in Algeria, and more broadly, to the country's political and social stability.
Chinese vendors competing for market access in the telecommunications sector were temporarily banned from tenering for public contracts after their executives were found guilty on charges of corruption.[55] Instances of shoddy work,[56] bribery and misappropriation,[57] missed project deadlines as well as payment delays to Algerian subcontractors and workers have damaged the reputations of at least some Chinese companies. Meanwhile, the Algerian government has come under pressure from labor unions and others who argue that China's growing presence in the country has had a negligible impact on local unemployment.[58]
Yet, above all, it is Algeria's current economic and political climate that threatens to hamper the development of the bilateral relationship, not to mention the country's own progress and possibly its very stability. Although the Algerian government weathered the 2011 Arab Spring uprisings through massive spending on wages and subsidies, thanks to windfall oil revenues — though eventually at the cost of depleting the Revenue Regulation Fund (i.e., its sovereign wealth fund) — the economy is currently struggling.
The Algerian economy continues to be dominated by the state and remains heavily dependent on hydrocarbons exports. Algeria ranked 156th out of 190 countries — 88 places behind Morocco — in ease of doing business as reported in the World Bank publication Doing Business 2017.[59] The International Monetary Fund (IMF) emphasized in its May 2016 assessment that wide-ranging structural reforms are needed to diversify the economy and promote a dynamic private sector.[60] That same month, the Algerian government adopted a three-year economic strategy called the "New Growth Model, which, among other things, aims to double the contribution of manufacturing to 10 percent of GDP by 2030 and diversify exports.
In the meantime, however, continuing weak oil prices have inhibited economic activity. In response to reduced energy revenues, the Algerian government has slowly begun to implement fiscal austerity policies such as instituting freezes on public sector hiring and infrastructure investments projects.[61] But  fiscal consolidation could, in addition to crimping opportunities for Chinese companies, elevate the risk of strikes and other forms of civil unrest.
Ultimately, the outlook for economic growth will depend on the political situation in Algeria, which, however, is itself uncertain. On August 15, Algeria's ailing 80-year old president, Abdelaziz Bouteflika, dismissed Prime Minister Abdelmadjid Tebboune, who had held the job for less than three months, replacing  him with Ahmed Ouyahia — a loyalist now serving his fourth term in that capacity.[62] In the ensuing cabinet reshuffle, several reformist cabinet ministers were removed from their posts,[63] throwing open to question the government's commitment to restructuring the economy and tackling corruption. There is little indication that the military, political, and economic elite collectively known as Le Pouvoir ("the Power") is prepared to relinquish their control over the country's political economy. If they do not, Algeria might well muddle through. However, unless and until they do, Algeria will likely continue to stagnate and Sino-Algerian relations will fall far short of realizing their full potential.  
---