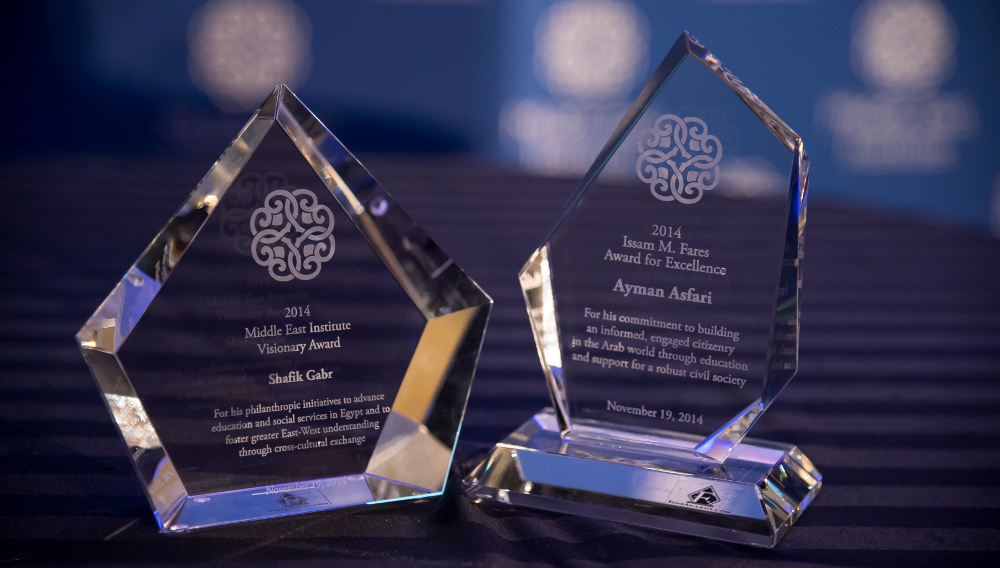 2014 Annual Conference:   Banquet  |  Conference  |  Luncheon
Annual Awards Banquet
The Middle East Institute's Annual Awards Banquet recognizes and honors extraordinary individuals - in the humanities, politics, philanthropy, business and the arts - who have made a positive impact on the region.  Each year the banquet brings together hundreds of Arab and American business leaders, policymakers, analysts, ambassadors, diplomats and distinguished guests for an evening of conversation and celebration.
Keynote Address
November 19, 2014: Senator Tim Kaine at MEI's Annual Awards Banquet
- Podcast
- Transcript
Introduction by Richard A. Clarke, Chairman of MEI's Board of Governors
The Honorable Tim Kaine
U.S. Senator from Virginia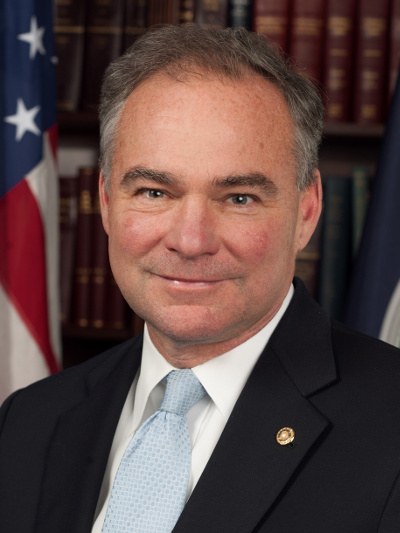 Tim Kaine was elected to the United States Senate in 2012, where he serves on the Armed Services, Budget, and Foreign Relations Committees. He is chairman of the Senate Subcommittee on the Near East, South and Central Asian Affairs, overseeing American foreign policy spanning from Morocco to Bangladesh. On Foreign Relations, he works to enhance American diplomatic leadership, with a special focus on the Middle East and Latin America. He is currently working with a bipartisan group of Senators to revise the War Powers Resolution of 1973 and establish a more orderly consultative relationship between Congress and the President regarding the initiation of military action.
This Year's Awards Ceremony:
November 19, 2014: Award presentations at MEI's Annual Banquet
Ayman Asfari
Issam M. Fares Award for Excellence   

Mr. Asfari is the CEO of Petrofac and chairman of the Asfari Foundation, through which he supports initiatives that provide educational opportunities for young Arabs, as well as programs to help build an informed and engaged citizenry, like the Asfari Institute for Civil Society and Citizenship at the American University in Beirut.
- Podcast
- Transcript
Shafik Gabr
MEI Visionary Award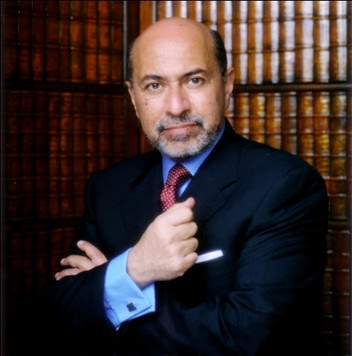 Mr. Gabr is the chairman and managing director of the ARTOC Group for Investment and Development, and founder of the Shafik Gabr Foundation.  Through his foundations, he promotes education and social services to underprivileged communities in Egypt, as well as a global exchange project for emerging leaders in the Arab World and the West. He is also one of the world's leading collectors of Orientalist Art.
- Podcast
- Transcript
Award Presenters:
Amb. Richard W. Murphy
Presenting the Issam M. Fares Award for Excellence

Richard W. Murphy had a 34-year career in the U.S. Foreign Service. After retiring in 1989, he joined the Council on Foreign Relations in New York as the Hasib J. Sabbagh Senior Fellow for the Middle East (1989-2004). At the start of his diplomatic career, he was posted to Salisbury, in the former Southern Rhodesia; Beirut, Lebanon; Aleppo, Syria; Jeddah, Saudi Arabia; and Amman, Jordan. From 1968 to 1971 he was country director for the Arabian Peninsula and director of personnel for the Bureau of Near Eastern affairs. In 1985 he was named career ambassador, a title held by only five diplomats serving at any given time.
Ray LaHood
Presenting the MEI Visionary Award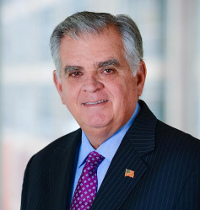 Ray LaHood served as the 16th Department of Transportation Secretary from 2009 to 2013. His tenure was marked by landmark efforts to improve safety in every mode of transportation, from aviation and rail to pipelines and automobiles. Under his leadership, improvements to America's infrastructure included building or replacing 350,000 miles of highway, repairing 20,000 bridges and renewing or constructing 6,000 miles of rail track. Before heading the U.S. Department of Transportation, Secretary LaHood served from 1995 to 2009 in the U.S .House of Representatives on behalf of the 18th District of Illinois and also served on various House committees, including the House Appropriations Committee and the House Intelligence Committee.