Today, over 5,000 men and women are active in Syrian civil society organizations. These diverse grassroots organizations work in human rights, community development, awareness building, and humanitarian aid. Much of their work is unreported in the West.
Since 2015 the Middle East Institute, with the generous support of the Asfari Foundation, has sought to bring Syrian civil society activists to Washington, D.C. to highlight their work for policymakers and the general public. This short documentary, along with the text and audio clips below, aims to create a portrait of this generation of young activists working to alleviate suffering and lay the foundations for a better future in Syria.
Background on Syrian Civil Society
"Though relatively little is written about it, Syrian civil society is remarkably active."
For decades, the idea of nongovernmental organizations (NGOs) in Syria had been a non-starter. Security services made sure that all areas of society were kept in check; organizations had to register every activity with the Ministry of Social Affairs and Labor.
In the first years of Bashar al-Assad's presidency the door opened up for civil society groups in a period known as the "Damascus Spring." But the Assad regime soon grew uneasy about allowing such freedom of expression. Several activists were thrown in jail as burgeoning civil society organizations were seen as a threat to the regime, and in 2001 Minister of Information Adnan Omran labeled civil society "an American term."
From then on, civil society organizations either worked underground or operated under the patronage of officials or figures such as Asma al-Assad, the president's wife.
Now in the throes of violence and chaos, the central government has lost significant control over territory inside Syria, and as a result more space has opened up for civil society organizations—both political and non-political. These organizations, perhaps one of the only silver linings in the current situation, are helping the Syria of today to survive and are preparing to rebuild the Syria of tomorrow.
Excerpted from "Hope Amid Despair: Syrian Civil Society," by Craig Browne
What Civil Society Does
"Here's the simple truth: The convulsions of the Middle East won't end until citizens like these have the power to fix what's wrong."
–David Ignatius, The Washington Post
Humanitarian Aid
"Under intense shelling and a regime blockade, a women's group in Eastern Ghouta, a suburb of Damascus, had to find a way to halt the starvation of people in the community. The regime was only allowing eggs into the area, not chickens, and so the women figured out how to incubate and hatch the eggs. Through this scheme, they were able to provide a more sustainable food source, independent of military developments." (Craig Browne)
Syrian Voices: Sandra Bitar
Sandra Bitar (Emissa) describes a program to provide food and financial support for widows in Houla, Syria. Excerpted from public talk, "Syrian Voices, Policy Choices," at the Middle East Institute's Annual Conference in Washington, D.C. on November 13, 2015.
Peacebuilding and Technical Assistance
"We have provided consultation and training to over 200 civil society groups in different areas inside the country and supported numerous peace initiatives seeking to contain and deescalate violence. Along with our advocacy work, we conduct and share research on civil society activities and other conditions on the ground in Syria." -Oula Ramadan, Badael Foundation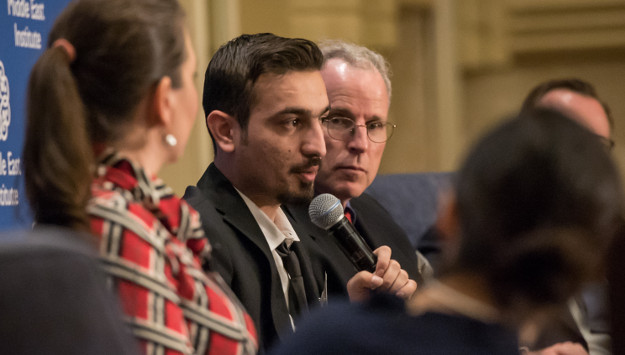 "Kadar Sheikhmous is a computer engineer who, in another country, might be running a start-up. Instead, he's using his skills to train representatives of 45 local councils across Syria on how to keep their Internet communications secure. 'We believe that civil society is the foundation from which the solution will eventually come,' he explains." (David Ignatius, The Washington Post)
Syrian Voices: Oula Ramadan
Oula Ramadan describes two local projects that targeted child recruitment and the prevalance of small arms in an IDP camp. Excerpted from public talk, "Syrian Women in Civil Society and Politics," at the Middle East Institute in Washington, D.C. on April 29, 2016.
Advocacy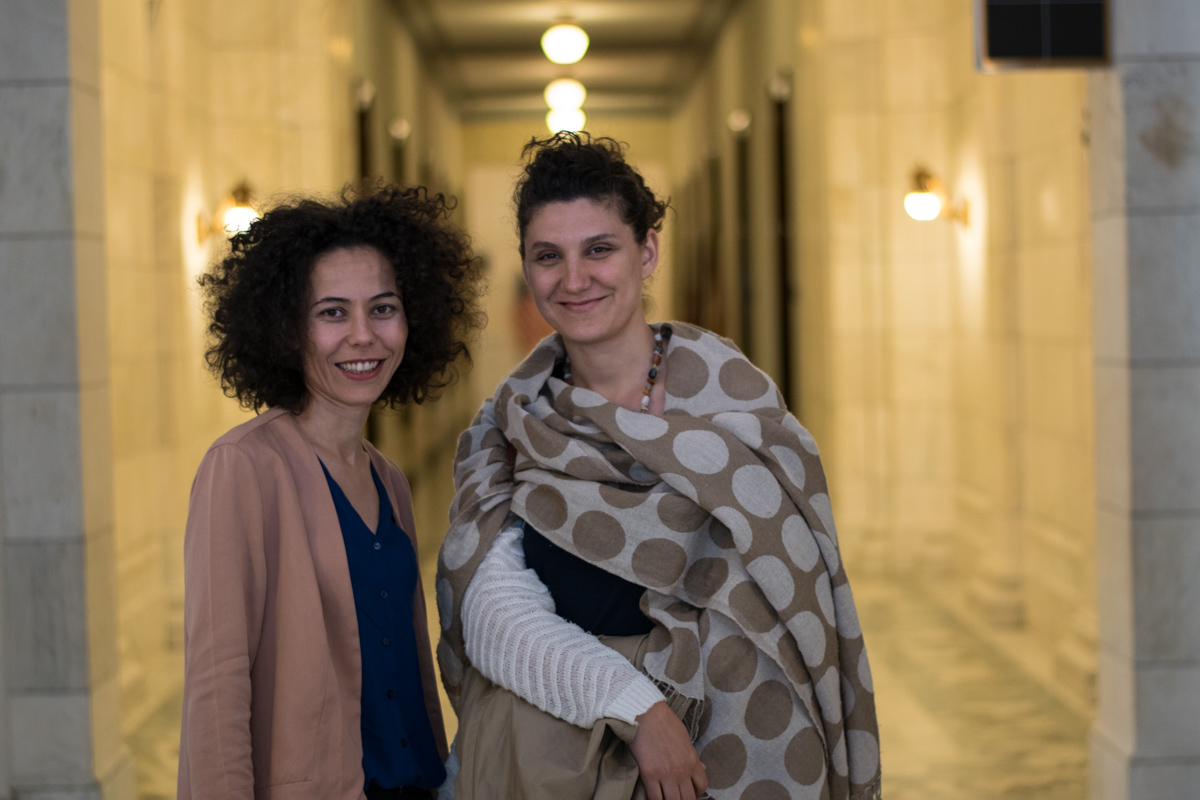 Activists Oula Ramadan (left) and Salma Kahale (right) met with Congressional offices and staffers on Capitol Hill while in Washington in April, 2016.
"On the political level, we ask that Congress and the U.S. government put more pressure on the different actors, particularly on the Assad regime, to negotiate. The United States, as well as the international community in their roles as backers for numerous resolutions on Syria, need to actually uphold their responsibility to protect civilians.
"Second, Syrian civil society and all civilians need a respite from the shelling and barrel bombs, and to allow humanitarian aid to get in.
"And third, the government can implement mechanisms that allow for funding to go directly to Syrian organizations. To become sustainable, funding to civil society organizations needs to be longer term, and not just piecemeal project funding." -Salma Kahale
Syrian Voices: Sandra Bitar
Sandra Bitar argues for why the United States government should restore closer communication with civil society groups working on the ground in Syria. Excerpted from public talk, "Syrian Voices, Policy Choices," at the Middle East Institute's Annual Conference in Washington, D.C. on November 13, 2015.
Community Development
"One of the more popular initiatives is the grassroots online broadcast station called SouriaLi, which means Syria is for me. It targets Syrians anywhere, and features programs like Jadayel, which highlights real life stories from women inside Syria and in exile. SouriaLi now collaborates with some local European radio stations to reach refugee populations with public announcements." (Rasha Elass)
Syrian Voices: Caroline Ayoub
Caroline Ayoub explains the goals of the online radio network, SouriaLi. Excerpted from public talk, "Media Activism Amid Civil War: The Role of Syrian Women Journalists," at the Middle East Institute in Washington, D.C. on June 29, 2016.
"We provide a platform to listen to Syrians about the violations they have faced, how they envision the violence ending, what their priorities are for the future, and what role they see for themselves post-conflict. We have staff in six provinces inside Syria as well as two centers where we provide a space for activists to get engaged, lead their activities, and hold workshops so they can organize." -Salma Kahale, Dawlaty
Challenges Facing Civil Society and Women Activists
"We've been working to support these groups for more than three years now, and we have seen that civil society organizations are doing amazing work on the ground in the face of significant operational challenges, particularly security against armed groups and airstrikes. There are also challenges when it comes to financial support. Most money is being channeled to the major international NGOs whose offices are outside the country, while very little reaches grassroots organizations working at the local level." -Oula Ramadan
Syrian Voices: Salma Kahale
Salma Kahale (Dawlaty) explains some of the challenges for operating civil society organization in or around Syria, including limited mobility and restricted funding. Excerpted from public talk, "Syrian Women in Civil Society and Politics," at the Middle East Institute in Washington, D.C. on April 29, 2016.
"In shaping the narrative on Syria, female activists must dispel media clichés, regime propaganda, a stubborn local patriarchy, Islamist extremists and, perhaps most importantly, an international audience that is increasingly desensitized to the suffering of Syrians. They have relied on the women and men who have reported from inside Syria, though by now most of their colleagues have become similarly dispersed all over the world, creating a sort of global network." (Rasha Elass)
"We've become Syrians without borders."
–Milia Eidmouni, Syrian Female Journalists Network
Resources
Articles
Videos & Podcasts
Special thanks to the Asfari Foundation for its support in bringing the Syrian civil society activists featured on this page to Washington, D.C. over the past year.