Filter data by using the dropdown menus in the orange bar. Click on circles to view incident details.
This page is optimized for larger screens. Please rotate your device to landscape view or open on a computer to view interactive map.
The ISIS affiliate Wilayat Sinai has concentrated much of its resources on sustaining a persistent insurgency against the Egyptian government and its armed forces.
Jama'at Ansar Bayt al-Maqdis (JABM) became an official wilayat (state) of the Islamic State's (or ISIS) self-proclaimed caliphate in November 2014, after a public pledge of allegiance was accepted by ISIS leader Abu Bakr al-Baghdadi. Established in 2011 as one of several jihadist groups in Egypt's Sinai Peninsula, JABM focused much of its operations on attacking neighboring Israel until mid-2013, when the Muslim Brotherhood's Mohammed Morsi was ousted from power in Cairo. JABM, which is now Wilayat Sinai, has since concentrated much of its resources on sustaining a persistent insurgency against the Egyptian government and its armed forces.
While ISIS's caliphate attaches itself to the concept of territorial control, Wilayat Sinai has struggled to hold populated territory in Egypt. It has instead embraced more conventional means of guerrilla and insurgent warfare to undermine government credibility, and to sustain a sense of instability in the Sinai Peninsula. Unlike ISIS's core fighting force in Syria and Iraq, Wilayat Sinai has also been hesitant to embrace mass casualty and spectacular attacks. This is likely to be a reflection both of Wilayat Sinai's smaller size, and a strategic decision to minimize as much as possible any popular opposition to its existence.
Consequently, Wilayat Sinai operations display a tactical preference for small-arms raids and rapid assaults, IED attacks and ambushes, as well as kidnapping. Less common, but of greater significance, are Wilayat Sinai's occasional forays into large-scale assaults and complex attacks on multiple axes. Since early-2017, the group has also conducted several stand-off, cross-border rocket attacks targeting Israel, which are of little military value but substantial symbolic importance as they provide the group with an element—albeit minimal—of transnational identity.
INCIDENTS PER MONTH
The Sinai insurgency may be intractable unless the Egyptian armed forces dramatically transform their strategy and tactics.
The above graph plots out kinetic incidents (attacks by jihadist militants; and counter-terrorism operations by the Egyptian armed forces) between March 2016 and April 2017. The data shows clearly at least three concerted government counter-terrorism campaigns conducted in April 2016, July 2016 and October 2016, each of which appear to have catalyzed parallel increases in jihadist militant activity. As the winter months set in from October 2016—bringing cooler temperatures, more rainfall and cloud cover—the tempo of both government and jihadist forces activities witnessed equal levels of decline. This data suggests strongly that declared and acknowledged Wilayat Sinai operations are very closely linked to the activities of Egypt's armed forces—as the latter intensifies, the former mirrors that increase in tempo. This interdependent dynamic between army and militant suggests that the Sinai insurgency may be intractable, unless the Egyptian armed forces dramatically transform their strategy and tactics.
Increases in government counter-terrorism actions in the Sinai typically represented attempts by Egypt's armed forces to aggressively clear territory of suspected Wilayat Sinai militants, often through forceful depopulation and the subsequent construction of large checkpoints and other military positions as mechanisms for holding territory. This strategy of displacing militant opposition seems to have only limited success. For example, the Egyptian government's launching of Operation Martyr's Right in October 2016 may have effectively suppressed militant activity east and south of the town of Sheikh Zuweid, but Wilayat Sinai responded by launching its largest operation in many months, on a military facility southwest of the town of el-Arish in late-November. At least 12 Egyptian soldiers were killed in that attack and the rest abandoned their position.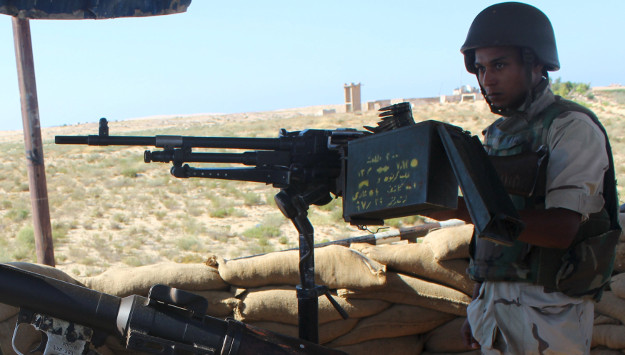 Egyptian army soldier looks on from his postion at a checkpoint in Al Arish city
Wilayat Sinai's most significant and ambitious attack took place in early-July 2015, when large numbers of jihadists launched coordinated assaults on at least 21 government positions in and around the town of Sheikh Zuweid in a clear attempt to capture the town. Dozens were killed in the day-long battle that followed, which included repeated waves of bombing by F-16 fighter jets. It was following this major incident that Egypt's army began a concerted campaign of construction, building extensive networks of fortifications, trenches and checkpoints across key strategic roadways and other transport arteries in northern Sinai. Since mid-2016, hundreds of miles of earth-berms, barbed wire and chain-link fences have been constructed, providing barriers to protect these new military positions from attack. The above map shows (in red) the location of newly constructed berms surrounding newly constructed military positions around el-Arish and Sheikh Zuweid.
This strategy appears to have successfully prevented Wilayat Sinai from attempting to capture strategically significant populated areas. However, the presence of hundreds of new Egyptian army positions has presented Wilayat Sinai with a wide array of inviting targets for attack. In addition, the incessant fear of militant attack has, according to local sources, often resulted in Egyptian soldiers treating passing civilian or animal livestock as a potential threat. Consequently, according to 14 months of data, Egyptian army counter-terrorism operations were responsible for 55 percent of all incidents in the Sinai that resulted in civilian casualties.
Although similar results would be likely from U.S.-led coalition operations against ISIS in Iraq and Syria, they risk undermining a central government's core struggle: to defeat terrorism while presenting itself as a superior alternative to the jihadist adversary. Winning tactical victories on the battlefield does not automatically equate to a strategic victory against an insurgency.
The above satellite imagery shows another key facet of Egyptian military operations: the clearing of suspected militant activity from territory through a campaign of demolishment. This shows one village of many viewable through commercially available satellite imagery. While seeking to minimize and restrict the freedom of militant movement, as well as providing space for the construction of new military positions, this strategy of destruction has resulted in significant civilian displacement across northern Sinai. Such dynamics undermine government credibility and bolster an insurgent or opposition narrative.
OUTLOOK
The Egyptian armed forces have demonstrated a successful ability to clear populated territory of ISIS presence. However, the tactics and strategy underpinning this effort risks creating dynamics that will demonstrably damage the central government's credibility in the Sinai. This provides invaluable opportunities for jihadists to continue their efforts to compete for credibility within the local population.
That the Sinai's heavily Bedouin population has long been disenfranchised and restless against central government authority is well known, but this strategy of displacement and destruction is a severe threat to the Egyptian military's long-term presence in the region. Lessons learned previously in Iraq have proven how successfully ISIS can exploit local frustrations as central governments are perceived as oppressive. That Wilayat Sinai now appears to be focusing more of its energies on 'spectacular' attacks outside of north Sinai—like those against Coptic Christians in Tanta and Alexandria on April 9, and outside St. Catherine Monastery on April 18—suggests ISIS is aware of an opportunity to engender further divisions within the Egyptian state.
---
Special thanks to the MEI interns who helped research and develop this project: David Russell, Kris Kaliher, Razan Breiwish, and Claire Marie James.