Alireza Salehi Nejad, an Iranian citizen who resided in Malaysia from 2007 through 2010 as a student and then a businessman, recently spoke with MEI about his experiences living in Kuala Lumpur. He graduated from Asia Pacific University (APU), a partner of Staffordshire University in Malaysia, with a degree in business information technology and then established a consulting company whose clients are foreigners who wish to invest their capital in Southeast Asia, particularly in Malaysia, and Malaysian residents who wish to invest in other countries, especially in the Middle East and Western Europe. Alireza also founded a mountaineering club, which boasts hundreds of members, the majority being from Malaysia, Iran, Pakistan, Tanzania, Indonesia, and Kazakhstan.
---
Question: What initially attracted you to Malaysia?
Answer: I had been living for a number of years in the UK and Turkey. I wanted to experience a new environment, and at my cousin's recommendation I chose Malaysia. My major concern was finding a friendly environment with high quality and recognized universities.
Question: Did you find Malaysia to be the "friendly environment" you had hoped for?
Answer: Yes. Malaysia is a multicultural society [mainly comprised of Malays, Chinese, and Indians] and a country that accepts foreigners with open arms. Malaysia has attracted many thousands of Iranians as tourists, students, immigrants, and business investors. Kuala Lumpur is home to the largest Iranian community in Malaysia, spread among the neighborhoods of Ampang, South City, Bukit Jalil, Cyber Jaya, and Bandar Sunway. In recent years, Malaysia has attracted many Iranian artists, and a number of Iranian singers have performed in Kuala Lumpur, including Arash, DJ Aligator, Ebi, Shadmehr, and Shahram Shabpareh.
THE STUDENT
Question: When you first arrived in the country, what most surprised you and why?
Answer: I was surprised and intrigued by the way that Malaysians have adopted the festivals of many different cultures and turned them into public holidays. In addition to a variety of Islamic, Christian, Buddhist, and Hindu religious events, many other holidays have found their way to Malaysia and are celebrated by the public, including Thanksgiving and St. Patrick's Day!
Question: Whether in or out of the classroom, did you interact mostly with other Iranian students?
Answer: During my time at Asia Pacific University, I served as the Iranian students' representative and student ambassador. In this capacity I provided students with information regarding university life and helped forge and maintain connections among students, the university, and the embassy. But I also found it easy to form friendships with Malay and Chinese students.
Question: Did Malaysian students or professors know much or express interest in learning about Iran?
Answer: All of my Malaysian classmates were familiar with Iran, and they usually shared positive comments about it.
THE MOUNTAINEER
Question: Tell us about your mountaineering club in Malaysia.
Answer: I managed to bring together over 700 members from 45 countries. The club's activities included but were not limited to jungle trekking, caving, rock climbing, jogging, mountaineering training sessions, and first aid classes. Before traveling to Malaysia I didn't even know about the mountains there! I soon discovered that Mount Kinabalu, located in Sabah, is the highest peak in Southeast Asia.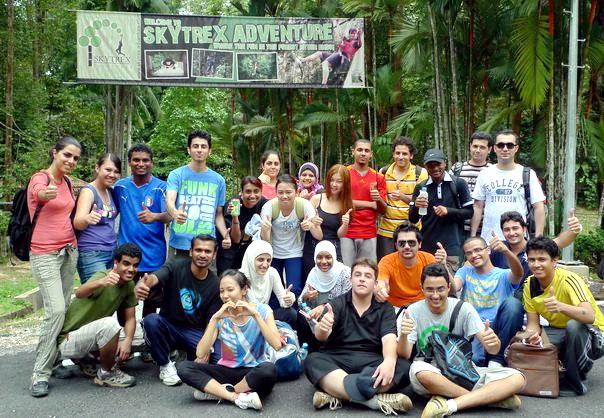 Question: How did exploring Malaysia through organizing mountaineering trips impact your experience there? 
Answer: Through organizing these trips, I made many new friends and connections. This played a significant role during my stay, as the leadership experience was fundamental to establishing my business consulting company afterward. I developed management skills by running the club, which I then put to use in my company. Getting to know many people and networking through the club also helped expand my business.  
THE BUSINESSMAN
Question: Before starting your consulting firm, had you met other Iranian businesspeople in Malaysia? If so, did you receive any advice from them about establishing and running a company in Malaysia?
Answer: There are many Iranians running businesses in Malaysia, from restaurants and supermarkets to car rental agencies. Many are also involved in providing services such as aiding clients with the immigration process or university enrollment, as well as legal and business consulting. I received assistance from my friends who were business owners and had lived in Malaysia for a longer period of time. They helped me with legal paperwork and advised me on the best location for the company.  
Question: What were some of the challenges you faced in setting up your business and building a clientele?
Answer: The Malaysian government requires you to have a Malaysian partner and that a certain number of your employees be Malaysian, which was quite challenging. I had to hire a local "sleeping partner" and bought his shares of the company later.
Question: When you think back on your time in Malaysia, what is your most lasting impression?
Answer: I have very few negative memories of Malaysia. To be sure, there were many reports of police brutality and immigration office discrimination. I experienced a lot of unnecessary bureaucracy and frustrating paperwork, but the multicultural dimension of Malaysia—the opportunity to learn about and from people representing so many different cultures, ethos, and principles—is perhaps my most vivid, lasting, and inspiring impression of the country.
This contribution is part of the Middle East-Asia Project at the Middle East Institute.
---
The Middle East Institute (MEI) is an independent, non-partisan, non-for-profit, educational organization. It does not engage in advocacy and its scholars' opinions are their own. MEI welcomes financial donations, but retains sole editorial control over its work and its publications reflect only the authors' views. For a listing of MEI donors, please click here.