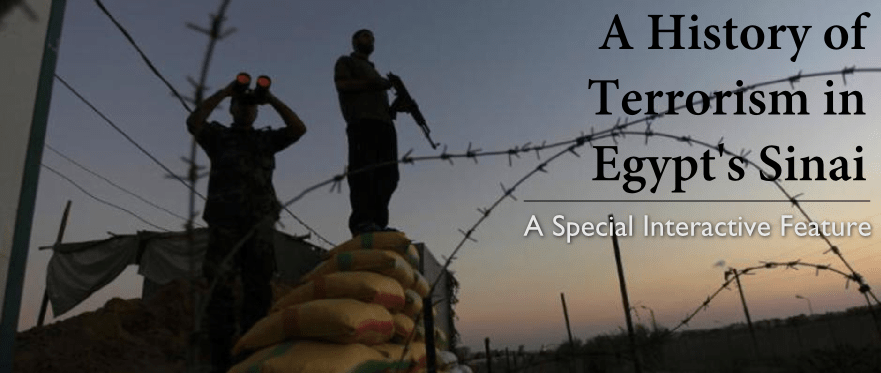 The recent escalation of terrorist attacks in Egypt's Sinai Peninsula has received widespread international attention, but is not a new phenomenon. MEI's History of Terrorism in Sinai, which includes an interactive timeline and map, follows terrorist activity - by location, method, target, and associated group - in this geopolitical hotspot over the last decade.  Because of the nature of the security crisis in Sinai, this is not a comprehensive record, but a curated account of the most relevant attacks and events that have been reported to date.
---
Interactive Timeline
Legend:  
 Location of attack  

 Target of attack  
 Responsible group  

 Method of attack
---
Geopolitical Importance
The Sinai Peninsula is located between the Suez Canal and the Arabian Peninsula. Although Sinai is geographically isolated, it links key states such as Egypt, Palestine, Jordan, Israel, and Saudi Arabia. Owing to its geopolitical importance, it was a battleground in every war between Egypt and Israel from 1948 until 1979. The 1979 peace treaty between Egypt and Israel returned Sinai to Egypt, and has prevented large-scale Arab-Israeli military confrontations for more than 30 years.
Escalating Instability in Sinai
Egyptian authorities have lost control of large swathes of Sinai since the overthrow of former president Hosni Mubarak in February 2011. A security vacuum has allowed for increased organizational and operational capacity of terrorist groups in the area. Additionally, extremism has been on the rise since Mohamed Morsi's ouster in July 2013 and the subsequent crackdown on political Islam and Islamist parties. Terrorist groups tend to target state infrastructure and security forces, coordinating with local Bedouin who have long harbored grievances against Cairo due to years of marginalization and mistreatment. Attacks often target police stations, checkpoints, government offices, and the Arab Gas Pipeline between Egypt and Israel in north Sinai. Profiting from the region's general lawlessness, some Bedouin populations engage in human, arms, and drug trafficking.
Key Events by Period
Pre-Revolution
Major Attacks on Tourist Resorts in 2004, 2005, 2006
Rocket Attacks on Eilat, Israel and Aqaba, Jordan
SCAF Rule
Pipeline Attacks Escalate
Infiltration of Israeli Border by Terrorists Heightens Security Tensions
Morsi's Government
Military Launches Major Counter-terrorism Operation in Sinai
Heightened Concern Over Safety of Egyptian Security Forces
Assassination of Mohamed Said, Senior Aide to Minister of Interior
Post-Morsi
Renewed Crackdown on Gaza Tunnels
Terrorist Groups Show Increased Operational Capacity
Bombings Hit Cairo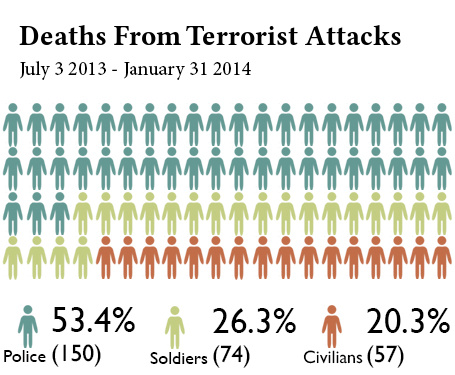 Source: Wiki Thawra
Implications of Instability
The escalating and expanding nature of attacks by terrorist groups based in Sinai is of growing concern to Egypt, its neighbors, and the international community. To address the mounting threat, Egypt launched Operation Sinai in August 2012, the largest military campaign on the peninsula since the 1973 Arab-Israeli war. Defense Minister Abdul-Fattah el-Sisi has assured that "the Armed Forces will never allow any threats against Sinai, and its sons are ready to sacrifice their lives in order for Sinai to remain part of Egypt and never depart from it."
Operation Sinai
Operation Sinai is an ongoing Egyptian military campaign aimed at increasing security within Sinai, along its international borders, and along the Suez Canal. First launched in August 2012 in response to an Egypt-Israeli border attack, the military campaign's primary goal is to root out Islamic militants who threaten security in the international border region. Operating with Israel's approval, it is the largest military campaign in Sinai since the 1973 Arab-Israeli War.
Group Profiles
Ansar Beit al-Maqdis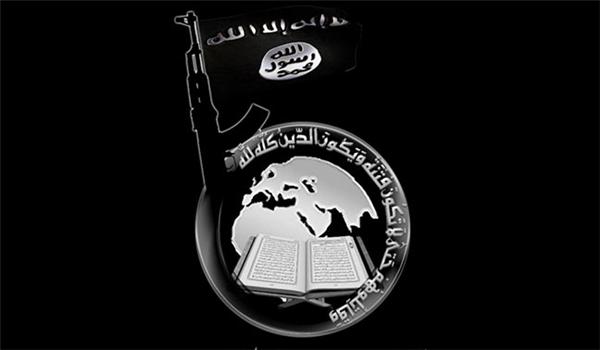 Ansar Beit al-Maqdis (ABM), a Salafi jihadi terrorist organization, is the principal terrorist group active in Sinai. ABM's operations began during the January 2011 revolution and have dramatically increased since Morsi's ouster in July 2013. While ABM's primary targets have been limited to police and soldiers in Sinai, over the last six months the group has also claimed responsibility for high-profile assassination bids and bombings in Cairo and for a recent attack on tourists.
Further Reading
Tawhid and Jihad
Tawhid and Jihad (Al-Tawhid wa-l-Jihad) was an al-Qa'ida-affiliated Sunni jihadi terrorist organization active in the early to mid-2000s in the Gaza Strip and north Sinai. The group drew its ideology and name from Abu Musab al-Zarqawi's Iraqi organization of the same name. It was the first Sinai terrorist group to bring ideology to action. Most notably, Tawhid and Jihad was responsible for bombings of tourist resorts in south Sinai in 2004, 2005, and 2006. The group's founder, Khaled Musa'id, a dentist from the city of el-Arish, was a member of the prominent al-Sawarka tribe of north Sinai.
Sinai Bedouins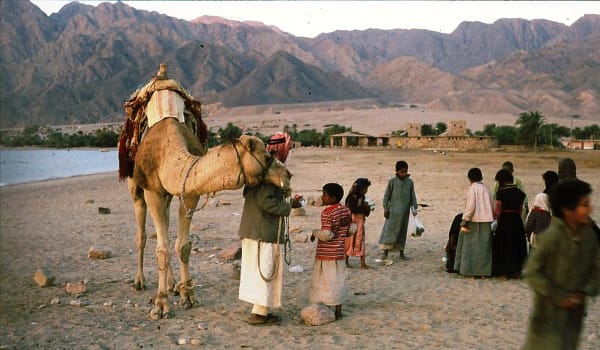 There are more than ten Bedouin tribes in Sinai, and although population estimates are largely unreliable, around 80,000 Bedouin are thought to live on the peninsula. There is a rocky history of conflict between Bedouin and Arab states, and Egypt is no exception. The Egyptian state's economic interest in Sinai centers around the tourism industry, with south Sinai bringing in Egypt's highest tourism revenues. While some of the southern tribes benefit from the industry, many Bedouin populations harbor grievances against Cairo for decades of tribal disenfranchisement, state neglect, and empty development promises. To compensate, some Bedouin tribes have engaged in human, arms, and drug trafficking. Others have resorted to kidnapping tourists and Egyptian police in order to exchange them for captured tribesmen. Some have espoused jihadi ideologies and joined or supported terrorist organizations in the area.
Further Reading
Sinai: Tipping Point or Pretext for Ouster?, by Sahar Aziz for The Middle East Institute
Egypt's Sinai Peninsula and Security, by Zachary Laub for Council on Foreign Relations
SINAI SECURITY: Opportunities for Unlikely Cooperation Among Egypt, Israel, and Hamas [PDF], by Zack Gold, for the Saban Center for Middle East Policy at Brookings
The Sinai Peninsula Threat Development and Response Concept [PDF], by Gabi Siboni and Ram Ben-Barak, for the Saban Center for Middle East Policy at Brookings: 
Al Qaeda's Expansion in Egypt: Implications for U.S. Homeland Security, House Committee on Homeland Security, Subcommittee on Counterterrorism and Intelligence
What's Behind the Wave of Terror in the Sinai, by Vivian Salama, for The Atlantic
Morsi's Failures in Sinai: A Cautionary Tale, by Sarah el-Rashidi, for the Atlantic Council
Deterioration in the Sinai, by Ehud Yaari, for the Washington Institute
---
Research and Design by:
Holly Cramer
Tim Harper
Samantha Moog
Eric Spioch