Sun, Apr 7th 2013, 6:40AM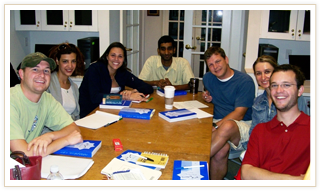 ---
---
Winter 2014 Term
January 13th - March 10th
 
Learn Arabic, Hebrew, Persian, Turkish, in Washington, D.C.!
MEI DEPARTMENT OF LANGUAGES AND REGIONAL STUDIES
MEI has offered classes in Middle Eastern languages since 1953. Today the Institute's language program offers multiple levels of Arabic, Hebrew, Persian and Turkish. We provide skill-oriented, affordable, and challenging language training for Washington-area professionals employed in government agencies, foreign embassies, international consulting organizations, and corporations, as well as for students enrolled in area graduate and undergraduate programs.
ARABIC
Arabic instruction at MEI focuses on developing language skill in Modern Standard Arabic (MSA) or colloquial Arabic through emphasis on speaking, reading, and writing for direct work and interaction with the Arabic speaking world.
Modern Standard Arabic Classes - The MSA program offers comprehensive regular weeknight and intensive weekend classes for students looking for an equal emphasize on improving their speaking, listening, reading, and writing skills. MSA classes are based on the nationally recognized Al-Kitab series, and features structured, elementary, intermediate, and advanced levels.  
Media Arabic Classes – Students looking to utilize mainstream Arab media such as Al-Ahram and Al-Jazeera will find these weeknight classes uniquely beneficial.  By focusing on current events through newspapers, magazines, television excerpts, and online sources, students build a strong media vocabulary and demonstrate their proficiency through current event discussion and individual presentations.
Spoken Colloquial Arabic Classes – These weeknight classes are offered for students looking to establish strong conversational skills based on spoken dialects used throughout the Arab world. These classes are designed for students who have had the equivalent of 30 hours of a beginner Colloquial Arabic class or have an intermediate-level background in MSA.
Egyptian Dialect – The spoken dialect most frequently studied and most widely understood in the Arab world. Egyptian Arabic is mainly spoken in urban Egypt and has also gained a high degree of acceptance throughout the Arabic-speaking world because of its use in films.
Levantine Dialect - This dialect is spoken in Syria, Lebanon, Jordan, and Palestine, and is also very well understood in eastern and southeastern parts of the Arab world.
Gulf Dialect – A dialect spoken around the shores of the Persian Gulf in Kuwait, Iraq, Saudi Arabia, Bahrain, Qatar, the United Arab Emirates, Oman and Iran.
 
PERSIAN
Persian is an Iranian language within the Indio-Iranian branch of the Indo- European languages. It is known as Farsi in Iran, Dari in Afghanistan and Tajik in Tajikistan. Persian is a critical language of the Middle East and Central Asia. With about 62 million speakers, the demand for this language correlates from the regions strategic importance, and the need to improve US-Iran relations. Jobs available to American's who study Persian include the government sector, journalism, and political analysis.
MEI's Persian program offers beginner, intermediate, advanced, and conversational classes for students of all levels.  These classes emphasize speaking, listening, reading, and writing, while incorporating cultural and historical elements of Iranian heritage.
TURKISH
A branch of the Turkic language family, Turkish is spoken as an official language by 70 million people in Turkey and in Northern Cyprus. Turkey is connected, geographically and culturally, to Eastern Europe, Central Asia, and the Middle East, making the Turkish language advantageous to anyone interested in the international business or politics of those regions. Likewise, Students interested in business or government service will find Turkish useful as Turkey's global economy continues to grow.
MEI's Turkish program teaches standard Turkish, a dialect understood primarily within and around Istanbul. These classes include elementary, intermediate, and advanced classes, while emphasizing speaking, listening, reading, and writing skills.
 
HEBREW
Hebrew was the language of the Jewish people in biblical times, and most of the Old Testament was written in Hebrew. Once considered a dead language, Hebrew was revived as a spoken language in the mid-19th century. Modern Hebrew is the primary official language of the State of Israel spoken by over 5 million people. Currently, 90% of Israeli Jews and 60% of Israeli Arabs speak Hebrew. Students interested in missionary work and journalism will find Hebrew a useful language.