In the center of Harem, Idlib, hundreds of Syrian families huddle around stoves and in tents as they look on at the row of collapsed apartments they used to call home. "This disaster hasn't happened to Syria in a thousand years," says Abu Ahmed, the director of the new camp. "The international community must witness what is happening to us and help." Yet despite the scores of international aid flights that have landed in Damascus, and Thursday's visit to Aleppo by the head of the United Nations' World Food Program, the first U.N. aid trucks did not reach opposition-held Syria until Saturday afternoon. Just 22 trucks arrived at the Bab al-Hawa crossing, and it took until late Saturday for the first convoys from Saudi Arabia, Kuwait, and Qatar to arrive in north Aleppo. No other international NGOs have yet sent aid.
Twenty-two trucks is the sum total of international aid that has made its way to opposition-held Syria six days after the devasting earthquake collapsed thousands of homes onto sleeping families in southwest Turkey and northwest Syria on Feb. 6. According to Idlib's Salvation Government (SG), more than 5,000 buildings have been damaged or destroyed. The damage has affected more than 30,000 families, according to Muhammad Bashir, the director of the SG's Humanitarian Affairs Ministry, most of whom are not natives of Idlib, having been expelled from their homes elsewhere in the country in past years by Assad regime attacks. Newly displaced people are being housed by neighbors, extended family, and in the 68 (as of Sunday) recently constructed displacement camps serving 10,000 families in and around cities across the northwest.
These camps for the newly displaced have been quickly pulled together thanks to the combined efforts of the SG and local NGOs. NGOs have opened their warehouses to deliver any tents, wood stoves, blankets, and clean water they have while private donations of these basics are being gathered across the governorate, but as of Saturday only the one delivery of U.N. trucks has come from the outside world. "We are running out of tents and have no stoves to keep people warm," says Abu Ahmed, director of the large camp in central Harem. "As of two days ago, there were 270 families in this camp alone and another 200 in the three camps outside Harem, and that number is rising." Temperatures have dropped below freezing every night since the earthquake and are forecast to remain so in the weeks to come, leaving grieving families to suffer and, at times, die of hypothermia. "We need 30,000 emergency aid baskets — just basic good to keep these people alive," urges Director Bashir.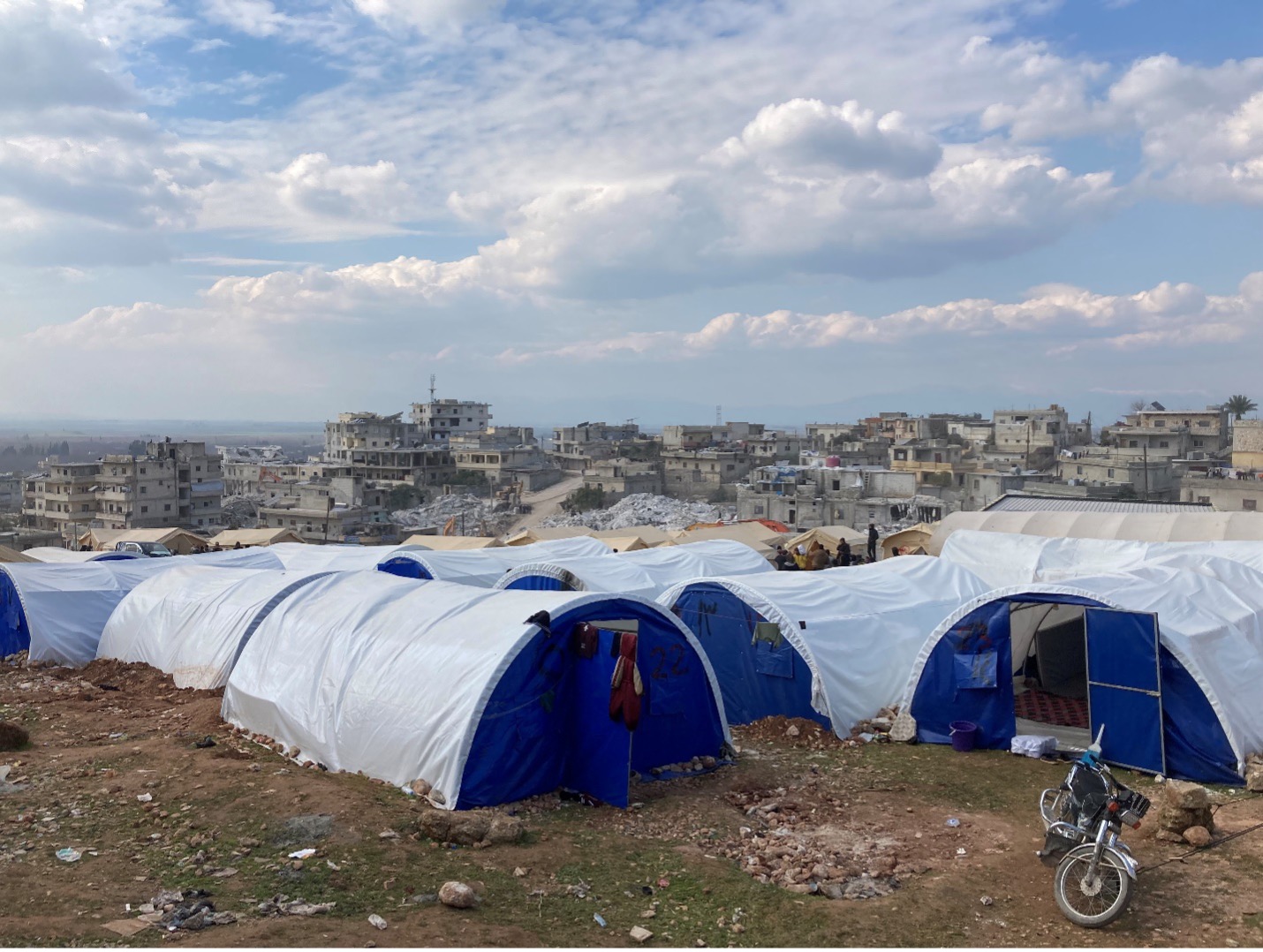 Idlib's hospitals are critically under-resourced, exacerbating the crisis. Material aid to the network of 58 private and public hospitals across Idlib has dried up over the past year, likely due to international NGOs and governments shifting their resources towards Ukraine. This has led to the shuttering of some hospitals and a significant reduction in the capacity of most others. Many are now able to operate only at 20% or 40% of what they could previously. When the earthquake struck, the medical institutions across the northwest were incapable of sufficiently responding. "We had to decide who to treat right away and who to send back home," the SG's Health Minister Dr. Husain Bazar told the author. "Major operations like surgeries had to be postponed because we needed everyone to help with more immediate care." Prior to the earthquake, Turkish hospitals in Reyhanlı and Hatay helped alleviate some of the burden on Idlib's medical institutions by taking in severe or complex cases, like cancer treatment. However, with Turkey also reeling from the earthquake, these avenues of treatment have been cut off. As the minister puts it, "There are no injured people going to Turkey. Now the only thing crossing the border are dead Syrians being returned to us."
The bodies of 1,000 Syrians have returned home this way, a stark reminder that the price Syrians have paid for this disaster does not end at Syria's border. Meanwhile, Syrian refugees work tirelessly with NGOs in Turkey, helping to recover victims and distribute aid, mirroring those in the northwest. In Idlib, everyone has pitched in to help. White Helmets rescuers work alongside soldiers of the region's rebel faction while private construction companies provide heavy equipment to sift through rubble. Everyone donates blankets and food to the displacement camps while local NGOs race back and forth doing whatever they can to address the needs of each town. Small groups have formed to stitch together new tents from scratch as the warehouses run out. It is just another reminder of the resiliency Syrians have demonstrated for the past 12 years while the world sat back and watched them fight and die for their freedom.
Now they ask the world once more to help them. These are not complex or expensive requests from the same Syrians who have spent years watching their loved ones be killed by regime bombs and chemical weapons while the world looked on. They are only asking for medicine, blankets, tents, stoves, and fuel to stay warm so that more people do not die from the cold after surviving the earthquake. It is too late to save those who were trapped under their homes. No international rescuers came to save them. But the world still has time to step up and provide the basic necessities Syrians need to survive the rest of the winter, and then once again begin to rebuild their lives.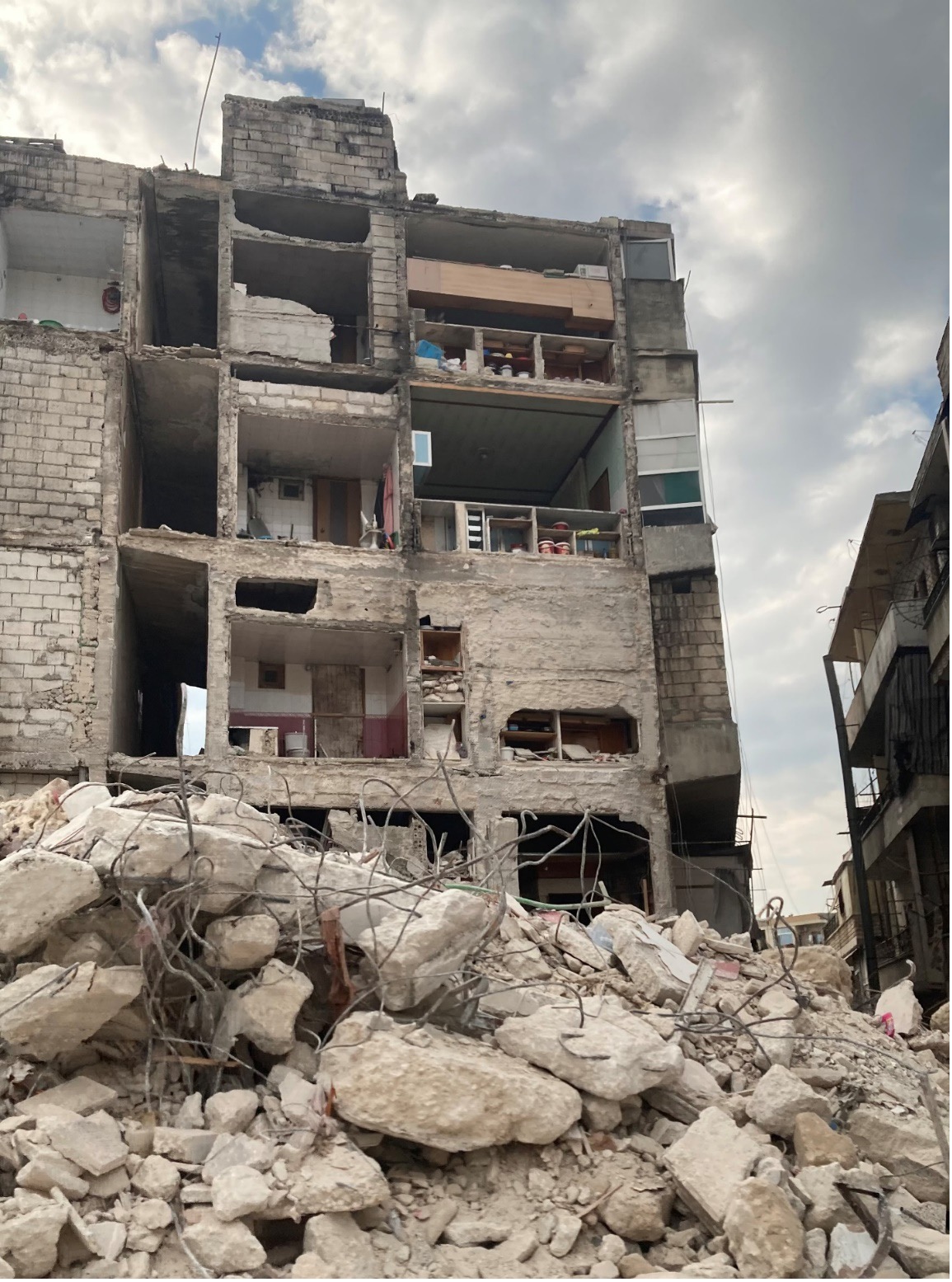 Gregory Waters is a Non-Resident Scholar at the Middle East Institute, a consultant for the International Crisis Group, and a research analyst at the Counter Extremism Project. You can follow him on Twitter @GregoryPWaters.
Main photo: A man watches on as a family sifts through their destroyed home looking for blankets and clothes. Photo by Gregory Waters.
---
The Middle East Institute (MEI) is an independent, non-partisan, non-for-profit, educational organization. It does not engage in advocacy and its scholars' opinions are their own. MEI welcomes financial donations, but retains sole editorial control over its work and its publications reflect only the authors' views. For a listing of MEI donors, please click here.