The Middle East Institute's (MEI) Arts and Culture Program is pleased to invite you to a screening of three short works by Syrian filmmakers that offer a glimpse into the lives of Syrians today.   
Stories of Syria is presented in collaboration with Turkey-based Art from Exile and Hawa Films. The three selected short films, Jalila, Shakespeare in Za'atari, and Suleima, were curated by Syrian filmmaker Adnan Jetto (founder of Hawa Films), based on the power of their human stories and their ability to shed light on the many challenges and tragedies facing Syrians affected by this conflict.
 
The films screened in Istanbul, Salt Lake City, New Orleans, and Seattle. The screenings were part of events marking the 6th year of the Syrian conflict.
Following the films, MEI's Arts and Culture Program Director Lyne Sneige will moderate a discussion with Karin Kitsman, the co-founder of Art from Exile.
This event is part of A Special Arts Program on the Syrian Crisis, produced in collaboration with Gallery Al-Quds, the Goethe-Institut, Hawa Films, and Art from Exile. 
Films:
Jalila (2014, 22mn)
Director: Adnan Jetto
A documentary about the courage and resilience of Syrian women involved in the  uprising. Jalila is about women standing against the many injustices and horrors of war. Jalila is not a character in the film, Jalila is every woman in the film.

Shakespeare in Za'atari (2016, 34mn)
Director: Maan Mouslli
Filmed in one of the largest refugee camps in Jordan, the film chronicles the story of the production of Shakespeare's Hamlet and King Lear by the children in the camp.
Suleima (2014, 15mn)
Director: Jalall Maghout
Based on a true story, Suleima shares the story of a woman who supported the Syrian revolution from its beginning.  An animated film, it starkly tells the story of the days and years leading up to 2011.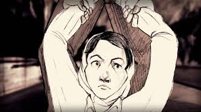 ABOUT ART FROM EXILE
Art from Exile, started by an American living in Turkey, supports emerging artists forced to leave their homes due to war, conflict, political violence, or persecution. The organization works to provide opportunities for emerging visual and performing artists and connect them to the local community where they live, link them with the international art community, and explore ways to maintain and nurture contemporary cultural identity through the arts.
ABOUT HAWA FILMS 
Hawa Films, founded by Syrian filmmaker Adnan Jetto, promotes the development and showing of films by Syrians. An artist and filmmaker, Adnan was born in Qamisly, a Kurdish city in the northeast of Syria on the border of Turkey. Adnan received his degree in Fine Arts from the University of Damascus. His films and art have been shown all over the world in various exhibitions and film festivals. His other films include Basil, the story of a Syrian child in a refugee camp, and Jalila, a homage to the women of Syria. He currently lives and works in Turkey.
Speaker Biographies:
Karin Kitsman
Co-Founder, Art from Exile
Karin Kitsman is the co-founder of Art from Exile, which works to provide exhibition opportunties for emerging artists who have been displaced by war, conflict, political violence, or persecution. By identifying exhibition spaces, curating exhibitions, creating atelier opportunities, finding studio spaces, and securing materials, Art from Exile aims to create opportunities for emerging artists to show their work, connect them to local artists in their places of exile, and introduce them to collectors and a broader artistic community.
Lyne Sneige
Director, MEI Arts and Culture Program
Lyne Sneige is the director of the Arts & Culture Program at the Middle East Institute. She has over 15 years of experience in international development in the Middle East. Before joining MEI, Sneige was Deputy Director Lebanon and Regional Projects Manager for Arts and Culture for the Middle East at the British Council operating out of Beirut. She has extensive experience in strategy and planning as well as project management, and has many years of experience in the arts and culture scene in Lebanon and throughout the Middle East. Sneige spearheaded several initiatives such as the Creative Economy and Cultural Leadership agendas in the region, and is a strong advocate of the important role that artists play in their societies, and a main contributor to changing perceptions of the cultural sector in the Middle East as an important conduit to social and economic change.
 
Follow MEI's Arts and Culture Program on Twitter!


@MEIArtsCulture
In Collaboration With: