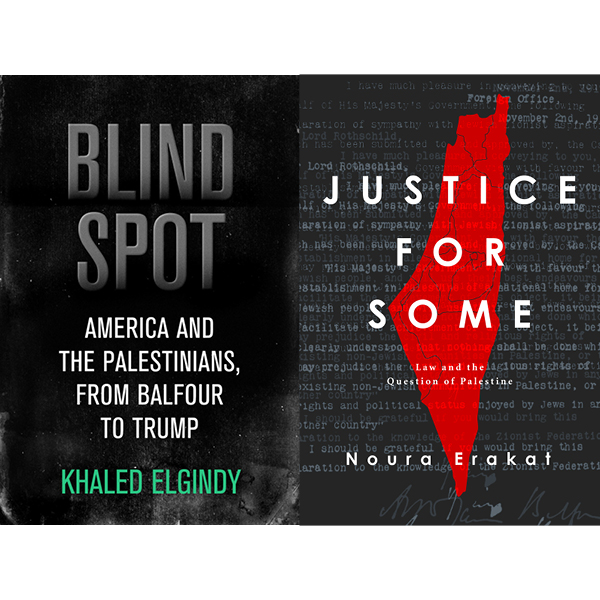 The Middle East Institute (MEI) is pleased to host a panel discussion on the historical role of the United States in the Israeli-Palestinian conflict, and the failure of U.S. policies to protect Palestinian human rights. In his book Blind Spot: America and the Palestinians, from Balfour to Trump, Khaled Elgindy documents the history of U.S. policy towards Palestinians, arguing that U.S. unwillingness to confront Israeli occupation and recognize the complexities of Palestinian politics continues to fail Palestinians in their struggle for statehood.
Human rights attorney Noura Erakat will also join the conversation, drawing from the themes of her book Justice for Some: Law and the Question of Palestine. In her book, Erakat examines the Israeli-Palestinian issue through the lens of law, and examines key cases where international law and judicial intervention did not ensure equal rights for Palestinians.
Books will be available for purchase and signing by the authors.
This is an event in the George and Rhonda Salem Family Foundation Lecture Series.
Speaker biographies:
Khaled Elgindy
Author; Nonresident fellow, Brookings Institution
Khaled Elgindy is a nonresident fellow in the center for Middle East policy at Brookings and a founding board member of the Egyptian American Rule of Law Association. From 2004-2009, Elgindy held a pivotal position as an advisor to Palestinian leadership on permanent status negotiations. Elgindy was a key participant in the Annapolis negotiations held throughout 2008. Prior to that, he spent nine years in various political and policy-related positions in Washington, D.C., both inside and outside the federal government, including as a professional staff member on the House International Relations Committee in 2002 and as a policy analyst for the U.S. Commission on International Religious Freedom from 2000 to 2002. He served as the political action coordinator for the Arab American Institute from 1998 to 2000 and as Middle East program officer for the National Democratic Institute for International Affairs from 1995 to 1997. Through his book, Blind Spot: America and the Palestinians, from Balfour to Trump, he presents a balanced and thorough interpretation of more than a century of U.S. policy on Palestinian issues.
Noura Erakat
Assistant professor, George Mason University ; Co-founder, Jadaliyya
Noura Erakat is a Palestinian American legal scholar and human rights attorney. She is an activist, writer, as well as a specialist in national security. She is an assistant professor at George Mason University where she teaches in the legal studies, international studies, and human rights/social justice studies concentrations. Erakat earned her J.D. and undergraduate degrees from the University of California at Berkeley and a LLM in National Security from Georgetown University Law Center. She is a co-founding editor of Jadaliyya, an electronic magazine on the Middle East that combines scholarly expertise and local knowledge. Erakat served as legal counsel for the Domestic Policy Subcommittee of the Oversight and Government Reform Committee in the House of Representatives from 2007-2009. Prior to her time on Capitol Hill, she received a New Voices Fellowship to work as the national grassroots organizer and legal advocate at the U.S. Campaign to End the Israeli Occupation where she helped seed BDS campaigns nationally as well as support the cases brought against two former Israeli officials in U.S. federal courts for alleged war crimes. She worked as the legal advocacy coordinator for the Badil Center for Refugee and Residency Rights from 2010-2013. She currently serves on the board of the Institute for Policy Studies; on the board of the Arab Studies Institute; is a policy advisor to Al-Shabaka; serves of the editorial committee of the journal for Palestine studies; and is a founding board member of the DC Palestinian Film and Arts Festival. She recently published her book Justice for Some: Law and in the Question of Palestine.
Amb. Gerald Feierstein
, moderator
Senior vice president, MEI
Amb. (ret.) Gerald Feierstein is senior vice president at MEI. He retired from the U.S. Foreign Service in May 2016 after a 41-year career with the personal rank of Career Minister. As a diplomat he served in nine overseas postings, including three tours of duty in Pakistan, as well as assignments in Saudi Arabia, Oman, Lebanon, Jerusalem, and Tunisia. In 2010, President Obama appointed Amb. Feierstein U.S. Ambassador to Yemen, where he served until 2013. From 2013 until his retirement, Amb. Feierstein was Principal Deputy Assistant Secretary of State for Near Eastern Affairs.