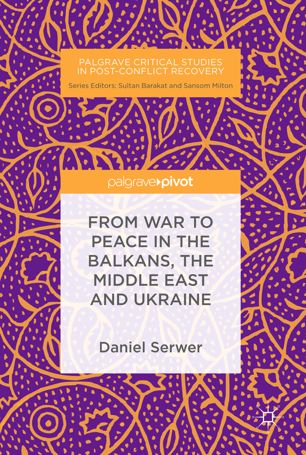 The Middle East Institute (MEI) is pleased to host a book talk with MEI Scholar Daniel Serwer, the director of John Hopkins SAIS's conflict management and American foreign policy programs and the author of From War to Peace: the Balkans, the Middle East and Ukraine.
In his book, Serwer explores how lessons learned from peacebuilding initiatives in the Balkans in the 1990s can be applied to conflicts in the Middle East. Serwer draws comparisons between the sectarian, ethnic, and religious divides of the Balkans in the 1990s and similar tensions in Syria, Iraq, and Yemen. He also explores the impact of policies such as conflict prevention, engagement of neighbors, the establishment of safe zones, partition, decentralization, and power sharing arrangements, and how they can be effectively utilized, or not, in the Middle East.
 
Speaker Biographies:
Daniel Serwer, author
Scholar, MEI; director, Conflict Management and American Foreign Policy program, John Hopkins SAIS
Daniel Serwer directs the Conflict Management program at the Johns Hopkins School of Advanced International Studies (SAIS). He is also a senior fellow at its Center for Transatlantic Relations and affiliated as a scholar with MEI. His current interests focus on the civilian instruments needed to protect U.S. national security as well as transition and state-building in the Middle East, North Africa, and the Balkans. Formerly vice president for centers of peacebuilding innovation at the United States Institute of Peace (USIP), he led teams there working on rule of law, religion, economics, media, technology, security sector governance, and gender. He was also vice president for peace and stability operations at USIP, where he led its peacebuilding work in Iraq, Afghanistan, Sudan, and the Balkans and served as Executive Director of the Hamilton/Baker Iraq Study Group.  Serwer has worked on preventing inter-ethnic and sectarian conflict in Iraq and has facilitated dialogue between Serbs and Albanians in the Balkans.
Randa Slim, discussant
Senior fellow and director of Conflict Resolution and Track II Dialogues program, MEI
Randa Slim is director of Conflict Resolution and Track II Dialogues program at MEI and a non-resident fellow at the Johns Hopkins SAIS Foreign Policy Institute. A former vice president of the International Institute for Sustained Dialogue, Slim has been a senior program advisor at the Rockefeller Brothers Fund, a guest scholar at the United States Institute of Peace, a program director at Resolve, Inc., and a program officer at the Kettering Foundation. A long-term practitioner of Track II dialogue and peace-building processes in the Middle East and Central Asia, she is the author of several studies, book chapters, and articles on conflict management, post-conflict peace-building, and Middle East politics.
Paul Salem, moderator
President, MEI
Paul Salem is president of MEI. He focuses on issues of political change, transition, and conflict as well as the regional and international relations of the Middle East. He has a particular emphasis on the countries of the Levant and Egypt. Salem writes regularly in the Arab and Western press and has been published in numerous journals and newspapers. Salem is the author and editor of a number of books and reports including From Chaos to Cooperation: Toward Regional Order in the Middle East (ed. with Ross Harrison, 2017), Broken Orders: The Causes and Consequences of the Arab Uprisings (In Arabic, 2013), "The Recurring Rise and Fall of Political Islam" (CSIS, 2015), "The Middle East in 2015 and Beyond: Trends and Drivers" (MEI 2014), Bitter Legacy: Ideology and Politics in the Arab World (1994), Conflict Resolution in the Arab World (ed., 1997).  Prior to joining MEI, Salem was the founding director of the Carnegie Middle East Center in Beirut, Lebanon between 2006 and 2013.  From 1999 to 2006, he was director of the Fares Foundation and in 1989-1999 founded and directed the Lebanese Center for Policy Studies, Lebanon's leading public policy think tank.