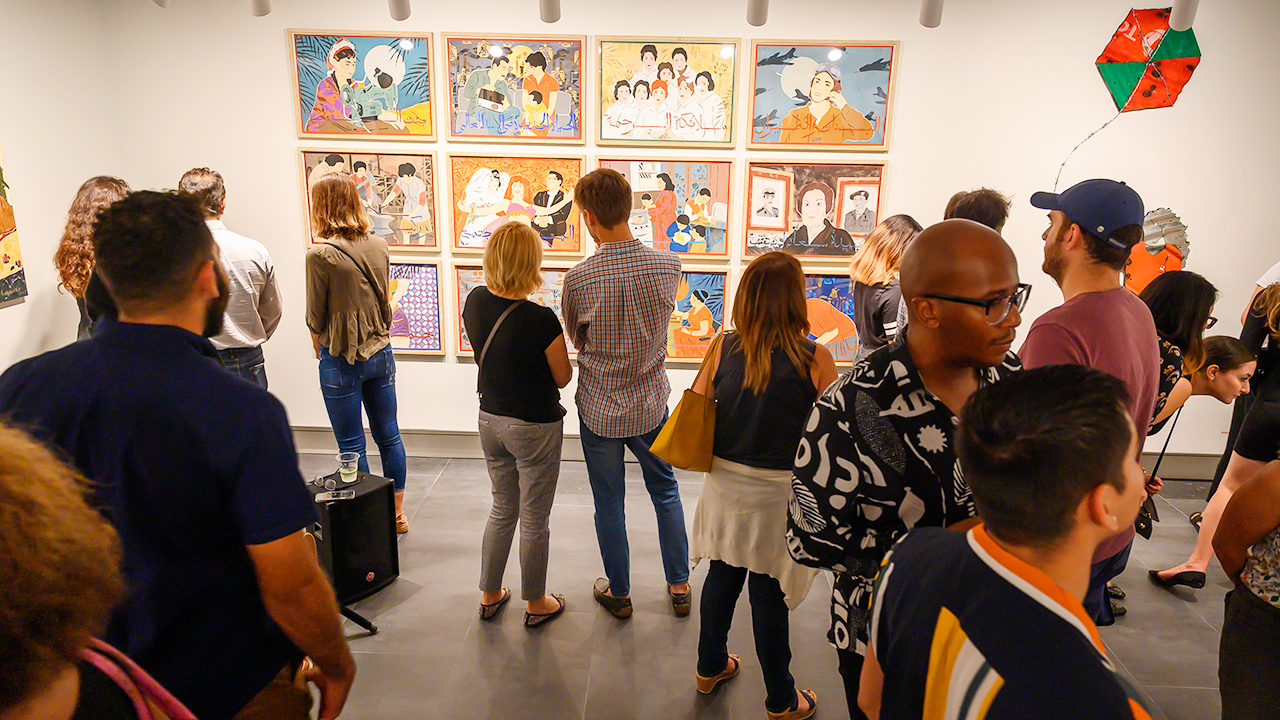 Through an international Open Call, the Middle East Institute's (MEI) Arts & Culture Center invites emerging, mid-career, and established artists from the MENAT region (i.e. Middle East, North Africa, and Turkey) and its diaspora to submit artwork for the forthcoming exhibition, Art in Isolation: Creativity in the Time of COVID-19. The exhibition will be featured at the MEI Art Gallery in Washington, D.C. from September 23, 2020 - January 13, 2021.
The exhibition, organized in response to the impact of the global pandemic on artists, seeks to benefit artists from the region through the sale of artwork presented.  Participating artists will receive 70% of sales, in line with MEI's Arts & Culture Center's mission to promote Middle Eastern artists.
Art in Isolation: Creativity in the Time of COVID-19 will investigate how "sheltering in place" has influenced artists' work—mentally, emotionally, or physically—addressing the impact of confinement on artistic practice. How are artists finding ways to continue to cultivate creativity despite movement restrictions? Has the pandemic hindered or positively altered the way in which artists work, creating unexpected opportunities to explore new mediums, scale or subject matter? Are artists using this time to foster new initiatives, to look forward or back in time, or are they now addressing the pandemic and its impact on the region directly? Art in Isolation will feature artwork of diverse media, highlighting the universality of artists working in isolation and the distinctive perspectives of artists from the region during this unprecedented time. 
Barring the continued closure of the gallery due to the pandemic, the exhibition will be mounted in MEI's Art Gallery at 1763 N Street, NW in Washington, DC from September 23, 2020-January 13, 2021. It will be available for viewing in person by appointment, as well as be featured online. It will also be accompanied by related public programming (online or in-person depending on pandemic guidelines).
Artists will be responsible for the shipment of artwork to MEI's Arts & Culture Center in Washington, D.C. MEI will provide support for basic artwork installation, such as canvas stretching, and be responsible for the return shipment of any unsold work. MEI will promote the exhibition and encourage sales through extensive media and social media outreach and a robust schedule of public programs, including artist talks.  
 
Selection Criteria
---
Artwork must have solely been created during the current global pandemic and be relevant to the themes of Art in Isolation: Creativity in the Time of COVID-19.

All-media are accepted. Artists are welcome and encouraged to submit work [on paper, photography-based, paintings, sculptures, assemblages, and mixed-media art] that can be easily shipped and installed. Works on canvas should not exceed 120cm in any dimension. Video submissions should be no longer than ten minutes.

We encourage proposed artwork to be priced to sell between $500 to $5,000 and to not exceed a sale price of $7,000 USD.
Important dates and information
---
[Update] Submission deadline: Tuesday, July 21, 2020, 11:59 pm EST

Artists notified: no later than Friday, July 31

Artwork shipped by: Monday, August 24 to Washington, D.C., details to be provided upon acceptance into the exhibition

Tentative Exhibition dates: September 30, 2020 - January 13, 2021

MEI will transfer proceeds from the sale of artworks directly to artists within two weeks of the sale. Please note that in accordance with U.S. law, MEI is unable to transfer monies to Iran.

Unsold artwork will be shipped back within two weeks after the conclusion of the exhibition presentation.
Application Process
---
Interested artists are invited to respond to the Open Call with supporting visuals, and by filling out the online application form (available in Arabic and English) which requires: 
A PDF CV and brief artist statement (no more than 500 words) on your proposed work and how it relates to the themes outlined in the Open Call.

Up to three submissions of proposed artwork (file size should be no larger than 500MB each) labeled: Titleofartwork_LastnameFirstname.filetype. A PDF containing the date, dimensions, and medium of each submission must be included. Links to Vimeo or Youtube videos will be accepted for digital submissions.

A maximum one-page description of the materials and equipment required to install the artwork if necessary.
 
Submissions are accepted via Google Forms: https://bit.ly/ArtinIsolationApp. The application is free, but you must register your email address.
Questions? Please contact Laila Abdul-Hadi Jadallah at contact@lailajadallah.com.