The "Pearl Area"
While visiting Dubai, Sharjah, and Abu Dhabi frequently over the past 20 years, I couldn't fail to notice that the three cities have increasingly, inexorably become a metropolitan area, ever merging as they build and develop in each other's direction.
In the same way that San Francisco, San Jose, and Oakland are referred to together as the Bay Area, Dubai, Sharjah, and Abu Dhabi are the Pearl Area.[1] Linked by multilane highways, Sharjah is a mere 15 minutes away from Dubai. Numerous professionals live in one city but work in the other. While nominally 150 kilometers apart, over the past two decades the centers of Dubai and Abu Dhabi have developed toward each other, to the extent that today Abu Dhabi's al-Rahba area is only a 30-minute drive from Dubai's new international airport (Dubai World Central), which will open its passenger terminal in October
While these cities have not coordinated much of their urban planning, development, trade, financial, or art strategies, in a variant of Adam Smith's invisible hand the marketplace has taken care to self-regulate them. There is no mistaking their accidental emergence as a metropolitan area.
All three cities sit astride major trading routes connecting East and West via the Suez Canal, making them a natural entrepot for finance, for the storage and distribution of goods, and for transport. The Pearl Area also resides in the center of a large economic hinterland comprising the Middle East, North East and East Africa, Iran, the Indian subcontinent, and Central Asia. This hinterland is characterized by large populations, relatively low levels of economic development, and primarily commodity-based economies. Within this hinterland, the Pearl Area has become the commercial, trade, and financial hub of reference, elbowing out historical attempts by Bahrain and Beirut to claim the mantle and continuing efforts by Qatar to do the same. Within the globe's four major time zones—the Americas, Europe, the Middle East and West/Central Asia, and the Far East—the Pearl Area today sits as the Middle East and West/Central Asia hub representative alongside New York for the Americas, London for Europe, and Singapore and Hong Kong for the Far East.
Art Dubai
Over the past seven years, Dubai has been attempting to lay claim to the title of regional art hub, principally via its annual art fair, Art Dubai. Building on a regional art infrastructure painstakingly constructed by the Sharjah Biennale since 1993, Art Dubai has been steadily moving toward occupying the position of principal regional fixture on the global art calendar.  
Under the direction of Antonia Carver, in 2013 Art Dubai had its most successful art fair so far, with a trumpeted 25,000 visitors, 500 artists, 75 galleries, and some 30 countries represented. Iranian, Pakistani, and Nigerian collectors mingled with Arab and Western collectors as well as museum curators from London, Paris, and elsewhere. Galleries from the UAE, the Gulf, and the broader Middle East exhibited alongside international galleries keen to meet local and regional collectors. Twelve galleries from India and the Far East (listed in Table 1) came to welcome Arab and Western visitors who won't likely be heading to Delhi, Beijing, Hong Kong, or Singapore.
Table 1: Asian Galleries at Art Dubai 2013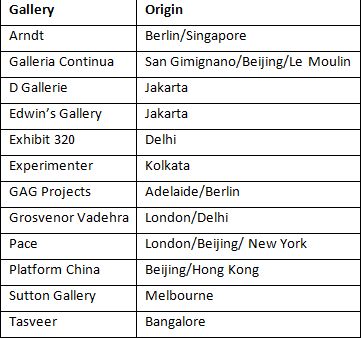 Source: Art Dubai
Art Dubai featured an impressive array of activities in 2013, in addition to the galleries and artists featured. A VIP program, public art commissions, educational workshops, and a talks program featuring more than 40 contributors made the fair a pleasant hybrid of culture and commerce.
As a platform for cultural discussion, Art Dubai also made significant progress through a six-day forum labeled "It Means This," which explored the concept of "definitionism." In addition, over 40 artists participated in a not-for-profit program, the Art Dubai Projects, which included residencies, commissions, performances, screenings, and a mobile art gallery. Expanding into education, the fair also launched Campus Art Dubai in partnership with the Dubai Culture and Arts Authority, an arts school running for six months (January-June 2013) and offering UAE-based artists and curators monthly Saturday school sessions.
The Sharjah Biennale
Notwithstanding Dubai's proclivity to engage in chest-thumping, Art Dubai remains significantly smaller in scope than Art Basel Hong Kong and Singapore Art Stage, as shown in Table 2. It is also not significantly larger than Abu Dhabi Art or the Beirut Art Fair.
Table 2: Regional Art Fairs

Source: Author analysis
Art Dubai, however, directly benefits from the more extensive (and more established) art infrastructure in nearby Sharjah, an emirate endowed with 16 museums and an art biennale.
Art Dubai's timing coincides every other year with the Sharjah Biennale, the doyen of cultural events in the Pearl Area and a large-scale international contemporary art exhibition in its own right, held for the first time in 1993. Often critically acclaimed, the Sharjah Biennale has played a key role in competently establishing contemporary art (and Middle Eastern contemporary art in particular) as an accepted—indeed, highly desired—art form in a conservative Middle East.
This year, Yuko Hasegawa, the Biennale's curator, opted for "Re: emerge: Towards a New Cultural Cartography" as its theme. Inspired by the courtyard in Islamic architecture—in which elements of public and private life converge, socialize, and mix—the Biennale explored cultural crosscurrents and dialogue between the Arab world, Asia, and the Far East. More than 100 artists and architects, 27 of them from the Middle East, were featured in this ambitious tour de force, imploring us to see the world in a non-Western-centric way.
Held in five new multifunctional art spaces in the Sharjah Heritage Area, connected by open-air courtyards and rooftop terraces, the Biennale blended artworks criticizing certain aspects of the Middle East (such as Sarah Abu Abdallah's "Saudi Automobile" mixed-media installation, an acerbic and piercing comment on Saudi Arabia's quixotic law banning women drivers) with spaces for private and public interaction in Sharjah's courtyards, stimulating conversations between civilizations.
Not coincidently, several artworks were displayed at both Art Dubai and the Sharjah Biennale, allowing them to benefit from the "Biennale effect," including artist Ahmed Mater's 2012 series, "Desert of Pharan/Adam," depicting rampant construction and developments around Mecca, as well as Pascale Marthine Tayou's "Chalks and Pins."    
Abu Dhabi Art and the Saadiyat Cultural District
While Abu Dhabi Art is smaller than Art Dubai, it nonetheless features a more prestigious array of international art, undoubtedly attracted by Abu Dhabi's greater purchasing power. Abu Dhabi launched its own art fair in 2009, two years after the first Art Dubai, and timed it for each November, approximately seven months after each Art Dubai of the same vintage.
Combined, the number of galleries represented at Art Dubai and Abu Dhabi Art is approaching the number (100+) that is indicative of a major global art fair. The two emirates' increased cooperation is therefore inevitable in order to address the relative paucity of cultural institutions, museums, and art galleries in Dubai, as shown in Table 3.
Table 3: Cultural Indicators, Major Art Hubs

Source: Author analysis
Abu Dhabi's contribution to the Pearl Area's art scene is growing in importance because of its progress toward the completion of a cultural district on Saadiyat Island, which will feature collections of classical, modern, and regional art in the Louvre Abu Dhabi (scheduled to open in 2015), alongside the Guggenheim, the Zayed National Museum, and the Maritime Museum and Performing Arts Center.
Dubai + Sharjah + Abu Dhabi = A Compelling Art Infrastructure?
When looking at the Pearl Area as a whole, the art infrastructure begins to show requisite depth, enough to justify Art Dubai's claim of being an emerging and credible global art fair. Between them, Art Dubai, Abu Dhabi Art, and the Sharjah Biennale are mobilizing collectors from the Pearl Area's hinterland (the Middle East, North East and East Africa, Iran, the Indian subcontinent, and Central Asia), outstanding museums and art from the West, curators from around the world, and cultural programs with depth, variety, and a local personality.
Indeed, over the next few years, further integration between the arts infrastructure of Sharjah, Dubai, and Abu Dhabi seems inevitable. For example, Louvre Abu Dhabi visitors, cultural programs, and curators should naturally interact with Art Dubai and with Abu Dhabi Art, and as they do, artistic programs benefiting from these institutions' respective strengths would develop and evolve.
Calling Artists
The biggest weakness of the Pearl Area as a cultural hub is the absence of a deep pool of resident local artists. New York, London, Tokyo and to a lesser extent Hong Kong benefit from thousands of local artists practicing in or around town, providing local galleries with a steady supply of works that are further supported by an extensive infrastructure of museums and cultural institutions (see Table 3).
The cultural and education arts programs of the Pearl Area (at Art Dubai, at Abu Dhabi Art, at the Saadiyat cultural district, and at the Sharjah Biennale) become critical to attract more and more artists to live and work there; streamlined work and residency permits for artists would also help. These cultural and education programs, in turn, can capitalize on the vastly increased amount of contemporary art from the Middle East in recent years. The Iranian Revolution sparked decades of upheaval in the region, and the rise of the contemporary Middle Eastern art scene can be closely associated with this upheaval and its migration from nation to nation. The first recognizable wave of contemporary art occurred in Iran after 1979, and the wave that followed it occurred in Iraq after the Iran-Iraq war. This was followed by other waves of creativity closely tied to the timing of transformational events in the region—so much so that today, for example, new artists seem to emerge most frequently from Syria and from Egypt.
The Pearl Area's emerging art infrastructure firmly establishes it as a regional hub, but its position will not be secure until more artists reside in the Pearl Area (whatever their nationality) and become a feature of art fairs in Europe and in the United States and until we see more proactive cooperation and coordination between Dubai, Abu Dhabi, and Sharjah. Sometimes one has to help Adam Smith's invisible hand.  
This contribution is part of the Middle East-Asia Project at the Middle East Institute.
---
[1] Dubai and this part of the Gulf were sustained by fishing and pearl diving before the age of fossil fuels. I am therefore proposing that they can be referred to together as the "Pearl Area."