Art Dubai is so much more than an art fair. In this, its most ambitious iteration and 16th year, it promises to be both a cultural emporium and a litmus test for the global economy.
As Russian collectors are noticeably absent and the world is still reeling from three years of pandemic and now war-related economic crisis, the fair promises to be as much about the buyers as the artists — as much about aesthetics as global gestalt.
Founded in 2007 and held in a Gulf country full of migrant workers, Art Dubai was billed as "the premier platform to see and buy modern and contemporary art from the Global South."
According to organizers, across its Contemporary, Modern, and Digital gallery sections, annual artist commissions and year-round collector and education programs, "Art Dubai champions art and artists from across the Global South, providing a relevant and increasingly important alternative to mainstream, largely Western-led narratives."
And yet, the fair is held in partnership with A.R.M. Holding and sponsored by Swiss wealth management group Julius Baer. Culturally rich developer HUNA is a partner of Art Dubai and the Dubai Culture & Arts Authority (Dubai Culture) is the fair's strategic partner.
Held over three days from March 3-5, the fair is based out of Madinat Jumeirah, a mini-city within Dubai and a slightly surreal, Disneyesque post-modern take on the Arabian citadel complete with five-star hotels, discos, restaurants, and its own 5-km river system. At the Middle East's biggest art fair, it seems, it's a small world after all.
Held under the patronage of Sheikh Mohammed bin Rashid Al Maktoum, vice president and prime minister of the UAE and ruler of Dubai, this year's iteration features over 130 contemporary, modern and digital gallery presentations from six continents, including over 30 first-time participants.
Art Dubai 2023's gallery program features presentations from more than 40 countries, across four sections: Contemporary, Modern, Bawwaba (meaning "gateway" and featuring exclusively new work), and Art Dubai Digital.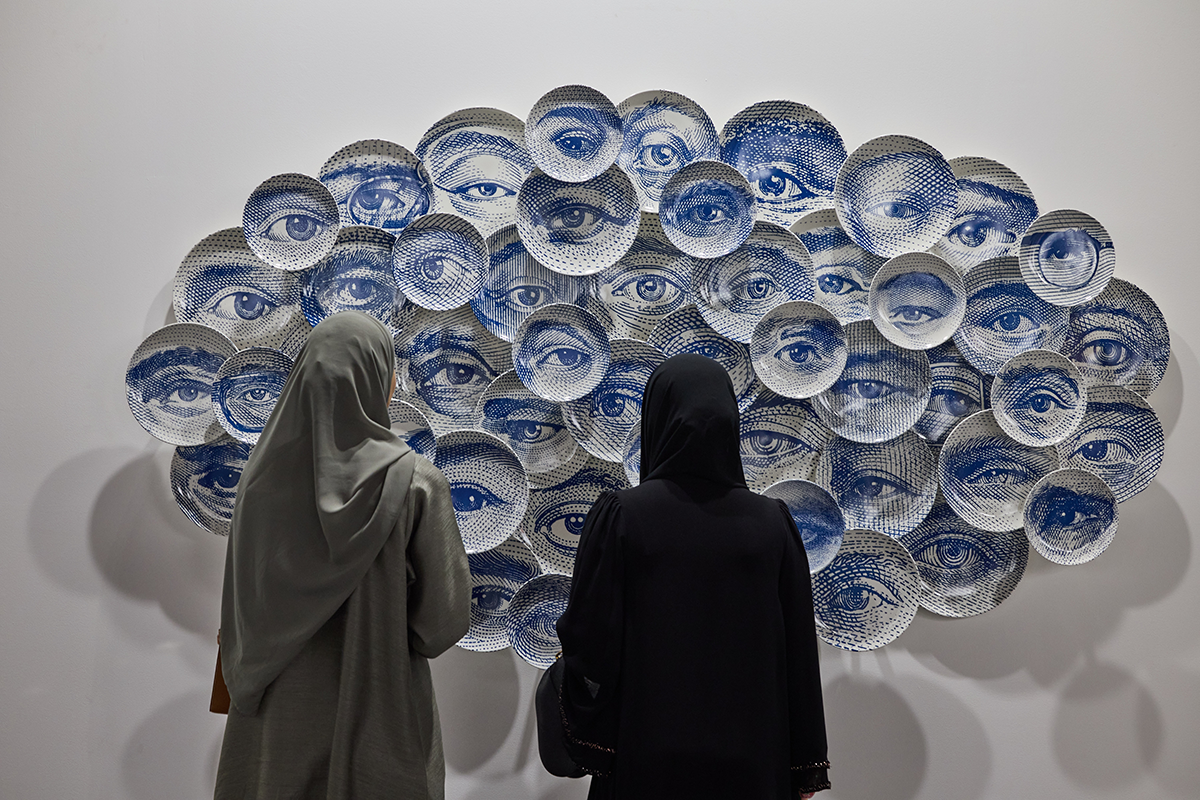 Bangkok-based Vipash Purichanont curates the 2023 edition of Art Dubai's Bawwaba section, which features artworks made in the past year or specifically for Art Dubai, and comprises solo presentations by 11 artists hailing from across the Global South. Including a variety of mediums, from painting and tapestry to filmmaking and performance, organizers say this section will examine "how contemporary artists from the Global South bring forth concerns within their worlds, from socio-cultural issues such as the tension between rapid urban development and traditional values, the legacy of colonization on environment, human relationships in the age of hyperconnectivity, or personal concerns around the meaning of language and void."
Art Dubai Modern, curated by Paris-based critic and curator Mouna Mekouar and Italian art historian Lorenzo Giusti (director of GAMeC in Bergamo), features solo presentations by the region's modern masters, "reinforcing Art Dubai's commitment to curatorial scholarship and art historical research. The selection focuses on the pioneers of contemporary art in the MENASA area, whose works are retrospectively playing a key role in today's art and, by extension, in art history and reflecting the cultural richness and diversity of the region."
The ongoing focus on the Global South, with more than 60% of the gallery program drawn from the Global South, also includes a newly commissioned performance program in partnership with leading South Asian galleries and institutions. This year also sees an expanded education, conference, and events program across five days, including the 16th edition of the Global Art Forum and the inaugural Middle East edition of Christie's Art+Tech conference.
This is the second year of Art Dubai Digital, focusing on artists and organizations working at the cutting edge of new technologies, and 2023 will see the largest ever representation of Dubai-based artists and galleries.
As Art Dubai's Executive Director Benedetta Ghione commented at a press conference during Wednesday's preview, "Art Dubai has always tried to reframe what an art fair can be, and this year's expanded program fully reflects our role as a meeting point for the region's creative industries, across the commercial and not-for-profit sectors. … We are an incubator of talent, a catalyst for the creative economy here in Dubai, a convener of great minds, and an entry point to this vibrant ecosystem for the wider cultural sector."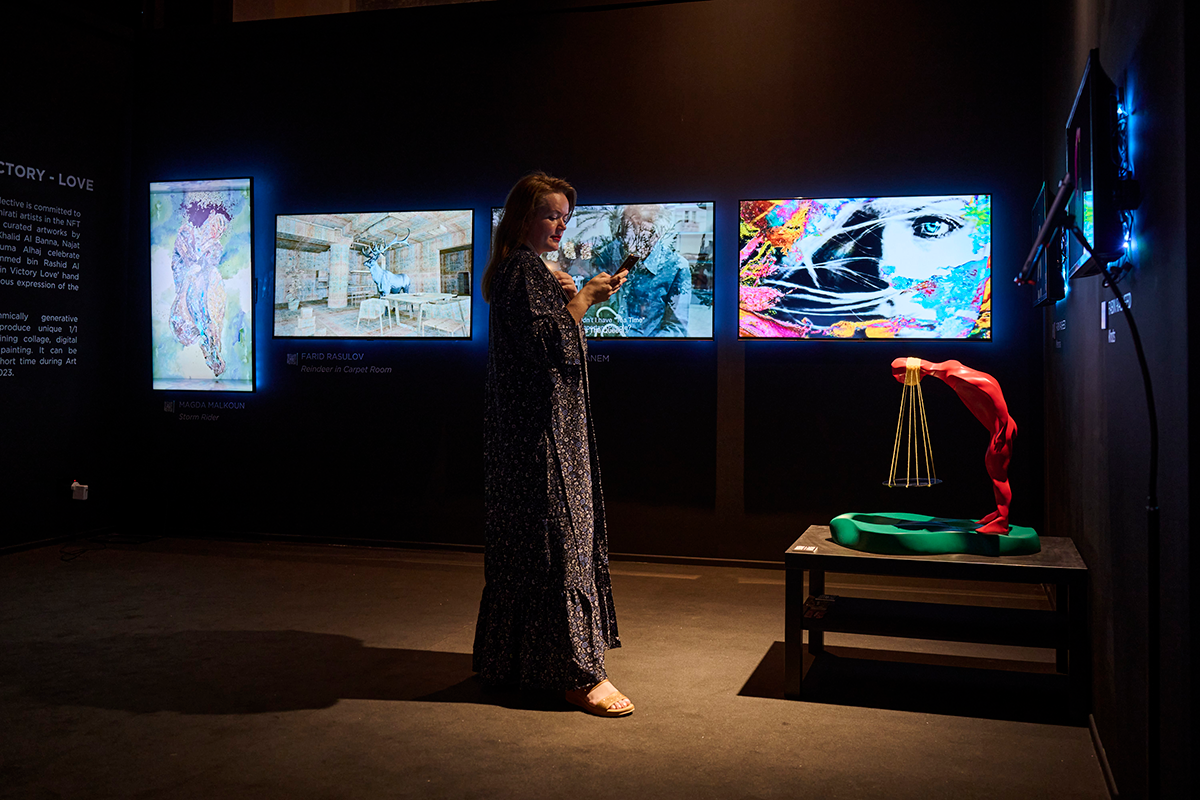 Art Dubai's Artistic Director Pablo del Val added, "Art Dubai is a truly global art fair, and this is reflected in both the quality and geographic spread of the galleries participating this year. That so much of the program is once again drawn from the Global South highlights the increased interest in and appetite for collecting non-Western art, the strengthening of the gallery scene beyond the traditional centers of the art world, and the role Art Dubai plays as a platform for regions that are under-represented in international collections."
Art Dubai is also a showcase for the emirate as a cultural – not just financial — hub.
As Mohammad Saeed al-Shehhi, CEO of A.R.M. Holding, which has renewed its partnership with Art Dubai, said, "Art Dubai is one of the most important institutions in the region's cultural landscape, incubating and supporting innovation and creativity in all its forms and at all ages. Through this partnership we aim to reinforce Dubai's position as a global center of culture and to continue empowering the next generation through innovative programs like the A.R.M. Children's Program, which will expand this year to more than 9,000 students."
Amid regional turmoil and global tendencies towards borders and barriers of all kinds, Dubai is arguably emerging as a cross-cultural beacon.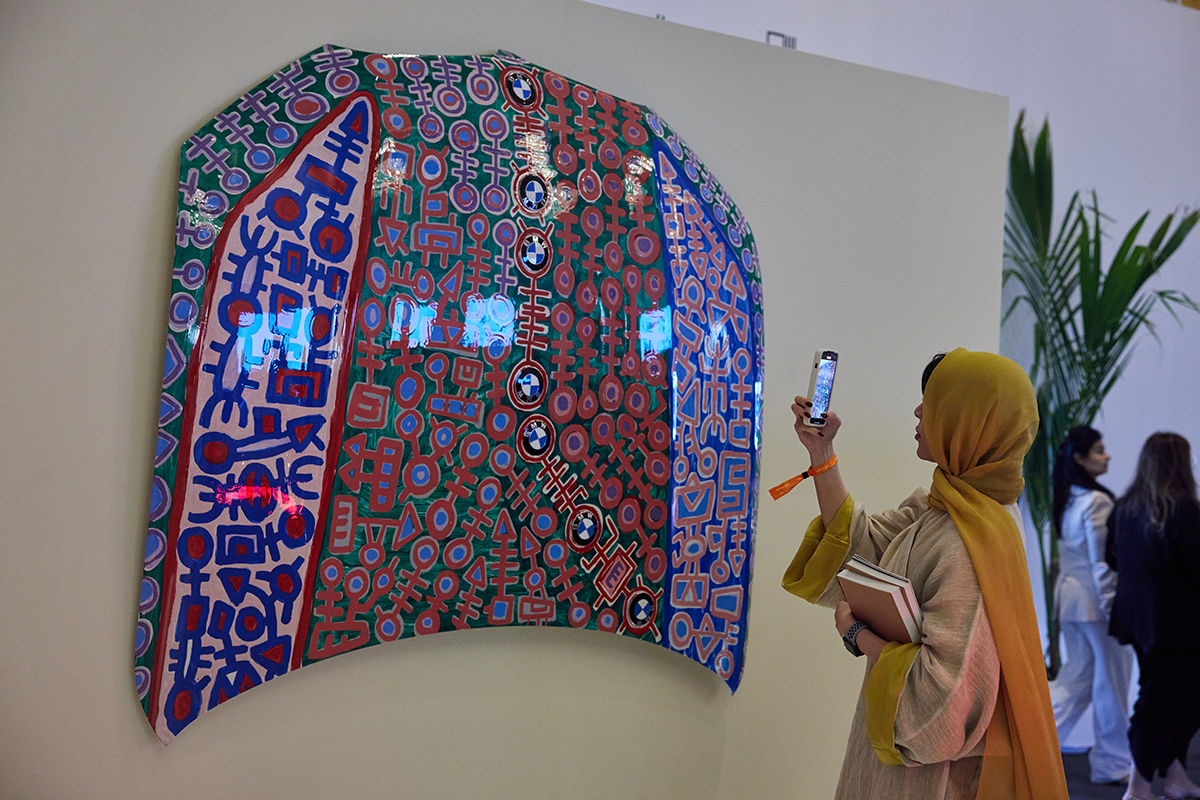 While the current cultural critical mass is a result of the maturation of many projects that began a decade ago, the fruits of Dubai's artistic labors are currently ripe for the picking. Although partly inspired by a rivalry with neighboring Abu Dhabi's successful rebranding as an arts hub, and undeniably as an international cultural tourism destination at the confluence of arts and commerce, it's hard not to be impressed by the current happenings.
This year's program for Art Dubai — part of the Dubai Art Season that runs from Feb. 1 to March 20 — is certainly enthusiastic. In a truly Dubai-ish mix of art and commerce, amidst new sculptures commissioned by BMW and new perfume bottles by Guerlain, is a true moveable feast. "Chaupal: A Journey through South Asia" promises a series of site-specific performances and activations by 10 leading artists from South Asia that "explore the power of food, ritual, and gathering."
The inspiration for the program produced in partnership with Art Dubai's galleries and several leading South Asian cultural organizations is the chaupal, a traditional community gathering space. Organizers promise "a diverse lineup of daily live performances and food-based experiences by artists whose work explores themes of community, celebration, hope, and connection."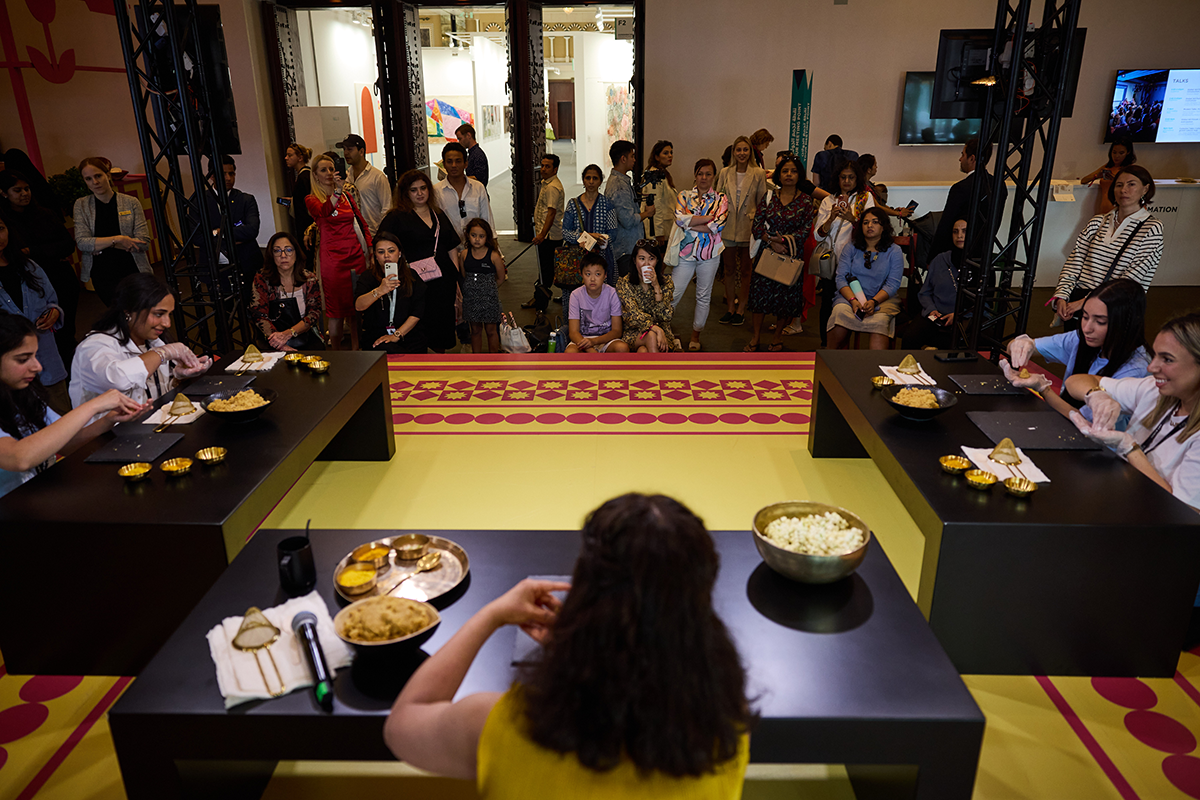 Other program highlights include a new climate change-inspired work commissioned by Julius Baer from internationally acclaimed new media artist, director, and pioneer in the aesthetics of data and machine intelligence, Refik Anadol. "Glacier Dreams" is "inspired by the beauty and fragility of the world's glaciers" and will be unveiled as a series of multisensory artworks over multiple chapters.
In its second year of collaboration with Art Dubai, 421, Abu Dhabi's independent platform for emerging artists, will present a group exhibition curated by UAE-based artist and researcher Dania al-Tamimi. The exhibition will feature artworks that pose the question: "Does time move through you or do you move through time?" Organizers say the exhibition will explore time as "the binding element of the biography of objects, the active archive of lives, and the solidifying catalyst of experiences."
This year's Global Art forum, which brings together leading artists, curators, technologists, and thinkers, is commissioned by Shumon Basar and explores the theme "Predicting the Present." Organizers say "it considers the central question: If it's the end of history and the end of the future, what happens next?"
Speakers include Sumayya Vally, principle of Counterspace, architect of the 2021 Serpentine Pavilion, and curator of the 1st Islamic Biennale in Jeddah; and Chiara Costa, head of programs at Fondazione Prada.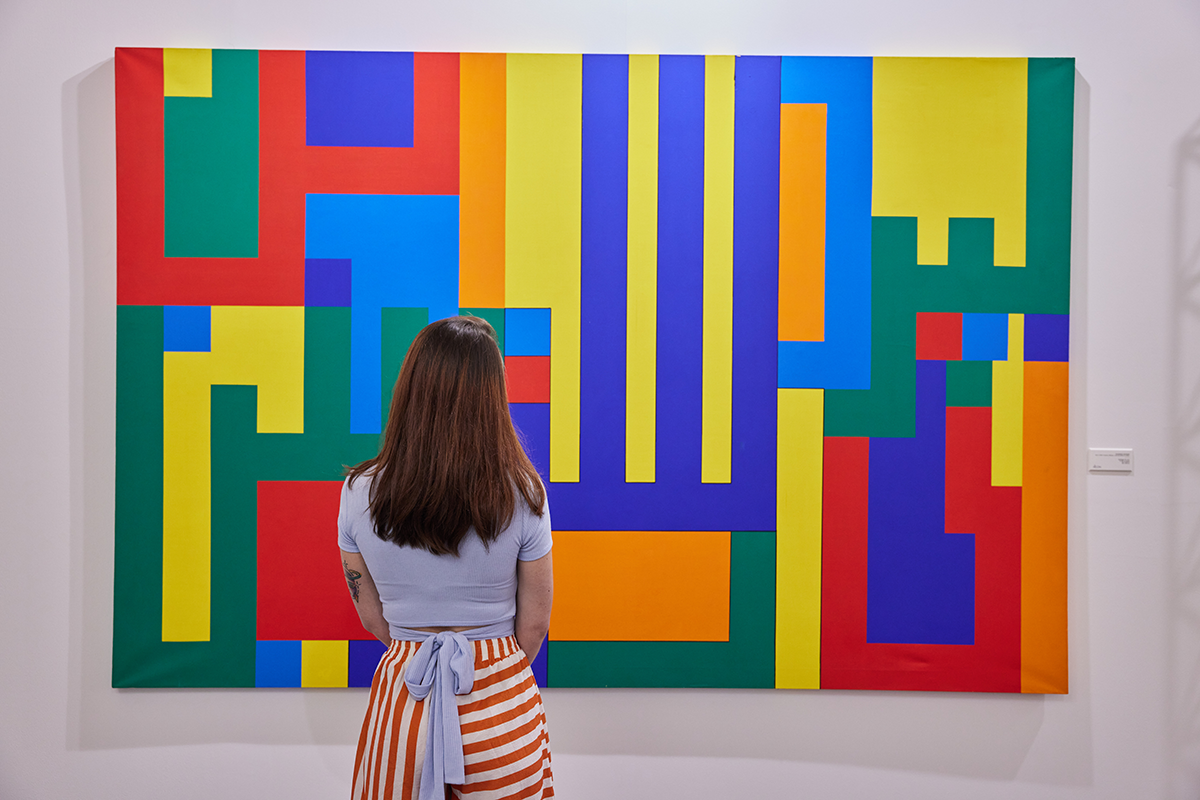 Presented in partnership with Dubai Collection, Art Dubai's 2023 edition also features a series of Collector and Modern Talks. According to organizers, the Collector Talks will focus on the "collectors and patrons who are driving the development of art scenes across the Global South and supporting the redistribution of cultural centers across the world." Panelists include noted collectors Qinwen Wang, Fiorenzo Manganiello, and Teo Yang.
To balance out the confluence of art and commerce, the accompanying Art Dubai's Modern section is a series of talks that invites guest speakers to explore topics of 20th-century artists and art forms from the Middle East and North Africa, hold critical discussions on current trends in collecting across the region, including, say organizers, "the decolonization of our art-historical canon."
At this year's Art Dubai, it seems, you can have your art and eat it too, as you cruise down a man-made river of equal parts aesthetics and commodity, admiring the view.
Hadani Ditmars is the author of Dancing in the No-Fly Zone: A Woman's Journey Through Iraq, a past editor at New Internationalist, and has been reporting from the Middle East on culture, society, and politics for two decades. Her book in progress, Between Two Rivers, is a political travelogue of ancient and sacred sites in Iraq. 
Photo by Spark Media for Art Dubai.
---
The Middle East Institute (MEI) is an independent, non-partisan, non-for-profit, educational organization. It does not engage in advocacy and its scholars' opinions are their own. MEI welcomes financial donations, but retains sole editorial control over its work and its publications reflect only the authors' views. For a listing of MEI donors, please click here.