This essay series explores the human costs and policy challenges associated with the displacement crises in the Mediterranean and Andaman Seas. The essays explore the myths or misconceptions that have pervaded discussions about these two crises, as well as the constraints or capacity deficiencies that have hampered the responses to them. See more ...
 
---
Since the start of the Syrian conflict in March 2011, approximately 470,000 people have died,[1] 1.9 million have been injured,[2] and 11 million have been displaced.[3] Such large numbers obscure the individualized tragedies that define this humanitarian crisis.
This essay is not about the Syrians who have fled their homes or those who are unable to leave despite the barrel bombs. Nor is it about Syrian refugees who are caught in limbo in neighboring countries, those that took perilous journeys to Europe by boat, or those who face rejection in the "land(s) of the free." Instead, this essay is about the witnesses — those closest to Syrian refugees and those farthest away. It juxtaposes images produced for consumption by Western audiences with reflections of Jordanian humanitarian workers.[4] How do people witness the refugee crisis?
The Refugee Crisis as Described by Actors and Celebrities
The world currently faces the largest refugee crisis since WWII with approximately 60 million forcibly displaced people, 19.5 million of whom are refugees.[5] The international refugee regime is based on a system of burden sharing in which developing states host 86 percent of the world's refugees.[6] Meanwhile, wealthier states in the Global North become financial donors that provide support for refugees abroad through the United Nations High Commissioner for Refugees (UNHCR), but historically resettle less than one percent of all refugees.[7] As the world's primary refugee agency, the UNHCR works as a liaison between major refugee host states and states that resettle small numbers of refugees. The UNHCR is tasked with vast lifesaving responsibilities, including raising awareness and money in support of refugees.
The UNHCR has deployed a series of awareness raising efforts, many of which rely on refugee experiences or retell refugee stories, with 60 "global celebrities" enlisted to advocate for refugees.[8] Angelina Jolie, Kristin Davis, Cate Blanchett, Ben Stiller, Dianna Agron, Kat Graham, and Cara Delevingne have all been photographed meeting with refugees. Non-Western celebrities are also included such as Syrian refugee Olympian Yusra Mardini, Lebanese singer MIKA, and Sudanese-born athlete Guor Maker. While some video clips compile voices from around the world, or include refugees who describe their own lived experiences, other media efforts rely solely on Western actors to retell refugee stories. This approach may reveal more about how Western audiences feel compassion than it does about the actors enlisted to advocate for refugees.
In "Their Most Important Thing" the "stars of The Vampire Diaries and Glee" describe what they would take with them if they became refugees. These actors humanize refugees by making refugee stories their own. Refugees, themselves, are not a part of the story. There is no reference to refugees' decision-making process, the hardship of displacement, the challenges of the journey into exile, or the obstacles to local integration. In another video clip entitled  "What They Took with Them," actors perform a dramatic reading of what refugees took with them. Unlike in the first video clip, this script was inspired by refugee testimonies. It was written by Jenifer Toksvig and performed by Cate Blanchett, Keira Knightley, Juliet Stevenson, Peter Capaldi, Stanley Tucci, Chiwetel Ejiofor, Kit Harington, Douglas Booth, Jesse Eisenberg, and Neil Gaiman. Photographs of refugees and refugee situations, taken by Brian Sokol, appear intermittently in the background.
In the opening scene, we see bombs falling and people fleeing amidst the rubble. The viewer assumes this is Syria, but there is no clear indication where these people are. The words "wallet, empty, wallet, money, coins, pennies…" are part of a dramatic reading of what refugees took with them into exile. The performance is moving as the audience can interpret what is important to refugees and how they strategized surviving displacement. However, the stories are decontextualized and refugee populations are treated homogeneously. Ethnic differences between the performers and the refugees are made clear as British and American accents are juxtaposed with pictures of refugees.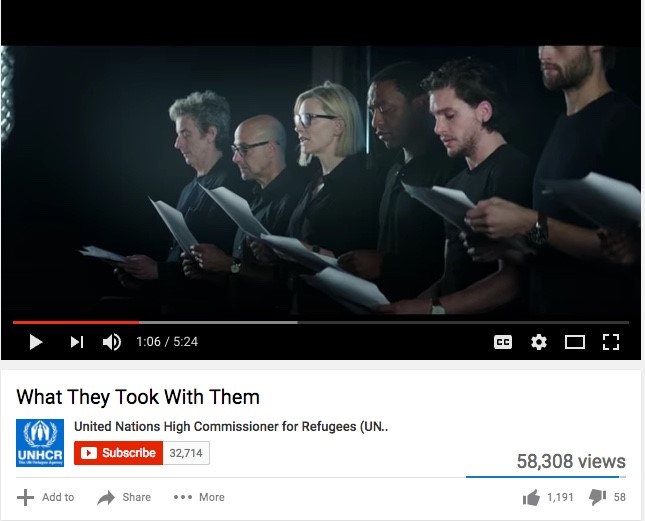 Image 1: Screenshot, video clip of "What They Took With Them," produced by UNHCR.
We see a similar strategy to address Western audiences in a short video clip produced by Save the Children entitled "Most Shocking Second a Day Video." The opening scene shows a young girl celebrating her eighth birthday, as indicated by the number of candles on her colorful cake. Her shoulder-length brown hair is parted to the side with a neat pink bow. The little girl appears in the foreground. Her mom gleefully yells out, "Make a wish!" as the "Happy Birthday Song" comes to an end.
This video is a montage representing one year in the life of an ordinary family as they become refugees. The opening scene is day-one. With each passing image, the video tells the story of refugee displacement, the journey in search of safety, and the life-altering challenges that the family faces along the way. But, there's a catch — this is a white, middle-class, British family.
The opening scene is followed by a series of shots depicting daily life: eating in the kitchen, playing dress-up with mom's makeup, music lessons, a kiss from a boy at school, and time spent at the playground with dad. "Have you done your homework?" mom asks as she braids the little girl's hair. Suspense begins to build as the scenes subtly suggest that something ominous is coming. The young girl remains the primary character throughout the clips as the background scenes increasingly allude to violence. 
A news anchor announces, "Violent clashes with…" but the little girl is unaware of her surroundings as she plays with a Rubik's cube. The mother, however, has a worried look as she intently monitors the news. The adults remain understated in the background as they engage with the impending conflict. The front page of a newspaper reads, "Government declares Martial Law." From here, the background gets increasingly chaotic. We hear sirens, watch people packing, and see the parents having a sobering discussion. "We are going to stay" says the dad, his gestures are decisive. Soon, the sirens get louder, and the family is left without electricity or running water. The lack of basic resources is common among communities in war zones as seen in Aleppo in August 2016. The young girl looks increasingly scared and unkempt. She squeals as a bomb strikes in the background. Like many refugees, this family wants to stay, but must leave to save their lives.
The girl asks, "Dad, where are we?"  from the back seat of the family car as gun shots chase the family into exile. Screams and teargas are captured in the next few scenes. Now the family is on foot, their obstacles are reminiscent of refugees being tear-gassed at the Macedonia-Greece borderin April 2016. The mother puts the only gasmask the family has on her daughter's face, but the worst is yet to come. The little girl yells out "Daddy!" as we see that he has not made it through a checkpoint, similar to what happened to refugees along the Balkans route in 2015. Under the cover of night, the mother and daughter make it to safety. A soldier in camouflage pinches the little girl's expressionless face, before the scene cuts to a clean and sterile medical room.
The video clip ends with the mother singing happy birthday to her daughter. Both are wearing hospital gowns and appear to be in a medical tent. The little girl's eyes are puffy from crying as she stares at a single candle. The mother smiles as if to assure her daughter that everything will be okay. She tells the little girl to "make a wish." The scene lingers as the little girl looks straight into the camera and at the viewing audience. She does not say a word, but the sentiment is clear: This is not okay. Do something. The clip fades to white and black letters appear on the screen that read, "Just because it isn't happening here, doesn't mean it isn't happening."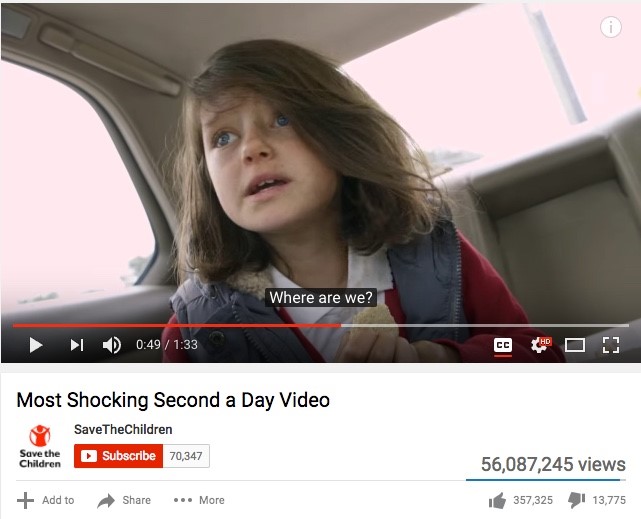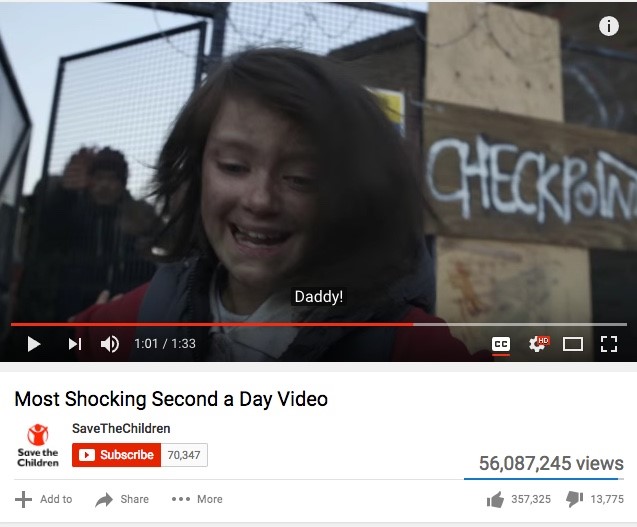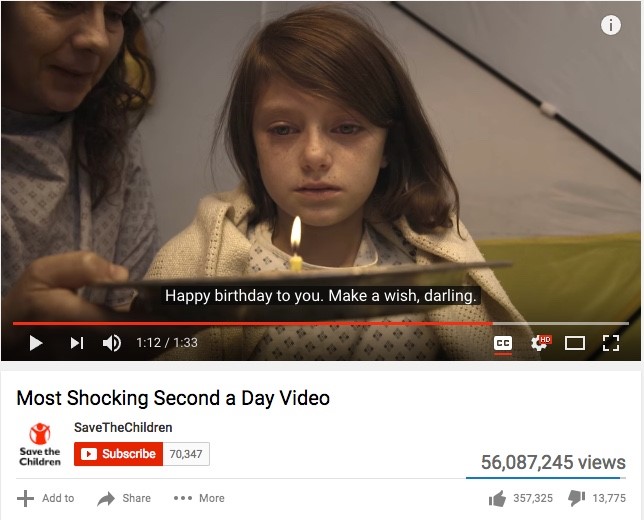 Image 2: Screenshots from the video clip entitled "Most Shocking Second a Day Video," produced by Save the Children
Some members of Western audiences witness the refugee crisis not through the voices of refugees, but through Western conduits that may be more culturally and linguistically familiar. In some cases, ethnic difference is overlooked as most of the actors are white. The political or historical context of displacement is also largely neglected. The discussion of Westernizing the refugee crisis in order to humanize refugees is not intended to demean or dismiss efforts by Western actors, celebrities, or the UNHCR. Instead, the most compelling question that comes to mind is, do Western audiences need to consume Westernized representations of the refugee crisis? In what ways does Westernizing the refugee crisis help refugees, and in what ways may it harm them? As witnesses, do Western audiences have a responsibility to contextualize, politicize, and historicize the refugee crisis? This essay does not provide answers to these questions; instead, it offers a platform to think through these important questions. 
The Refugee Crisis as Described by Jordanian Humanitarian Workers
Witnessing the refugee crisis from a distance, and through the voices of actors and celebrities, is a distinctly different experience than being on the ground as refugees cross state borders. This is the case for Jordanian humanitarian workers who helped receive Syrian refugees. For over 70 years, Jordan has maintained its legacy as a refugee host state. According to the UNHCR, approximately 655,500 Syrians refugees are registered with the U.N. in Jordan.[9] Governmental estimates are much higher, suggesting that Jordan hosts 1.3 million Syrians[10] but estimates do not differentiate between refugees and migrants. In the first few years of the conflict, the Jordanian border remained open to Syrians. Once Syrians entered Jordan, familial, cultural, linguistic, and religious ties eased the challenges of navigating a new country. Foreign Minister Nasser Judeh explained, "…There are family relations, there are intermarriages, there's a history, a demographic history, between Jordan and Syria, where people have just come in and stayed with relatives or stayed in makeshift temporary housing locations."[11] Through interviews with Syrian refugees, I learned that some refugees who entered Jordan in 2012 and 2013 were welcomed at the border with open arms. "Thank God for your safe arrival. Jordan is your second home," I heard repeated several times over throughout my interviews with Syrian refugees. I listened to descriptions of how border guards found chairs for the elderly to sit on and gave snacks to the children.
Despite the initial warm reception, Jordanian institutions as well as ordinary citizens have expressed "host country fatigue" and "host community fatigue."[12] Social institutions that provide access to education, health care, and water are strained. Jordanian host-communities criticize a perceived decline in their standard of living, which disproportionately affects poor communities in Jordan. Perceived hiring disparities between Jordanians and refugee newcomers have emboldened critics. Citing concerns about security, Jordan has stopped accepting large numbers of Syrian refugees; and 85,000 people are currently stranded at the border between Syria and Jordan.[13] Jordan's reservations about security were reinforced when a bomb, claimed by ISIS, exploded on the outskirts of Rukban refugee camp in June 2016. The King declared, "Jordan will respond with an iron fist against anyone who tries to tamper with its security and borders."[14] Jordanian border officials have made exceptions for people in extremely vulnerable conditions to cross the border, including some pregnant women, sick children, and elderly people.
Positioned at the frontlines, Jordanian humanitarian workers (JHW) face challenges of refugee reception on-the-ground in camps and urban areas. JHW have become the faces of international aid organizations. They manage the basic needs of refugees, from housing and education to health care access. In doing so, JHW also confront the successes and failures of human rights as they discover asymmetry between what international non-government organizations (NGOs) are expected to do and the realities of what is possible on-the-ground.
Hannan, a 26-year-old female college graduate, describes her disillusionment with pervasive narratives about human rights that privilege Western values. "We [Jordanians] always thought America and Europe were the countries of human rights," she said to me as we weaved through traffic. Her eyes remained on the road, but her hand gestures captured the revelation in her voice. "After seeing how these countries have treated refugees — People dying in the ocean! — I started to realize, no, we are the real country of human rights."
Hannan graduated with a degree in marketing around the time that Syrian refugees began to enter Jordan in large numbers. In 2013, she accepted a job with a humanitarian NGO. Hannan worked her way up from directing phone calls to managing multiple educational programs for Syrian children throughout the country. She takes pride in her work, though she often imagines what it would be like to take a break. Hannan admits that the first year, working in the Zatari refugee camp, was the hardest. "Sometimes, I would come home and cry. Their stories burn your heart. It is like all of a sudden we began to understand the stories our grandmothers told us." Hannan, like many Jordanians, is the child of Palestinian refugees who sought refuge in Jordan. The hardships that Syrians have faced remind Hannan of her own family's refugee history.    
It was clear that Hannan feels a sense of responsibility toward Syrian refugees. On one occasion, Hannan organized a winterization campaign with her friends and colleagues when the management of the NGO she worked for was unresponsive to the needs of Syrians families who were facing harsh winter storms. Her voice grew boisterous as she described the thrill of driving on icy roads, at night, to deliver blankets. Hannan was protective of the Syrian families with whom she worked. She offered me measured advice before I conducted my interviews with refugees. "Do not ask questions that will make people cry," she instructed. "They have had enough of that, you do not need to remind them of everything they have lost." When we met with refugees together, I watched her reassure Syrians by saying, "Be patient. God sends people for people."  
While Hannan may have been more driven than many JHW, she was not alone in feeling a sense of responsibility toward Syrian refugees. Samir, too, expressed his sense of duty toward Syrian refugees. Samir, a 30-year-old male, had an expansive network of Syrian refugee friends and acquaintances. He was jovial, light-hearted, and had a mischievous streak. As he introduced me to Syrian refugees, I heard several times over that they were only willing to talk openly with me because Samir could vouch for me. Refugees trusted him. I quickly learned why that was the case as I watched Samir listen carefully to people's concerns and search for solutions. Samir tapped into his extensive social network among refugees and aid workers. His phone rang constantly and he always answered it.  
"I see the people in the camp more than I see my own family," Samir said to me. The comment started off as a complaint, but by the time he finished the sentence, it sounded more like an admission. He complained about waking up early, about the summer heat, about the time spent at work — but never about the refugees. Samir talked about how, as a Jordanian with Palestinian roots, he felt connected to Syrian displacement. He used a shared narrative of displacement to foster relationships with refugees.
While scholars have written, albeit sparingly, about tensions between refugee and host communities in major refugee receiving countries, the experiences of humanitarians on the frontlines remain unanalyzed. The vignettes of Hannan and Samir are not intended to be exhaustive or generalizable. Instead, these stories are illustrative of trends that I identified throughout my fieldwork to varying degrees. JHW are the face of aid for many Syrian refugees. They speak Arabic; are culturally sensitive to the needs of Syrian refugees; have extensive networks among refugees and host communities; and can offer words of comfort rooted in shared religious scripts. Their compassion and basic human regard for Syrian refugees offers scholars a new lens through which to observe and interpret the application of human rights in the contemporary refugee crisis.
Conclusion
Refugee experiences are shaped by communities who receive them and the international refugee regime, which relies on the UNHCR and international NGOs to raise awareness and funds for refugees. In this essay, I have demonstrated that there are distinct ways to witness refugee experiences. I have juxtaposed some Western and Eastern witnesses by comparing the images produced by Western actors and celebrities with firsthand accounts from Jordanian humanitarian workers on the frontlines of the Syrian refugee crisis. The NGO-produced images use Western actors and celebrities to reimagine refugee stories. Western audiences respond to refugees' words as retold and reenacted by Western actors' interpretations. While evocative, this approach subtracts real refugees from the experience of sympathizing. The world's refugees are treated as a homogenous group with no acknowledgement of geographic, cultural, linguistic, religious, political, or class differences. In contrast, Jordanian humanitarian workers (JHW) describe their experiences in providing aid to Syrian refugees. JHW roles as witnesses becomes an important part of their identity, especially as JHW draw comparisons to their own familial refugee experiences. Through my ethnographic work in Jordan, I find that JHW identify discrepancies in the global scripts that place the Western world at the center of human rights. Instead, some JHW see themselves as human rights bearers. Shared geographic, cultural, linguistic, and religious commonalities bring JHW and Syrian refugees closer together. By contrasting these two cases, I have described what it looks like to witness the contemporary refugee crisis from two perspectives. Moving forward, I suggest that scholars problematize the ways in which refugees are humanized and incorporate lessons from humanitarians on-the-ground in the study of human rights and refugee reception. 
---
[1] Anne Barnard, "Death Toll from War in Syria Now 470,000, Group Finds," New York Times, February 11, 2016, accessed February 10, https://www.nytimes.com/2016/02/12/world/middleeast/death-toll-from-war….
[2] Ian Black, "Report on Syria conflict finds 11.5 percent of population killed or injured," The Guardian, February 10, 2016, accessed February 10, 2017, https://www.theguardian.com/world/2016/feb/11/report-on-syria-conflict-….
[3] Mercy Corps, "Quick Facts: What you need to know about the Syria Crisis," October 13, 2016, accessed February 10, 2017, https://www.mercycorps.org/articles/iraq-jordan-lebanon-syria-turkey/qu….
[4] My analysis of Jordan is based on ethnographic observations and in-depth, semi-structured interviews conducted in Jordan over six months of fieldwork in 2016. All names have been changed to respect and protect anonymity.
[5] UNHCR, "Worldwide displacement hits all-time high as war and persecution increase," June 18, 2015, accessed February 10, 2017, http://www.unhcr.org/en-us/news/latest/2015/6/558193896/worldwide-displ….
[6] Ben Norton, "The 5 richest countries host just 5% of refugees — 86% are in developing countries," Salon, June 10, 2016, accessed February 10, 2017, http://www.salon.com/2016/06/10/the_5_richest_countries_host_just_5_of_….
[7] UNHCR, "Resettlement," accessed February 10, 2017, http://www.unhcr.org/en-us/resettlement.html
[8] The UNHCR is the primary knowledge producer in the study of refugees, and in that capacity, creates many images and infographics that do not rely on Western conduits to humanize refugees. However, the popularity of the images suggests that some Western audiences witness the refugee crisis not through the voices of refugees, but in the ways in which refugee stories are retold through Western voices.
[9] UNHCR, "Syria Regional Refugee Response: Jordan," February 1, 2017, accessed February 10, 2017, https://data.unhcr.org/syrianrefugees/country.php?id=107.
[10] The Embassy of the Hashemite Kingdom of Jordan to the United States, "Speech by Minister of Foreign Affairs & Expatriates Affairs His Excellency Nasser Judeh at the International Conference on 'Syrian Refugee Situation - Supporting Stability in the region," October 28, 2014, accessed February 7, 2017, http://jordanembassyus.org/news/speech-minister-foreign-affairs-expatri….
[11] Lyse Doucet, "Jordan's desert camp for Syrian refugees," BBC News, July 30, 2012, accessed February 7, 2017, http://www.bbc.com/news/world-middle-east-19042686.
[12] Ibid.
[13] Yolande Knell, "The Syrian refugees struggling to survive in no-man's land," BBC News, July 22, 2016, accessed February 7, 2017, http://www.bbc.com/news/world-middle-east-36865324.
[14] The Embassy of the Hashemite Kingdom of Jordan to the United States, "His Majesty King Abdullah II: Jordan Will Respond with Iron Fist Against Anyone Who Tries to Tamper with Its Security," June 21, 2016, accessed February 7, 2017, http://www.jordanembassyus.org/news/his-majesty-king-abdullah-ii-jordan….
Photo: KHALIL MAZRAAWI/AFP via Getty Images
---
The Middle East Institute (MEI) is an independent, non-partisan, non-for-profit, educational organization. It does not engage in advocacy and its scholars' opinions are their own. MEI welcomes financial donations, but retains sole editorial control over its work and its publications reflect only the authors' views. For a listing of MEI donors, please click here.