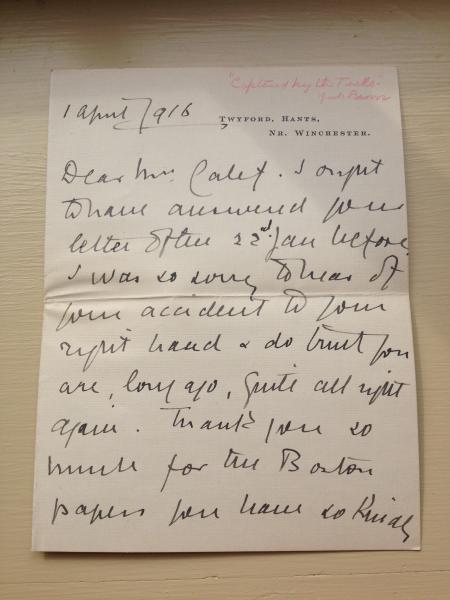 Caught by Surprise: Letter Found in Rare Book Collection
A treasure appeared in the Oman Library at the Middle East Institute in January. Librarian Amal Morsy scanned the shelves of the rare book collection, touching the spines of antique books to measure their approximate age by feel. She pulled down Muhammedanische Studien, a thick German tome written in 1888. As she was unsure of the title's translation from German to English, she started to put the book back. But then something slipped from the pages—two delicate papers, yellowed with time, dated April 1, 1916. It was a letter from Agnes Yeats-Brown to her friend Mrs. Cadet in Boston, detailing everyday life in wartime England.
In winding cursive, Agnes narrates her family's tale of World War I. Despite all her children serving on the front lines, Agnes's tone in the letter is cheerful and optimistic, inquiring about family weddings and news from America. Even when describing the plight of her three sons, she does not exhibit a hint of despair. Alan, her eldest, is on a naval destroyer, while Victor, her second, is a major based in France.  Amal gasped when she read about Agnes's youngest son, Francis, who was a pilot. His plane went down over Mesopotamia, and he was taken prisoner by the Turks.  Agnes tells Mrs. Cadet that she has received letters from him, but that they are censored. All she knows is that he is still alive.
Agnes signs off by writing "how very nice to think how much our dear American friends are with us all in spirit"—perhaps a subtle plea for American intervention in the war, which would not come for another year.
Upon further research, the Oman Library learned that Agnes's husband, Montagu Yeats-Brown, had served as the British Consul to Boston, where the family befriended Mrs. Cadet. As for what became of the Yeats-Brown children serving in the armed forces, it is unclear if Alan and Victor survived the war. Francis, however, survived his time in captivity. His mission, before his plane went down, was to cut telegraph lines outside of Baghdad. As hostile forces closed in on his crash site, Francis realized that there was no escape, but he was determined to carry out his mission. With gunfire close behind him, Francis ran to the telegraph lines and destroyed them with explosive charges. Minutes later, he was a prisoner of war. After the war Francis returned home and wrote a book about his experiences as a POW, entitled Caught by the Turks--a first edition copy of which was found by Amal in the Oman Library a few days later; included in its leaves were newspaper clippings promoting the book and covering Yeats-Brown's story. His soldier days behind him, Francis turned to writing full time and became a journalist.
Agnes's letter to Mrs. Cadet is a remarkable treasure in the Oman Library. It is a fascinating look at what correspondence was like in 1916 as well as a tale of two friends separated by the Atlantic. But most of all, it is an apt memento of the everyday struggles that families faced in wartime England.
If you would like to have a look at Agnes's original letter, please visit the Oman Library at the Middle East Institute, and enjoy our other works in the rare collection, too!