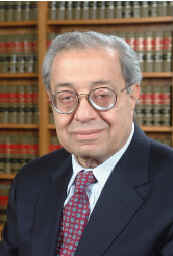 Clovis Maksoud, a diplomat, writer, intellectual, professor, and a familiar figure in Washington since the 1970s, has passed away at the age of 90.
He served for many years as a representative of the Arab League, and was sent as a special representative of the League to the United States during the oil crisis of 1974. From 1979-1990 he was the Arab League's Ambassador to the United States and the United Nations. Maksoud, a proponent of Arab unity, resigned that post over the Iraqi invasion of Kuwait. He was also a frequent spokesman for Palestinian issues.
At earlier periods in his career he had served as a writer and editor, and continued to write newspaper columns and articles for many years, as well as books. In recent years he served as Director of the Center for the Global South at American University in Washington.
Ambassador Maksoud and his late wife Hala were prominent figures around the Washington diplomatic, Arab, and Lebanese communities for decades. He was always friendly, accessible, and outspoken, a highly visible voice for Lebanon, for Palestine, and for the Arab World as a whole.
Photo Source: American University
---
The Middle East Institute (MEI) is an independent, non-partisan, non-for-profit, educational organization. It does not engage in advocacy and its scholars' opinions are their own. MEI welcomes financial donations, but retains sole editorial control over its work and its publications reflect only the authors' views. For a listing of MEI donors, please click here.