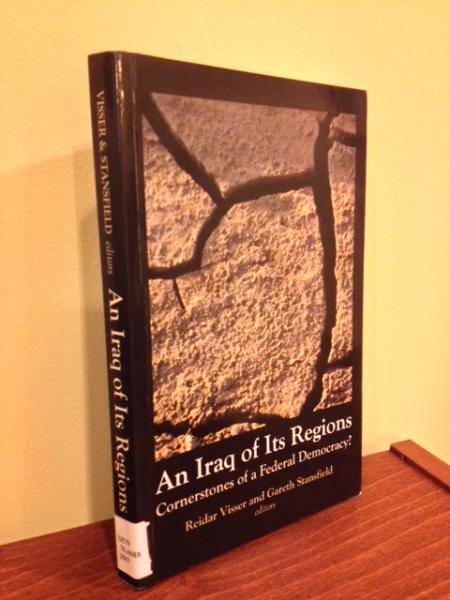 An Iraq of Its Regions, edited by Reidar Vissar and Gareth Stansfield, 2008
In opposition to the prevalent Western argument that Iraqi identities are sectarian-based, editors Reidar Visser and Gareth Stansfield lead a historiographical analysis in An Iraq of Its Regions that advocates for regionalism as a critical metric for conceptualizing identity in Iraq. They argue that the ethno-religious designations of Shi`i, Sunni, and Kurd as the defining identities for Iraqi citizens are a simplified solution that generalizes a much more complex and diverse country. On a case by case basis, the authors detail the unique nature of selected regions in relation to the political composition of the nation as a whole. The chapters explore regional identity in southern Iraq, Baghdad, Tikrit, Mosul, and Kurdistan before addressing the concept of Iraqi national sentiment. The last three chapters look at comparisons between regions, address the ambitious project of federalism, and provide future scenarios based on the difficulties confronting the country in its transitional state.
For Scholars
           An Iraq of Its Regions invokes an alternative debate regarding how to perceive Iraqi identity, which serves as a valuable resource for better understanding the composition of the country. Visser and Stansfield's exploration of the political and territorial implications of regionalism will serve any scholar looking to learn more about the basis of Iraq's society and political nature. In An Iraq of Its Regions, researchers will find an accessible analysis of Iraqi regionalism and an in-depth look at the historical context behind the political and social obstacles that the country faces today.  
Primary Research Applications
Regional identity in Iraq
Iraqi domestic politics and society
Middle East regionalism
Arab nationalism
Democratic transitions
Iraqi federalism
Further Reading in Oman Library (among other texts):
Imagining the Nation: Nationalism, Sectarianism and Socio-Political Conflict in Iraq, by Harith al-Qarawee, 2012
Democracy in Iraq: History, Politics, Discourse, by Benjamin Isakhan, 2012
A Responsible End? The United States and the Iraqi Transition, 2005-2010, by Reidar Visser, 2010
Saving Iraq: Rebuilding a Broken Nation, by Nemir Kirdar, 2009
The Kurds Ascending: The Evolving Solution to the Turkish Problem in Iraq and Turkey, by Michael Gunter, 2008
Kurdish Identity: Human Rights and Political Status, edited by Charles MacDonald and Carole O'Leary, 2007
Basra, the Failed Gulf State: Separatism and Nationalism in Southern Iraq, by Reidar Visser, 2005
Middle East Subcultures: A Regional Approach, edited by William Hazen and Mohammed Mughisudden, 1975