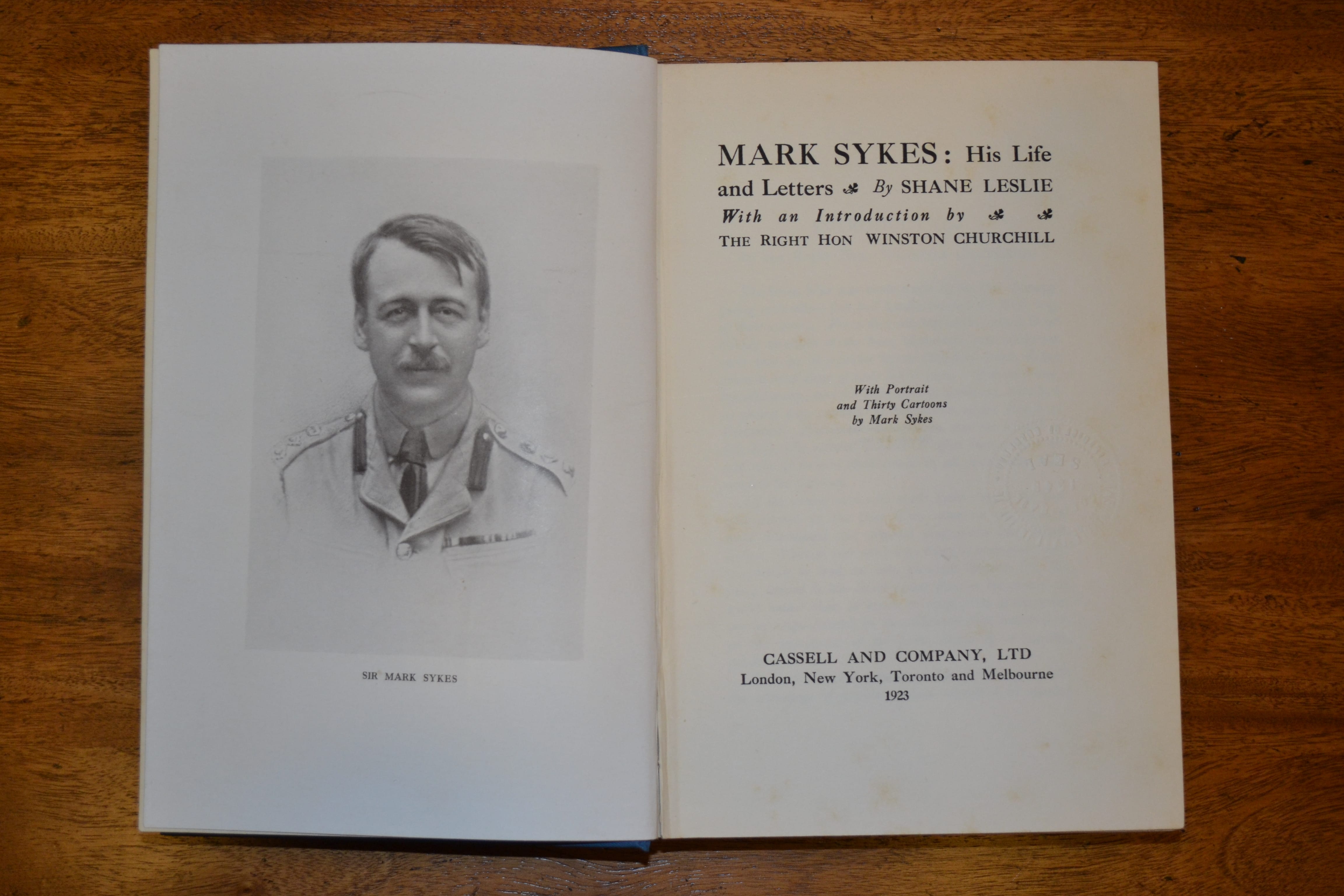 Mark Sykes: His Life and Letters, by Shane Leslie, 1929
            The life of Sir Mark Sykes, the British diplomat who negotiated the Sykes-Picot Agreement of 1916 with French diplomat François Georges-Picot, is given a thorough treatment in Mark Sykes: His Life and Letters. Leslie Shane uses Sykes' letters, commentary of those who knew Sykes, and his own biographical narrative to assemble the remarkable story, from Sykes' birth and family life to his last fervent involvements in "the Eastern question" during the postbellum months that preceded his sudden death in 1919. The text is divided into sections on Sykes' education and early years; his participation in the Boer War; his early travels to the East (through 1906); his relationship with religion; his travels as a Catholic; his love of literature; his later travels to the East; his political career and his position as a Member of Parliament for Hull; his important service and labors in the Great War; and finally the events surrounding his death. Throughout, Shane weaves in Sykes' correspondence as well as others' writings about him to provide a more personal picture of the man and his life.
            The copy at the Oman Library, a second edition printed in 1929, includes a number of additional treasures: an introduction by none other than Winston Churchill, a portrait of Sir Mark Sykes, and dozens of cartoons by Sykes lampooning the narrow perspectives and comic situations he encountered. Some readers may also delight in the language quirks of the day that appear throughout the pages, including such words as like "wot" (to have knowledge) and "squirearchy" (landowners).
For Scholars
             Shane Leslie's work is most relevant to scholarship on Sir Mark Sykes himself. Nevertheless, it bears application to a number of related topics, such as the Eastern theater of World War One, Arab nationalism, the Zionist movement, Armenian nationalism, the Boer War, and the complications of English high society.
 
            Further reading in the Oman Library (among other texts):
 
Allenby and British Strategy in the Middle East, 1917–1919, by Matthew Hughes, 1999
The Great Powers and the End of the Ottoman Empire, by Marian Kent, 1996
A Peace to End All Peace: The Fall of the Ottoman Empire and the Creation of the Modern Middle East, by David Fromkin, 1989
British Policy in Palestine, 1917–1922, by John McTague, 1983
British Policy towards Syria & Palestine, 1906–1914: A Study of the Antecedents of the Hussein-McMahon Correspondence, the Sykes-Picot Agreement, and the Balfour Declaration, by Rashid Khalidi, 1980
The Zionist Movement, by Israel Cohen, 1945
---
The Middle East Institute (MEI) is an independent, non-partisan, non-for-profit, educational organization. It does not engage in advocacy and its scholars' opinions are their own. MEI welcomes financial donations, but retains sole editorial control over its work and its publications reflect only the authors' views. For a listing of MEI donors, please click here.