Summary
The Islamic State's Afghan wilayat, known as the Islamic State in Khorasan, initially grew with surprising strength and speed. However, recent losses, at the hands of both the Taliban and U.S.-backed Afghan forces, have imperilled the Islamic State's future in Afghanistan. The radical group has struggled to establish a foothold in the country, and is largely seen by locals as a foreign force. While it continues to exploit Taliban factionalism to maintain a presence, it faces an uphill battle to become a permanent fixture in the complex Afghan tribal and militant landscape. Continued pressure brought by targeted U.S. airstrikes have further eroded the Islamic State's capabilities in Afghanistan, and should continue to prevent the Islamic State from carving its own space in the war-torn country.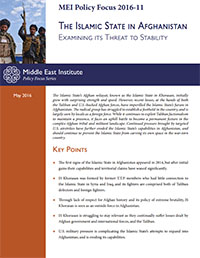 View PDF
Key Points
The first signs of the Islamic State in Afghanistan appeared in 2014, but after initial gains their capabilities and territorial claims have waned significantly.
IS Khorasan was formed by former T.T.P. members who had little connection to the Islamic State in Syria and Iraq, and its fighters are comprised both of Taliban defectors and foreign fighters.
Through lack of respect for Afghan history and its policy of extreme brutality, IS Khorasan is seen as an outside force in Afghanistan.
IS Khorasan is struggling to stay relevant as they continually suffer losses dealt by Afghan government and international forces, and the Taliban.
U.S. military pressure is complicating the Islamic State's attempts to expand into Afghanistan, and is eroding its capabilities.
Read the full Policy Focus Paper.
---
The Middle East Institute (MEI) is an independent, non-partisan, non-for-profit, educational organization. It does not engage in advocacy and its scholars' opinions are their own. MEI welcomes financial donations, but retains sole editorial control over its work and its publications reflect only the authors' views. For a listing of MEI donors, please click here.