India's interests and capabilities extend well beyond the sub-continent. This essay is part of a series that explores the geopolitical dimensions, economic ties, transnational networks, and other aspects of India's links with the Middle East (West Asia) — a region that plays a vital role in India's economy and future. More ...
---
In the wake of a receding Islamic State (IS) and a generally weakened Al Qaeda (AQ), India has managed to prevent many of its citizens from travelling abroad to fight or launch assaults domestically. Much of this success is attributable to the work of Indian intelligence agencies, coupled with a pushback from the Indian Muslim community.
However, the terrorism threat faced by India emanates not simply from domestic elements walled off from external influences but from transnational linkages between them and individuals and groups operating outside the country. The transnational dimension of the terrorism threat has led India to seek effective counterterrorism partnerships.
India's burgeoning economic relations with the Gulf Cooperation Council (GCC) countries have been accompanied by heightened security risks, including in the domain of terrorism. In light of these developments, this article addresses three questions: What is the nature and gravity of the transnational terrorist linkages that exist between India and Gulf Arab countries? What steps has India taken, in concert with its Gulf Arab partners, to counter the terrorist threat? And what more could be done to strengthen India-Gulf Arab counterterrorism (CT) cooperation?
Transnational Linkages to Terrorism
A migrant population of almost eight million Indians working in the Gulf laid the foundation for improved bilateral relations between India and the six GCC member states.[1] Geopolitical shifts in the late 20th and early 21st century, underpinned by the strengthening of India's relations with the United States — the latter being a major security provider of the Gulf nations, and India's hunger for energy led to more extensive India-Gulf Arab ties.[2] The broadening and deepening of India-Gulf Arab relations manifested in various declarations and Memoranda of Understanding on trade, defense and investments.[3] They also extended to the realm of security, including counterterrorism.[4]
This was an important development since the rise of the Islamic State as well as Al Qaeda in the Indian Subcontinent (AQIS) towards the end of 2014 magnified fears regarding the involvement of Indian nationals abroad.[5] These fears have come true three years later, albeit on a very small scale; intelligence agencies have noted that a significant number of Indians who joined the Islamic State have had links to individuals in the Gulf, with a larger population at risk of radicalization.[6]
Furthermore, the Gulf has been used as a haven by homegrown organizations such as the Student Islamic Movement of India (SIMI) as well as the Indian Mujahideen (IM) even longer than AQ and IS.[7] This was done to mitigate the risks of colluding with Pakistani nationals across the border to conduct operations. Thus, many communication networks have been developed by Indian terrorists in the Gulf, which is also home to numerous Pakistanis. Due to the large migrant population in the UAE, frequent travels of terrorist group members between India/Pakistan and the Gulf nations were not viewed with much suspicion. Over the years, such individuals have leveraged the economic opportunities in the Gulf nations to raise funds and/or conduct businesses to later finance operations and exchange information.[8]
India-Gulf Counterterrorism Cooperation
Given the linkages of transnational terrorism, cooperation between India and its Gulf counterparts is an important dimension of Delhi's overall efforts to combat the threat. These collaborative activities are mostly focused on threats emanating from Saudi Arabia and the UAE. To date, there are three focal points of nascent counterterrorism cooperation between India and its Gulf partners: terror financing, persons of interest, and travel routes.[9] As will be shown further, collaboration in each of these areas is both highly desirable and possible.
1. Terror Financing
Indians in the Gulf account for half of the total remittances sent to India.[10] Most of these transactions take place through wire transfers. However, a significant amount money transferred from the Gulf to India is channeled through the informal hawala system.
Hawala is an unregulated, trust-based way of transferring money that is used by various poorer immigrants to evade transaction charges slapped on them in the country of origin as well as taxes in their home country.[11] Its unregulated nature also makes it attractive for criminals, money launderers and terrorists. According to some estimates, India has lost over $1.5 trillion in tax revenue in the last 60 years due to hawala transfers.[12]
The terrorist group Indian Mujahideen (IM) has used the hawala system as a financial pipeline. Its chief financer, Abdul Wahid Sidibappa, is reported to have moved funds from the UAE to India.[13] Similarly, Lashkar-e-Taiba had channeled money via the Gulf to orchestrate the 26/11 Mumbai attack.[14] Apart from this, Indian authorities have accused various ostensible charity groups for funneling money into terrorist activities rather than actual philanthropy, underscoring the deep financial connection between transnational terrorists in India and abroad.[15]
To effectively synchronize responses towards this, both India and members of the GCC can utilize their engagement with the Financial Action Task Force (FATF) the international body that works to counter money laundering and terrorist financing among other things.[16] Steps suggested include better inter-bank and inter-branch cooperation as well as communications sharing with banking officials and related institutions. Additionally, India could also work with the Gulf nations to identify and regulate hawala dealers — regulation of their activities being a more realistic alternative than seeking to stop them.
2. Travel Routes
The Gulf nations have been used as transit points for individuals travelling to conflict-ridden regions like Syrian, Iraq and Afghanistan. For instance, the cohort of 21 Keralites (including eight minors) who travelled to Afghanistan to join IS in 2016 had travelled via cities in the UAE, Kuwait, Bahrain and Oman.[17] [See Map 1 below.]
That a lot of Indians travel to the Gulf nations either to work, or as stopover destinations makes it especially hard for intelligence agencies to detect suspicious persons. Thus, it is vital for immigration authorities in the respective countries to cooperate and share information of interest. Methods of such cooperation would include development of common databases and joint training for authorities in dealing with suspicious persons. These operations would also encourage the formation of networks between various security officials from the respective nations boosting counter terrorism efforts. Good models of information sharing to prevent foreign fighters travelling to risk areas exist in the European Union which had foiled more than 140 terrorist plots in the year 2016 alone.[18]
Map 1. Travel Routes of the Kerala cohort who joined IS in Afghanistan[19]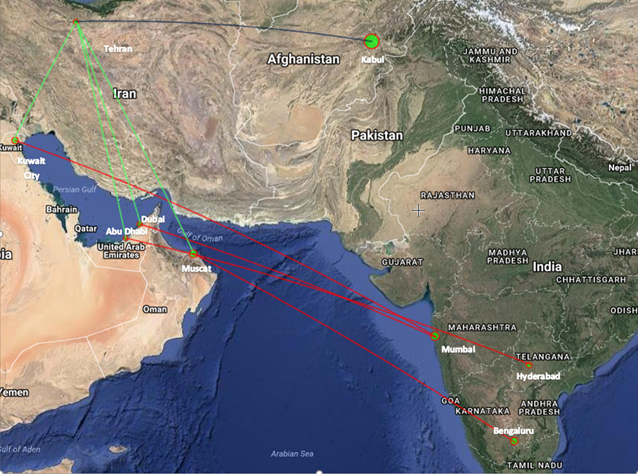 3. Persons of Interest
For a while now, India has been concerned by the fact that the Gulf nations are used as sanctuaries by various individuals wanted by the country. Chief among these individuals is Dawood Ibrahim, mastermind of the 1993 Mumbai attacks, who was also implicated in the November 11 attacks in the same city 15 years later that claimed the lives of more than 150 people.[20]
While Dawood himself is based in Pakistan and thus cannot be extradited to India, he has significant property and other financial assets in the UAE which have not been confiscated.[21] The Gulf nations have also been home to some important jihadists, such as Zabiuddin Ansari (alias Abu Jundal),[22] an alleged planner of the 2008 Mumbai attack, as well as Nicky Joseph, a known recruiter for the Islamic State.[23]
Table 1. List of known Islamic State cells operating out of the Gulf nations


Table 2. List of prominent Indian terror suspects operating in the Gulf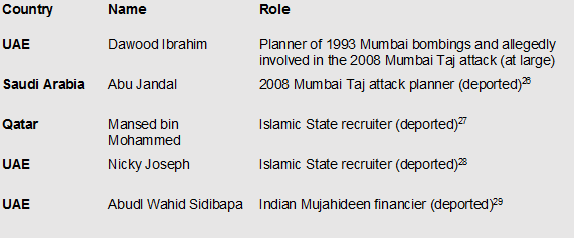 Incrementally though, India's engagement with these nations have led to more deportations of problematic individuals, numbering approximately 30 over the past four years (See Figure 1 below). Any increased collaboration between the nations has to focus on better information sharing between Indian and Gulf agencies and the development of more robust extradition frameworks that also protects human rights. Not only can this practice help bring terrorists to justice, but also help forestall terror plots altogether.  A good example of this can be seen in the Singapore-Indonesia partnership, whereby Indonesia foiled an attack on the Singaporean mainland from its territory in the latter part of 2016.[30] Indian and Gulf agencies intelligence agencies should strive to develop similar teamwork.
Figure 1. Indians deported from the GCC nations on charges of terrorism.[31]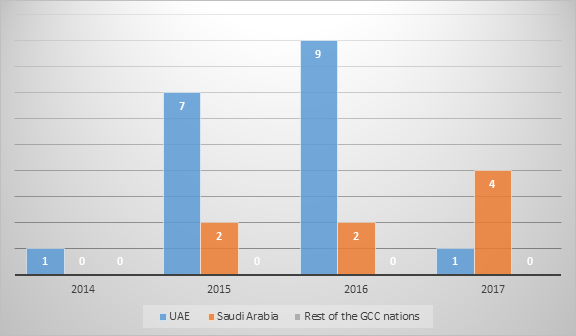 Potentially Promising New Avenues of CT Cooperation
There are numerous other avenues through which India and the Gulf nations can expand their counterterrorism cooperation. India has slowly begun augmenting its cyber capabilities to disrupt terrorist attacks. India is also employing these capabilities to prevent extremism and radicalization. For instance, in Operation Chakravyuh in 2014, Indian intelligence operatives assumed the role of Islamic State recruiters online and reportedly dissuaded about 3,000 youth from taking part in extremist activities.[32] In Operation Pigeon Hole, which was conducted in May 2017, security personnel identified nearly 800 youth deemed susceptible to online propaganda and worked with local communities and clerics to help deradicalize them.[33]
Building on the success of such operations, India has shared its expertise with Malaysia and the Philippines, deploying cyber experts to conduct training programs for local security forces.[34] Similar joint cyber training exercises as well as counter narrative development workshops would be excellent ways for India to further its relations with the Gulf nations.
Another plausible step the countries can take is to convene joint counterterrorism summits with all the members of the Gulf nations. In the short term, due to the ongoing intra-Gulf rift, this may require working with Qatar bilaterally and with the other GCC states as a group. Working along these parallel tracks, India and its Gulf partners could coordinate responses as well as iron out nuances in the respective extradition treaties or develop them in cases where they do not already exist.
An obvious way to coordinate terrorism response activities would be to conduct joint military-military training programs, such as the one held between India and Oman in 2017.[35] The current trend of urban terrorism and the inability of many security forces to counter it (e.g., in the case of the Philippines) necessitates an increased training in urban warfare. Here, Saudi Arabia and Yemeni forces' experience in Yemeni urban warfare against the Houthis could prove useful to India.[36] Similarly, the latter's long campaign against the Naxalites could help the Gulf nations in developing their own CT strategies.[37]
An important point that bears mention is Indian efforts to lobby the United Arab Emirates — an important voice in the Organization of Islamic Countries (OIC) — to stay neutral on the Kashmir conflict.[38] These efforts have helped the UAE to broaden their definition of terrorists to include those individuals who worked with Pakistani based groups against India, thus helping align the overarching perspective on terror threats. This alignment of perspectives, a gradual but definitive one, is crucial to facilitate better cooperation. If intensified and widened to the rest of the Gulf nations, this may lead to harsher crackdowns on such individuals residing there.
Conclusion
India and the GCC countries have undertaken cooperative efforts to combat terrorism. However, there is a pressing need to enhance this collaboration since, despite the defeat of IS and the degrading of AQ's capabilities, the terrorism threat is unlikely to substantially diminish any time soon. There is also ample opportunity to foster such cooperation, given the wellspring of mutual trust and strong economic ties that India and its Gulf partners have forged over the years.  
---
[1] S.K. Sasikumar and Rakkee Thimoty, "From India to the Gulf region: Exploring links between labour markets, skills and the migration cycle," ILO Report, 2015, accessed December 01, 2017, http://www.ilo.org/wcmsp5/groups/public/@asia/@ro-bangkok/@sro-new_delh….
[2] Ranjit Gupta, "India's Relations with West Asia: A New Era Dawns," Middle East Institute, March 7, 2017, accessed November 30, 2017. http://www.mei.edu/content/map/india-s-relations-west-asia
[3] ibid
[4] Elizabeth Roche, "India, UAE look to expand counter-terrorism partnership," Livemint, January 23, 2017, accessed December 3, 2017, http://www.livemint.com/Politics/GARubOELWqeHei4CXmFn0N/India-UAE-look-…. See also "India, S Arabia to enhance counter-terror cooperation," The Tribune India, April 3,2017, accessed December 10, 2017, http://www.tribuneindia.com/news/nation/india-s-arabia-to-enhance-count….
[5] Arif Rafiq, "The New Al Qaeda Group in South Asia Has Nothing to Do with ISIS," New Republic, September 6, 2014, accessed December 4, 2017, https://newrepublic.com/article/119333/al-qaeda-indian-subcontinent-not….
[6] Sudhakar Reddy, "Medicines from India landing up with ISIS," Deccan Chronicle, January 16, 2017, accessed December 20, 2017, http://www.deccanchronicle.com/nation/crime/160117/medicines-from-india….
[7] Viswavnathan Balasubraminayan, "Indian Mujahideen: The Face of 'New Terrorism' in India?" Geopolitical Monitor, October 4, 2013, accessed December 8, 2017, https://www.geopoliticalmonitor.com/indian-mujahideen-the-face-of-new-t….
[8] Ibid.
[9] A chronological tabulation of all terrorism-related incidents that are connected to India and any of the GCC countries reveal an increased frequency of such occurrences over the past five years.
[10] Elizabeth Roche, "India, UAE look to expand counter-terrorism partnership."
[11] David C. Faith, "The Hawala System," Global Security Studies 2, 1 (2011): 23-33, accessed December 19, 2017, http://globalsecuritystudies.com/Faith%20Hawala%20FINAL.pdf.
[12] "Hawala series: Tracing hawala money transactions in India, One India, November 14, 2016, accessed December 1, 2017, https://www.oneindia.com/feature/tracing-hawala-money-transaction-in-in….
[13] Rahul Tripathi, "IM terrorist Abdul Wahid Siddibapa may have facilitated jailed Yasin Bhatkal's travel in 2005: Officials," Economic Times, March 24, 2016, accessed December 17, 2017, //economictimes.indiatimes.com/articleshow/52410945.cms?utm_source=contentofinterest&utm_medium=text&utm_campaign=cppst.
[14] Animesh Roul, "Lashkar-e-Taiba's Financial Network Targets India from the Gulf States," Jamestown Foundation, July 2, 2009, accessed December 17, 2017, https://jamestown.org/program/lashkar-e-taibas-financial-network-target….
[15] Sreenivasan Jain, "Exclusive: Are Donors on Global Terror Watch Lists Funding Saudi-Style Islam in India?" NDTV, September 25, 2016, accessed December 15, 2017, https://www.ndtv.com/india-news/exclusive-are-donors-on-global-terror-w….
[16] See membership of the Financial Action Task Force, available at http://www.fatf-gafi.org/about/membersandobservers/. While individual Gulf Arab countries are not members, the GCC as a whole is a participant.
[17] Toby Antony, "ISIS suspects who migrated to Afghanistan used foreign funds: NIA," New India Express, September 14, 2016, accessed November 29, 2017, http://www.newindianexpress.com/states/kerala/2016/sep/14/ISIS-suspects….
[18] "2017 EU Terrorism Report: 142 Failed, Foiled and Completed Attacks, 1002 Arrests and 142 Victims Died," Europol Press Release, July 15, 2017, accessed December 17, 2017, https://www.europol.europa.eu/newsroom/news/2017-eu-terrorism-report-14….
[19] Map created by the author using Scribble Maps.com. Note: Open source websites identify the various cities used by members of this cohort to travel to Afghanistan from India but not the exact routes taken. The map does not depict the travel routes of Indians to Syria/Iraq since the majority have travelled via Bangladesh to Turkey. For more information on the Afghanistan travel route, see Toby Antony, "ISIS suspects who migrated to Afghanistan used foreign funds: NIA."
[20] "'D-company provided logistic support for 26/11,'" The Hindu, April 26, 2010, accessed December 04,2017, http://www.thehindu.com/news/national/lsquoD-company-provided-logistic-….
[21] A previous article by the same author had noted that unverified reports tweeted by ministers from the current Indian administration lauded the success of Indian efforts in getting UAE to confiscate his property. This report however has been proved baseless. See Indrani Basu, "Reports of UAE Government Seizing Dawood Property Are Baseless: Intelligence Sources," Huffington Post, January 6,  2017, accessed December 06,2017, http://www.huffingtonpost.in/2017/01/06/reports-of-uae-government-seizi….
[22] "Abu Jundal, 6 others sentenced to life imprisonment in 2006 Aurangabad arms haul case," Indian Express, August 2, 2016, accessed December 9, 2017  http://indianexpress.com/article/india/india-news-india/abu-jundal-aura…
[23] "ISIS recuiter Indian woman Afsha Jabeen aka Nicky Joseph sent to judicial custody," DNAIndia, September 13, 2017, accessed December 20, 2017, http://www.dnaindia.com/india/report-isis-recuiter-indian-woman-afsha-j….
[24] M.P. Prashanth, "Kozhikode native in UAE may have joined IS in Syria," Times of India, September 16, 2015, accessed December 17, 2017, https://timesofindia.indiatimes.com/india/Kozhikode-native-in-UAE-may-h….
[25] Vicky Nanjappa, "'Bahrain circle' case: Five from Kerala killed in ISIS' Syria territory," India One, July 2, 2017, accessed December 19, 2017, https://www.oneindia.com/india/bahrain-circle-case-five-from-kerala-kil…. https://www.oneindia.com/india/bahrain-circle-case-five-from-kerala-kil….
[26] Rama Lakshmi, "Saudi Arabia's policy shift toward India helps nab terror suspects," Washington Post, July 6, 2012, accessed December 2, 2017, https://www.washingtonpost.com/world/asia_pacific/saudi-arabias-policy-….
[27] Shaju Philips, "'Islamic State module' in Kerala: Engineering dropout, graphic artist among 6," The Indian Express, October 4, 2016, accessed December 5, 2017, http://indianexpress.com/article/india/india-news-india/kerala-islamic-….
[28] "ISIS recruiter Indian woman Afsha Jabeen aka Nicky Joseph sent to judicial custody," DNAIndia, Setember 13, 2017, accessed December 20, 2017, http://www.dnaindia.com/india/report-isis-recuiter-indian-woman-afsha-j….
[29] Tripathi, "IM terrorist Abdul Wahid Siddibapa may have facilitated jailed Yasin Bhatkal's travel in 2005: Officials."
[30] "Indonesian police foil rocket attack plot on Marina Bay; Singapore steps up security," Straits Times, August 5, 2016, accessed December 18, 2017, http://www.straitstimes.com/asia/se-asia/indonesian-police-arrest-six-b….
[31] This chart has been crafted using data from the South Asian Terrorism Portal (A database that covers terrorism related incidents in South Asian nations). This specific data was derived from the years 2014-2017 using the keywords: "Deport," "Qatar," "Bahrain," "Kuwait" and "Oman."
[32] Nanjappa, "Chakravyuh: These ISIS recruits didn't know who they were speaking to."
---
The Middle East Institute (MEI) is an independent, non-partisan, non-for-profit, educational organization. It does not engage in advocacy and its scholars' opinions are their own. MEI welcomes financial donations, but retains sole editorial control over its work and its publications reflect only the authors' views. For a listing of MEI donors, please click here.