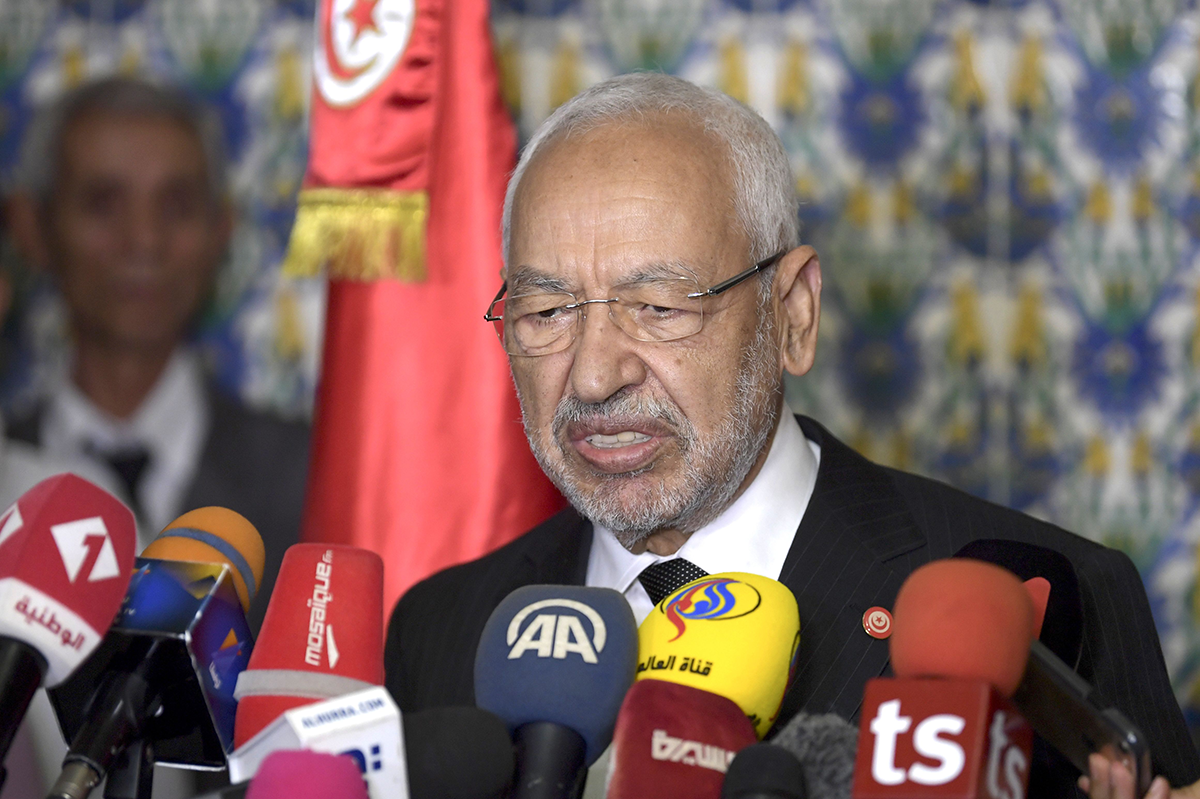 Introduction
---
Rached Ghannouchi, president of the Islamist party Ennahda and speaker of Parliament, has been a voice of moderation and reason contributing to Tunisia's incipient democratization. While there is much to praise in Ghannouchi's stewardship of Ennahda, he should consider the pitfalls of longevity in power. This article examines the ongoing debate on Ennahda's leadership crisis, considering it from the vantage point of intra-party democracy. 
So far, Ghannouchi's ethical standards, political skills, and leadership qualities have helped save his party from unnecessary infighting. If, however, he ignores the voices from with his party calling on him to step down as the head of Ennahda, he risks dividing it over the question of his continued leadership. The most recent twist in this still-unfolding saga has been Ghannouchi's remarks to Aljazeera (full interview to be aired in a few days) that he will "respect Ennahda's bylaws," which do not allow him a third term as head of the party.1 The exact implications of these comments are as yet unclear at the time of writing. 
Ennahda midwifed Tunisia's democracy. Now it faces what a group of Ghannouchi's critics have called a "true test" of its own internal democracy.2 Will Ennahda become a "living example" of the values that it and its leader have long espoused and fought for? Ghannouchi is well known in the Arab and Islamic world for his contributions to democratic theory; will he practice what he preaches when it comes to his own his own party and his own power? At stake, according to some within Ennahda, are the Islamist leader's "personal credibility," the party's principles, and Tunisia's model of democracy.3
For the sake of his legacy, Ghannouchi should take heed of these warnings — and he seems to be beginning to do so. Some of this may be necessary to satisfy foreign observers. Ghannouchi and his PR "machine" may listen to the words of world leaders from Germany to the U.S. about the need to follow the rules of the democratic game within his own party. Especially with Joe Biden's new presidency, Islamist leaders (including perhaps Ghannouchi) will be queuing up, if granted an audience, to present a strong case for "democratic Islam." Before entering electoral politics in 2019, he built his reputation on writing and speaking of two things. First, political Islam, which he gave up at the 10th Ennahda Congress in 2016, when he announced the party would split its religious (da'awi)4 from its political (siyasi) activities. Second, no to dictatorship and presidencies for life, yes to democracy. Renewing his own leadership of Ennahda would mean giving up this second mantra as well.
If he does decide to step aside, his party may risk infighting over succession, but this will be a challenge whether he stays or goes. It is better to withdraw gracefully than to be a cause of his party's disunity. As a respected elder statesman, he might even be able to offer some gentle steering after retirement. There is a great deal that Ghannouchi can do. Perhaps he could work as a special envoy for the presidency, tasked with conflict resolution in Tunisia's neighborhood, lobbying for reducing the country's debt, or mediating Palestinian reconciliation.
Ennahda: Democracy within parties matters
---
With 54 seats in the 217-member Parliament, Ennahda is the largest political party in Tunisia. It also appears to be at a crossroads. In recent weeks, Ennahda has grappled publicly with the issue of a looming power transition. The big question is this: Will Ghannouchi, who co-founded Ennahda in 1981, hand over his position as leader of the party at its upcoming 11th Congress? Or will he instead breach, or seek to amend, Article 31 of Ennahda's bylaws, which sets a limit of two consecutive terms?
This article offers an analysis of the debate that is raging within the party — and spilling over into the public sphere through the media — on the question of Ghannouchi's possible tamdid or extension. The method that the party chooses to resolve the leadership question will reveal if and how far its democratic principles extend to its internal decisions. The questions involved in the debate about the extension have implications beyond Ennahda, as the party's actions will set a precedent for intra-party democracy in the country.
Debate about how long Ghannouchi should remain at the helm has raged within Ennahda's leadership circles for years. High-level resignations this year alone include Abdelhamid Jlassi and even co-founder Abdelfattah Morou, the presidential candidate in the 2019 race. Lotfi Zitoun, former minister of local affairs and the environment and previously a longstanding aide to Ghannouchi, resigned recently from the Shura Council, the party's legislative wing. Jawhara Tiss, a rising star among Ennahda's youth and women cadres, has also announced her departure. What propelled the issue of succession to the public's attention, through local Tunisian and even Arab media, was a declaration that has been dubbed Risalat al-mi'ah, or Letter of the 100.5
In September, 100 members of Ennahda, including leading names like Samir Dilou, Abdellatif Mekki, Mohammed Ben Salem, Jalel Ouerghi, Habib Ellouz, Jamila Eksiski, and Amal Azzouz, signed a letter to Ghannouchi. They called on him to respect the party's legal and institutional structures and long history of resisting dictatorship. Forego the legal contortions, they entreated him, and do not try to change Article 31. Step down from the head of the party to embody the "value and mechanism" of al-tadawul (alternation of power). Otherwise, party unity and even the "values of freedom and democracy, major gains from the revolution," would be in danger. Save us a showdown at the next Congress, they wrote. Spare us the pain of a split in this party whose unity and solidarity were so vital to its resilience in the face of Habib Bourguiba's presidency for life and Zine el-Abidine Ben Ali's dictatorship. Give a younger generation a chance to seek leadership positions in Ennahda and to elect a new head. The letter elicited several responses, including one understood to be representative of Ghannouchi's position.
In the response attributed to Ghannouchi (though not officially signed by him), the party leader more or less dug in his heels. He rejected the argument that the democracy of political parties is underpinned by the same principles and mechanisms as national governments. Within parties, some personalities are zu'amaa, charismatic leaders who withstand the otherwise natural "decay" of leadership, according to the letter. These "exceptions" need not, and should not, be confined by term limits. Likening the intervention of the 100 to the announcement of a military coup, Ghannouchi's accused the "Group of 100" of attempting to preempt the 11th Congress, suggesting their insistence that he not run was "exclusionary." In turn, the 100's counter-response addressed all of Ennahda, insisting that their tone was respectful and that they were simply asking Ghannouchi to "respect the law" after he had repeatedly spurned their private entreaties to make reforms within the party.
Polemics aside, what seems to be Ghannouchi's counter has not helped to resolve internal dissension. What the party must acknowledge is that the chosen leader should have performance legitimacy and electoral legitimacy. The first entails a track record of legislative and electoral success, the second that Ennahda's members, both leaders and rank-and-file,  should select their leader at the 11th party Congress. The importance of these kinds of legitimacy seems to be a blind spot for his close coterie of advisers, some of whom stand to lose a great deal politically within Ennahda if Ghannouchi departs. Ghannouchi's performance is less than stellar in certain regards: A failed presidential bid, a declining vote share (69 seats in 2014 to 54 in 2019) for his party, a no-confidence vote against him that failed by a slim margin, an inability to secure parliamentary votes for Ennahda's nominee for head of government in early 2020. On top of this, he voted yes for the government of Elyes Fakhfakh that collapsed because of a conflict-of-interest scandal.
Defenders of Ghannouchi cite his "charisma" as a reason for keeping him on as party leader. What does "charisma" mean, exactly, and why should it matter? Charisma does not create jobs, peace, or justice, the issues that people everywhere care about. Charisma will not push down the unemployment rate. It will not save small businesses hemorrhaging under COVID lockdowns. Neither does it meet the demands of Kamour protestors clamoring for oil jobs. Nor will it fix the 14 percent deficit6 in the Tunisian budget this year.
Since 2016, Ghannouchi has proclaimed Ennahda to be a party of "Muslim democrats." Attempting now to rebrand the party as one where za'amah take precedence over rules and institutions raises pointed questions about the future of its internal democratic, as well as its place within Tunisia's democratization.
Ennahda has been a leading and active participant in Tunisia's democratization, including the crowning glory of the 2014 Constitution. Given its democratic discourse and political standing, it simply should not deviate from certain principles and practices. These include due process, institutional procedures, and internal bylaws, not least of which are term limits.
When political parties and systems have well-functioning institutions, decisions are reached through open debate and majority rule. As a result, these decisions are widely viewed as legitimate. Therein lies their importance as guarantors of peaceful transfer of power in democracies. What does it mean for Tunisia's young democratic institutions if its own political parties suffer from glaring democratic deficits? Faqidu al-shayi' la yu'teeh, the Arabic saying goes. ("You cannot give what you do not possess.")
Wheeling and dealing behind closed doors, whether by Ghannouchi or any other Ennahda leader, is antithetical to democracy. Bypassing party institutions and procedures is no way to govern democratically because it escapes accountability. When negotiations and decision making are extra-institutional and off-the-record, the final terms of agreements become subject to interpretation. This is a recipe for conflict or political paralysis, as in the Ghannouchi-Essebsi Carthage agreements between al-shaykhain ("the Two Elders").
Ghannouchi's ambitions to run in the 2024 presidential elections face obstacles both personal (age and health may be complicating factors) and political. In politics, four years is a long time, and anything can happen. Ghannouchi trails in Tunisian public opinion polls, featuring as the least trusted politician in the country.7 He may have survived the no-confidence vote as speaker of Parliament this past July, but he might not withstand the continuing onslaught of challenges by independent blocs, Abir Moussi's Free Destour Party, and even former allies like al-Tayyar al-Dimuqrati. Ennahda's future should not be held ransom by its leader's presidential ambitions. Ghannouchi is free to run in 2024 even if he is not head of Ennahda. Common sense would say to step aside and prepare for the race. The dual presidency of the party and the Parliament has been a sort of poison chalice for him so far, and his credibility in both positions is diminished.
"The big question is this: Will Ghannouchi, who co-founded Ennahda in 1981, hand over his position as leader of the party at its upcoming 11th Congress? Or will he instead breach, or seek to amend, Article 31 of Ennahda's bylaws, which sets a limit of two consecutive terms?"
Taking a page from the Book of Mandela … and others
---
In a democracy, there is no such thing as leadership-for-life. Winston Churchill's electoral defeat in 1945 comes to mind. Nelson Mandela is another example, giving up his post as head of the African National Congress in 1997 at the height of his prestige, even before the end of his term as South Africa's president. Ghannouchi has not accomplished nearly as much as Mandela, whose leadership in the liberation of a whole nation from apartheid is epic. Yet Mandela did not cling to power; he entered electoral politics democratically and exited gracefully, by choice.
German Chancellor Angela Merkel, whose performance legitimacy and electoral legitimacy are second to none in Europe and in the world, voluntarily resigned her post as leader of the center-right Christian Democratic Party (CDU) in late 2018. Also voluntarily, she is not seeking re-election in Germany's 2021 federal elections, in spite of an illustrious career.
Ghannouchi does not have to look beyond his own country's history to find a negative example. Bourguiba, Tunisia's leader from 1956 to 1987, provides a lesson in the drawbacks of claiming special status above institutions. Let us assume that Bourguiba really was for a substantial period indispensable to Tunisia's emergence as an independent nation. Let us grant that he was smarter and more "charismatic" than any alternative. Perhaps misfortune would have befallen Tunisia if someone else had beaten him to the top. Even if all this is true, he failed in one of his duties — to prepare his country and his party for the inevitable succession. Clinging onto power until the very end, Bourguiba surrounded himself with "yes men" and failed to encourage talent and criticism from within. When he lost his faculties he paved the way for Ben Ali and wrecked his legacy.
He and other veterans of Tunisia's politics should draw lessons from these examples. There are other political parties that did not develop institutional viability beyond a charismatic leader and all but collapsed in recent history. To give just one example, Nidaa Tunis went from holding 86 seats in Parliament to three after the death of its founder, the late President Beji Caid Essebsi.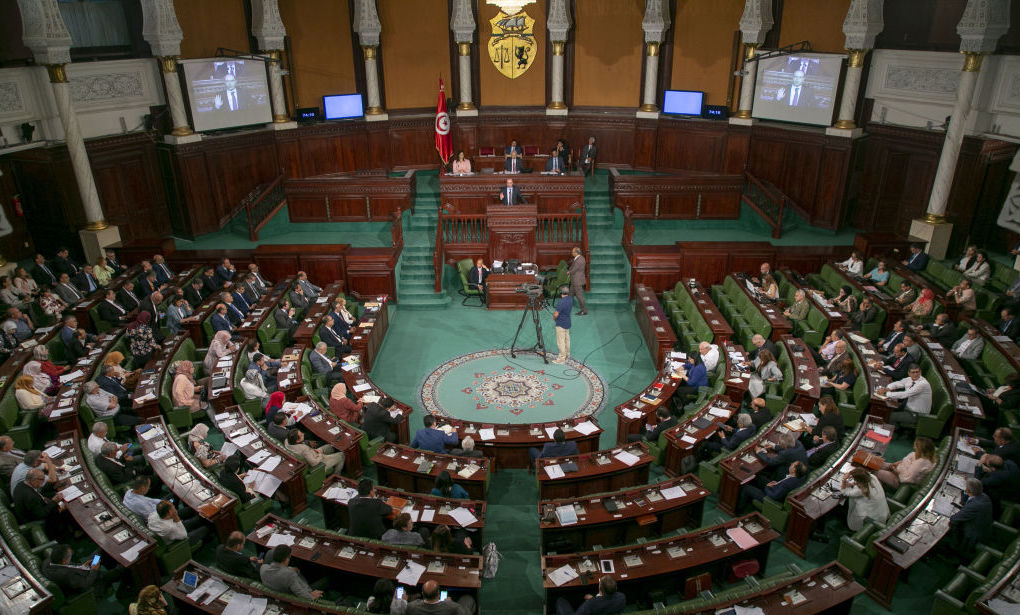 The plot thickens
---
In a recent turn of events, Ghannouchi appointed Mohammad al-Ghiryani, a former official of Ben Ali's RCD party, as an adviser in his Diwan or office of the President of Parliament.8 Ghannouchi may see this move as a masterly piece of political cunning, but it is puzzling, to say the least. Why reach out to a stalwart of the ousted regime at a time when his own party is in the throes of a crisis at the prospect of his renewal at its helm?
Additionally, Rafik Abdelsalam (Ghannouchi's son-in-law, former foreign minister, and Executive Office member within Ennahda) and Abdelkarim Harouni (head of the Islamist party's Shura Council, and ex officio member of the Executive Council) have penned a new initiative to break the deadlock within the party. Their proposal suggests9 that the 11th Congress — already pushed from May 2020 to December 2020 — should be delayed another 18 months to two years. In this time, Ghannouchi would stay on as head of the party. A party-wide dialogue would seek to calm its "internal polarization." In 2022 or after, when the Congress would finally meet, a new president of the party would be elected. Ghannouchi, as za'im, might head a new "Strategic Council" within the party, and Ennahda would formally endorse Ghannouchi as the party's candidate for the 2024 Tunisian elections, according to this proposal.
Several things are noteworthy about this new initiative coming on the back of the "Group of 100" interventions and counter-interventions. First, to some extent, a spirit of argumentation and debate emerging into the public domain is not a bad thing. This may be one way for party leaders to hash it out before a wider Ennahda and Tunisian audience. Second, while Abdelsalem and Harouni's proposal frames itself as consensus-oriented, it seems to have been understood as one more move by the pro-Ghannouchi camp. Especially since Abdelsalem and Harouni note that they themselves will be "overseeing the dialogue" they are recommending. Third, their plan confirms that Ghannouchi's calculus involves aspirations beyond Ennahda. His eye seems to be on Tunisia's presidency, and his decision to accept or reject al-tadawul appears guided at least in part by his potential candidacy for the 2024 presidential elections. Fourth, some of the pro-Ghannouchi discourse stretches the notion of za'im past the point of credulity. Clearly, there is no consensus on the political implications of his charisma even within Ennahda. At least some of its members, including those in leadership positions, as the Letter of 100 indicates, beg to differ in their assessments of Ghannouchi's leadership. If appearances are correct and Ghannouchi and his supporters — some might say enablers — in the Executive Office and Shura Council have failed to convince many in the party that he is a za'im who need not be constrained by current institutions, then how do they expect to persuade the broader Tunisian public to vote for him as president in four years?
Other proposals include the initiative by Hammadi Jebali,10 a former prime minister who resigned from the party in 2014. He is contemplating a return to Ennahda, proposing himself as its secretary-general and head of the Executive Council. Ghannouchi would stays on in Ennahda's leadership, not as its president, but under a new title. So far, Jebali's plan has been debated but seems not to have gained much traction, evidenced by the fact that he has not yet formally announced that he has rejoined Ennahda. Still another petition, this one signed by 190 names among the party's "youth leadership," called for the 11th Congress to be delayed, and for the "preservation" of Ghannouchi's Ennahda leadership role in some form.11
Whatever proposal wins out, Ennahda's outstanding disagreements and governance issues, including its presidency, must be resolved in the upcoming 11th Congress in consultation with the party's constituents. Clandestine agreements that attempt to rig the transition game, as it were, violate the spirit and the letter of the party's bylaws. They would make a mockery of the often invoked phrase that Ennahda is a "party of institutions."
"Ennahda must go back to basics: Internal democracy is vital for the party to remain a pluralistic institution with due process (respect of regulations), spaces for deliberation, and the free expression of competing viewpoints."
Leadership for life?
---
Ghannouchi remains a credible intellectual voice with a track record of writing in support of democratizing political Islam. He has made great sacrifices in his historical struggle. However, theory means nothing today if it is not backed up by practice — action speaks louder than words.
Ennahda must go back to basics: Internal democracy is vital for the party to remain a pluralistic institution with due process (respect of regulations), spaces for deliberation, and the free expression of competing viewpoints. Stress on intra-party democracy is imperative as it feeds into free participation.
In practice this means, Ennahda must take into account the following:
Placing checks on leaders' discretionary political power and oligopolistic tendencies (including management of funds) is integral to intra-party democracy.
Better representation of internal diversity is needed. This can be achieved through the diffusion of decision-making powers to include both rank-and-file and leaders within the various party structures.
Decentralized decision-making promotes the training of promising talent. It also helps to retain members, especially important since Ennahda has suffered from attrition owing to the departure of prominent cadres and members. Inclusive structures would also drive recruitment of new members (infiltration of non-Islamist constituencies does not seem to be strong).
Respect for deliberative processes and outcomes within party structures curbs personalist and unilateral politicking.
Internal party reform will breathe life into the country's overall fledgling democratization. This means ditching slogans of za'im, charismatic leader, visionaries with exceptional skills. Above all else, the party must avoid artificial divisions between "party presidency" and "charismatic leadership," a device seemingly intended to keep leaders above intra-party democracy.
Intra-party democracy means election not selection, performance legitimacy not charisma, party policy not vague ideology, and party procedures not paralysis.
Deliberation itself — and not just Shura Council votes — is vital, and it must take place without punitive measures. Here Ennahda finds itself in a sticky situation. The 100 claim that party institutions lack meaningful deliberation, at least with respect to positions challenging Ghannouchi's line of thinking. In response, the pro-Ghannouchi camp within the party has castigated the 100 for airing the party's dirty laundry, so to speak and for "bypassing" Ennahda's institutions through the media. They have asserted that debate within the party is healthy, oftentimes fierce, with no predetermined outcome. And yet the 44th Shura Council included "accountability" measures against the 100 according to initial reports, which led 48 (nearly one-third) of the Shura members to boycott the meeting.12
Deliberative mechanisms, processes, and perhaps even ethics appear to be malfunctioning where some major issues (i.e. the party presidency, the Congress) are concerned. This is one of the main challenges that Ennahda is currently facing. There is a delicate balance between party discipline and maintaining intra-party democracy among leadership and cadres both.
The claim that intra-party democracy operates by a separate set of rules than those governing Tunisia's national institutions fails to convince. The lines between those inside and outside Ennahda inevitably crisscross. As president of Tunisia's Parliament, Ghannouchi is acting in both party and national capacities. With respect to setting political norms and the cultivation of democratic values, then, it is not reasonable to expect that voters, rising cadres, and leaders will remove their Ennahda hats when participating in national politics. Civic and democratic values do not brook compromise. Insisting on exceptions reeks of inconsistency. This is especially true when the one doing the insisting is one of the most eminent living theorists of Islamic democracy.
What's next?
---
Where does this leave Ennahda? The coming days may see a slew of proposals and counter-proposals from within the party's ranks. Ghannouchi's recent declaration in an interview on national television13 that he is not at this point intending to run again for head of the party (or the Tunisian presidency) did not put the matter to bed. Some questions remain. If he were not to nominate himself, would other loyalists nominate him? Could a referendum on his renewal in the works?
In mid-November, the 44th Shura Council, boycotted by many of the 100, decided to delay the 11thCongress, largely on COVID-related grounds. Such maneuvering may not satisfy those insisting on respect for the rule of law. This postponement not only defers the alternation of power, but may in effect block deliberation within Ennahda's institutions. (The Congress is supposed to be held every four years.) There is no excuse to bypass party rules and procedures, by an initiative here, an invocation of za'amah there.
Still, if the latest murmurs at the time of writing materialize, Ghannouchi may soon succumb to mounting pressure and hand over the top post in the party to an old-timer from among Ennahda's top guns, perhaps Ali Laarayedh. This may not solve the succession questions. In fact, it might complicate matters further, plunging the party into a fresh conflict. Alternation of power should not be fixed, but instead should follow existing democratic procedures. It cannot be as top-down as Ghannouchi anointing a successor. Internal wrangling will no doubt continue.
The various motions and arguments circulating over the last couple of months all claim that they aim to preserve party unity. Translating this well-placed concern for al-wihdah and al-tawafuq (unity and consensus) may be as simple as adherence to rules and institutions. After all, what are laws and institutions for, if not to delineate responsibilities, put in place procedures, and establish checks on the power of any one individual, za'im included? A conviction that all members of a political community, be it a party or a state, are bound by and invested in democratic practices, including the rule of law, will summon greater unity than any zai'm.
Ghannouchi's most recent statements on respecting Ennahda's bylaws, if they pan out, are certainly an important step in the right direction. At the time of writing, it is unclear exactly what he will do next or what process he will propose for his succession in exchange for stepping aside as Ennahda's president. In any case, internal tussling in Ennahda has brought to the fore the party's crisis of internal democracy, which neither Ghannouchi, his supporters and challengers, nor rank-and-file cadres and members, can afford to ignore. The 11th Congress is still hanging. This means that the duo of institutions (structure) and practices (agency) still have to find a sustainable democratic rhythm. An explicit "blessing," as it were, by Ghannouchi for a new president to take the helm, if it does indeed stick, will be only the beginning. Stay tuned for more in the evolution of Ennahda's internal democratization.
Larbi Sadiki is professor of Arab democratization at the University of Qatar. Most recently, he edited the Routledge Handbook of Middle East Politics (2020). His book on Ennahda in the political process co-authored with Layla Saleh will be published in 2021. The views expressed in this piece are his own.
Photo by FETHI BELAID/AFP via Getty Images
Endnotes
---
1. Aljazeera. Yamna'ahu min al-tarasshuh li-wilayah thalithah: al-Ghannouchi li al-Jazeera: Min Wajibi ihtiram al-qanun al-dakhili li al-Nahdah. 24 November 2020, https://www.aljazeera.net/news/politics/2020/11/24/%D9%84%D8%A7-%D9%88%… [Accessed 25 November 2020].
2. References to the Letter of the 100, addressed to party leader Rached Ghannouchi.
3. Ibid.
4. Larbi Sadiki, "Why is Tunisia's Ennahda Ditching Political Islam?" Aljazeera, 24 May 2016, https://www.aljazeera.com/news/2016/5/24/why-is-tunisias-ennahda-ditchi… [Accessed 25 October 2020]
5. Amal Alhilali, Radd al-Ghannouchi Lam Yata'akkhar Kathiran...Niqash Hadd Dakhil al-Nahda Ba'd Mutalabat 100 Qiyadi Lahu Bil-Tanahhi. Aljazeera, 18 September, 2020, https://bit.ly/2TsuFYS [Accessed 25 October 2020].
6. Tarek Amara. "Tunisia Sees 14% Budget Gap in 2020, Aims to Halve it in 2021." Nasdaq, 16 October 2020, https://www.nasdaq.com/articles/tunisia-sees-14-budget-gap-in-2020-aims… [Accessed 25 October 2020].
7. For instance: Mosaique FM. Hasab Sigma Konsai: Al-Ghannochi Aqall man Yathiq Fihi Al-Tunisiyyun. 14 October 2020, https://www.mosaiquefm.net/ar/%D9%85%D9%8A%D8%AF%D9%8A-%D8%B4%D9%88-%D8… [accesssed 21 November 2020].
8. Mosaique FM. Nahwa Ta'yin Al-Ghiryani Mustasharan li Rachid Al-Ghannouchi. 25 October 2020, bit.ly/3mp2R44bit.ly/3mp2R4 [Accessed 26 October 2020]
9. Mosaique FM. Mubadarat al-Harouni wa Abdelsalem: Ta'jil al-Mu'atamar wal Fasl Baina al-Za'amah wal Ri'asah. 25 October 2020, https://bit.ly/3kyLHk3 [Accessed 26 October 2020]
10. Business News. Hammadi Jebali Ya'udu ila Harakat al-Nahda bi Shuroot, 10 November 2020, https://ar.businessnews.com.tn/%D8%AD%D9%85%D8%A7%D8%AF%D9%8A_%D8%A7%D9… [accessed 22 November 2020].
11. Ultra Tunisia. Hal Ya'udu Hammadi Jebali Aminan 'Amman li Harakat al-Nahda? 10 November 2020, https://ultratunisia.ultrasawt.com/%D9%87%D9%84-%D9%8A%D8%B9%D9%88%D8%A… [Accessed 22 November 2020].
12. Hassen Al-Ayadi. Majlis Shura Harakat Al-Nahda: Wahdat al-Harakah Khatt Ahmar. Le Maghreb, 11 November 2020, https://ar.lemaghreb.tn/%D8%B3%D9%8A%D8%A7%D8%B3%D8%A9/%D8%A7%D9%84%D8%… [Accessed 22 November 2020].
13. Watania Replay. Hiwaran Khassan ma' Ra'is Majlis Al-Nuwwab al-Ustadh Rached Ghannouchi, 9 November 2020. https://www.youtube.com/watch?v=EN0WvHFs_ns [Accessed 22 November 2020].