The Freedom Theatre (TFT), headquartered in the Jenin Refugee Camp in the northern West Bank that was invaded once again by the Israel Defense Forces (IDF) last week, is nothing if not a crucible for the Palestinian experience. Up against grinding poverty, occupation, religious extremism, and, more recently, aerial bombardment, the theater miraculously survives.
A few days after the IDF occupied its offices and the ceiling of its old British Mandate-era building cracked from the impact of bombing, staff and supporters were busy cleaning up the rubble and making plans for a new season. After a show of solidarity by a wide range of Palestinian artists, theater makers, and intellectuals from across the occupied territories who staged a "cultural protest" in the theater's courtyard — a community gathering place — discussions were underway for a series of drama therapy workshops aimed at traumatized children (five were killed during the IDF incursion) and health care workers (who were shot at by the IDF as they tried to reach the injured). At the time of the attack on the camp, TFT was planning a feminist theater festival and in rehearsal for a play by Charles Mee called Big Love, based on Aeschylus's The Suppliants, about issues of gender politics, love, and domestic violence.
Many theater staff, like the other 15,000 occupants of Jenin Refugee Camp, bore the brunt of the unrelenting 48-hour military campaign that killed 12 people, injured 143, and displaced hundreds of families. Indeed, the drama of living in Jenin rivals the plots of many of the plays that TFT has performed since its inception in 2006. These range from a re-envisioned Alice in Wonderland that told the story of a girl who refuses to marry the man her family has chosen for her to Athol Fugard's apartheid-era drama The Island. In the face of everyday events in Palestine, TFT productions transform into hyper-real meta-theater.
Staff and students killed, injured, arrested
Just two weeks after 14-year-old Sadeel Naghniyeh, the niece of TFT's chief technician Adnan Torkoman and a young participant at the theater, was killed by the IDF, Torkoman, who lives in a residential complex that abuts the theater, was arrested and held for four days by the Israeli army. His home was also damaged.
As many of TFT's staff and students live in Jenin Refugee Camp, some had to flee the camp as the invasion took place. According to a press release, "Some of the team were forced to stay in their homes and were used as home shields and others refused to leave at all."
These included Isra Awartani, TFT's accountant, who "hastily created a safe space within her home to shield her three daughters from harm," and Rania Wasfi, a past member of the theater who "frantically tried to reach her mother and sister after news that their house was bombed."
Ahmed Tobasi, the theater's artistic director, "found himself face-to-face with an armored vehicle stationed right outside his house, its barrel aimed at his window." His twice-daily video diaries on his Facebook page became a riveting cinema verité during the 48-hour siege, when the camp was virtually closed to the outside world and journalists attempting coverage were shot at by the IDF (who killed renowned Palestinian-American journalist Shireen Abu Akleh last year while she was covering a raid on Jenin).
On a July 9 "Emergency Zoom" call for the theater's supporters that drew hundreds of participants from around the world, Tobasi said, "It was just like 2002" — the so-called Battle of Jenin that killed 52 Palestinians — "only they somehow managed to inflict more damage in two days than they did in two weeks."
"We have many challenges," explained Tobasi, who spoke of high-tech military tactics and drones being used to attack the densely populated refugee camp, "the conservative culture, the religious people, the Israelis, the political situation, funding — but when we see this kind of support, it helps us to go on and to continue with Juliano's legacy."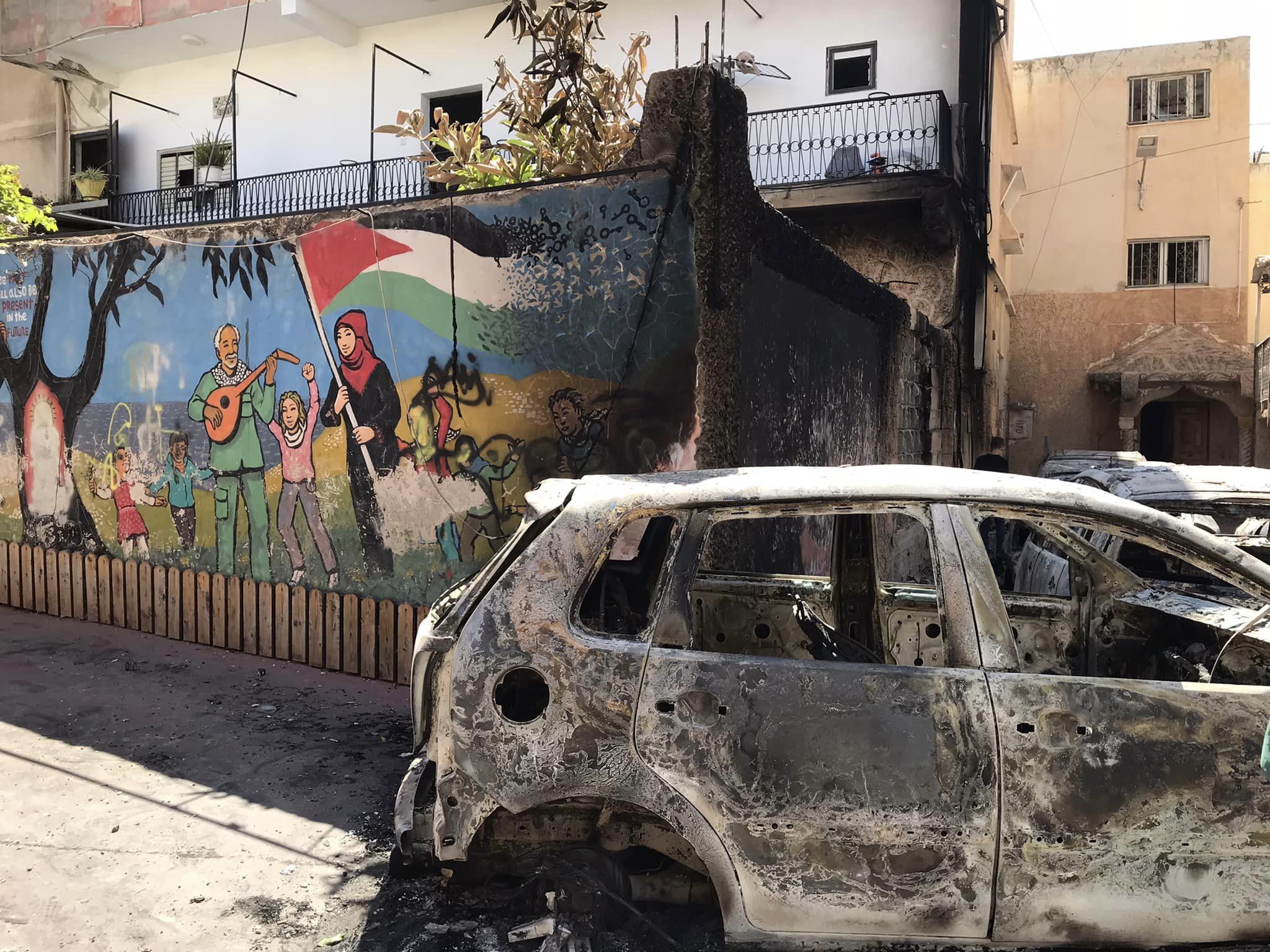 The Third Intifada will be a cultural one
The legendary Israeli-Palestinian founder of the theater, who is referred to by his first name by friends in Jenin, has become a kind of secular saint among his supporters. A martyr to the cause who famously said, "The Third Intifada will be a cultural one," Juliano Mer Khamis founded the theater in 2006 together with Zakaria Zubeidi, a former military leader of the Jenin al-Aqsa Martyrs' Brigades, Jonatan Stanczak, a Swedish-Israeli activist, and Dror Feiler, a Swedish-Israeli artist. Mer Khamis was murdered in front of the theater by a masked Palestinian gunman in 2011. Four months later, masked Israeli soldiers attacked TFT in the middle of the night, and a year later Israeli authorities arrested artistic director Nabil al-Raee and co-founder Zubeidi on various trumped-up charges, including terrorism and involvement in the murder of Mer Khamis. The story of the actor, director, film maker, and activist is told in a recent piece of theater produced by TFT based on actual interviews with Palestinian artists. But his tale is as much Greek tragedy as verbatim theater.
Born to Arna Mer-Khamis, a Jewish former combatant in the Palmach (a Mandate-era Zionist military organization) who became a Communist after participating in operations to drive Bedouin out of the Negev, and Saliba Khamis, a Palestinian Christian and one of the leaders of the Israeli Communist Party in the 1950s, he was stationed in Jenin as a member of the IDF's Paratroopers Brigade. He soon became disenchanted with his role when he saw the violence and humiliation inflicted on a captive population. As he said in the 1991 film Deadly Currents, while he identified as a Jew in his youth because he was raised by a free-thinking Jewish mother, when he joined the IDF he realized that, "This wasn't my mama — it was fascism!" He was eventually sent to prison for punching a commanding officer after refusing an order to frisk an elderly Palestinian man.
After his release he went to theater school and spent a year in the Philippines taking magic mushrooms, later declaring, "I lost all my identities. I have a gift, you are not only consciously un-nationalized, you are inside yourself divided. Use it!" While his response to the First Intifada was to perform street theater in Tel Aviv nude and covered in blood, his mother Arna started a children's center in Jenin Refugee Camp and asked her son to teach drama therapy.
After the Second Intifada broke out, and two of his former students became suicide bombers — one after witnessing the death of a young girl killed by IDF bombing — he returned to Jenin a month after the 2002 Battle of Jenin began. Hosted by a former student who was the leader of the al-Aqsa Martyrs Brigade, he met future theater co-founder Zakaria Zubeidi and later made a film about the experience called Arna's Children, released in 2004. Although he said in an Israeli radio interview in 2009 that, "I am 100% Palestinian and 100% Jewish," in reality he treaded on dangerous terrain, slipping between identities in Jenin and Tel Aviv.
In addition to Israeli/Palestinian issues, Jenin was also a hotbed of conflicting interests and loyalties to Fatah and Hamas, rife with rumors and realities about corruption and collaboration. His murder, which occurred shortly after he pulled the plug on a production of "Spring Awakening" that offended local socially conservative sensibilities, has still not been solved and both the Palestinian Authority and the Israeli government have been reluctant to provide answers. As he once famously said, "They think that if you replace the Israeli occupation with the Arafat occupation, it's going to be better, and I say no, fight both of them!"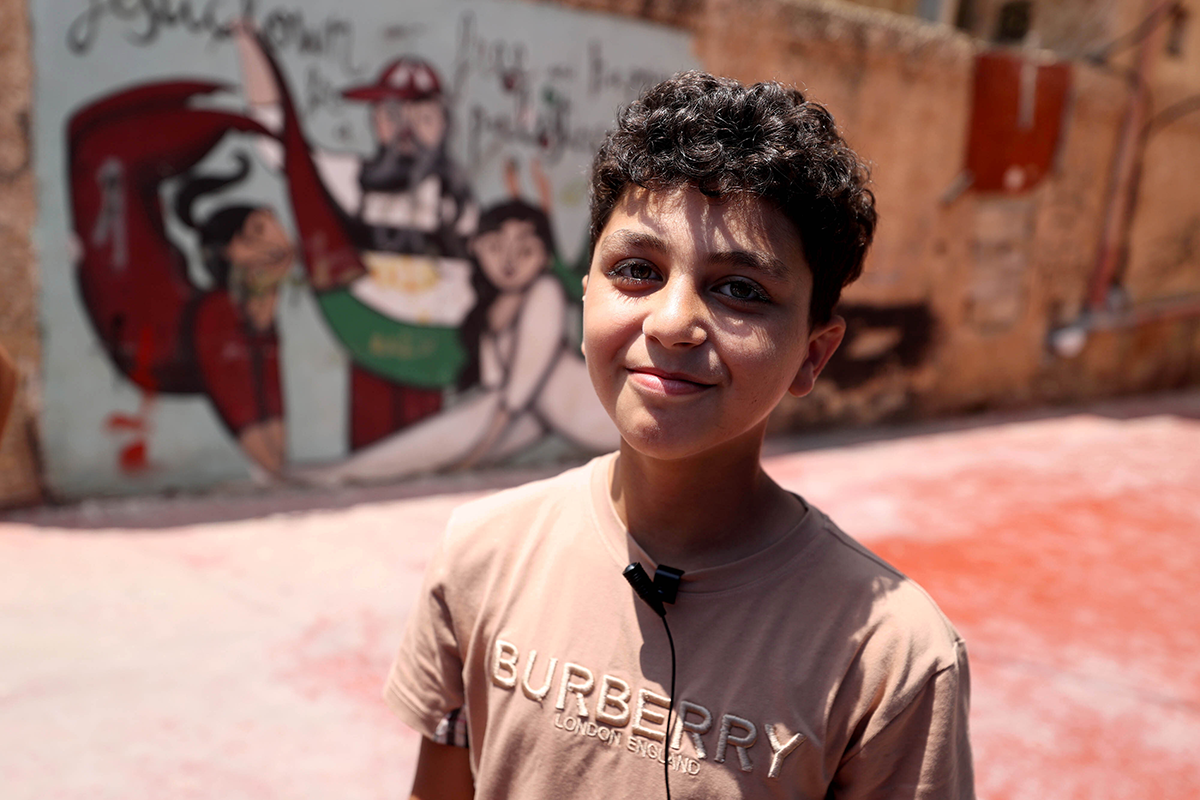 Sieges, poetry, and international tours
The current artistic director, Ahmed Tobasi, has had no less of a dramatic life narrative. In fact his story, of going from armed resistance to acting and his journey as a refugee from the West Bank to Norway and back again, is the subject of TFT's production Here I Am. Based on the famous verse by Mahmoud Darwish — "I am from there. I am from here./I am not there and I am not here/I have two names, which meet and part and I have two languages./I forget which of them I dream in" — the play, written by Hassan Abdulrazzak and directed by long-time TFT associate Zoe Lafferty, toured the U.K. as well as Jenin and the West Bank.
Although TFT produces a variety of international plays, its strength lies in its portrayal of Palestinian reality. A compelling example is 2015's The Siege created by Raee and Lafferty, about the 39-day siege of Bethlehem's Church of the Nativity in 2002, which played out at the same time as the siege of Jenin. The drama moves back and forth between the historical event and the present, drawing from interviews with surviving combatants who were exiled in Europe.
Now, as residents of Jenin recover from yet another Israeli siege, one recalls Darwish's words:
"In the state of siege, time becomes space

Transfixed in its eternity

In the state of siege, space becomes time

That has missed its yesterday and its tomorrow"
Indeed, TFT draws on the many layers of Palestinian memory and trauma to produce poignant and powerful emotional truths as well as drama therapy for the residents of Jenin. But it's the theater's international productions like Here I Am and The Siege that serve to "humanize the Palestinians" says Gary M. English, an American theater professor who was TFT's artistic director from 2012-13.
As he wrote in the 2020 book, Theatre in the Middle East, "Narratives portraying Palestinians as human, complex, caring, deliberate, and thoughtful, or simply taking on the task of daily life roles, are often decried as propaganda. When it comes to any representation of the Palestinian-Israeli conflict in particular, theater that takes a humanistic and complex look at Palestinian resistance invokes accusations of anti-Semitism and regularly deemed dangerous."
Interviewed at his home in Connecticut, English relates that TFT plays two key roles. One is that, "It provides children and youth of the camp a way to think about who they are in the world. It's an educational alternative to the conservatism of the camp, and offers a way for them to imagine themselves as something as others than martyrs — to think about themselves as creative individuals who think for themselves."
"Like Juliano always said," notes English, "TFT was about being independent of social forces that would define you — so it's very much about ending the psychological occupation."
An equally important role, he says, is to offer a counter-narrative in the "rhetorical war of negative stereotypes" through international tours, where "audiences have to contend with the humanity of the Palestinian actors on stage."
Beyond the important educational aspect for foreign audiences, the ability to produce theater about the Palestinian experience and tour it, he says, "contradicts the Israeli narrative that Palestinians are 'barbarians.'"
Paraphrasing bell hooks, he contends that "the act of taking something from the margin and putting it into the mainstream is itself a radical act."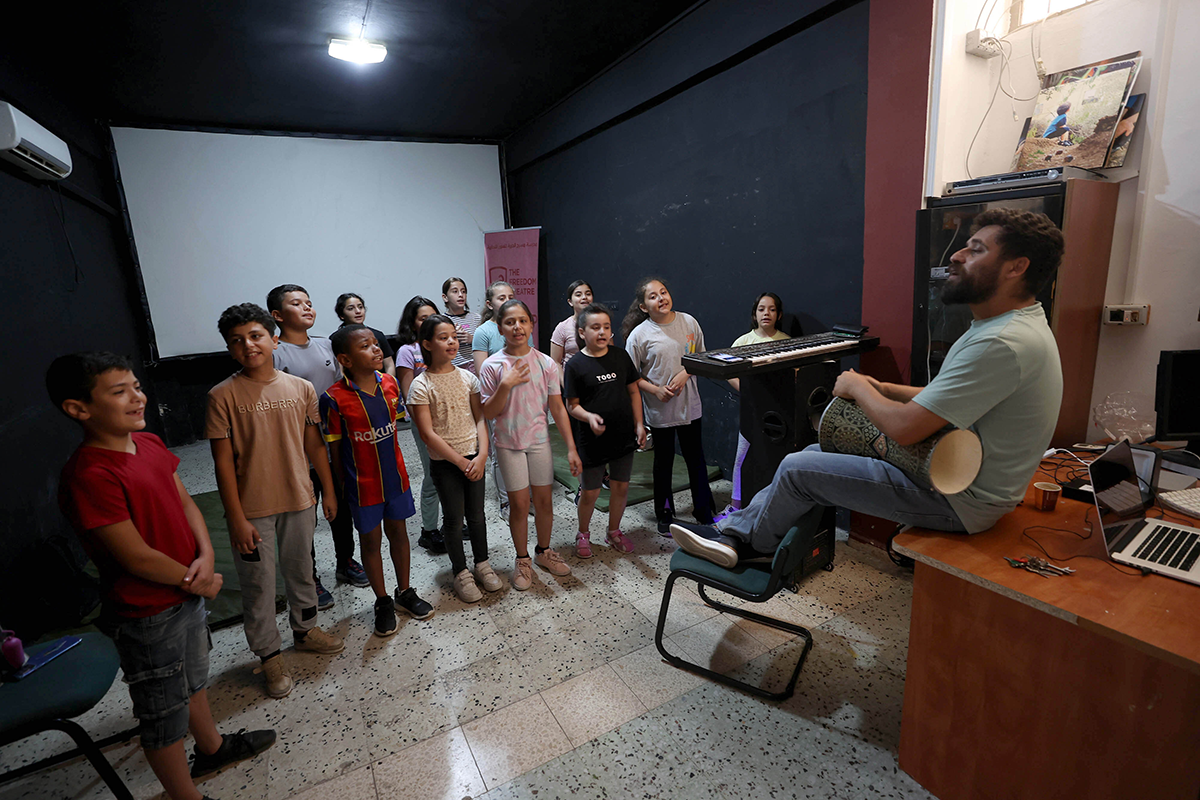 How to help the Theatre
For now, as TFT rises once again from the ashes, there is much work to be done.
The courtyard area outside the theater where children used to play was severely damaged and is littered with the burnt-out husks of cars.
The level of structural damage to the theater after the bombing that cracked the ceiling is still being evaluated. "It could be a simple fix or we might need to rebuild it completely," says a theater spokesperson. The IDF also raided the Freedom Theatre Guesthouse, shattering windows and damaging the exterior of the building.
To add insult to injury, TFT lost 80% of their funding from the EU in 2020 after rejecting conditions that stipulated they must depoliticize their work.
But there are practical ways for supporters to help. In addition to a call for donations, TFT is encouraging allies to program Palestinian plays and films, and to perform or create an event around their verbatim theater work The Revolution's Promise. Created by TFT and Artists On The Frontline, the project is billed "a collection of testimonies from artists across Palestine, celebrating cultural resistance and highlighting censorship and attacks on artists."
"We are inviting friends, activists, and artists worldwide to join this collaboration by telling these stories in the community you live, work, or organize in," says TFT's website.
Paradoxically, the recent assault on Jenin Refugee Camp has brought home what Lafferty describes as "Juliano's mission — to bring the story of Jenin camp to the world."
In spite of everything that has transpired, she says, "TFT has absolutely triumphed in that mission. Juliano would be proud."
One can only imagine that recent events will once again find their way into TFT productions, as they continue to spin the straw of Palestinian experience into theatrical gold.
Hadani Ditmars is the author of Dancing in the No-Fly Zone: A Woman's Journey Through Iraq, a past editor at New Internationalist, and has been reporting from the Middle East on culture, society, and politics for two decades. Her book in progress, Between Two Rivers, is a political travelogue of ancient and sacred sites in Iraq. 
Main photo courtesy of The Freedom Theatre
---
The Middle East Institute (MEI) is an independent, non-partisan, non-for-profit, educational organization. It does not engage in advocacy and its scholars' opinions are their own. MEI welcomes financial donations, but retains sole editorial control over its work and its publications reflect only the authors' views. For a listing of MEI donors, please click here.