This essay is part of a series that explores the human costs and policy challenges associated with the displacement crises in the Mediterranean and Andaman Seas. The essays consider the myths or misconceptions that have pervaded discussions about these two crises, as well as the constraints or capacity deficiencies that have hampered the responses to them. See more ...
 
---
Hospitality in Aceh
What happened to the Rohingya who survived last year's ordeal at sea? Of the more than 3,000 people drifting on rickety boats in the Andaman Sea in May 2015, 1,807—many among them women and children—were brought to shore in Aceh, Indonesia.[1] Despite orders from the Indonesian military not to help those caught at sea without food, water and fuel, dozens of Acehnese fishermen plucked up courage. "It is my duty and my right to rescue a human being, nobody can forbid this," said one fisherman.[2] Initial offerings of help and support in the Acehnese fishing villages were overwhelming; before state authorities arrived, local inhabitants had supplied large amounts of food and clothing, taking some of the stranded Rohingya into their houses, showering them, feeding them, and crying with them.
The Acehnese rescuers' explanations of their spontaneous hospitality circled around local socio-religious perceptions of having to help strangers in need, and around the tsunami that struck Aceh in 2004. "The whole world came together to help rebuild our houses, and now we finally have a chance to repay some of that kindness," said a villager in Seunuddon, the first place of rescue. Moreover, in Aceh's own recent history of conflict, when thousands of guerrillas were fighting the Indonesian central government for their independence, many had relied on gestures of hospitality in nearby Malaysia. Not only had guerrillas escaped across the Straits of Malacca during the armed conflict to recuperate and raise money for the struggle, but civilians had also escaped to Malaysia to avoid the conflict and earn money.[3]
Many Acehnese favored local integration of the Rohingya into Acehnese society on the basis of cultural, religious and even culinary similarities between themselves and the Rohingya.[4] However, for the central government in Jakarta this was out of the question. Indonesia, not a signatory to the 1951 International Refugee Convention, supports only two solutions for asylum seekers and refugees residing in its territory—repatriation or resettlement.[5] Local integration is not seen as a viable approach for recognized refugees. Instead, the Indonesian government sees the greatest potential to help the Rohingya in urging the Myanmar government to end their violent displacement from Rakhine state and to cease discriminating against the Rohingya. For several years, Indonesia has provided technical and non-technical assistance to Rakhine state to show its sincerity.[6]
While asylum claims are assessed by the United Nations High Commissioner for Refugees (U.N.H.C.R.) in Indonesia, asylum seekers are usually housed in temporary quarantine shelters or immigration detention centers. Given that Aceh had no such facilities and that those in other provinces were already overcrowded, the central government decided to establish camps for the Rohingya. Refugee camps were something that Indonesia had not seen since Indochinese refugees were housed in camps on the island of Galang in the late 1970s.[7] During their first months in Aceh, the Rohingya were accommodated in four camps in North Aceh and East Aceh. Conditions in those camps differed greatly. Some Rohingya lived in tents for months, others in basic barracks; in some camps, families were allowed to live together, while in others men were separated from women and children.
Although smaller contingents of Rohingya had been stranded in Aceh in 2009, 2011, 2012 and 2013,[8] the treatment of the Rohingya who arrived in 2015 was meant to be different from that of previous arrivals and other asylum seekers coming to Indonesia. On the one hand, like other asylum seekers and refugees, the Rohingya have no right to work, no access to education and no chance of formally integrating into society and becoming Indonesian citizens. On the other, the plight of the Rohingya as a persecuted Muslim minority triggered much greater concern and acts of solidarity among Indonesian individuals and civil society organizations, which had hitherto shown little interest in asylum seeker issues. Large amounts of food and clothing, sometimes more than was needed, arrived in the camps, particularly around Muslim holidays. Rafly Kande, a very popular Acehnese musician, organized a charity concert for the Rohingya.[9] Local soccer groups donated a couple of balls. The attention and donations are now drying up, not least because the numbers of Rohingya were shrinking as during the last twelve months most Rohingya left Aceh for Malaysia, their originally intended destination.
Repatriations and Escapes
Of the 1,807 rescued people, approximately 1,000 identified as Rohingya, while the others said they were from Bangladesh.[10] The Bangladeshis were separated from the Rohingya, briefly housed in different places, and at least 642 of them were repatriated to Bangladesh.[11] As it was impossible to return Rohingya to Myanmar, they were to be accommodated in Aceh for no longer than one year, as agreed by the Indonesian Foreign Minister in May 2015. The one-year deadline, however, set an impossible task for the U.N.H.C.R. in Jakarta, as it was clear that resettling Rohingya in third countries would take much longer. One Acehnese local district head seemed to have a more realistic understanding of the waiting process and estimated the expected stay of the Rohingya in Aceh as up to eight years.[12] So far, only three Rohingya have been resettled to Canada. Aware that they were in for a long wait, small groups of Rohingya started disappearing from the camps in Aceh.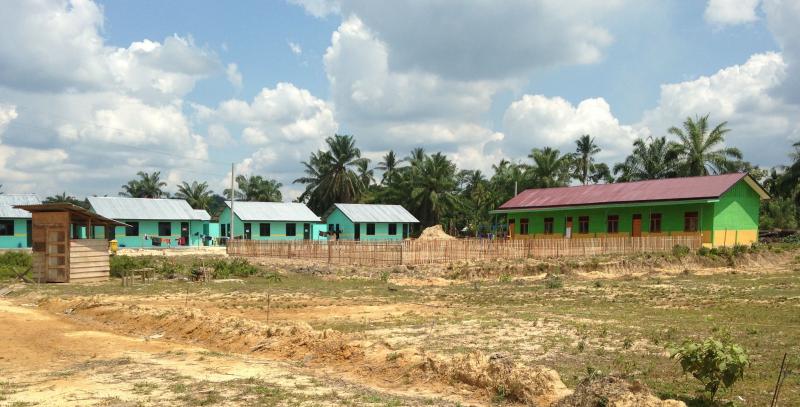 Kuala Langsa new camp (men's side)
Between the eastern coast of Sumatra, Indonesia, and Malaysia's west coast there is a lively exchange by boat in both directions, including Indonesian labor migrants avoiding the heavily bureaucratized labor-sending scheme and asylum seekers trying to enter Indonesia come from Malaysia by boat. In Medan, Rohingya could easily find smuggling facilitators eager to help them—for a fee, which increased as the demand for clandestine passages to Malaysia rose. Those with family in Malaysia could hope to receive the required money for the passage. While returning Indonesian labor migrants and asylum seekers seeking to enter Indonesia from Malaysia pay between US$200 and US$1000, journeys from Indonesia to Malaysia are more expensive. Facilitators hiked the prices to be paid by the Rohingya by breaking the trip into two segments. First the Rohingya have to pay about US$500 to get from Aceh to Medan and then US$1,500 to get from Medan to Malaysia.[13] Anyone with a valid passport and visa could buy about 20 one-way budget-airline tickets for this amount.
Long before the one-year deadline came to an end, most Rohingya had abandoned the camps. In April 2016, only 281 Rohingya, including 48 minors, were left in the four camps in Aceh. It is not entirely clear whether all escapees arrived safely in Malaysia.[14] Two women who tried to reach Malaysia reported that they were locked in a house for two weeks by the alleged smuggler but managed to run away and find their way back to one of the camps in Aceh. Those who reach Malaysia run the risk of arrest and indefinite detention in Malaysia. Whereas the Rohingya are relatively free to leave the camps in Aceh, there is strict surveillance of detention centers in Malaysia (Kedah).[15]
Most remaining Rohingya are unlikely to abandon Aceh now. Indonesia is yet to find a solution for the small number remaining beyond the one-year deadline. The central government in Jakarta continues to urge the U.N.H.C.R. to quicken the pace of resettling more of the Rohingya, even though their chances of resettlement are much lower than for other refugees. Meanwhile, Acehnese local governments are taking matters in their own hands. In October 2015 the local government in Langsa provided several hectares in a former oil-palm plantation for a new shelter for the Rohingya. Because previous camps were only intended for short-term use, the materials used to build the shelters were generally of low quality. With the help of national and international donations, a more robust camp was built,[16] with room for 1,500 people, which exceeds the number of Rohingya still in Aceh. The Langsa government also took a new direction when they allowed Rohingya children to attend the local primary school alongside Indonesian children.[17]
Will Hospitality Wear Out?
Although the local population initially welcomed the Rohingya warmly, it soon became clear that the state or non-state organizations would need to provide mid-term solutions for their care. Because Aceh's NGO infrastructure remains intact and has excellent links to international donors—a legacy of post-tsunami reconstruction—help arrived in Aceh promptly. Mobile phone donation schemes also made it easy for Indonesians to donate money. Muslim NGOs and welfare organizations, such as Dompet Duafa and Aksi Cepat Tanggap, delivered aid and services to the camps in Aceh, including literacy programs, religious instruction and agricultural training.[18]
Because of their limited experience and unfamiliarity with international standards of care for asylum seekers and refugees, the involvement of some of these organizations was problematic. For example, although NGOs received plenty of donations, the temporary camps they built were of very poor quality and unhygienic, having, among other shortcomings, only basic drainage systems so that puddles attracted mosquitos in the rainy season. Not allowed to cook for themselves, camp residents were provided with daily meals, but were often frustrated by this restriction and secretly cooked inside the wooden barracks with no fire protection.
According to Amnesty International, there were significant threats to the security of the Rohingya in the camps. Abuse and intimidation by local security staff, lack of protection from smugglers or traffickers, and theft and beating of asylum seekers by local gangs entering the camps were reported.[19] In September 2015, four women from the camp in North Aceh complained of sexual assault, causing most of the other camp inhabitants to storm out when they learned of it.[20] Moreover, local authorities in North Aceh complained about interference by NGOs that not only undermined security arrangements but also conflicted with rights provision. For example, in one camp an NGO arranged marriages for the Rohingya, including of underage girls, as they considered it inappropriate for unmarried men and women to live in the same camp.[21]
As in many comparable settings, there is a risk that aid recipients become mere mascots of the NGOs that raise funds on their behalf but do not necessarily provide all the help needed. Quite apart from their misuse as tokens by NGOs, other, possibly more severe, risks to the wellbeing of the Rohingya are looming, fuelled by restrictions on their integration into local society. The longer the aid-dependent Rohingya are barred from earning their own living, the more likely it is that local resentment of them will grow. Local villagers, many of them very poor and with limited understanding of regional politics and the status and movement of refugees more generally, see that Rohingya have for a long time been provided with goods and services that they themselves often yearn for. Social jealousy not only breeds conflict between the locals and the Rohingya, but also supports exploitative dealings. Many Rohingya sell the aid they receive, such as mattresses, milk powder, shampoo or soap. Barred from working and earning money, which they are urged to remit to friends and family back home in the Rakhine state or their money lenders who advance their previous travels, some Rohingya are led into crime. For example, four men from a camp in Langsa, East Aceh, were arrested for possession and consumption of marijuana, of which Aceh is the main producer in the region.[22]
Local politicians and NGO workers have recognized the risks and proposed non-salaried employment programs to provide Rohingya with new skills and prevent ongoing boredom as they await resettlement. In Lhok Bani, the camp in North Aceh, an Indonesian NGO has provided livestock, such as cattle and ducks, for the Rohingya to raise and sell, with the earnings to be distributed equally among local villagers and the Rohingya, thus avoiding payment of a salary which would violate Indonesian law on the employment of foreigners.
Like the Langsa government education initiative, the employment program is a step towards shaping a pathway for temporary or permanent integration of refugees into Indonesia. Although government officials in Jakarta vehemently argue against this option, pointing to the high numbers of Indonesians living in poverty, facing unemployment or lacking access to proper services, local politicians in Aceh seem more pragmatic. Perhaps they realize that following the approach favored by officials in Jakarta runs the risk of creating aid dependency for those who cannot be resettled or fuelling jealousy and exploitative encounters between local communities and the inhabitants of the remote camps. Thus, a more effective and humane approach in the longer term might be to distribute smaller groups of Rohingya into Acehnese communities and allow them to earn a living. 
---
[1] United Nations High Commissioner for Refugees (U.N.H.C.R.), "South-East Asia Mixed Maritime Movements," April–June 2015, accessed May 28, 2016, http://www.unhcr.org/53f1c5fc9.pdf.
[2] Interview by the author with local fisherman, April 12, 2016, Seunuddon, Aceh.
[3] Antje Missbach, "The Waxing and Waning of the Acehnese Diaspora's Long-distance Politics," Modern Asian Studies 47: 3 (2013): 1055-1082. DOI: http://dx.doi.org/10.1017/S0026749X12000571.
[4] Various interviews by the author, including with Teuku Mansur (Head of Social Affairs in Lhokseumawe), November 17, 2015; and Nasir Djamil (parliamentarian from Aceh), April 25, 2016. For spontaneous statements by Acehnese see also Budi Nahaba, "Warga Aceh Galang Kampanye Bantu Pengungsi Rohingya dan Bangladesh" [Acehnese Galang Refugee Aid Campaign Rohingya and Bangladeshi], Voice of America (VOA) Indonesia, May 16, 2015, accessed May 28, 2016,  http://www.voaindonesia.com/content/warga-aceh-galang-kampanye-global-bantu-pengungsi-rohingya-dan-bangladesh/2771730.html.
[5] United Nations High Commissioner for Refugees (U.N.H.C.R.), "Indonesia – Factsheet", February 2016, http://www.unhcr.org/50001bda9.pdf.
[6] Indonesian Ministry of Foreign Affairs, "Rakhine State Provincial Government, Myanmar, Wishes to Learn Conflict Resolution from Ambon, Indonesia," December 8, 2014, accessed May 25, 2016, http://www.kemlu.go.id/en/berita/Pages/Rakhine-State-Provincial-Governm….
[7] Antje Missbach, "Waiting on the Islands of 'Stuckedness': Managing Asylum Seekers in Island Detention Camps in Indonesia from the Late 1970s to the Early 2000s," Austrian Journal of South-East Asian Studies 6:2 (2013): 281-306, accessed May 25, 2016, http://www.seas.at/aseas/6_2/ASEAS_6_2_A4.pdf.
[8] Hotli Simanjuntak, "Hundreds of Myanmarese Rohingya Sheltered in Aceh Sports Hall," Jakarta Post, May 12, 2015, accessed May 25, 2016, http://www.thejakartapost.com/news/2015/05/12/hundreds-myanmarese-rohin….
[9] Iskandar Yunus, "Rafly Kande Gelar Konser Amal 'Peumulia Jamee' Peduli Rohingya" [Rafly Kande Holds Rohingya Cares Charity Concert 'Peumulia Jamee'], Lintas Nasional, June 5, 2015, accessed May 28, 2016, http://www.lintasnasional.com/2015/06/05/rafly-kande-gelar-konser-amal-….
[10] United Nations High Commissioner for Refugees (U.N.H.C.R.), "South-East Asia Mixed Maritime Movements," April–June 2015, accessed May 28, 2016, http://www.unhcr.org/53f1c5fc9.pdf.
[11] International Organization for Migration (I.O.M.), "Bay of Bengal and Andaman Sea Crisis," Situation Report September 2015, accessed May 28, 2016, https://www.iom.int/sites/default/files/situation_reports/file/IOM-Anda….
[12] "Ini Kata Bupati Cek Mad Tentang Pengungsi Rohingya" [Regent of North Aceh Discusses Rohingya Refugees], PortalSatu, February 6, 2016, accessed May 25, 2016, http://portalsatu.com/read/news/ini-kata-bupati-cek-mad-tentang-pengung….
[13] Interview with NGO members who provided care for the camp in Blang Adoe, April 9, 2016, Banda Aceh.
[14] International Organization for Migration (I.O.M.), "Migrant Statistics under the IOM Indonesia Programme as of 30 April 2016.
[15] Rohmatin Bonasir, "Malaysia Sayangkan Pengungsi Rohingya Lari Dari Aceh" [Malaysia Deplores the Flight of Rohingya Refugees from Aceh], BBC Indonesia, February 24, 2016, accessed May 25, 2016, http://www.bbc.com/indonesia/dunia/2016/02/160223_dunia_pengungsi_rohin….  
[16] "Pengungsi Rohingya Direlokasi" [Rohingya Refugees Relocates], Tribunnews, March 20, 2016, accessed May 25, 2016, http://aceh.tribunnews.com/2016/03/20/pengungsi-rohingya-direlokasi.
[17] Asrul, "Bocah Rohingya di Langsa Mulai Bersekolah" [Rohingya Boy in Langsa Starts School], Aceh Journal National Network, March 29, 2016, accessed May 25, 2016, http://www.ajnn.net/news/bocah-rohingya-di-langsa-mulai-bersekolah/inde….
[18] Interviews with members of these NGOs in November 2015 and April 2016. For more detailed information on their aid programs concerning Rohingya, see http://act.id/id/home and http://www.dompetdhuafa.org.
[19] Amnesty International, "Deadly Journeys: The Refugee and Trafficking Crisis in Southeast Asia," October 21, 2015, accessed May 25, 2016, https://www.amnesty.org/en/documents/ASA21/2574/2015/en/.
[20] Associated Press, "Alleged Rapes Prompt Rohingya Mass Walkout of Indonesia Camp," September 29, 2015, accessed May 25, 2016, http://america.aljazeera.com/articles/2015/9/29/alleged-rapes-prompt-ro….
[21] Amiruddin Abdullah Reubee, "18 Pasangan Pengungsi Rohingya Minta Menikah" [18 Rohingya Couples Request Marriage in Shelter], Metrotvnews.com, Lhokseumawe, August 4, 2015, accessed May 25, 2016, http://news.metrotvnews.com/read/2015/08/04/418232/18-pasangan-pengungsi-rohingya-minta-menikah; and "Warga Rohingya Ikut Nikah Massal di Aceh" [Rohingya Participate in Mass Wedding in Aceh], Megapolitan.kompas.com, August 30, 2015, accessed May 25, 2016, http://megapolitan.kompas.com/read/2015/08/30/16305311/Warga.Rohingya.I….
[22] Putra Zulfirman, "Pengungsi Rohingya Tertangkap Isap Ganja" [Rohingya Refugees Caught Using Ganja], Antaranews.com, August 12, 2015, accessed May 25, 2016, http://aceh.antaranews.com/berita/26098/pengungsi-rohingya-tertangkap-i….
---
The Middle East Institute (MEI) is an independent, non-partisan, non-for-profit, educational organization. It does not engage in advocacy and its scholars' opinions are their own. MEI welcomes financial donations, but retains sole editorial control over its work and its publications reflect only the authors' views. For a listing of MEI donors, please click here.