This essay is part of a series that explores the human costs and policy challenges associated with the displacement crises in the Mediterranean and Andaman Seas. The essays consider the myths or misconceptions that have pervaded discussions about these two crises, as well as the constraints or capacity deficiencies that have hampered the responses to them. See more ...
 
---
The epic victory of the National League for Democracy in the landmark national election in Myanmar in November 2015 grabbed worldwide headlines. Not so the Rohingyas refugee crisis. In fact, the Rohingyas emergency has received far less media attention than its magnitude would seem to warrant, possibly due to the concurrent migration crisis in Europe. Indeed, the differences in media coverage between the two humanitarian emergencies are striking, especially considering their many similarities, including the thousands of lives at risk, the hundreds of deaths at sea, the involvement of smugglers, and the ambiguous behavior of the concerned countries regarding the migrants' acceptance and their international protection. However, one of the biggest (and most important) differences between the two emergencies is that in the Rohingya case, unlike in the European context, none of the involved states is a signatory to the 1951 Refugee Convention, nor its 1967 Protocol. Furthermore, the lack of a formal regional asylum framework has made the Rohingyas emergency that much more acute—and tragic.
The Origin of the Rohingyas Emergency
The United Nations refers to Rohingyas as one of the most persecuted minorities in the world,[1] and probably among the most forgotten ones. The roots of the pattern of discrimination they have long faced are ethnic and religious, as they represent a minority that primarily resides in Rakhine State (western Myanmar).[2]
The story of their persecution dates back even before the establishment of the Republic of the Union of Myanmar, precisely during Second World War. During the war the Rohingyas declared their loyalty to the British, while the remaining part of the population, the Arakanese (Arakan is the former name of Rakhine State), decided to side with the Japanese. Even after the establishment of Myanmar in 1948, this Muslim minority had to face a constant anti-Rohingya campaign characterized by denial of their rights and discrimination. The anti-Rohingya events culminated in violent episodes carried out by the military junta in 1978 and again in 1991 which drove 200,000 and 250,000 Rohingyas, respectively, out of the country to Bangladesh, where they immediately found protection.[3] In addition to the violence against Rohingyas in subsequent years—including the destruction of mosques and schools in Rakhine State—discrimination against them was institutionalized politically with the enactment of the 1982 Citizenship Law.[4] The new law denied them Burmese citizenship making them stateless. Myanmar's government does not recognize Rohingyas among the national races (like it does for Barman or Arakanese) even if there is evidence proving they were born in the country, and thus refers to them as "Bengali," illegal immigrants.[5]
By virtue of being deemed stateless, or even worse, regarded as illegal migrants, Rohingyas have no standing to protest against discrimination before national authorities. Their situation is further compromised by the fact that none of the surrounding states are signatories to the 1951 U.N. Refugee Convention, or its 1967 Protocol; nor has a regional refugee protection framework yet been developed.
The Rohingya community has suffered the abridgement of fundamental rights, such as freedom of movement, religion, employment, and access to education—a situation made worse by additional measures taken against ethnic identity that limit their rights to get married or even to have children.[6] Consequently, over the years Myanmar, and especially the Rakhine State, has registered an increase in the number of people fleeing the country, mainly towards safer neighboring States.[7]
Figure 1. Refugees from Myanmar (1978-2014)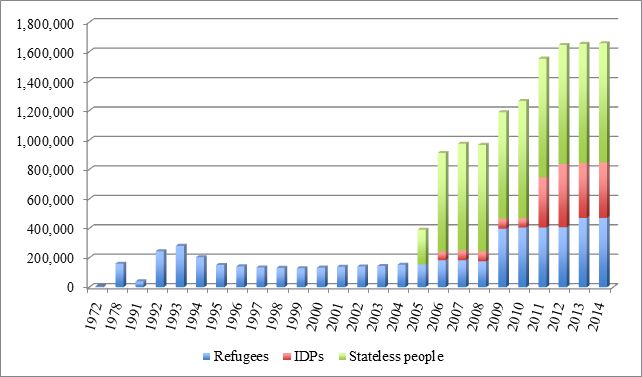 Source: United Nations High Commissioner for Refugees (U.N.H.C.R.)
Although this data refers to all Myanmar refugees, and therefore also includes those escaping other forms of persecution, what is interesting here is the escalation of the exodus occurring in 1978 and 1992-1993, during discriminatory measures undertaken by Burmese authorities against Rohingyas. The data also shows, beginning in 2005, a sharp rise in the number of stateless people and Internally Displaced Persons (IDPs)—undoubtedly including some Rohingyas.  
It is also important to note that the persecution of Rohingyas has fueled widespread tension among local ethnic groups, as confirmed by several episodes of violence caused by Rohingyas. This is demonstrated in 2012 when a young Arakanese women was raped and killed by three Rohingyas giving rise to fights and several deaths in a number of villages.[8] Fighting ensued, including Arakanese and Buddhist monks, as well as the national army, which instead of securing the region, watched or even joined the Arakanese mobs. Inevitably, thousands of individuals were forced to flee, crossing borders illegally, through the Naf River or alternative maritime routes, in order to reach safer states, such as Bangladesh, Thailand, Malaysia, and—more recently—Indonesia.
Therefore, the 2015 exodus, during which thousands of Rohingyas fled the country on hazardous journeys by boat, is just a consequence of the escalation of discrimination and violence occurring in the Rakhine region.
Where Are They Escaping?
Since 1978, Bangladesh has represented the first destination of Rohingya asylum seekers, considering the proximity, the common religion, and—most importantly—because Bangladeshi authorities initially recognized the humanitarian needs of these undocumented Myanmar migrants. According to U.N.H.C.R., about 32,000 registered Rohingyas currently live in two government-run camps, near Cox's Bazar, in Kutupalong and Nayapara, while it is estimated that an additional 200,000 unregistered Rohingya refugees live nearby in unofficial camps.[9] Although it might seem a relief that this contingent of asylum seekers settled in a safer country, life in these camps is dire, as many of them live without enough food, and have very limited access to education and work opportunities.[10]
Although Bangladesh has proven to be open to this minority, it is clear that it is not, or maybe cannot be, totally committed to finding a durable solution to this issue. After all, Bangladesh ranks among the poorest and most populated country in the region.[11] This leads to national authorities being more focused on internal questions (in particular with reference to a possible labor market unbalance, as Rohingyas would accept unskilled jobs at lower wages). Furthermore, Bangladeshi politicians have always regarded Rohingyas acceptance and settlement as temporary. Paradoxically, Bangladesh itself has considered this Myanmar minority as illegal migrants, denying them the possibility to obtain citizenship.
Moreover, following the spring 2015 migration emergency, Bangladesh has turned away new migrants, and has declared on several occasions the intention to start a repatriation program. Luckily, this plan was not accomplished;[12] however it gave rise to a "ping-pong" strategy with the other destination countries, Malaysia, Thailand, and Indonesia that evidently shows their reluctance to take any international responsibility.[13]
All of these countries have recently experienced a consistent flow of migrants. Malaysia not only represents an Islamic country, but thanks to U.N.H.C.R., Rohingyas can be granted refugee status there. Thailand, especially Ranong province, is easy to reach by boat; some migrants have been able to settle there, and even to gain citizenship. In addition, a portion of these migrants consider their initial point of arrival as a temporary base, from which to reach another destination; some Rohingyas have attempted to cross to Indonesia, and from there Australia, a signatory to the Geneva Convention.[14]
Figure 2. Rohingyas Migration Map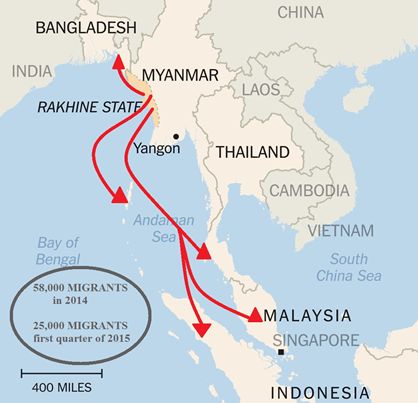 Source: International Organization for Migration (IOM)
What the media described during May and June 2015 is just the tip of the iceberg with long-lasting humanitarian crisis, which, worst of all—apart from the numbers of refugees, the human trafficking, and the deaths—has an absence of any international attention. Instead, regional actors inevitably are more involved in refugee protection.
At the same time, rejection of migrants and projects for refugees' assisted return are not the proper answer at the moment, since their lives are still at risk. In fact, a top official in Aun San Suu Kyi's administration has said that addressing Rohingya tension is not a top priority of the nation.[15] Moreover, Myanmar cannot be considered politically stable, especially from the ethnic point of view. Besides the Rohingyas issue, the country has still to manage tensions (which often turn into conflicts) among other minorities (Shan, Karen, Kachin, and Lisu) that, together, account for 40 percent of Myanmar's population. Not even the recent national ceasefire agreement, signed with eight armed groups, would grant some sort of stability in the region.[16]
Consequently, it is hard to see a reachable independent and internal solution to the Rohingyas emergency. It is instead more suitable to seek an international alternative.
Conclusion—The Role of Regional and International Actors
In recent years, natural hazards, climate change, and international and civil wars have all contributed to more and more people fleeing their homes. Issues related to international migration—not just those specifically pertaining to refugees—are no longer simply a national problem. On the contrary, such issues pose challenges that can only be addressed effectively and humanely with focused international attention and concerted action.
In addressing the Rohingyas emergency, the Association of Southeast Asian Nations (ASEAN) could play a leading role. One approach would be for ASEAN to exert economic pressure on Myanmar to gradually reduce discrimination against Rohingyas. Here, ASEAN has leverage, since its members represent the biggest investors in the country. However, applying this pressure would require the political will to employ it, especially as non-interference in the domestic affairs of member states is one of its founding principles. Another approach would be for ASEAN, building upon the Bali Process,[17] to work towards the establishment of a common regional framework concerning illegal migrants and refugees, which, at an initial stage, may even differ from the Geneva Convention.
Some initiatives in this direction have already been organized, as in May and December 2015, where two international meetings were held among the directly affected countries, aiming at coping with the migration emergency.[18] In last December's meeting, Southeast Asian representatives met in Bangkok to define a common strategy on crucial issues, such as migrant protection, irregular migration prevention, and the fight against human smuggling.[19]
In the long run, it is possible to envision cooperation with the European Union and the United States. Indeed, European states share similar experiences with ASEAN ones, but, at the same time, have an established framework of regional cooperation. In this sense, European Union, besides supporting funding—that has already granted—through international forums and cooperation, can provide useful tools to be used in addressing refugee and migrant management.
Moreover, as in the ASEAN case, both European Union and United States could, eventually, make pressure in the region with sanctions that previously have been used against the junta, in the attempt to mitigate the root causes of this migratory emergency. In fact, if it is true that Myanmar is moving towards democracy, authorities will have to implement reforms against ethnic and religious discrimination, as well as secure the ethnic areas. In this process, Mynamar could find Western actors as solid partners, who have humanitarian and economic interests in collaborating with Myanmar.
The development of the Rohingyas emergency will depend, in the end, on the concerned States' intentions. ASEAN nations must choose between a short-run strategy with immediate results or a long-run program, supported by international actors, which could establish a shared legal framework, sustainable from the political and humanitarian point of view.
---
[1] U.N.H.C.R., "Burma: Study: Rohingya Among World's Most Persecuted," UNHCR Refugee Daily, October 20, 2014, accessed March 2, 2016,  http://www.unhcr.org/cgi-bin/texis/vtx/refdaily?pass=52fc6fbd5&id=5445f0238.
[2] See E. Albert, "The Rohingya Migrant Crisis," Council on Foreign Relations, (2015), accessed March 2, 2016, http://www.cfr.org/burmamyanmar/rohingya-migrant-crisis/p36651. Their presence dates back to the fifteenth century during the Arakan Kingdom.
[3] A.A. Ullah, "Rohingya Refugees to Bangladesh: Historical Exclusions and Contemporary Marginalization," Journal of Immigrant & Regugees Studies, 9, No. 2 (2011): 139-161.
[4] See the text of the Pyithu Hluttaw Law No. 4 of 1982, Online Burma/Myanmar Library, accessed March 2, 2016, http://www.ibiblio.org/obl/docs/Citizenship%20Law.htm.
[5] A. Tennery, "Why is no one helping Myanmar's Rohingya?" Reuters, June 17, 2015, accessed March 2, 2016, http://blogs.reuters.com/great-debate/2015/06/17/why-is-no-one-helping-myanmars-rohingya/.
[6] This does not include several cases of sexual abuse, arbitrary detention, compulsory relocations that have occurred against Rohingyas. However, it must be noted that the tensions against local communities have led recently to several episodes of violence (rape, beatings and house burnings) by both populations.
[7] "'All You Can Do is Pray.' Crimes Against Humanity and Ethnic Cleansing of Rohingya Muslims in Burma's Arakan State," Human Rights Watch (2013), accessed March 2, 2016, https://www.hrw.org/sites/default/files/reports/burma0413webwcover_0.pdf.
[8] See "All You Can Do is Pray." According to U.N.H.C.R., following these events 140,000 people fled their homes, moving into government-designed IDPs camps near the state capital, Sittwe.
[9] Humanitarian Aid and Civil Protection, The Rohingya crisis (Brussels: European Commission, 2015), accessed March 2, 2016, http://ec.europa.eu/echo/files/aid/countries/factsheets/rohingya_en.pdf; and Bangladesh Fact Sheet, U.N.H.C.R., August 2015, accessed March 2, 2016, http://www.unhcr.org/50001ae09.pdf.
[10] Ibid.
[11] See "Human Development Indicators (HDI)—Bangledesh," United Nations Development Programme, accessed March 2, 2016, http://hdr.undp.org/en/countries/profiles/BGD.
[12] See "Unregistered Rohingyas in Bangladesh to be counted in first census," BBC News, February 12, 2016, accessed March 2, 2016, http://www.bbc.com/news/world-asia-35561789. 
Recently, Bangladeshi authorities started the first census of Rohingyas in the country.
[13] Simon Tisdall, "South-east Asia faces its own migrant crisis as states play 'human ping-pong,'" The Guardian, May 14, 2015, http://www.theguardian.com/world/2015/may/14/migrant-crisis-south-east-asia-rohingya-malaysia-thailand.
[14] S. Kosem and A. Saleem, "Religion, Nationalism and the Rohingya's Search for Citizenship in Myanmar," in R. Mason (eds.), Muslim Minority-State Relations: Violence, Integration and Policy (London and New York: Palgrave Macmillan, 2016): 211-223.
[15] J. Rigby, "Aung San Suu Kyi aide: Rohingya are not our priority," The Telegraph, November 19, 2015, accessed March 2, 2016, http://www.telegraph.co.uk/travel/destinations/asia/burma/12006208/Aung-San-Suu-Kyi-aide-Rohingya-are-not-our-priority.html.
[16] S. Tisdall, "Poverty, ethnic tensions and China top agenda for Myanmar's new politicians," The Guardian, February 1, 2016, accessed March 2, 2016, http://www.theguardian.com/world/2016/feb/01/poverty-ethnic-tensions-china-myanmar-new-politics. 
[17] See "The Bali Process on People Smuggling, Trafficking persons and Related Transnational Crimes," The Bali Process, accessed March 2, 2016, http://www.baliprocess.net/. The Bali Process is an international forum, established in 2002, to facilitate dialogue and information sharing, as well as foster cooperation on practical issues related to people smuggling, trafficking in persons and related transnational crime.
[18] A. Belford and A. Sawitta Lefevre, "UPDATE 1-Thai migrant crisis meeting ends without any solution on Offer," Reuters, December 4, 2015, accessed March 2, 2016, http://www.reuters.com/article/asia-migrants-idUSL3N13T38820151204.
[19] Ibid.  
---
The Middle East Institute (MEI) is an independent, non-partisan, non-for-profit, educational organization. It does not engage in advocacy and its scholars' opinions are their own. MEI welcomes financial donations, but retains sole editorial control over its work and its publications reflect only the authors' views. For a listing of MEI donors, please click here.