When one thinks of Morocco, one likely pictures sprawling medinas, meandering streets, and souks brimming with sounds, perfumes, and treasures. Perhaps the most sought after of these treasures are the magnificent handwoven carpets that have drawn visitors for centuries. Aside from being a tourist attraction, the Moroccan carpet trade is stitched indelibly into the history and culture of the country, passed down from the Berber, or Amazigh, traditions that predate the early Arab conquests of the 7th and 8th centuries.
Today, Morocco's carpet sellers remain crucial to the country's economy. Their shops are an essential ingredient of the cavernous bazaars and vast markets that make up the tapestry of the medinas of Fez and Marrakech. The carpet trade has boomed in recent years, with investors from around the world making large sums of money from the sale of one of Morocco's most traditional crafts.
All of this may appear to be good news from the outside. Yet, as in so many industries, there is a dark underside to Morocco's carpet trade that threatens to unravel centuries of tradition. According to those tasked with carrying Morocco's traditional crafts into the future, the carpet trade faces two primary obstacles. First, fewer and fewer young people are taking up traditional Moroccan crafts, with many forced to work in other trades or leave Morocco altogether, seeking so-called unskilled labor abroad. This means that artisanal knowledge is held in a dwindling and ageing section of the population and many crafts are in danger of dying out entirely.
Secondly, there is exploitation woven deep into the fabric of the carpet industry. It is a familiar story, common to so many industries around the globe. The highly skilled workers who produce Morocco's carpets are usually women. Often operating in collectives in rural areas, it is common for weavers to work on traditional, two-person handlooms for weeks on end to produce a single piece. Despite the lucrative market for traditional Moroccan crafts, both Berber and Arab, the craftswomen typically see very little of the profits. While their bosses amass fortunes, many of the women who weave the magnificent carpets seen in the souks of North Africa live a threadbare existence, with many paid as little as 2 Moroccan dirhams (about $0.20) per hour.
One Square Meter Berber 
The organization One Square Meter Berber (OSMB) was set up to tackle both of these problems head on. OSMB is a collaboration between traditional Moroccan artisanship and Dutch design. Led by Dutch-Moroccan designer and entrepreneur Mina Abouzahra, the project seeks to repair the fraying tradition of Berber carpet weaving and thus protect the communities that rely upon it. OSMB's mission is twofold: to protect Moroccan cultural heritage and to assist Morocco's highly skilled craftswomen in achieving just wages and living conditions. The project views these two goals as intrinsically interwoven — neither can be achieved without the other.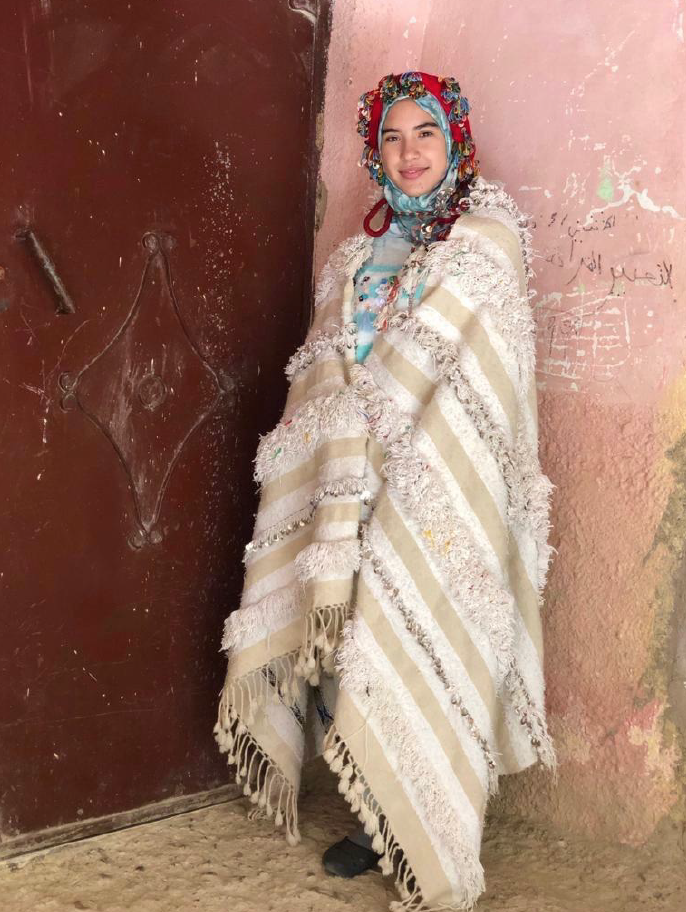 OSMB speculates on its website that "if action is not taken, these crafts will disappear and the world will lose precious cultural heritage." It adds that its programs aim to "protect and sustain the ancient cultural heritage of the weaving Berber Community of Morocco" by "empowering women — socially and economically — through craft." In this way, OSMB's two goals are two inseparable strands, knitted together to form a single purpose.
Abouzahra herself is a patchwork of cultural identities. A furniture maker by trade, specializing in Moroccan craftwork, she was raised by Moroccan parents in the Netherlands. Abouzahra's experience growing up between the two cultures, she says, has inspired her signature style. She founded an interior design studio in 2013 and has been working between Morocco and the Netherlands for years.
OSMB partners with four women's cooperatives, representing four distinct Berber tribes from different regions of Morocco and a diverse range of traditions. These are Cooperative Carpets of Marmoucha in Marmoucha, Ain Leuh Women's Cooperative of Textiles in Ain Leuh, Kasbetaznakhte in Taznakht, and Tefaout n'takdift in Taznakht. OSMB paired each cooperative with an established artist from the Netherlands. These artists were invited to live and work closely with the Moroccan artisans, sharing techniques, knowledge, and experiences. "Collectives have the potential to keep the traditions of carpet weaving and other crafts alive," Abouzahra told the Middle East Institute. "It also gives them an opportunity to make a self-portrait. It is an act of free expression." The "self-portraits" are carpets through which the craftswomen embody their traditions for international audiences. These carpets are one square meter in size, giving the project its name.
 
The Dutch artists assist the cooperatives in making the work accessible to international audiences as well as contributing to some aspects of design. According to OSMB, "Under the creative direction of Amie Dicke, Mattijs Van Bergen, Wieki Somers, and Bertjan Pot, the craft takes [on] an increased sense of cultural awareness and modernity, recognizing the importance of heritage as a way to inform a better future." It is certainly in bringing traditional Moroccan craft to an international audience that the work of OSMB is most valuable.
Showcasing the work
OSMB's work has been showcased at several events around Europe, and Abouzahra plans to expand its outreach to the rest of the world. The project was set to appear at the prestigious Dutch Design Week in Eindhoven in October, though most events will now take place online due to the COVID-19 pandemic.
In February, OSMB exhibited its work at the magnificent Bahia Palace in Marrakech, as part of the 1-54 Contemporary African Art Fair. The exhibition, which also featured the work of Dutch designers, was overseen by Abouzahra and curated by Amanda Pinatih. Being both a traditional aristocratic Moroccan residence and a modern tourist attraction, the palace provided a fitting setting for OSMB, which aims to create a marriage between the traditional and the modern. Some 3,000 people visited the palace every day during the exhibition, making for a fantastic opportunity to showcase the work of the cooperatives to an international crowd.
When I met with Abouzahra, she spoke glowingly of 1-54. "To have been given the chance to exhibit our work in the Palais el-Bahia is a dream come true," she said. "I couldn't think of a more suitable place for it than this historic building filled with Moroccan craft."
However, she believes that the event could go much further to help the African continent it seeks to represent. "The 1-54 is a fantastic fair and it's great that they are showcasing African art. But I wish it was less elitist," she said. "I would prefer to see African art presented as folk art in a setting that is more accessible to ordinary people. Often I would be at an event and think to myself, 'I can count all of the African people here on two hands!' It's a superb event, but sometimes seems just like a European or American art fair, which is missing a big opportunity to display African art more authentically, especially as we are in Africa."
The dangers of elitism are never far away in the Moroccan art scene. The culture of the North African country is a complex fabric of Berber traditions, Arab customs, and a Francophone elite that is a hangover from the days of the French Protectorate. At exhibitions in Morocco, there is often a painful dissonance between nominal celebration of authentic artistic traditions and the unmistakable bourgeois tone of proceedings. As in elite culture around the world, the "authenticity" of non-Western traditions is often fetishized, as if those cultures are fixed in time as opposed to sophisticated and ever-developing. Admission alone often costs the average Moroccan's weekly salary, which leaves a bad taste in the mouth, and it could be argued that such events often alienate the very communities they purport to celebrate.
This is a trapdoor that OSMB is determined to avoid. According to Abouzahra, the reinvestment of OSMB's proceeds in Berber communities is the most important aspect of the work they do. The OSMB website explains that the project was created by a need: "preserving heritage globally while supporting lives locally." The project's gains, including those related to brand recognition, are reinvested in the communities with which they work. This includes the provision of services such as social development programs and vocational training courses. The project also works to foster understanding of Berber culture in the Netherlands, which has a significant Moroccan immigrant population. OSMB describes itself as a cultural and social project "utilizing design as a force for good." In these troubled times, the work of organizations such as OSMB offers a thread of hope.
Tom Pollitt is a foreign correspondent based in Morocco, covering politics and culture. Originally from Bristol, UK, Tom has an undergraduate MA in Philosophy from The University of St Andrews and Aarhus Universitet, a Graduate Diploma in Law from BPP University, and an LLM in International Law from the School of Oriental and African Studies (SOAS), University of London. The views expressed in this piece are his own.
All photos are courtesy of One Square Meter Berber. 
---
The Middle East Institute (MEI) is an independent, non-partisan, non-for-profit, educational organization. It does not engage in advocacy and its scholars' opinions are their own. MEI welcomes financial donations, but retains sole editorial control over its work and its publications reflect only the authors' views. For a listing of MEI donors, please click here.