The Featured Artists
MEI has provided brief biographies of the featured artists in the Lebanon Then and Now: Photography from 2006 to 2020 show. View the artists' biographies >>
Below, users will find links to their websites. In the cases where no official website was found, the names have been marked with an asterisk (*) and a link to social media accounts or another official page has been provided.
Chantale Fahmi  (Curator)
Myriam Boulous
Lamia Maria Abillama
Dalia Khamissy
Maria Kassab
Vicky Mokbel
İeva Saudargaité Douaihi
Vladimir Antaki
Pierre Aboujaoude
*Hussein Beydoun
Blanche Eid
Jana Khoury
Emilie Madie
*Elias Moubarak
Badr Safadi
*Omar Sfeir
Jack Seikaly
Marwan Tahtah
Databases, Library Catalogs, and Museums
Access to Mideast and Islamic Resources (AMIR)
Hosted on Blogspot, AMIR contains thousands of posts detailing information relating to all aspects of the Middle East and Islam and are easily searchable by labels which are based on subject or geography. Of the posts featuring Lebanese resources, there are a few that pertain to the topics of this guide.
View all AMIR posts relating to Lebanon >>
View all AMIR posts relating to photography >>
View all AMIR posts relating to art >>
View all AMIR posts relating to art history >>
---
American University of Beirut (AUB) Digital Documentation Center
The American University of Beirut's Digital Documentation Center lists a number of digitized collections on a variety of topics. Rather than a search bar, the topics are presented in manageable sections so that they may be easily browsable. Topics include political and art posters from the Jafet Library's Archives & Special Collections section as well as some digitized books on the Lebanese Civil War and reconstruction in the Political Studies section.
Browse the Digital Documentation Center list >>
AUB ScholarWorks
The ScholarWorks database is a repository of theses and articles on a wide range of topics. Many items are not open access, however lengthy descriptive records, including abstracts and citations, make Interlibrary Loan (ILL) requests for desired materials possible. A search for "photography" retrieves fewer than 200 articles while a search for "photography and war" or "photography war" will retrieve more than 1,600 results. Filters to narrow search results further will appear on a menu on the right side of the page.
Search the database >>
---
Arab Image Foundation (AIF)
The Arab Image Foundation is a non-profit association geared towards engaging the international community to forge "new pathways for photography and image practices." The collection contains more than 500,000 images from and about the Middle East and North Africa, as well as the diaspora. The database contains the photographs of over 250 amateur photographers and 700 professionals, from over 50 countries, and covers the time period from the mid-1800's to present day.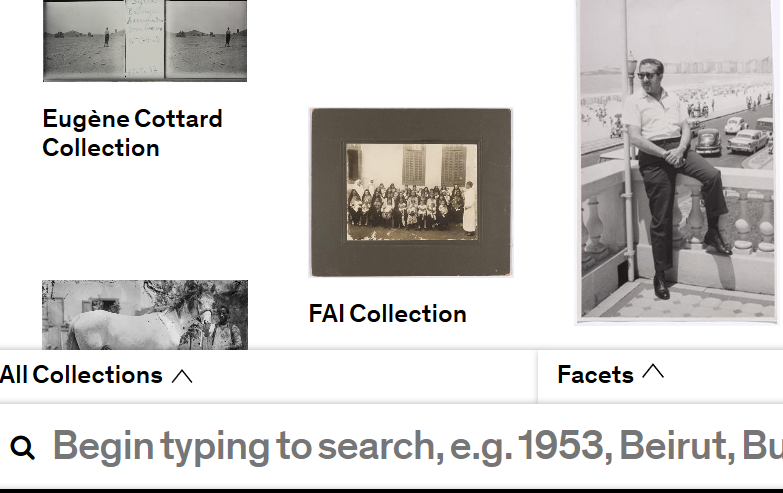 The search bar at the bottom of the page allows users to type in keywords or collection names of the photographs they would like to view.
Clicking the "Facets" button brings up a side-scrolling page listing collection names, time periods, and original material type. Users may also sort the collection to browse in ascending or descending alphabetical order.
Browsing the collection may be preferable to performing keyword searches, as load times for search results can be long.
Explore the image collection >>
Read about the platform and its collection practices >>
Read about the MEPPI digitization project >>
---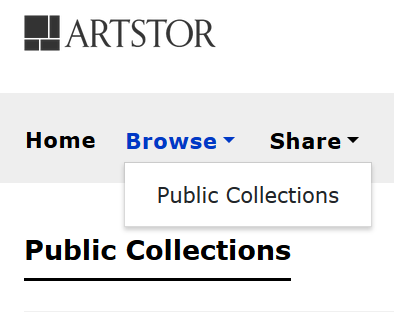 Artstor
This database hosts subscription-access only content in addition to its more than 1.3 million open access images. To help users navigate this vast database, they have published a libguide (i.e. resource guide) to the Public Collections.
View Artstor Libguide>>
A search of the different public collections available on Artstor will reveal The BeMA Collection and two Notre Dame University Louaize (Lebanon) collections that feature art or architecture:
The Lebanese Research Center for Migration and Diaspora Studies (LERC): The Lebanese Aboard the Titanic -- Paintings Project, which consists of a series of paintings and one sculpture commissioned to commemorate the Lebanese emigrants who were aboard the Titanic when it sank.
The Heinz Gaube Lebanese Architectural Photographs Collection consists of more than 3,000 photographic images and showcases Lebanese architecture from more than 285 villages in Lebanon before the 1975 civil war.
To search BeMACC on Artstor, be sure to check the "Search within the collection" box next to the simple search. The Advanced Search option defaults to the broader Artstor catalog so researchers must select "Lebanon" in the Geography box, located in the bottom right corner.
Search Artstor's Public Collections >>
JSTOR
This is an academic database with more than 12 million journal articles, books, and primary sources. In it, a simple keyword search (without quotes) for "photography Lebanon" or "modern art Lebanon" will return a wide variety of results. To narrow the search further, look to the left-side menu, where at the top it gives users the option to "search within results" for other keywords, or to filter results by publication type, publication date, subject, or access level--subscription or open access.
JSTOR's partnership with Artstor means that an increasing number of images are findable through both platforms.
Search JSTOR's database >>
---
Beirut Museum of Art (BeMA)
Beirut Museum of Art's new building is scheduled to open in 2023. The new museum space will be centrally located in the heart of Beirut, on the site that once marked the dividing line in the Lebanese Civil War. The museum currently houses three separate loan collections, including that of the Ministry of Culture. Its permanent collection will include modern and contemporary artworks from Lebanon, the Lebanese diaspora, and the wider region.
Beirut Museum of Art Collection Collaborative (BeMACC) was recently launched at Rice University in Texas, and showcases the Lebanese Ministry of Culture's collection. The platform is freely available to the public and allows users to view BeMA's collection online, via Artstor.
Browse the BeMA Collection on Artstor >>
---
Digital Library of the Middle East (DLME)
DLME provides open access to resources demonstrating the rich cultural legacy of the Middle East and North Africa by bringing together collections from a wide range of universities and cultural heritage institutions, including American University of Beirut. Images in the digital library include fully browsable digitized books--including some that had originally been preserved on microfilm, posters, drawings, photographs, and sound and video files. The posters include fliers and announcements from museums for their art exhibitions.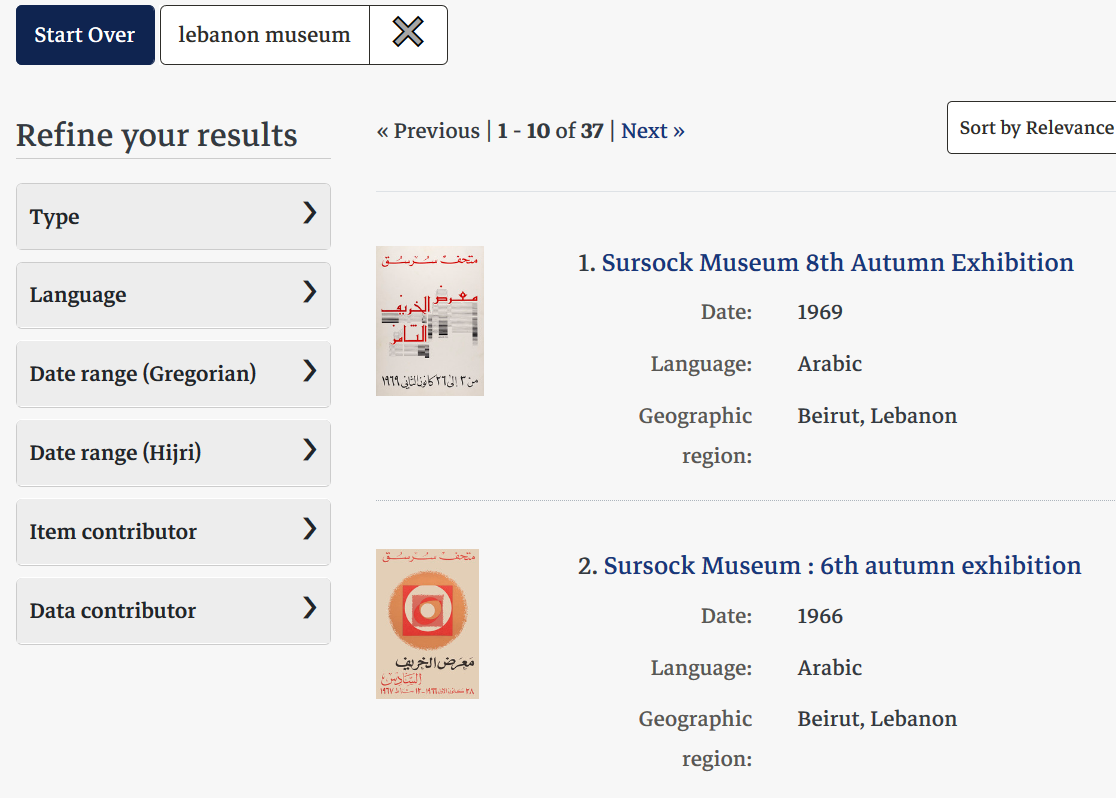 A simple search of the database, without quotation marks, for"Lebanon art" or "Beirut art" returns over 150 results from the 1800's through the 1990's which include photographs and drawings.
A search for "Lebanon museum" or "Lebanon exhibition" will limit the results to exhibition posters.
---
The Getty Research Institute
Bibliography of the History of Art (BHA) and Répertoire international de la littérature de l'art (RILA) are two citation databases (i.e. not open access) that are made available by The Getty for free on its website. RILA covers 1975-1989 and BHA covers 1990-2007, for a combined database that spans 32  years, and includes a range of fine and applied arts, such as archaeology, architecture, decorative arts, folk and industrial art, photography, prints, drawing, sculpture, theater, and festivals.
Search the BHA and RILA catalog >>

The Getty's Library Catalog provides a wider range in materials than BHA and RILA, including articles, books, and images. The library catalog presents those interested in Lebanese photography and history with a host of material on related topics. Users may search for items based on item type, however a search of all items and without the use of quotation marks, for the keywords "Lebanon and photography," retrieves more than 200 items, or "Lebanon and art" returns over 500 items which include topics such as photography, war, and remembrance. The search results will indicate when items are open access, and results may be subsequently narrowed by using the filters on the left-hand side menu.
Search the library catalog>>
For more general art interests, The Getty's resource guides provide topical overviews of the institute's collections and subjects within its scope of research.
View resource guides >>
---
History of Art Bibliography: in Open Access (OpenBibArt)
OpenBibArt does not include full-text articles or works, however it does provide  full bibliographical references from the Répertoire d'Art et d'Archéologie and from the Bibliographie d'Histoire de l'Art produced by INIST-CNRS. A search of the database for "Lebanon photography" returns 15 records for related museum exhibitions and scholarly articles. A search for "Lebanon Civil War" produces 14 records to articles. The database is searchable in English and French while titles and abstracts may be in either language, and all other metadata within each record is in French.
Search OpenBibArt >>
---
Institut du Monde Arabe (IMA)
Institut du Monde Arabe was founded in 1980 in Paris, France. The museum and library's websites are available in French, Arabic, and English. The library's online catalog is the product of a recent modernization project that also included a renovation of the library building. Users may create an account to gain library privileges, including request materials, make purchase suggestions, and access digital resources.
An advanced search for 'Liban or Lebanon or لبنان' returns more than 4,000 results:

From the search results page, users may refine their search through the side menu, with options such as collection group, place of publication, format, language, date, and author.
Search the IMA catalog >>
View a (French only) description of the library's resources >>
View a description of the museum's collections >>
---
JURN
JURN is an open access database, enhanced by Google, that allows users to search hundreds of scholarly e-journals in the arts and humanities. A search, without quotes, for "Lebanon photography" returns 10 pages of results.
The JURN directory displays linked titles to the more than 3,000 journals in the database, including a list of titles under the heading, "Visual Arts : photography."
Search the database >>
View search tips >>
Directories and Location Guides
5index
This Lebanese business directory lists 20 museums, complete with maps, written descriptions of their locations, phone number(s), and websites.
---
American University of Beirut (AUB) LibGuide: Art/Artists
AUB has published a guide to resources about art and artists in Lebanon which includes, among other things, a list of art galleries and museums on the right side of the page; a list of artist associations in the central column under the books; and two directories including LebWeb, described above. Researchers may also find the other resources useful for discovering even more about the Lebanese art scene and its history.
---
Arab Center for Architecture (ACA)
Founded in Beirut in 2008, the Arab Center for Architecture is a non-profit organization whose goal it is to address modern urban design, architecture, design, and planning in the Arab world. Its Research Center is accessible to the public by appointment, however its database is searchable online without an account. As of the publication of this guide, the library is currently being developed and no online catalog exists but may be available in the near future.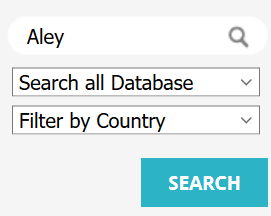 When searching the directory, if users enter no search terms but filter by country, no results are retrieved. Also, searching by city and setting the filter to search by building city will return zero results.
It is best to search by city or architect name without setting filters. A search for "Beirut" lists architects as well as buildings and projects located in the city. Searching for the term "Lebanon" results in a longer list of names than Beirut does, but fewer buildings.
Clicking on an architect's name will lead to a page with biographical information, including nationality, education, and projects or buildings they were involved in--the projects' names, locations, and start and end dates.
Clicking on a building will lead to a similar page with information on the architect(s) responsible, building type, construction status and dates, and other notes about the project including building dimensions.
Search the directory >>
---
Arab Fund for Arts and Culture (AFAC)
The Arab Fund for Arts and Culture was founded in Beirut in 2007 to support artists, writers, research, intellectuals, and arts and culture organizations from the region. Programs now encompass a wide range of cultural work including photography and film, as well as research, training, and cultural events.
AFAC's Projects list presents users with a catalog of the artists and projects it has funded, including the artists' names, countries of origin, a brief description of the projects, and an example image.
To view the projects, find the menu in the top-right corner of the website and in the list of options, click on "Projects."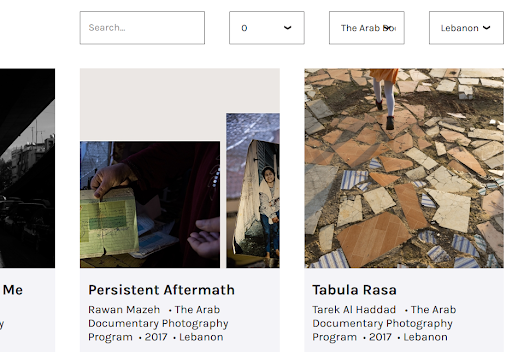 Entering an artist's name in the Search bar is one way to find a specific project. Otherwise, limiting the search by country--in the example shown here, "Lebanon" has been selected from the drop-down list, will filter the projects by those artists based in Lebanon who have been awarded grants for their projects. Users may also choose to select a program name, such as The Arab Documentary Photography Program, from another drop-down list. Combining program name with country will limit results further.
Programs of interest, shown here in the order in which they appear on the list, may include:
AFAC Documentary Program
Arab Documentary Film Program
Cinema
The Arab Documentary Photography Program
Visual Arts
Search for artists or projects >>
---
Art in Lebanon
"Art in Lebanon" is a project focused on promoting Lebanese art and artists, online as well as through events and exhibitions. It includes an alphabetical list of galleries and artists' names, as well as other information.
---
Association for the Promotion & Exhibition of the Arts in Lebanon (APEAL)
Established in 2016, APEAL organizes exhibitions, workshops, debates, and educational programs. It also provides a directory of artists that is searchable by genre and country.
Countries included in the directory are: Egypt, France, Iraq, Lebanon, Qatar, United Arab Emirates--listed in the dropdown both as UAE and United Arab Emirates, and the UK. A search with no keywords or genre specification, but filtering by country "Lebanon," will return a list of Lebanese photographers, and includes biographical information and websites.
---
Atlas Obscura: Things to do in Lebanon
Atlas Obscura is a database of interesting places and foods from around the world. Of those, it features a number of culturally significant places throughout Lebanon, including 'The Egg,' the iconic unfinished movie theater in Beirut that became a headquarters for the protesters, and where billboard-size images of Revolt hung from November 15, 2019, until late February 2020, serving as a mirror of the protests.
---
Beirut Center of Photography
The Beirut Center of Photography was established in 2016 in order to promote Middle Eastern and North African photography; they organize exhibitions, workshops, debates, and educational programs.
On the right side of the website there is a menu that includes a calendar of events, links to social media websites, and further down, an option to browse photographs by topic. Topics include Arab identity, Art, Documentary, Lebanon, and more.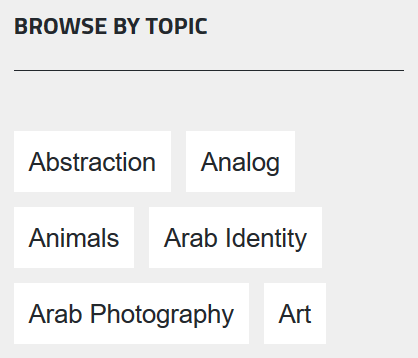 The BCP alphabetical Directory provides the opportunity to search images by genre, country, and name or keyword. There is also a form at the bottom to add a photographer's name to the directory.
Browse Lebanese photographers >>
---
City Art Guide: Beirut
This article from 2019 provides a descriptive overview of 22 art galleries in Beirut and provides some background information for navigating the artistic side of Beirut.
---
LebWeb
A directory of Lebanese businesses and organizations, as well as festivals, educational and cultural institutions, and everything else from sporting news resources to political parties. Entries include website as well as phone and address information, when available. Photographers list professionals offering a variety of services, and their studios or galleries.
View the list of photographers >>
View the list of art galleries >>
---
Middle East Photograph Preservation Initiative (MEPPI)
MEPPI is a program, launched in 2009, that aims to raise awareness about the need to preserve the Middle East and North Africa's cultural heritage. It is led jointly by the Arab Image Foundation, the Art Conservation Department at the University of Delaware, The Metropolitan Museum of Art, and the Getty Conservation Institute.
The directory lists contact information including web addresses for more than 60 photographic collections from institutions, foundations, museums, universities, and archives located across the Middle East and North Africa. A search by country returns a number of institutions, including the Ministry of Tourism.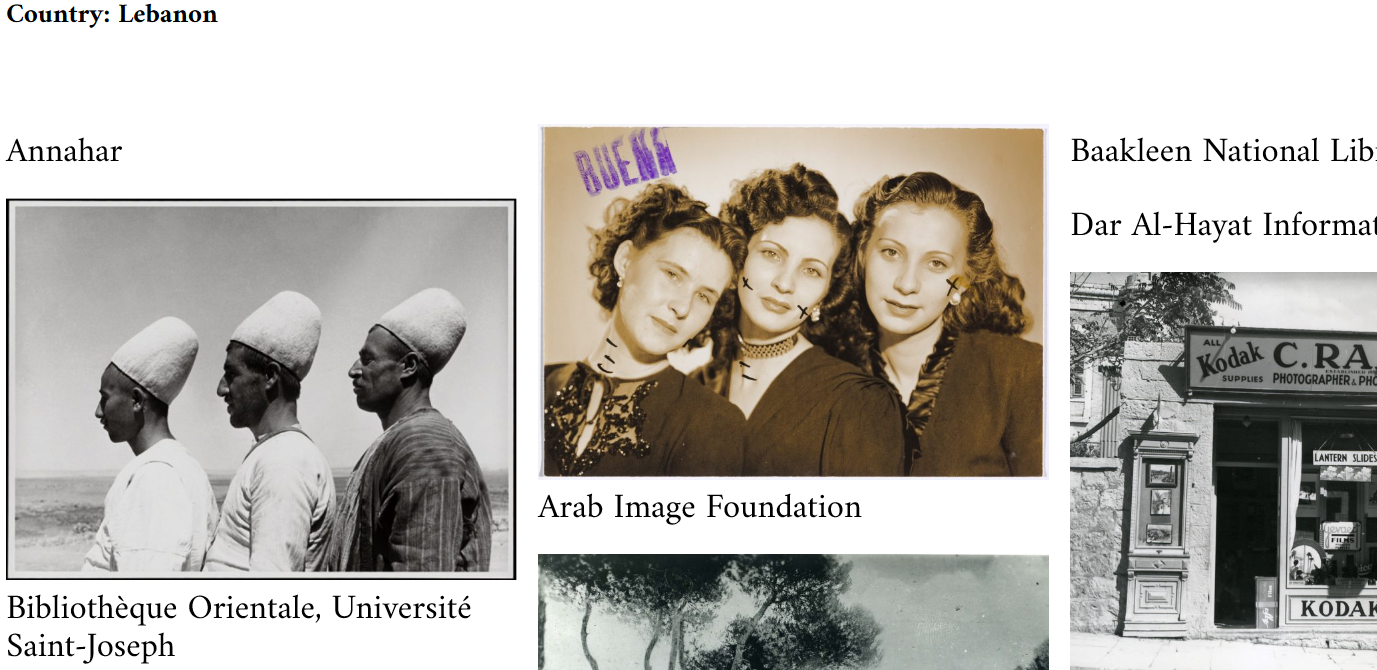 Search the MEPPI directory of institutions >>
Read more about MEPPI >>
---
One Fine Art
This site provides a platform for artists of all kinds to submit biographical information as well as links to their websites to showcase their work and gain awareness, while many of the artists are Lebanese or of Lebanese descent, the platform welcomes entries from all countries. Artists are sorted by category under the artists tab. Artists are searchable by name within their own category; a search on the Photographers page will only search for artists within that page. A search of the website--found in the top right corner, however, will return all occurrences of that term on the website.

Browse the list of Lebanese photographers >>
---
Union List of Artist Names (ULAN)
The Union List of Artist Names was formed in the 1980s by the Getty Research Institute. ULAN is displayed as a list but has the structure of a thesaurus, and provides users with names and other information about artists, museums, and more relating to the production and collection of art and architecture. Users of the ULAN may search for artist by name, role, or nationality, with the option to select thesaurus terms for role and nationality.
A search for Nationality: "Lebanese" returns 83 results which include artists, architects, agencies, and museums. Brief biographical or historical information is provided for each entry, as well as alternate names or spellings.
Search ULAN >>
Browse search results for "Lebanese" >>
---
Who is She in Lebanon
The Who Is She in Lebanon database project was started in 2008 with the formation of a bilateral partnership between the Arab Institute for Women (AiW) at the Lebanese American University (LAU) and KVINFO, the Danish Centre for Information on Women and Gender. The database provides easy access to biographical information about women who are leaders in their fields.
Searching for "photography" in English will return records for two women photographers. A search for "photo" returns two different women who have relevant professional background experiences, and a search in Arabic produces the same results. Search results may appear in English or Arabic, however when viewing a record the biographical information is only in English.
Search the directory >>
General Information about Lebanon
Lebanon Country Profile - Timeline
The British Broadcasting Company (BBC) lays out key events from 1920 through 2017, with recent updates for events of 2020.
---
World Factbook: Lebanon
Created by the U.S. Central Intelligence Agency, provides a broad overview of Lebanon, including its population, economy, geography, and government.
Online Resources about Lebanon's 2019 Protests
AUB LibGuides: Lebanon Protests--Oct. 2019
American University of Beirut (AUB) has produced a guide to resources that document the October 2019 Revolution in Beirut, including a section with links to readings and social media accounts of art and artists of the revolution, and other tabs that feature photos and videos from the streets, a timeline of events, news resources, and more.
---
17 Teshreen 
The first issue of the "17 Teshreen" newspaper, named after  18 October--the day the protests began, was published on November 28, 2019. The fifth issue was released in June 2020 after a three-month delay due to problems accessing funds, according to posts on their Facebook account.
---
Lebanon Protests
Two Lebanese organizations, Data Aurora and Maharat Foundation, launched an interactive platform that is based on open data and documents the demands of citizens and the response of authorities. The platform (available in Arabic and English) provides data based on hashtags used on social media, statistics, and timelines related to the revolution.
---
Building the Revolution's Memory: Coders archive Lebanon's protests
An Al-Monitor article published in January 2020 discusses the different archival projects that have been undertaken in order to document the current protest movement.
Related Search Terms: Library of Congress Subject Headings (LCSH)
The following is a list of terms relevant to the Lebanon Then and Now virtual art show. The terms may be used as subject headings in an advanced search, or without dashes as keywords in a simple search, in library catalogs such as the Oman Library catalog or WorldCat to discover books and other materials.
Art archives--Lebanon
Art--Lebanon--20th century--History and criticism
Art--Lebanon--21st century--History and criticism
Disappeared persons
Lebanon--Civilization--20th century
Lebanon--Civilization--21st century
Lebanon--History--Civil War, 1975-1990
Lebanon--Social conditions
Lebanon--Politics and government
Memory in art
Photograph collections--Lebanon--Exhibitions
Photographers--1970-1980
Photographers--20th century--Biography
Photographers--Lebanon--Biography
Photographers--Lebanon--Correspondence
Photography--Lebanon
Photography--Lebanon--Beirut
Photography--Lebanon--Beirut--History
Photography--Lebanon--Beirut--20th century
Photography--Lebanon--Beirut--21st century
Urbanization
Women and war
Open Access Publications
Book: Lebanon: a country study, published by the Library of Congress, Federal Research Division
Publication date: 1989
Book: A History of Modern Lebanon, by Fawwaz Traboulsi
Publication date: 2012
Book: Atlas of Lebanon: New Challenges, by Eric Verdeil, Ghaleb Faour et Mouin Hamzé (éd.)
Publication date: 2019
Journal article: Photography: The Aftermath, by Rania Matar and Rachel Rosenfield Lafo
The Women's Review of Books 25, no. 3 (2008): 20-21. Accessed July 17, 2020. www.jstor.org/stable/20476726. 
Journal article: On Being the Other in Post-Civil War Lebanon: Aid and the Politics of Art in Processes of Contemporary Cultural Production, by Hanan Toukan
The Arab Studies Journal 18, no.1 (2010): 118-61. Accessed July 16, 2020.www.jstor.org/stable/27934080. 
Journal article: Beyond the War? Lebanese Postmemory Experience, by Craig Larkin
International Journal of Middle East Studies 42, no. 4 (2010): 615-35. Accessed July 17, 2020. www.jstor.org/stable/41308712. 
Dissertation: Ar(t)chive Production in Post-war Lebanon, by Maria Domene Danes
Published by Indiana University, Bloomington, IN, and made accessible online via ProQuest, UMI Dissertations Publishing, 2018.
Memoirs and Other Non-fiction Books at the Oman Library
Architecture in Lebanon: Photographs, by Paddy S. Tchrakian and others
Publication date: 1965
Location: General Collection
Call number: NA 1476.5 .A7
Beirut Reclaimed: Reflections on Urban Design and the Restoration of Civility, by Samir Khalaf
Publication date: 1993
Location: General Collection
Call number: HT 169 .L42 .B477
Blogging in Beirut: An Ethnography of a Digital Media Practice, by Sarah Jurkiewicz
Publication date: 2018
Location: General Collection
Call number: HN 761 .L42 B56 2018
Lebanese Cinema: Imagining the Civil War and Beyond, by Lina Khatib
Publication date: 2008
Location: General Collection
Call number: PN1993.5.L4 K43 2008 
Lebanon in Strife: Student Preludes to the Civil War, by Halim Barakat
Publication date: 1977
Location: General Collection
Call number: LA 1463.7 .B37
Liban, une guerre de trente-trois jours, by Elizabeth Picard and Franck Mermier
Publication date: 2007
Location: General Collection
Call number: DS87.65 .L53 2007
Off the Wall: Political posters of the Lebanese Civil War, by Zeina Maasri
Publication date: 2009
Location: General Collection
Call number: NC1806.8M33 2009
Surviving Images: Cinema, war, and cultural memory in the Middle East, by Kamran Rastegar
Publication date: 2015
Location: General Collection
Call number: PN1995.9 .M455 R38 2015
War Diary: Lebanon 2006, by Rami Zurayk
Publication date: 2011
Location: General Collection
Call number: DS87.65 .Z87 2011
Fiction Books at the Oman Library
Beirut Blues: A Novel, by Hanan al-Shaykh; translated by Catherine Cobham
Publication date: 1995
Location: General Collection
Call number: PJ7862.H356 B3713 1995
A House Not Her Own: Stories from Beirut, by Emily Nasrallah; translated from Arabic by Thuraya Khalil-Khouri
Publication date: 1992
Location: General Collection
Call number: PJ 7852 .A56 N37 1992
The Journey of Little Gandhi, by Elias Khoury; translated by Paula Haydar
Publication date: 1993
Location: General Collection
Call number: PJ 7842 .H823 R5413 1993 
The Stone of Laughter: A Novel, by Hoda Barakat; translated by Sophie Bennett
Publication date: 1995
Location: General Collection
Call number: PJ 7816 .A672 H3513 1995
---
This research guide is maintained by the Oman Library at the Middle East Institute.