Disfigured: A Saudi Woman's Story of Triumph over Violence
Book by Rani al-Baz, 2009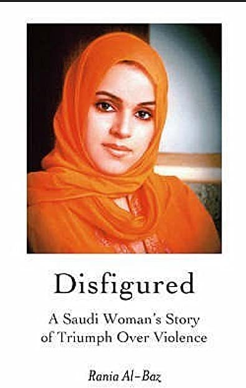 Shelved in the Women's Collection
Call number HQ1730 .Z754413 2005
Disfigured is an important first-hand account of domestic abuse and women's issues in Saudi Arabia. As a female news anchor on Saudi television—the first woman to take on such a role—her beating by her husband worked Saudi society into an uproar over the mistreatment of such a beloved figure. Following her attack, she allowed pictures of her disfigured face to go public and became a worldwide advocate for domestic abuse on behalf of women. While her autobiography explores the difficulties that women often face in her country, she reiterates time and time again that she remains loyal to her country and her religion.
Rania al-Baz's story resulted in an international discussion on women's rights in Saudi society due to her position as a public figure. Her writings intricately balance her pride and loyalty to her culture and religion while discussing the struggles she faced as a woman throughout her life. Disfigured is a crucial reminder of the violence that many women face, however despite these struggles, women like Rania al-Baz continue to inspire and educate others on the importance of women's rights as well as cultural understanding.
Relevant Library of Congress Subject Headings
Subject headings are a helpful tool to use when searching library catalogs, since they use standardized forms to express certain concepts. Use any of the following terms to find library resources on related topics.
Family violence
Family violence -- Religious aspects
Ni putes ni soumises (Organization)
Saudi Arabia -- Women -- Social conditions
Sex role
Victims of family violence
Women -- Legal status, laws, etc.--Middle East
Women's rights
More Books like Disfigured, at MEI's Oman Library 
Between Westernization and the Veil: Contemporary Lifestyles of Women in Cairo, by Karin Werner
Location: Women's Collection
Call number: HQ 1793 .W47 1997
Gender, Modernity and Liberty: Middle Eastern and Western Women's Writings, by Reina Lewis and Nancy Micklewright
Location: Women's Collection
Call number: HQ 1180.G455 2006
Shattering the Stereotypes: Muslim Women Speak Out, ed. by Fawzia Afzal-Khan
Location: Women's Collection
Call number: HQ 1170 .S463 2005
Women in Saudi Arabia: Ideology and Behavior among the Elite, by Soraya Altorki
Location: Women's Collection
Call number: HQ 1730 .A66 1986
Working Women in Saudi Arabia: Problems and Solutions, by Ebiesam Abdul-Rahaman Hallawani
Location: Women's Collection
Call number: HD 6182.35 .H34 1982b
---
This post was originally published by Elizabeth Johnson on March 4, 2016. It was updated in February 2021 by Daniel Diaz and is maintained by the Oman Library at MEI.