The Oman Collection, at the Oman Library at MEI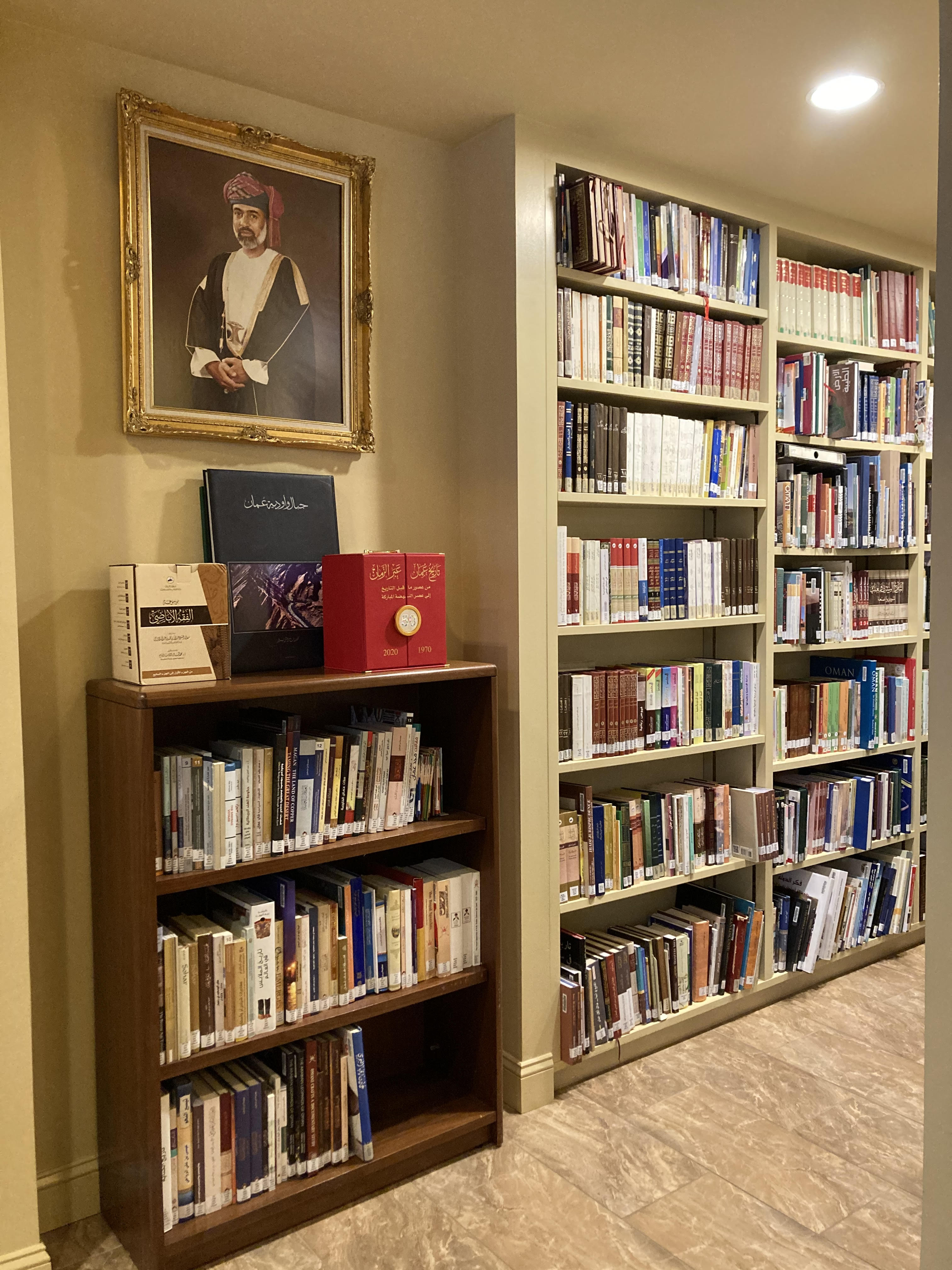 One of several collections within the Oman Library, the Oman Collection is comprised in large part by materials donated by the Sultanate of Oman, thanks to a generous endowment and agreement that has supported the library and its continued development in subsequent years – The Oman Library changed its name from the George Camp Keiser Library in 2010 as a sign of gratitude for the endowment. In addition to its monetary support, the Sultanate provides current publications and allows the Librarian from the Sultan Qaboos Cultural Center to allocate a portion of his time to devote to the maintenance of the Oman Collection.
The Oman Collection is a vital part of the Oman Library at MEI. It hosts close to 2,000 items featuring the Sultanate of Oman, its heritage, literature, history, culture, politics, art, architecture, and economics. The collection demonstrates how the seafaring, trading, and the inclusive faith tradition have contributed to shape modern Oman's society. It is also particularly strong in modern and contemporary Oman, and offers a notable collection of Omani poetry in Arabic, providing a glimpse into the country's rich literary heritage.
Among other topics, readers will find a number of books on the diversified history, geography, and urbanization of Muscat as the main Omani coastal town through different centuries. Overall, the collection reflects Oman's strong and perennial relationship with the sea and commerce, which has deeply and consistently influenced the history of the Sultanate for centuries, and emphasizes the connection between seafaring, economic and cultural exchanges, and trade.
Some Books in the Oman Collection
"Oman Reborn: Balancing Tradition and Modernization." Linda Pappas Funsch. Palgrave Macmillan, New York, US. 2015.
"Muscat then and now: Geographical Sketch of a Unique Arab Town." Fred Scholz. 2014.
"Oman and overseas." Michaela Hoffmann-Ruf, and Abdulrahman Al-Salimi. Hildesheim: Georg Olms Verlag. 2013.
"Oman: A Maritime History." Abdulrahman Al-Salimi, and Eric Staples. Hildesheim: Georg Olms Verlag. 2017.
"Historical Muscat: an illustrated guide and gazetteer." J. E Peterson. Leiden: Brill. 2007.
---
This post was written by Walid Sellal in collaboration with Vickie Jacobs. Mr. Sellal is the Librarian at the Sultan Qaboos Cultural Center, who thanks to a special MEI-SQCC partnership also devotes time to maintain the Oman Collection at MEI.