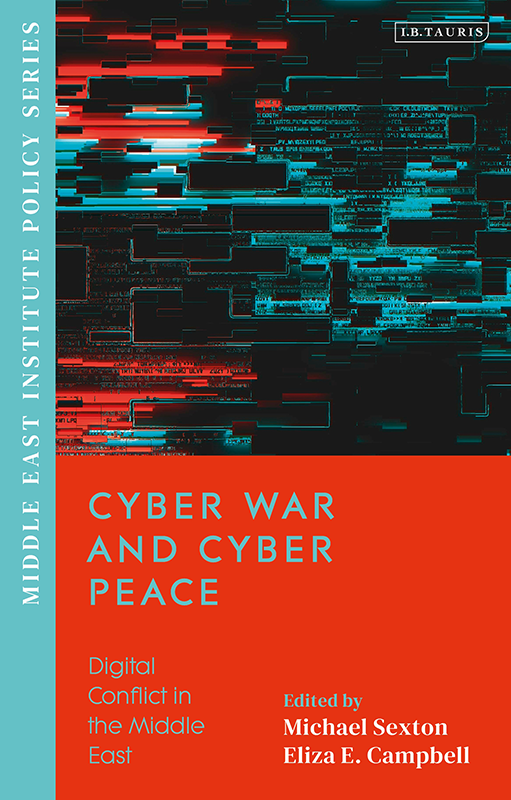 MEI is proud to present Cyber War & Cyber Peace: Digital Conflict in the Middle East. 
Available in print and electronically, and with a foreword by top national security and cyber expert Richard A. Clarke, this is the first anthology of its kind to specifically detail cyber warfare in the Middle East. It gathers an array of technical practitioners, social science scholars, and legal experts to study the history and state of Middle East cyber conflict through multiple dimensions. It demystifies this novel domain of conflict in this historied and complex region.
For readers seeking a bird's eye overview of cyber warfare and information operations in the Middle East, these essays serve as a practical starting point. As the cyber domain develops and the academic study of the field matures, cross-sectional analysis of cyber conflict from legal, technical, and regional angles will become more critical. This book captures a snapshot of the region's still-early cyber history, clarifies how it may develop in the near- to medium-term future, and offers an idea of how its greatest risks can be avoided.
 
Details
Print Length: 283 pages
Publisher: I.B. Tauris (June, 2022)
ASIN: B09ZXZ3GC9
Purchase
This book is available for purchase through Amazon in hardcover, paperback, or for Kindle.
Author Interviews
---
Watch short video interviews with several of the authors who appear in the book to learn more about their chapters.
(Click the Playlist button in the upper-right corner to select other interviews.)
Praise for Cyber War & Cyber Peace in the Middle East
"Cyber War and Cyber Peace in the Middle East tackles the history of a new and complex domain in a richly historic and notoriously complicated region. Assembling a diversity of perspectives from the Middle East and around the world, it captures a snapshot of the region's cyber flashpoints, delineates their underlying drivers, and begins to chart a path forward. With finesse, it distills a rapidly developing universe of conflict that thornily defies distillation."
-Eric Rosenbach, Co-Director of the Harvard Kennedy School's Belfer Center for Science and International Affairs
"Nations and courts struggle to keep pace with the worldwide cyber enterprise and are in danger of being trampled by the proliferation of tools and applications that threaten economic systems, critical infrastructure and those vulnerable sanctums, hearts and minds. The Middle East is an open marketplace for this race, where legal restrictions, defensive platforms, and privacy rights are neglected in pursuit of offensive capabilities with unknown second order effects.  Policymakers owe thanks to the authors of "Cyber War and Cyber Peace in the Middle East" for distilling the urgent questions about international law, authorities, and comparative partner and adversarial capabilities into an explainer that ends with actionable, real world recommendations for international regulations and agreements to prevent interstate cyber conflict going forward, even as the field continues to accelerate."
-Kirsten Fontenrose, Director of the Atlantic Council's Scowcroft Middle East Security Initiative
"We've spent a lot of cycles looking at the macro-level dynamics of cyberconflict or focused on the implications for a single nation.  This book examines the issue in the context of a region whose history, geopolitics, and potential is as complex as cyberconflict itself."
-Matt Devost, CEO of OODA LLC and Founding Director at the Cyber Conflict Studies Association
"'Cyber War & Cyber Peace' raises important issues of the war that is not on the battlefield: sabotage of critical infrastructures, "lone-wolf terrorism" embodied in hacktivism, informational warfare between state actors, and the clash between technology and religion; all these are incorporated and addressed through real-life events which took place in the recent years in the Middle East, providing a riveting sneak peek into a new age in the Middle East – the digital age."
-Ohad Zaidenberg, Lead Cyber Intelligence Researcher of ClearSky Cyber Security and founder of the CTI League
"A searing and multi-layered exploration into the manipulation of information in cyberspace as it pertains to the MENA region. Convincingly identifying the destabilizing consequences of a panoply of disinformation, distortion, and influence operations, the authors paint a vivid portrait of the use of cyberspace to undermine safety, institutions, economies and the rule of law. The volume's proposed solutions for establishing international norms to tackle the threats in cyberspace are a welcome and much needed addition to the literature. A must-read for those concerned not only with fortifying the cyber realm but with the broad questions of international peace and security in the 21st century."
-Karen Greenberg, Director of the Center on National Security at Fordham Law
 
Contents
Conduct of Code: A Historical Overview of Cyberspace in MENA
Paul Kurtz & Aaron Ach

Cyber Insurance as Cyber Diplomacy
Asaf Lubin

Industrial Cyber Attacks in the Middle East and International Consequences
Selena Larson & Sergio Caltagirone

Influence Operations in the Middle East and the Prohibition on Intervention
Ido Kilovaty

State-Sanctioned Hacktivism: The Syrian Electronic Army
Evan Kohlmann & Alex Kobray

Disinformation in the Gulf
James Shires

Operation Glowing Symphony: The Missing Piece in the U.S. Online Counter-ISIS Campaign
Michael Martelle & Audrey Alexander

The Rise of Digital Authoritarianism in the Middle East
Mohammed Soliman

A Battle of Two Pandemics: Coronavirus and Digital Authoritarianism in the Arab World
Sahar Khamis

Toward a Safer Regional Cyberspace
Mike Sexton & Eliza Campbel
About the Editors
Mike Sexton and Eliza Campbell are the Director and Associate Director of the Cyber Program at the Middle East Institute.

More MEI Publications
Browse other books and e-books edited and written by MEI's leading regional experts.