This essay is part of the series "All About China"—a journey into the history and diverse culture of China through essays that shed light on the lasting imprint of China's past encounters with the Islamic world as well as an exploration of the increasingly vibrant and complex dynamics of contemporary Sino-Middle Eastern relations. Read more ...
---
The territorial defeat of Islamic State in Syria and the Levant (ISIL, or Da'esh) in late 2017 has provided a breathing spell for Iraqi authorities to try to meet the country's reconstruction needs and tackle longstanding socioeconomic problems. Toward that end, the Government of Iraq (GOI) is planning to expand the oil industry as well as to diversify away from oil in the longer term — and is keen to obtain China's support for these efforts.
Decades of war, sanctions, and sectarian conflict have not deterred China from pursuing business in Iraq. On the contrary, China has emerged as Iraq's number one trading partner and Iraq as China's third-leading source of oil after Saudi Arabia and Russia. As the Da'esh threat has receded, China has sought to expand its footprint in Iraq and has found in Baghdad a partner greatly in need of support for its reconstruction and recovery effort. This past April while in Baghdad, China's Deputy Minister of Foreign Relations Lee Joon was reported as saying his country was ready to contribute to Iraq's reconstruction.[1]
Upon arriving in Beijing on September 19 at the head of a 55-member delegation, Iraq Prime Minister Adel Abdul-Mahdi described the visit to China as heralding a "quantum leap" in bilateral relations.[2] The five-day visit culminated in the signing of eight wide-ranging memoranda of understanding (MoUs), a framework credit agreement, and the announcement of plans for Iraq to join China's Belt and Road Initiative (BRI).[3] Since then, however, a wave of angry anti-government protests have swept across much of Iraq, leaving more than 100 dead and thousands wounded — a vivid reminder of the country's ongoing struggle for stability and of the obstacles to the further consolidation of China-Iraq relations.  
Iraq's Progress, Potential and Persistent Challenges
Since early 2018, the central government of Iraq has been working assiduously to capitalize on the territorial defeat of Da'esh, which three years earlier had overrun and controlled nearly one-third of the country. A working relationship between the GOI and the semi-autonomous Kurdistan Regional Government (KRG) has been reestablished. After repeated delays due to a series of security incidents the newly constructed Qaim border crossing with Syria has reopened.[4] Planning for construction of a new crude oil pipeline from Kirkuk to Turkey is underway.[5]
Yet, although Iraq has entered a period of relative calm, the country faces a multitude of challenges.[6] The security situation in the country is fragile. According to a recent report by the Pentagon, Da'esh has "solidified its insurgent capabilities in Iraq."[7] Meanwhile, the GOI is struggling to maintain a delicate balance in its relations with key allies US / Saudi Arabia and Iran, as well as to avoid becoming another front in an escalating Iran-Israel proxy war.[8] On July 1, Prime Minister Adel Abdul-Mahdi issued a decree ordering the integration of all Iraqi militias, including the Popular Mobilization Units (PMU), into the central armed forces; however, the demobilization of the militias is far from complete.[9]
Iraq's fragmented ruling coalition is operating in an environment that is still defined by zero-sum politics where major political party alliances are tenuous, at best. Systemic corruption, which President Barham Salih has referred to as "the political economy of conflict,"[10] continues to hinder state-building and to undermine public as well as investor confidence. Whether and for how long the détente between the GOI and KRG lasts, much less whether it can lead to a genuine reconciliation, is an open question. At the same time, there is simmering social unrest due to acute shortages of jobs, water, and electricity.[11] The fresh outbreak of violent protests in Baghdad and other Iraqi cities in early October have raised the specter of another period of violence and instability.[12]
On the economic front, there have been some hopeful signs of progress. Iraq's oil revenue surpassed $850 billion in the years 2003–2018, a period of steadily rising production,[13] with oil production nearly doubling despite security and operational challenges.[14] [See Figure 1] Benefiting from the improvement of security, the economy registered modest GDP growth and a positive overall fiscal balance in 2018.[15] Nevertheless, the battle waged against Da'esh resulted in tens of billions of dollars in damage to the country's power plants and civilian infrastructure.[16] The World Bank has estimated Iraq's post-ISIS reconstruction needs at $88 billion.[17] Thus far, international commitments have totaled less than half that amount, with many pledges coming in the form of loans.[18]
Figure 1. Iraq Oil Production 2003-2018 (in thousands bpd)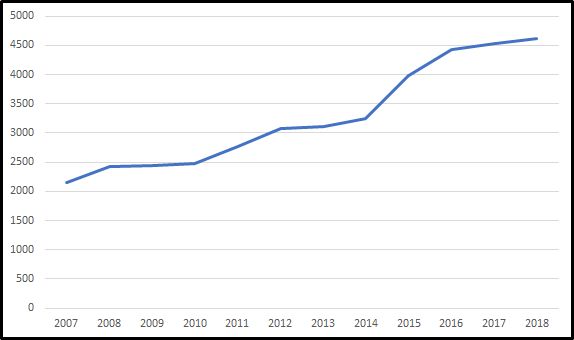 Source: BP Statistical Review of World Energy 2019.
As the 2019 budget reveals, the GOI's reconstruction and recovery plan hinges on reviving and expanding the oil sector. That is not surprising. The country has an enormous but undeveloped resource base.[19] Moreover, oil is vital to the well-being of the Iraqi economy, accounting for 65% of gross domestic product (GDP), 100% of export earnings and 90% of central government revenues.[20] 
While the fact that Iraq's oil production has increased by nearly half despite the turmoil in the country and volatile prices is encouraging, it is important to point out that the oil sector is beset with damaged and outdated infrastructure, as well as a lack of pipeline and export capacity.[21] The country has also been struggling with severe shortfalls in electricity supply and with provision of adequate water supply for oil recovery. In addition, there is an urgent need to repair the Baiji refinery and to overhaul the refining sector as a whole to meet rising domestic demand for refined products.
Iraq's ability to achieve its new oil production targets of 6.2 million barrels per day (bpd) by the end of 2020 and 9 million bpd by the end of 2023[22] and to harness additional associated gas from fields in the oil-rich Basra province depends on securing sufficient water for reinjection into oil reservoirs — hence, Baghdad's ambitious plans to build out the Southern Iraq Integrated Project (SIIP).[23] However, this critical infrastructure project has faced extensive delays and the scope of the work has been dramatically scaled back. Unable thus far to strike a deal with ExxonMobil, Iraq could cast a wider net, splitting up the mega-project among other foreign companies. Potentially bright prospects for doing so could lie in Asia, the destination for over 60% of its crude oil exports. In fact, Exxon's project partner, PetroChina, reportedly is seeking to bring in other Chinese companies to participate in the infrastructure work[24] — a plausible scenario given the nature and trajectory of the Sino-Iraqi relationship.
Energy Cooperation: Cornerstone of the China-Iraq Strategic Partnership
China-Iraq energy cooperation has long been the bedrock of the bilateral relationship.[25] In 1981 China Petroleum Engineering and Construction Corporation (CPECC), a subsidiary of China National Petroleum Corporation (CNPC), became the first Chinese oil company to begin operations in Iraq. A little over a decade later, Iraq became an important "going out" destination for Chinese national oil companies (NOCs). The involvement of Chinese NOCs in Iraq was pioneered by CNPC, China's largest state-owned oil and gas firm, which In 1997 signed a production sharing agreement (PSC) with Saddam Hussein's government on the development of the Al-Ahdab oilfield — a project that was postponed as a result of UN sanctions against Iraq and the subsequent US-led invasion.
Chinese business in Iraq was substantially disrupted during the period 2003-2007. Chinese companies were essentially excluded from Iraq's postwar reconstruction due to the near monopolization of projects by US and other Western companies, the high level of insurgent violence, and delays in the enactment of a new hydrocarbon law.[26] Seeking to re-establish a presence in Iraq, China joined the International Compact with Iraq (ICI), pledging a grant of RMB 50 million (roughly $6.5 million) for assistance in public health and education;[27] and forgave 80% of the roughly $8.5 billion in sovereign debt owed China.[28]
Between 2008 and 2010, Chinese NOCs' fortunes in Iraq began to change. It is during this period that they emerged as either partners or operators of several major contracts awarded by the GOI to develop super giant oilfields.[29] CNPC's signing in August 2008 of a renegotiated contract to implement the Al Adhab oilfield project — the first major oil deal Iraq made with a foreign entity since 2003 — marked China's commercial reentry into Iraq.[30] The new contract also formed part of an aggressive global acquisition strategy launched by China's NOCs in the wake of the financial crisis, designed to boost their oil reserves and production and consolidate their global asset portfolio in high-potential markets.
Chinese NOCs' next big push into Iraq came in 2009 with the opening of international bidding to license oil and gas exploration acreage. In the first round of bidding, CNPC partnered with BP, winning a service contract to develop Iraq's Rumaila oilfield, the largest oilfield in Iraq with oil reserves of about 17 billion barrels. Six months later, Iraq held a second bidding round, in which CNPC joined with Total of France and Malaysia's state-owned oil and gas company Petronas to win the contract for developing Iraq's Halfaya oilfield.[31] The same year, China Petrochemical Corp. (Sinopec), Beijing's primary instrument of engagement in the Kurdistan region of Iraq, secured a foothold there with the acquisition of Addax Petroleum's operations.
Sinopec's acquisition of Addax Petroleum — the largest foreign purchase by a Chinese company up to that time — was politically controversial given the conflict between the GOI and KRG over control of the region's resources and the level of its autonomy. The GOI cancelled Sinopec's pre-qualification to bid for oil and gas licenses because the Chinese firm had failed to relinquish its oil contracts in Iraqi Kurdistan.[32] Yet, ultimately Sinopec retained its assets in northern Iraq and subsequently entered a joint venture with Iraq's State Organization for Marketing of Oil (SOMO) to market Iraqi crude oil in China. Major Chinese companies (e.g., Huawei, Sinoma-Suzhou, and CMEC) followed Sinopec into the Kurdistan region, making large investments in non-oil sectors.[33]
In July 2011 two agreements aimed at boosting economic cooperation were signed during a meeting between then-Iraqi Prime Minister Nouri al-Maliki and Chinese counterpart Wen Jiabao in Beijing.[34] Wen stated that Beijing would assist in Iraq's reconstruction, push ahead with debt relief, and expand cooperation in both the upstream and downstream oil/gas sectors.[35] By the end of 2013, China had surpassed the United States as the single largest foreign investor in Iraq and had overtaken the US as Iraq's top trading partner.[36]
Figure 2. Major Chinese Energy Investments in Iraq [37]
| | | | |
| --- | --- | --- | --- |
| Year | Company | Project | Description |
| 2008 | CNPC | Al-Ahdab Oilfield | Renegotiated production-sharing contract (PSC). $3bn. |
| 2008 | Bohai | West Qurna-2 | Drilling contract. $156m. |
| 2009 | CNPC | Rumaila | Alliance with BP. 37.5% equity. $50bn. |
| 2009 | Sinopec | Addax Petroleum | Foreign oil acquisition. First exports of crude from Taq Taq field in KRG. $7.24bn. |
| 2010 | CNPC | Halfaya | Technical services contract (TSC). 45% equity. |
| 2010 | CNOOC | Missan | TSC in partnership with Turkish Petroleum Corporation (TPAO) to develop Missan oil block. CNOOC owns a 67.35% stake. |
| 2013 | PetroChina | West Qurna-1 | TSC. Equity transfer from ExxonMobil. 25% equity, later 32.7%. |
| 2013 | Bohai Drilling Engineering Co. | Missan | Oil drilling contract. $96.6m. |
| 2013 | China Oilfield Services Limited (COSL) | Missan | Oil drilling contract. $73.8m. |
| 2014 | CNPC/CNOOC | Missan | 272km crude oil pipeline from Buzurgan and Halfaya fields to Fao Terminal Station. |
| 2018 | Geo-Jade Petroleum Corp. | Naft Khana & Huweiza | Naft Khana (Diyala) and Huweiza (Missan) oil blocks. |
| 2018 | United Energy Group (UEG) | Sindbad | Sindbad block in the southern province of Basra. |
| 2018 | Zhenhua Oil | Eastern Baghdad | Oilfield development. |
| 2018 | China Oilfield Services Limited (COSL) [38] | Missan | Drilling and well completion integrated services contract in the Missan oilfield. |
| 2018 | Power Construction Corp. of China (PowerChina) & Norinco | Fao | Announced plan to construct an 300,000-bpd oil refinery that will include a petrochemical plant. |
| 2019 | CPEEC | Halfaya | Build and operate natural gas processing facilities. |
| 2019 | Hilong Oil Service & Engineering Co. | Majnoon | Develop and complete 80 oil wells. |
At the time of the rise of Da'esh (in 2014), China already had been buying nearly half the oil that Iraq produced,[39] and an estimated 10,000 Chinese were working in the country.[40] Fortuitously, the renewal of fighting in Iraq did not disrupt either China's production or exports of Iraqi oil. As most of the thousands of Chinese workers in Iraq lived in fortified camps and Chinese assets were concentrated in the south, they were relatively unaffected by the insurgency.[41]
Beijing opted to stay out of the fight against Da'esh, despite requests by Iraqi government officials for more assistance. The joint statement signed between Iraq and China saw Beijing pledge to "support Iraq's unity, territorial integrity, sovereignty and independence" but refrain from making any specific commitments. Beijing's material support took the form of limited personnel training and $10 million in humanitarian aid.[42]
As 2015 drew to a close, Iraqi and coalition forces began to regain the upper hand. On the occasion of then-Prime Minister Haidar Abadi's visit to Beijing that December, China and Iraq established a strategic partnership.[43] In a MoU signed during the visit, the two sides vowed to pursue long-term energy cooperation in crude oil trade, oil-gas exploration and development, oilfield engineering service technology, construction of storage and transportation facilities, chemical refining engineering, and energy equipment.[44]
The campaign against Da'esh did not disrupt existing Chinese energy cooperation with Iraq but did put on hold efforts to expand it. Since early 2018, however, the pace of progress has quickened. In January 2018, Iraq announced it intended to construct an oil refinery at the port of Fao in partnership with Power Construction Corporation of China (PowerChina) and Norinco.[45] Several months later, the state-owned China ZhenHua Oil Company, a subsidiary of Norinco, signed a 25-year deal to develop the southern part of the East Baghdad field.[46] Soon thereafter, two private-sector Chinese oil companies — Geo-Jade Petroleum and United Energy Group — signed exploration and development contracts.[47] In the run up to Prime Minister Abdul-Mahdi's visit to China, Iraq's Basra Oil Company (BOC) sealed an agreement with China's Hilong Oil Service & Engineering Co., Ltd. aimed at increasing the Majnoon oilfield's production rates.[48]
Conclusion
China-Iraq relations have advanced in recent years. In 2015 the two countries elevated their relationship to a strategic partnership. Bilateral trade topped $30 billion in 2018, with China displacing India as Iraq's leading trade partner. And Iraq has become China's third-largest source of imported oil. Energy cooperation is the foundation of the bilateral relationship. Chinese companies today are involved in upstream, midstream, and downstream operations in Iraq.
China's most productive upstream activities are located in Iraq, with CNPC holding substantial stakes in Al Ahdab, Rumaila, Halfaya and West Qurna. Having profited from CNPC's position in oilfield development and operation, its service affiliates CPECC, BGP Inc., China Petroleum Pipeline Bureau (CPP), Bohai Drilling Engineering Co. and Daqing Oilfield Co. all operate in Iraq — eager for the work as domestic upstream activity wanes. A recent example of CNPC having led the way for its affiliates is CPECC's commitment to build and operate facilities to process natural gas extracted from the Halfaya oilfield.[49] China State Engineering Corp is actively seeking opportunities in Iraq, mainly in the oil sector.[50]
However, it is important to note that Chinese investments in Iraq are concentrated not just in oil exploration but also in infrastructure such as power plants, cement factories and water treatment facilities. Numerous Chinese firms are currently engaged in major construction projects in Iraq, including Shanghai Electric, China Building Materials Construction, and China Hydroelectric Power.[51] CITIC Construction Co. is serving as credit provider and engineering, procurement, and construction (EPC) contractor in the building of a combined cycle power plant in Missan Governorate.[52]
China's success in Iraq can be attributed to a combination of risk-taking and resilience, good fortune, and deft diplomacy. Specifically regarding the energy sector, Chinese NOCs, which have played a prominent role in the consortia operating Iraq's main oilfields, have benefited from Western international oil companies (IOCs) hesitation to invest or their scaling back involvement in Iraq due to security concerns and corrupt local business practices.[53] Chinese NOCs have profited also from their willingness to accept tougher fiscal terms than have competitors,[54] from their efforts to build relationships with local stakeholders, and from their project performance.[55]
Winding up his visit to China in September, Prime Minister Abdul-Mahdi described his delegation's September visit to China as representing "a new start for Iraq in all economic and security fields."[56] The visit culminated in the signing of a framework credit agreement, which envisages financing major infrastructure projects executed by Chinese companies from Iraqi oil exported to China.[57] Were an extensive oil-for-investment arrangement to materialize, it would constitute a "quantum leap" in bilateral relations and could provide a much-needed boost to the Iraqi economy. However, it would not resolve the underlying sources of Iraq's domestic strife nor would it extricate Iraq from the regional tensions and rivalries in which the country is enmeshed.
---
---
The Middle East Institute (MEI) is an independent, non-partisan, non-for-profit, educational organization. It does not engage in advocacy and its scholars' opinions are their own. MEI welcomes financial donations, but retains sole editorial control over its work and its publications reflect only the authors' views. For a listing of MEI donors, please click here.