This essay is part of the series "Turkey Faces Asia," which explores the development of cultural, political, and economic links between Turkey and the Asia Pacific region. See more ...
---
For centuries, the ancient "Silk Road" — a network of trading routes established by the Han Dynasty spanning the Asian continent — served as a bridge between China and Asia Minor (modern-day Turkey). In September 2013, President Xi Jinping delivered a long-anticipated speech in which he proposed the idea of reviving the Silk Road. Over the past several years, Xi's vision has evolved into an elaborate trade and infrastructure strategy now commonly referred to as the Belt and Road Initiative (BRI). Meanwhile, Turkey undertook a proactive policy, later known as "Middle Corridor Initiative," aiming to set up a transport route from the Anatolia to Central Asia and China.[1] With the completion of the Baku–Tbilisi–Kars railway (BTK) railway link, Turkey has achieved in connecting its national railways to the Trans-Caspian International Transport Route (TITR) — an important part of the China-Turkey-Europe transit corridor — extending from the Caspian Sea to Central Asia and China.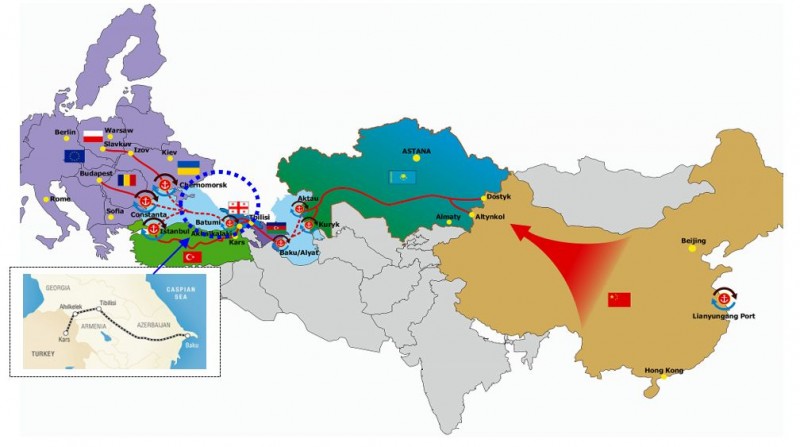 Source: Compiled from TITR Association and Azerbaijan State News Agency maps.
The launching of the BRI and the Middle Corridor have provided wider scope and greater potential for China, now the world's second-largest economy and Turkey, a G20 member, to develop more extensive bilateral trade and investment ties and further advance their respective regional and global aspirations. This article examines the headway that China and Turkey have made and the roadblocks that they have encountered in enhancing their economic relations.
Positive Momentum
China-Turkey trade relations started to gain momentum in the early 2000s, that is, well over a decade before the launching of the BRI. Indeed, bilateral trade grew steadily from $238 million in 1990 to 28 billion in 2017.[2] [See Figure 1.] In 2016, China overtook Russia and Germany to become Turkey's largest trading partner.[3]
Figure 1. Trade Volume Between China and Turkey (USD$ million)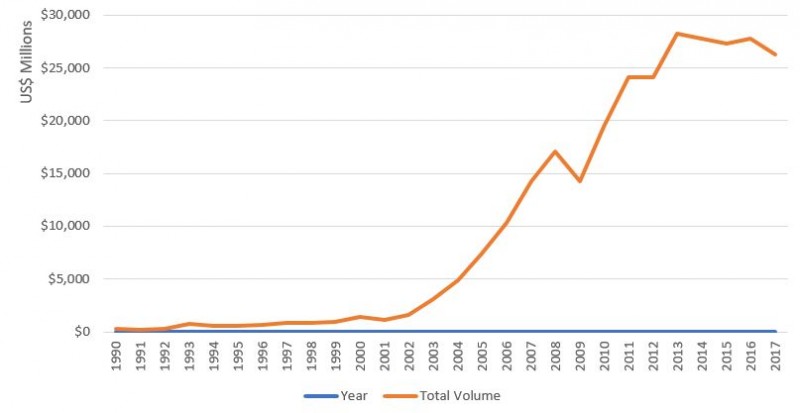 Source: Turkish Ministry of Economy
The rapid growth of bilateral trade prompted Turkey to align its Middle Corridor Initiative with China's BRI in an effort to attract Chinese capital. In November 2016, Beijing and Ankara signed a memorandum of understanding on harmonizing their Belt and Road and Middle Corridor Initiatives to cooperate on key projects.[4] In the words of one Turkish official, "the Middle Corridor Initiative and the bilateral agreements reached between Turkey and China show Turkey's role as a point of confluence and a critical hub for the Belt and Road."[5]
"Win-Win Cooperation"
Both governments have declared ambitious trade and investment targets. In a speech delivered to the Turkey-China Business Forum in 2015, Erdogan emphasised Turkey's sufficient support and engagement in the Modern Silk Road including build of Marmaray rail line, a subsea tunnel that connects the BTK railway, in providing an uninterrupted railway between Asia and Europe.[6] In response, Xi ensured the China's support in helping Turkey's relevant railway construction projects, and also highlighted close cooperation in energy, aerospace, finance fields with Turkey.[7]
Yet, notwithstanding the successful economic cooperation between China and Turkey, Turkey's trade deficit with China has widened significantly. Indeed, this issue has become a key concern among Turkish scholars and policymakers. President Erdogan highlighted the importance of rebalancing bilateral trade during his 2015 visit to Beijing.[8] Both before and since the visit, the trade deficit issue has been highly contentious in Turkish academe and policymaking circles. Some have argued that because the promise of "win-win cooperation" has not materialized, Turkey should adopt strong measures to reduce Chinese imports as a means of compelling China to purchase more Turkish products.[9] By contrast, many others believe that it makes sense to focus on increasing the volume of Turkish exports to China, which would eventually result in more balanced trade.[10]
However, limiting the discussion to the value of bilateral trade is misguided and misleading. For one thing, Turkey has a trade deficit not just with China but also with other partners, notably Russia. [See Figure 2.]
Figure 2. Turkey's Trade Deficit by Country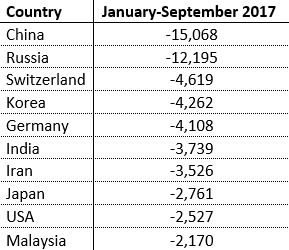 Source: Ministry of Commerce of the PRC.
For another, looking merely at the trade value fails to account for the circumstances that might have produced it. Obtaining a more granular understanding of the situation requires devoting some attention to the composition of trade — a perspective taken by surprisingly few observers.[11] As Figure 3 illustrates, Turkey's top exports to China in 2017 other than mining and quarrying, are fabric (7.4%), chemicals (9.8%), machinery (6.6%), and metal products (4.1%).[12] Strikingly, the very same products constitute China top exports to Turkey, in much larger quantity and value. In other words, the trade deficit largely stems from China's comparative advantage in producing the same or similar goods that Turkey has available for export.
Figure 3. Composition of Turkey's Trade with China (Jan-Sept 2017)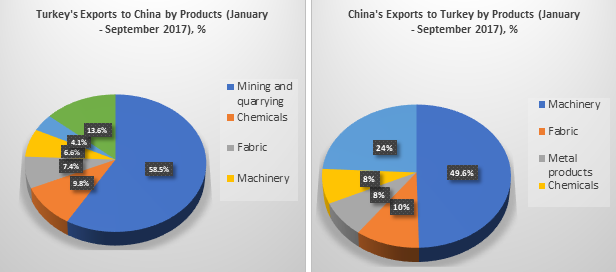 Source: Ministry of Commerce of the People's Republic of China
During the initial stages of the BRI's implementation, foreign direct investment (FDI) from China to Turkey has increased, albeit modestly. Chinese FDI has been mainly focused on the finance, logistics, energy, manufacturing and telecommunication sectors. In 2014, China state-owned companies completed the second session of Turkey's Ankara-Istanbul High-Speed Railway with the assistance of $720 million USD loans from China Exim Bank.[13] In 2015, China's largest bank ICBC acquired Turkish GSD Holding's entire stake of 75.5% in Tekstilbank for $314 million.[14] This round of acquisition was followed by a $300 million investment from The Bank of China (BOC) in 2017 in exchange for approval to operate deposit banking in Turkey.[15] Chinese state-owned shipping and logistics companies have invested $940 million in obtaining a 65% share of Kumport, Turkey's third-largest container terminal.[16]  In 2016, China's largest-listed telecommunications equipment and network solutions provider, ZTE, bought a 48.04% share of Turkey's NETAS for $101.3 million.[17]
To date, however, Chinese investment in Turkey is vastly overshadowed by capital from the West, especially from European Union (EU) countries. [See Figure 4.]
Figure 4. Foreign Direct Investment Inflows to Turkey (in US$ millions)

* The major EU investors: Netherlands, Austria, UK, Germany, Luxembourg, Spain, Belgium, France, Greece, Italy
** Middle East: UAE, Saudi Arabia, Kuwait, Qatar, Lebanon
Source: Turkish Ministry of Economy
Contributing to what could be considered lagging FDI flows from China to Turkey have been uncertainties regarding Turkey's political situation, especially in the immediate aftermath of the July 2015 coup attempt, coupled with persistent conflict and instability on Turkey's periphery. In addition to these political and geopolitical risks, friction between Istanbul and Beijing over issues related to the Uygurs might have impeded FDI flows, if only indirectly and temporarily. Here, it is important to note that Ankara has more recently taken steps to assuage Beijing's concerns, recognizing the East Turkistan Islamic Movement (ETIM) as a terrorist organization,[18] and engaging more actively with China on counterterrorism.
Conclusion
In sum, Turkey and China are continuing to work energetically with each other to enhance economic relations. To a large extent, the Middle Corridor Initiative has been broadly integrated with China's BRI. It is certainly reasonable to expect that China-Turkey cooperation will remain robust since their rational and interest-based concerns that the growing salience of the Chinese market and influence and Turkey's geopolitical position are critical elements for both to achieve the further intensification of cooperation. Yet, given that both states' confidence in each other is building, how well and efficiently they will cooperate in the coming years remains to be seen.
Note: Xiaoli GUO would like to thank the Department of Asian Studies at Middle East Technical University (METU) and Department of Translation and Cultural Studies at Gazi University for providing a supportive environment in which she conducted this research.

 
---
[1] Republic of Turkey Ministry of Foreign Affairs, "From Republic of Turkey Ministry of Foreign Affairs," accessed May 24, 2018, http://www.mfa.gov.tr/turkey_s-multilateral-transportation-policy.en.mfa.
[2] "B&R Can Help Strengthen China-Turkey Ties," Global Times, May 24, 2017, accessed March 20, 2018, http://www.globaltimes.cn/content/1048523.shtml.
[3] Ministry of Commerce of the People's Republic of China, "Country Report," accessed March 20, 2018, https://countryreport.mofcom.gov.cn/record/view110209.asp?news_id=52824.
[4] "Turkey Builds Massive High-speed Railway to Mark Centennial Anniversary," Xinhua News, May 14, 2017, accessed March 20, 2018, http://www.xinhuanet.com/english/2017-05/14/c_136282781.htm.
[5] Turkey's Ambassador to China, Ali Murat Ersoy, quoted in interview by Lin Nan, "Formula for a win-win future," Beijing Review, May 15, 2017, accessed May 22, 2018, http://www.china.org.cn/world/2017-05/15/content_40814763.htm.
[6] "President Erdoğan Attends Turkey-China Business Forum," July 30, 2015, accessed May 24, 2018, https://www.tccb.gov.tr/en/news/542/34005/president-erdogan-attends-turk....
[7] "Xi Jinping and Recep Tayyip Erdoğan Together Attend China-Turkey Business Forum," Quotable Quotes on Belt and Road from World Intellectual, Business Personnel - Xinhua | English.news.cn, July 30, 2015, accessed May 24, 2018. http://www.xinhuanet.com/politics/2015-07/30/c_1116093947.htm.
[8] "Erdogan Wants Turkey/China Trade Imbalance Tackled," July 30, 2015, accessed March 21, 2018, https://www.aa.com.tr/en/politics/erdogan-wants-turkey-china-trade-imbal....
[9] "Minister Tuzmen Willing to Take Charge of Turkish Trade Deficit with China," Sondakika.com, September 3, 2006, accessed May 23, 2018, https://www.sondakika.com/haber/haber-ankara-bakan-tuzmen-cin-lehine-buy.... See also: "Turkish State Minister: Fair Trade Should Not Be Simply As Narrative," October 07, 2006. Accessed May 23, 2018. http://business.sohu.com/20061007/n245659154.shtml. See also: "Trade Hurdles on Agenda of Turkish Leader's China Trip," Anadolu Agency, November 5, 2017, accessed May 24, 2018, https://www.aa.com.tr/en/turkey/trade-hurdles-on-agenda-of-turkish-leade....
[10] Altay Atlı, "Questioning Turkey's China Trade, " Turkish Policy Quarterly 10, 2 (2011): 111.See also: "Foreign Trade Deficit With China Is a Bleeding Wound," Al Jazeera Turk - Ortadoğu, Kafkasya, Balkanlar, Türkiye Ve çevresindeki Bölgeden Son Dakika Haberleri Ve Analizler, June 2, 2014, accessed May 23, 2018, http://www.aljazeera.com.tr/al-jazeera-ozel/cin-ile-kanayan-yara-dis-tic....
[11] See the op-ed piece by Feng Wei, "Anti-China in Turkey, Psychological Imbalance Due to Huge Trade Deficits?" The Observer, July 8, 2015, accessed March 21, 2018, http://www.guancha.cn/WeiFeng/2015_07_08_326029_s.shtml.
[12] Ministry of Commerce of the People's Republic of China, "Country Report," accessed March 20, 2018, https://countryreport.mofcom.gov.cn/record/qikanlist110209.asp?qikanid=9....
[13] "Chinese Companies Have a Promising Prospect in the Turkish Railway Market," People, September 11, 2007, accessed March 21, 2018, http://world.people.com.cn/GB/57506/6248974.html.
[14] "China's ICBC Acquires Turkish Lender - Invest in Turkey," April 30, 2014, accessed March 21, 2018, http://www.invest.gov.tr/en-US/infocenter/news/Pages/300414-chinese-icbc....
[15] "Bank of China Receives License to Operate in Turkey," China Daily, December 3, 2017, accessed March 20, 2018, http://europe.chinadaily.com.cn/business/2017-12/03/content_35170046.htm.
[16] "Chinese Consortium Buys into Turkish Port with USD 940 Million Investment," September 28, 2015," accessed March 20, 2018, http://www.invest.gov.tr/en-US/infocenter/news/Pages/280915-cosco-pacifi....
[17] "Chinese ZTE Buys Stake in Turkey's Netas for $101M," June 12, 2016, accessed March 20, 2018. https://aa.com.tr/en/asia-pacific/chinese-zte-buys-stake-in-turkeys-neta....
[18] "China, Turkey Underscore Security, Counter-terrorism Cooperation," Xinhua News, August 3, 2017, accessed May 20, 2018, http://www.china.org.cn/world/2017-08/03/content_41346952.htm.
---
The Middle East Institute (MEI) is an independent, non-partisan, non-for-profit, educational organization. It does not engage in advocacy and its scholars' opinions are their own. MEI welcomes financial donations, but retains sole editorial control over its work and its publications reflect only the authors' views. For a listing of MEI donors, please click here.