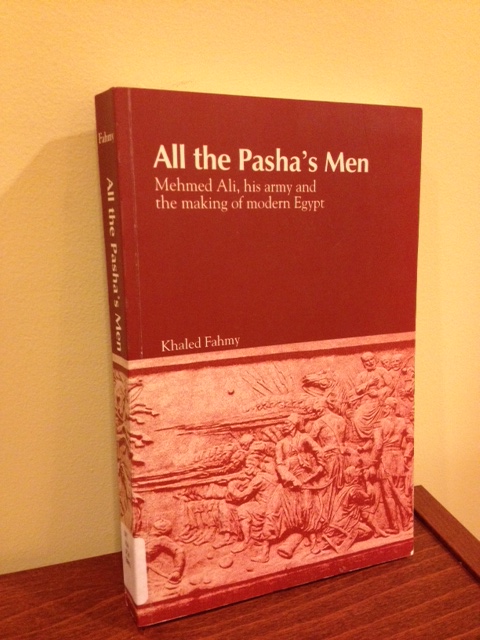 All the Pasha's Men: Mehmed Ali, His Army and the Making of Modern Egypt, by Khaled Fahmy, 2003
In his seminal work, Khaled Fahmy deconstructs Egyptian nationalist historians' portrayal of Mehmed Ali, the nineteenth-century Ottoman general widely credited with building modern Egypt. Fahmy details how Ali consolidated his power and both industrialized and militarized Egypt. A central theme of the book is the ruthlessness with which Ali built a highly centralized state patterned after European states of the day. Fahmy's history thus reveals Ali as a foreign oppressor similar to the British and the French. Using a variety of primary sources, Fahmy demonstrates how Ali's policies privileged Turks, while also detailing Egyptian resistance to Ali and his state institutions. The first three chapters deal with Ali's efforts to build an army and the successes and failures associated with it. The remaining chapters focus on the army, its relationship to Egypt, and how it was portrayed and perceived historically. More broadly, the book critiques nationalist historiography, which portrays the nation as a monolith while ignoring the complexity and diversity existing within it.
For Scholars
All the Pasha's Men will be of interest to scholars interested in a critique of nationalist historiography as well as in postmodern thought, most notably that of Foucault. Fahmy's work also provides researchers and laymen alike with an accessible yet detailed history of the nineteenth-century Egyptian military, grounded in primary sources. Overall, it demonstrates a refreshing alternative to earlier writings on Ali and his nation-building project.
Primary research applications:
Nineteenth-century Egypt
History of the Egyptian army
Mehmed Ali
Ibrahim Pasha
Nationalist historiography
Further reading in the Oman Library (among other texts):
State and Society in Mid-Nineteenth-Century Egypt, by Ehud R. Toledano, 1990
Women in Nineteenth-Century Egypt, by Judith Tucker, 1985
Beginnings of Modernization in the Middle East: The Nineteenth Century, by William Roe Polk and Richard L. Chambers, 1968
Syria and Egypt under the Last Five Sultans of Turkey, by John Barker, 1876