When the president of the Islamic Republic of Iran, Ebrahim Raisi, visits New York for the opening of the United Nations General Assembly (UNGA) this week, he will try to project a sense of confidence. Since his inauguration in August 2021, Raisi's administration has scored a series of foreign policy wins, which he may well point to: Iran's accession to the Shanghai Cooperation Organization (SCO), normalization of relations with Saudi Arabia, and an invitation to join BRICS (originally including Brazil, Russia, India, China, and, later, South Africa) have all occurred under his watch. The regime also managed to survive serious protests after the death of Mahsa Amini, which started to consume the Islamic Republic while Raisi was in Turtle Bay last year.
He will seek to showcase that Tehran has neutralized international sanctions, ended its isolation, and inverted the Abraham Accords by preventing its expansion into an anti-Iranian bloc. Coupled with a healthy dose of toxic anti-Israeli rhetoric, Tehran will seek to project that it is Israel, not Iran, that is isolated, whereas the Iranian regime is purportedly committed to building ties with its neighborhood. A potential planned meeting of foreign ministers from Iran, Iraq, and member states of the Gulf Cooperation Council on the sidelines of UNGA — being billed as a new, nascent regional dialogue forum — will reinforce this perception.
However, one gathering in New York is bound to upend the Islamic Republic's mythmaking, and that is an informal ministerial council meeting of the Conference on Interaction and Confidence-Building Measures in Asia (CICA), scheduled for Sept. 21. CICA was founded in 1999 as "a multi-national forum for enhancing cooperation towards peace, security, and stability in Asia." Both Iran and Israel are member states, not to mention the Islamic Republic's Arab rivals, which regularly makes for an uncomfortable dynamic. It also demonstrates the limitations of regional dialogue platforms at a time when countries in the Middle East are pursuing de-escalation and engagement.
Violating CICA's founding documents, and Iran and Israel's close encounters
One of the basic documents of CICA is the 1999 Declaration on the Principles Guiding Relations Between the CICA Member-States. It says that "member-states shall refrain in their relations from the direct or indirect threat or use of force against the sovereignty, territorial integrity, and political independence of the states, or any other manner inconsistent with the UN Charter and with the present declaration. No considerations may be invoked to warrant resort to the threat or use of force in contravention of this principle." Despite this commitment as a CICA member, however, the Islamic Republic has been threatening to wipe Israel off the map for over four decades.
In June 2006, at the second CICA summit, in Almaty, Shimon Peres, then serving as Israel's vice premier and minister for the development of the Negev and Galilee, came face-to-face with Abbas Araghchi, Iran's deputy foreign minister at the time. In fact, both men posed together for a "class photo" and signed onto a joint declaration after the summit that condemned "terrorism in all its forms and manifestations and stress[ed] that there is no justification for terrorism," committing to multilateralism in order to combat the threat and "avoid double standards" in its eradication. This came only weeks before the 2006 Lebanon War, which was triggered by Tehran's proxy Hezbollah abducting two Israeli soldiers and later firing 4,000 rockets at Israel, resulting in the deaths of some 50 Israeli civilians. Hezbollah is designated by the United States as a foreign terrorist organization.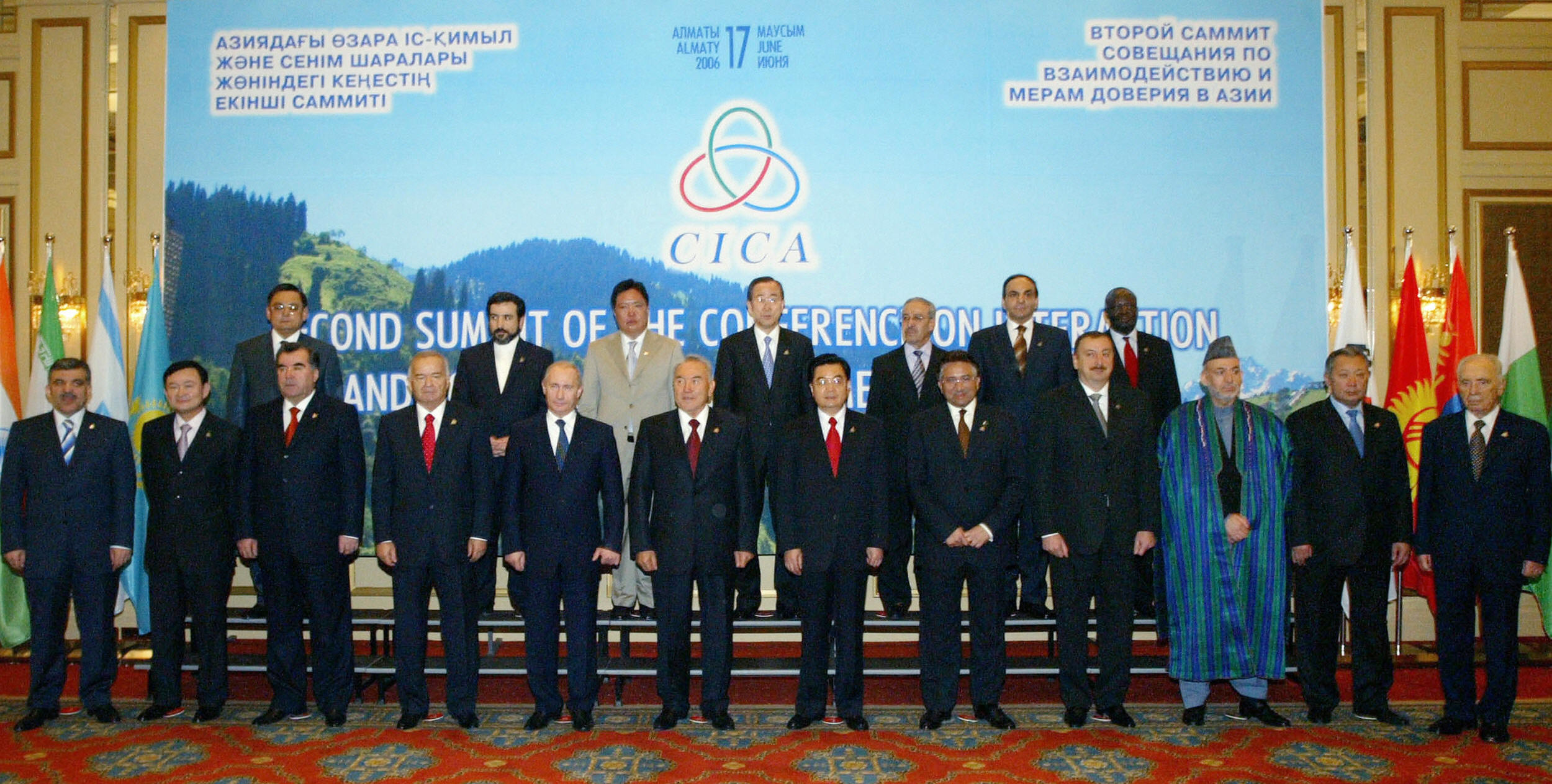 At the next CICA summit, in 2010, Iran's then-President Mahmoud Ahmadinejad made an appearance alongside Israel's ambassador to Turkey, Gabby Levy. At a press conference at CICA, Ahmadinejad railed against Israel, saying, "the devilish sound of the uncultured Zionists was coming out from their deceit […] they were holding up the flag of the devil." Levy walked out in protest, despite both men later appearing together once again in a group photo. After this meeting, a similar declaration to that from the 2006 summit followed, which saw member states "draw special attention to the necessity of preventing terrorism through countering ideologies that justify it." But throughout early 2012, Iran's government spearheaded attempted attacks against Israeli diplomats in Azerbaijan, India, Georgia, and Thailand; many saw this campaign as a response to Israeli assassinations of nuclear scientists in Iran who helped advance its nuclear program, which threatened the Jewish state. That is not to mention Iran's proxy Hezbollah's bombing of a bus carrying Israeli tourists in Bulgaria in July 2012 and Israeli Prime Minister Benjamin Netanyahu's famous red line speech before the U.N. General Assembly that September, where he threatened the Islamic Republic as it advanced its nuclear program. CICA declarations thus had no impact on the bilateral tension between both countries.
This pattern of Iranian and Israeli representatives both participating in CICA summitry and meetings has continued for years, even as regional tensions between the longtime nemeses exploded. In the summits that took place every four years, on most occasions, Iran's presidents have traditionally represented the Islamic Republic. But Israel has taken a different approach, sending lower-level diplomats to represent the Jewish state, excluding Shimon Peres in 2006.
Thus, during the last CICA summit, in October 2022, Tehran sent President Raisi. Standing close to him in the family photo is Simona Halperin, deputy director-general of Israel's Ministry of Foreign Affairs' Department of Eurasia and the Balkans, who led the Israeli delegation at the summit. And despite the two countries' joint membership in CICA, David Barnea, the director of Israel's Mossad, its foreign intelligence organization, disclosed this month that the Israeli security services and their partners thwarted 27 plots hatched by the Islamic Republic to target Jews and Israelis this year alone. Naturally, such a dynamic violates CICA's founding documents.
The awkwardness has extended to working-level CICA discussions. For example, Kazakhstan's ministries of foreign affairs and defense, along with CICA, hosted a seminar in August 2023 on the development of military-political confidence-building measures, featuring 14 representatives from CICA member-states. In the photos that circulated of the meeting, Iranian military officers appeared to be present at the same table as an Israeli military officer. Yet this participation has done nothing to alter the threat perception and strategic posture of both countries.
Beyond Israel
CICA's constraints extend beyond Israel. The declaration also stipulates that "member-states shall refrain from any intervention in the internal affairs of another member-state." However, the Islamic Republic has been violating that proviso with impunity when it comes to another CICA member, Bahrain. It has funded and resourced the al-Ashtar Brigades, which have attacked Bahraini police and security forces. In 2015, Manama even accused Tehran of fomenting "confessional sedition."
The United Arab Emirates, another CICA country, has also had a difficult history with Tehran despite the recent thaw in ties after the restoration of full diplomatic relations last year. Ignoring the soaring pledges to abstain from the use of force against another CICA member state, Tehran's partners in Yemen, the Houthis, launched missiles at Emirati territory in 2022 and also plotted attacks on UAE diplomatic facilities in Africa.
Ditto in Iraq, which is also a CICA member state. The Islamic Republic has used Iraq as a launchpad for attacks against other CICA members, not least Israel. For example, in 2022 U.S. fighter jets downed two Iranian drones over Iraq that were armed to explode on Israeli territory. In the Declaration of CICA Principles document, it spells out very clearly that "the member-states shall respect the territorial integrity of each other" and foreswear the use of force against another member state. Tehran would likely argue it is acting in self-defense, which is preserved in this document; but Israel would counter that it too is trying to deter and defend itself from the Islamic Republic, which, on a daily basis, arms and funds terrorist militias intent on its destruction.
Other organizations aside from CICA have also existed for years without changing the fundamentals of Tehran's revolutionary foreign policy. This can be seen in the proceedings of the Organization of Islamic Cooperation (OIC), which counts Iran and its regional rivals, including Saudi Arabia and the UAE, as members. The OIC predates the Islamic Revolution of 1979, yet its mission "to work for the settlement of conflicts and disputes involving member-states" has not moved the needle in a transformative manner.
The Islamic Republic is already eyeing the use of U.N. Security Council Resolution 598, which called for a ceasefire during the Iran-Iraq War in 1987, as a mechanism to promote future regional dialogue. Resolution 598 specifically "requests the [U.N.] secretary-general to examine, in consultation with Iran and Iraq and with other states of the region, measures to enhance the security and stability of the region."
However, the above history demonstrates that while Iran will attempt to demonstrate its good neighborliness at the UNGA opening by promoting and referring to its membership in various regional dialogue forums, their existence has historically not moderated Iranian behavior. The assumptions that undergird their utility are faulty, as the Islamic Republic of Iran — despite occasional tactical adjustments to preserve the longevity of the regime — is a revolutionary power that seeks to dominate, not integrate with the region.
Jason M. Brodsky is the policy director of United Against Nuclear Iran (UANI) and a non-resident scholar at the Middle East Institute's Iran Program. His research specialties include Iranian leadership dynamics, the Islamic Revolutionary Guard Corps (IRGC), and Iran's relationship with Israel. He is on Twitter @JasonMBrodsky.
Photo by Iranian Presidency/Anadolu Agency via Getty Images
---
The Middle East Institute (MEI) is an independent, non-partisan, non-for-profit, educational organization. It does not engage in advocacy and its scholars' opinions are their own. MEI welcomes financial donations, but retains sole editorial control over its work and its publications reflect only the authors' views. For a listing of MEI donors, please click here.