Originally posted July 2010
I was born in Damascus in 1975. My father is an engineer and a music lover. He used to listen to Jazz and Rock music and play as a drummer in a band. I grew up with 1960s and 1970s tunes. My mother, however, is a Sociology and Child Psychology graduate — a real intellectual who appreciates literature and arts. She is also a determined woman with a strong personality, high principles, and immense affection for me and my two younger brothers. I have always felt that our house was full of love, caring, and freedom.
I have become a painter by profession. The truth is that I have always dreamed of being a painter. My family encouraged me to pursue this career. I now feel very fortunate to work with the one form of art which I am passionate about.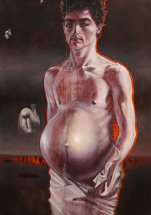 I started painting when I was only four. As a child, I painted on the floors, the walls, and the furniture — but nobody ever shouted at me. My mother would always say, "nice work, shall we clean up now?" My parents' encouragement has given me confidence to pursue my dream and to have faith in my skills. They sent me to painting classes and provided me with all that I needed to practice painting.
At the age of 14, I did a portrait of The Beatles. It was such an accomplishment that it made me see how painting could be a powerful tool. Since that moment, I knew that painting would be my career.
I therefore joined the Faculty of Fine Arts, Department of Painting at the University of Damascus, where the percentage of female students is over 50%. The four years I spent at university were fun, but not very informative. I learned about new techniques by reading new books and discovering new tools on my own. I later taught at an art institute for a couple of years. I wanted to implement methods different from those I had learned at the university, but I discovered in the end that art cannot be taught, or that maybe it is better not to be taught.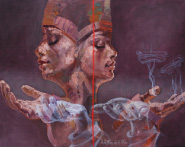 I participated in numerous exhibitions in Syria, Arab countries, Europe, North America, and Australia. I was the official representative of my country in some of them. I also held many solo exhibitions in Syria and abroad, and received several local and international art awards such as the first prize, the Golden Medal, in Latakia Biennial, Syria in 2001, the Fourth Prize at the BP Portrait Award at the National Portrait Gallery in London in 2004, the First Prize in Painting in Waterhouse Natural History Art Prize at the South Australian Museum in 2008, in addition to other awards in Spain and the United States.
Since 1994, I have worked as a full-time independent artist. I enjoy every moment of my work. I don't plan my painting, and I don't make sketches. I stand facing the white canvas after having spread all of the colors in front of me, as if exploring all possibilities in painting. With the right music in the background, I set off on a new adventure. Painting for me is an adventure because I don't know its ending, and because it is full of surprises. Its main fuel is my love of exploration.
When I paint, I feel like traveling, learning, and discovering the world. It is self-fulfilling and a great source of pleasure. If I plan a painting in my mind, then I never complete it, because it is already a completed project with a clear ending. There would be no point and no pleasure in working to realize it on the canvas.
For me, painting is an independent being; it emerges with its own will, not mine. I sometimes feel that my paintings are like close friends.
My sources of inspiration are music and the people around me. Anyone I pass — man, woman, or child — may inspire me. I am inspired by their faces, hands, eyes, expressions, and even the shapes of their bodies. I am also inspired by my family and my husband, who are very supportive.
I am also inspired by myself — my image, my person, and my personality. When I look at myself in the mirror, I see the whole universe. And when I paint a person, I feel like painting the whole universe. Everything around me is a source of inspiration — every movement, every sound, every scent, and every touch. I paint with oil colors. I feel the pulse of life in them, for they are adaptable to each touch and the vigor I want to create.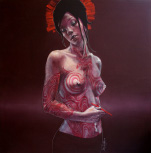 I don't believe in the geographical classification of contemporary art movements. For me, art is one global medium that is not influenced by a pre-defined identity or movement. Nor do I believe in gender classification of art, because men or women sometimes use gender to justify their own failure, rather than to express genuine differences.