Summary
The need to address Gaza's deteriorating humanitarian situation has become urgent not only to alleviate the suffering of the Palestinians in the Strip, but to ensure stability in the area. Israel's recent proposal for an airport and seaport to be built on a manmade island off Gaza is demonstrative of the fact that Israel's political and military establishment largely acknowledge that the status quo is unsustainable. However, a more immediate and effective option might be a U.N. administered airport inside Gaza that will allow a humanitarian air operation as well as removing the barrier to movement in and out of the Gaza Strip. This paper discusses the merits of such a proposal, which will help stabilize the Gaza Strip.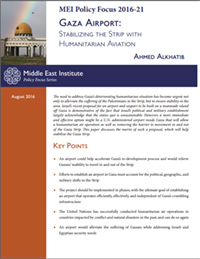 View PDF
Key Points
An airport could help accelerate Gaza's re-development process and would relieve Gazans' inability to travel in and out of the Strip
Efforts to establish an airport in Gaza must account for the political, geographic, and military shifts in the Strip
The project should be implemented in phases, with the ultimate goal of establishing an airport that operates efficiently, effectively, and independent of Gaza's crumbling infrastructure
The United Nations has successfully conducted humanitarian air operations in countries impacted by conflict and natural disasters in the past, and can do so again
An airport would alleviate the suffering of Gazans while addressing Israeli and Egyptian security needs
Read the full Policy Focus here.
---
The Middle East Institute (MEI) is an independent, non-partisan, non-for-profit, educational organization. It does not engage in advocacy and its scholars' opinions are their own. MEI welcomes financial donations, but retains sole editorial control over its work and its publications reflect only the authors' views. For a listing of MEI donors, please click here.