India's interests and capabilities extend well beyond the subcontinent. This essay is part of a series that explores the geopolitical dimensions, economic ties, transnational networks, and other aspects of India's links with the Middle East (West Asia) -- a region that plays a vital role in India's economy and its future. More ...
---
Over the past decade, the relationship between India and Saudi Arabia has grown stronger, attaining the level of a strategic partnership and incorporating more political and security content. Prime Minister Narendra Modi's visit to Riyadh in April 2016 further bolstered the bilateral relationship, laying the basis for deepening existing ties and broadening the parameters of cooperation. This essay discusses the progressive development of the bilateral relationship. It looks first at the landmark visits that have laid the foundation and supplied the momentum for progress in the relationship. The essay focuses on five pillars of cooperation: trade and investment, energy relations, overseas employment, defense and security ties, and cultural interaction.
The Progressive Development of India-Saudi Arabia Relations
In January 2006, King Abdullah became the first Saudi monarch to visit India in 51 years. Thus began what both sides generally regard as "a new era" in the bilateral relationship. The late King's visit culminated in the signing of the historic Delhi Declaration (2006), which imparted fresh momentum to the relationship and supplied the framework for developing more expansive ties.[1] Four years later, then-Prime Minister Manmohan Singh traveled to Saudi Arabia, where the two sides' agreed to elevate their bilateral engagement to a "Strategic Partnership,"  articulated in the Riyadh Declaration (2010).[2] Crown Prince and now King Salman's trip to India in 2014  sealing deals in the energy, business and defense sectors — yet another milestone in the progressive development of bilateral ties.[3]
The most recent major thrust forward in the bilateral relationship came when Indian Prime Minister N. Modi paid a two-day visit to the Kingdom in April 2016. The Joint Statement issued during the visit emphasized the two sides' desire to harness each other's potential for mutual gain.[4] It declared their interest in increasing cooperation in a variety of economic and cultural spheres, including defense and security, energy, trade and investment, education and research, technology transfer, diaspora relations, and cultural and people-to-people ties. The two sides also agreed to pursue cooperation in the peaceful uses of space, cyber and maritime security, and counterterrorism, counter-extremism and de-radicalization.[5]
Trade and Investment   
Trade and commerce has long been one of the strongest components of the bilateral relationship. Today, Saudi Arabia is India's fourth-largest trading partner and eighth-largest export market. During the 2000s, bilateral trade experienced sustained growth, peaking at $48.6 billion in 2013-14. Since then, however, bilateral trade has plummeted, totaling just $26.6 billion in 2015-16. [See Figure 1.]
This sharp decline in bilateral trade is largely attributable to sluggish global demand, which has resulted in a drop in petroleum and commodity prices. However, insofar as India-Saudi trade relations are concerned, the rate of decline in non-oil trade and thus in India's exports to Saudi Arabia has been even more precipitous than that of Saudi Arabia's (primarily petroleum) exports to India. Although due to energy (oil and LPG), balance of trade (BOT) is in Saudi Arabia's favor; services provided by the Indian workers, who remit approximately $12-15 billion annually, almost equalizes the balance of payment (BOP).   
Figure 1: India-Saudi Arabia Bilateral Trade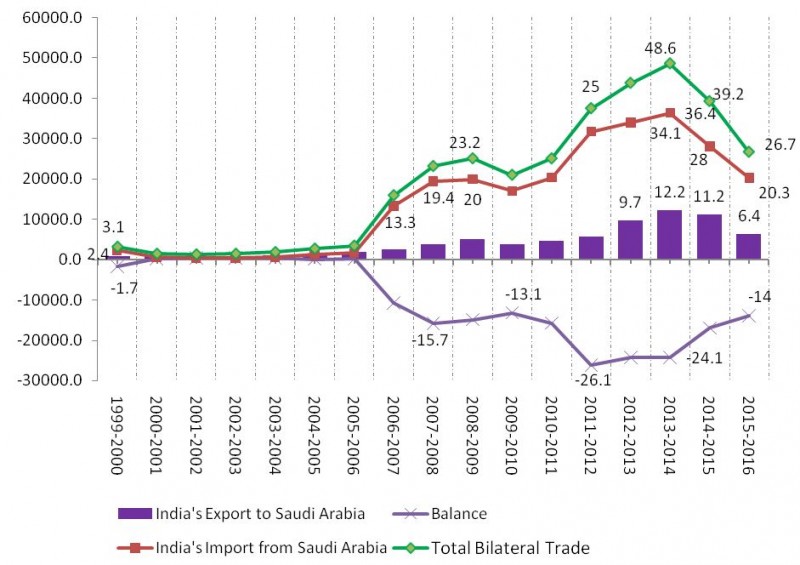 Source: Department of Commerce, GOI.
Private sector Indian investment in Saudi Arabia is increasing. According to the Saudi Arabia General Investment Authority (SAGIA), as of April 2015, 426 Indian companies with a capital of US$1.6 billion have been provided licenses in the Kingdom.[6] These companies are carrying out business either through joint ventures or on a 100 percent ownership basis. The licenses are given for projects in diverse areas, including management and consultancy services, construction projects, telecommunications, IT, and pharmaceuticals.
In addition, several of India's largest companies, such as Tata Consultancy Services, L&T, and others, have joined forces with Saudi counterparts and are active in consultancy, financial services, and software development. In the health sector, the Saudi side has agreed to set up 1,000 dialysis centers in India.[7]
Saudi investment in India is also growing. Between April 2000 and March 2016, the Kingdom invested around $72.02 million.[8] In 2013, Saudi Arabia's petrochemical giant SABIC invested $100 million.[9] Yet, perhaps a more revealing fact is that Saudi Arabia is merely the 48th largest investor in India. Indeed, neither the value of reciprocal investment nor the areas it has covered is commensurate with its potential.
India offers attractive terms and conditions for investment. New initiatives such as Make in India, Digital India, Smart City project, Start Up India, and Skill India offer huge scope for investment. So, too, does India's transportation infrastructure sector. The Indian government's liberalization of foreign direct investment (FDI) norms in defense, entertainment, automobiles, and ITC, coupled with progress in the implementation of the Good and Service Tax (GST) has made India's business environment far more conducive to foreign investment.
Similarly, Saudi Arabia's launch of "Vision 2030," which is aimed at economic diversification, has laid the basis for wide-ranging reforms in non-oil sectors, thus paving the way for inward investment. According to one estimate, the Saudi economy offers more than $650 billion in investment opportunities.[10] As the reforms related to Saudi Arabia's Vision 2030 are implemented, Indian investors are likely to be attracted to several sectors, including infrastructure, hydrocarbons, desalination, renewable energy, education, research and development, health, and pharmaceuticals.  
As the two countries have already signed the Bilateral Promotion and Protection of Investment (BIPA) and Agreements on Avoidance of Double Taxation and Prevention of Tax Evasion (DTAA), the groundwork has been laid for capitalizing on the bright prospects for reciprocal investment.
In recent years, some of the following contracts have been secured by the Indian companies in Saudi Arabia.
1. In July 2013, L&G signed the contract for a section of the major Riyadh Metro Project, amounting $1.4 billion. The contract involves design, construction and commissioning of a three-line, 41 km-long Metro Project expected to be completed in five years.[11]
2. In 2013, Tata Steel won the manufacturing of 60,000 tonnes of high quality rails for a high speed rail connection between Makkah and Madinah.[12]
3. In December 2012, Tata Motors signed a letter of intent to set up  factory in the kingdom to produce 50,000 Land Rover a year by 2017. It has also set up a state-of-the-art showroom and service center in Riyadh.[13]
4. Tata Consultancy Services (TCS) has opened a business processing unit (BPO) in Saudi Arabia that is expected to employment opportunities for 3,000 Saudi women in the next three years. In May 2016, WIPRO Arabia Unit, a subsidiary of Wipro Limited, Saudi Aramco and Prince Nourah University (PNU), Riyadh, signed a Joint Venture agreement and opened Saudi Arabia's first Women Business Park. The project is expected to create 21,000 jobs for women by 2025.[14]
Energy Relations
Energy has been one of the key pillars of India-Saudi Arabia relations. The visit of King Abdullah to India in 2006 underlined the importance of Saudi Arabia's energy resources to India's fast-growing economy. During the visit, the two sides entered into a Strategic Energy Partnership (SEP), based on the principles of complementary and interdependence. The SEP called for Saudi Arabia to provide a "reliable, stable and increased crude supply" to India through 'evergreen' long-term contracts.[15] Until only very recently, Saudi Arabia has consistently been India's number one supplier of crude oil, accounting for around 20 percent of its total oil demand.[16] [See Figure 2.] Figure 3 provides Saudi Arabia's share in India's growing LPG (butane and propane) requirements. After Qatar, Saudi Arabia is the second largest supplier of LPG to India.
Figure 2: Saudi Arabia's and West Asia's Share of India's Oil Imports (%)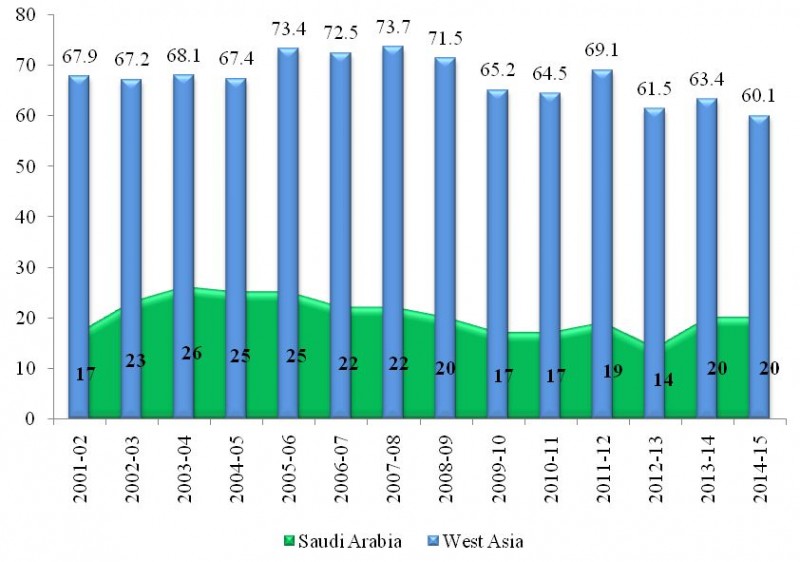 Source: Ministry of Petroleum and Natural Gas, GOI.
Figure 3: Saudi Arabia's Share of India's LPG Imports (in TMT)


Source: Ministry of Petroleum and Natural Gas, GOI.
However, with Iran's reentry into the energy market following the removal of nuclear-related sanctions and Iraq's increased production, their shares of India's oil imports have risen, eating into that of Saudi Arabia. In April 2015, as the competition for market share under conditions of low oil prices and relatively weak demand intensified, Iraq briefly overtook Saudi Arabia as India's top supplier.[17] (In fact, Saudi Arabia lost ground to rivals in nine of its 15 key markets.[18]) Late the next year, Iran occupied the top spot, as the jockeying for position in the Indian oil market continued.[19] In the longer term, though, Saudi Arabia is likely to reclaim its ranking, or at least retain a very sizable market share, given its reserve capacity and India's projected energy needs.
The Strategic Energy Partnership signed a decade ago also called for the establishment of public and private joint ventures in the upstream and downstream sectors in India, Saudi Arabia and third countries; Saudi investment in oil refining, marketing and storage; and the construction of gas-based fertilizer plants in Saudi Arabia.[20] The Joint Statement issued during Prime Minister Modi's visit to Saudi Arabia in 2016 breathed new life into India-Saudi Arabia energy relations. Under the Modi administration, India has invited Saudi Arabia to develop a stake in its petroleum reserve.[21] Following Subsequent to Prime Minister Modi's visit to the Kingdom, Chief Minister Nara Chandrababu Naidu held discussions with Saudi Aramco President and CEO Amin H. Nasser regarding the setting up of a refinery in Andhra Pradesh.[22]
Overseas Employment Opportunities
Next to energy, migration emerged as another key pillar of bilateral relations. The modern story of overseas employment opportunities for Indian workers in Saudi Arabia started after the first oil price boom in 1973-74. Initially just a few thousand, today Indian workers constitute the largest expatriate community in the Kingdom, totaling about 3.06 million.[23] [See Figure 4.] The contribution of Indian workers in building Saudi Arabia's economy and enriching its society and culture through has been repeatedly acknowledged by the Saudi royals and other high dignitaries. It is also important to note the contribution of the Indian expatriate community in Saudi Arabia's contribution in the form of remittances in the sum of $12-15 billion annually.[24] Furthermore, research has shown that in migration-intensive pockets, these remittances have contributed to reducing poverty, as well as improving health and education.[25]
The Kingdom has also treated Indians relatively liberally, as was evident in November 2013, when Saudi authorities began deporting undocumented workers. At that time, an estimated 1.4 million[26] Indian expatriate workers availed themselves of the grace period announced by the King and got their papers corrected, besides royal order of resolving their pending cases urgently.[27] They also got new jobs without facing penal action. Further progress on this issue was made during PM Modi's visit to Saudi Arabia, with the signing of the General Agreement on Blue Collar Workers.[28] Nevertheless, the status and treatment of Indian workers in the Kingdom, particularly as it relates to women, remains an area requiring additional attention and reform. 
Figure 4: The Saudi Share of Indian Workers in the Gulf Cooperation Council (G.C.C.) Countries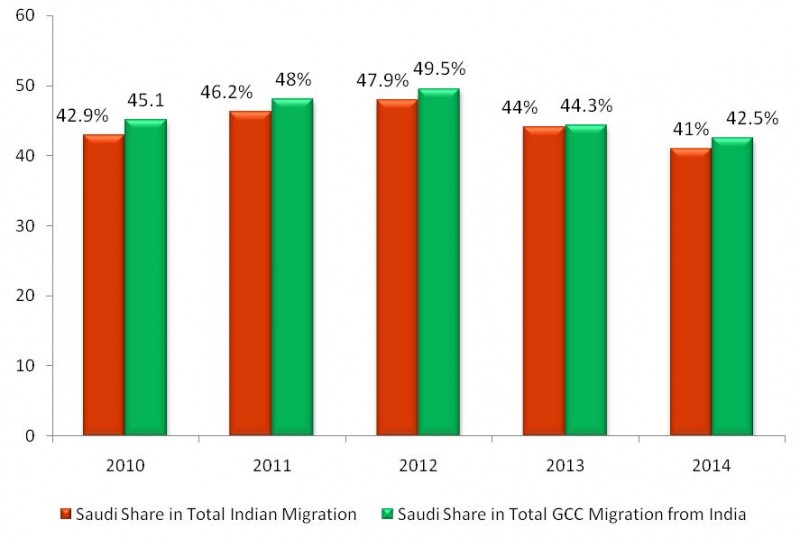 Source: Annual Reports, Ministry of Overseas Indian Affairs (MOIA), GOI.
The Defense and Security Fields
Cooperation in defense and security fields between the two countries is relatively new. However, both the countries have recently forged close ties in this area. In February 2012, A.K. Antony led a high-level military delegation to Saudi Arabia, becoming the first Indian Defense Minister to visit the Kingdom.[29] On the occasion of the visit, the two sides reached agreement on the training of military personnel, the setting up of a Joint Defense Cooperation Committee, the training of Saudi forces in mountain warfare, and the initiation of joint defense manufacturing.[30] Two years later, then Saudi Defense Minister and Crown Prince Salman visited India, which resulted in the signing of a defense pact on joint defense manufacturing. They also reiterated their commitment to elevate their relation beyond the goodwill visits and training of armed personnel.[31]
In the field of counterterrorism, the two sides have made significant progress relatively recently and within a compressed timeframe, indicating a heightened concern on the part of both countries regarding the dangers posed by the Islamic State (ISIS) and other jihadi outfits. Their intelligence agencies are working closely to provide data, real time information and tracking the movements of suspects as well as flow of finances through process of money laundering. The two sides have signed an Extradition Treaty and Agreement on Transfer of Sentenced Persons. Riyadh has handed over a dozen suspects, including Abu Jundal, to India for their alleged role in various terror-related cases. The two countries are also seeking ways to counter extremist narratives. In addition, they have signed key pacts aimed at countering terror financing and money laundering.         
The Cultural Dimension
As previously mentioned, the presence of a large number of Indian workers in the Kingdom, generally referred as Indian "ambassadors," have significantly enriched Saudi cuisines and sartorial tastes, besides spreading awareness and understanding between the two countries' peoples. Several organizations formed by Indians residing in Saudi Arabia are involved in bridging gaps between the two countries.   
The annual Hajj and the Umra pilgrimages are a regular and important focal point of India-Saudi cultural interaction. In fact, Indians constitute one of the largest contingents of pilgrims to the Muslim holy cities of Makkah and Madinah. The Indian government provides a subsidy to Hajj pilgrims at a total estimated cost of $200 million annually.[32] For  the 2017 Hajj, for example, the Saudi government has raised the Indian quota about 170,000 Indians to perform the Hajj. [See Figure 5.] Each year, approximately 300,000 Indians also perform the Umra.[33]
People-to-people ties have been strengthened also as a result of the many Saudi students who are enrolled in Indian educational institutions. India and Saudi Arabia have signed several agreements to provide opportunities for higher education, research, and training to their respective students, scholars and experts in their respective countries. In addition, the Indian Council of Cultural Relations (ICCR) has been active in organizing programs in Saudi Arabia aimed at promoting mutual cultural awareness and understanding.    
Figure 5: Number of Indian Pilgrims Who Performed the Hajj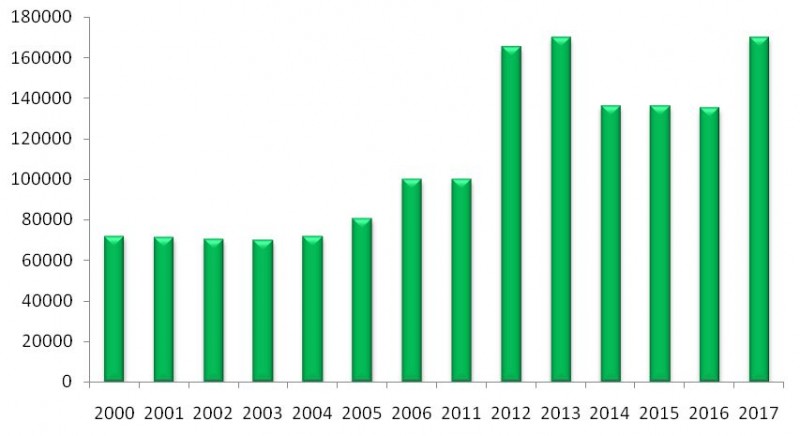 Source: Ministry of External Affairs, GOI.
Conclusion
Over the span of a mere decade, the India-Saudi Arabia relationship has been transformed from a transactional relationship to a strategic partnership. Accordingly, the scope of cooperation has widened not just within traditional areas such as energy, migration, and trade but has expanded to other sectors, including investment, health, pharmaceuticals, IT, ICT, and space. India and Saudi Arabia have also reached a greater understanding on security and defense matters. Importantly, India and Saudi Arabia seem to have reached the point where, unlike in the past, they are both determined not to permit the further development of ties between them to be bracketed by their relations with third countries (e.g., Iran or Pakistan).
---
[1] Ministry of External Affairs, Government of India, "Delhi Declaration, Signed by King Abdullah bin Abdulaziz Al Saud of the Kingdom of Saudi Arabia and Prime Minister Dr. Manmohan Singh of India," January 27, 2006, accessed April 2, 2017, http://mea.gov.in/bilateral-documents.htm?dtl/5969/Delhi+Declaration+Si….
[2] Ministry of External Affairs, Government of India, "The Riyadh Declaration: A New Era of Strategic Partnership," March 1, 2010, accessed April 2, 2017, http://mea.gov.in/bilateral-documents.htm?dtl/3700/Riyadh+Declaration+A….
[3] "Crown Prince Salman Affirms Saudi-Indian Ties," Asharq Al-Awsat, February 28, 2014, accessed April 2, 2017, http://english.aawsat.com/theaawsat/news-middle-east/crown-prince-salman-affirms-saudi-indian-ties.
[4] Ministry of External Affairs, Government of India, "India-Saudi Arabia Joint Statement during the visit of Prime Minister to Saudi Arabia," April 3, 2016, accessed April 2, 2017, http://www.mea.gov.in/bilateral-documents.htm?dtl/26595/IndiaSaudi+Arab….
[5] Ibid.
[6] Cited in "India-Saudi Arabia Bilateral Relations," Ministry of External Affairs, Government of India, accessed April 2, 2017, https://www.mea.gov.in/Portal/ForeignRelation/India-Saudi_Bilateral_Relations.pdf. Talking with Saudi experts revealed that the data between the two countries are not updated. They provided information that around 1400 Indian companies are registered in Saudi Arabia.
[7] During the discussion of 5th India-Saudi Arabia Dialogue held between Indian Council of World Affairs and Prince Saudi Al-Faisal Institute for Diplomatic Studies, held in Riyadh, Saudi Arabia, 28th Feb-1st March 2017.
[8] Ministry of External Affairs, GOI, "India-Saudi Arabia Bilateral Relations" July 2016, accessed April 3, 2017, https://www.mea.gov.in/Portal/ForeignRelation/Saudi_July_2016.pdf
[9] Ministry of External Affairs, GOI, "India-Saudi Arabia Bilateral Relations" July 2016, accessed April 3, 2017, https://www.mea.gov.in/Portal/ForeignRelation/Saudi_July_2016.pdf
[10] P.K Abdul Ghafour, "KSA Offers India $650 billion Investment Opportunities", Arab New, March 8, 2017, accessed April 3, 2017, http://www.arabnews.com/saudi-arabia/ksa-offers-india-625-bn-investment…
[11] Katya B. Naidu, "L&T to step up hiring in Saudi for metro rail project", Business Standard, July 31, 2013, accessed April 9, 2017, http://www.business-standard.com/article/companies/l-t-construction-bag…
 [12] "Tata Steel rail contract to link Saudi Arabia's two holy cities," The Hindu, August 13, 2013, accessed April 9, 2017, http://www.thehindu.com/business/Industry/tata-steel-rail-contract-to-link-saudi-arabias-two-holy-cities/article5018340.ece.
[13] Henry Foy and Angus McDowall, "UPDATE 2-Jaguar Land Rover mulls Saudi Arabia plant," Reuters, December 11, 2012, accessed April 9, 2017, http://www.reuters.com/article/jlr-saudiarabia-idUSL4N09L35220121211
[14] Wipro and others set up Saudi's first all-female Business Park, to create 21,000 jobs by 2025," Economic Times, May 3, 2016, accessed April 9, 2017, http://tech.economictimes.indiatimes.com/news/corporate/wipro-others-se….
[15] "India, Saudi Arabia sign strategic energy pact Long-term contracts planned for crude supplies," The Hindu, January 27, 2006, accessed April 2, 2017, http://www.thehindubusinessline.com/todays-paper/tp-economy/article1723201.ece; and "'New era' for Saudi-Indian ties," BBC News, January 27, 2006, accessed April 2, 2017, http://news.bbc.co.uk/2/hi/south_asia/4655268.stm.
[16] Ministry of External Affairs, GOI, "India-Saudi Arabia Bilateral Relations" July 2016, accessed April 3, 2017, https://www.mea.gov.in/Portal/ForeignRelation/Saudi_July_2016.pdf.
[17] "Iran Overtakes Saudi Arabia as biggest oil exporter to India in April: Data," The Economic Times, May 12, 2016, accessed April 2, 2017, http://economictimes.indiatimes.com/news/economy/foreign-trade/iraq-ove….
[18] Anjli Raval, "Saudi Arabia Loses Market Share to Rivals in Key Nations," Financial Times, March 28, 2016, accessed April 2, 2017, https://www.ft.com/content/5e8c1d52-f19f-11e5-aff5-19b4e253664a.
[19] "Iran Overtakes Saudi Arabia as India's Top Oil Supplier," The Hindu, updated December 2, 2016, accessed April 2, 2017, http://www.thehindu.com/news/national/Iran-overtakes-Saudi-Arabia-as-to….
[20] Ibid.
[21] Nidhi Verma, "India wants to add UAE, Saudi oil for strategic reserve," Reuters, September 21, 2016, accessed April 2, 2017, http://www.reuters.com/article/india-crude-reserves-idUSL3N1BX3NK.
[22] "Saudi oil giant likely to set up refinery in Andhra," The Times of India, January 19, 2017, accessed April 2, 2017, http://timesofindia.indiatimes.com/business/india-business/saudi-oil-gi….
[23] Data provided by the Ministry of External Affairs, GOI.
[24] During the discussion in Riyadh, the Saudi side informed that according to their estimates around $5 billion is remitted by the Indian workers through unaccounted sources. Therefore, total money remitted by the Indian workers every years reaches approximately $15 billion.
[25] K. C. Zachariah S. Irudaya Rajan, "Dynamics of Emigration and Remittances in Kerala: Results from the Kerala Migration Survey 2014", Working Paper 463, September 2015, accessed 3 April 2017, http://cds.edu/wp-content/uploads/2015/10/WP463.pdf
[26] Ibid.
[27] Mohammad Rasooldeen, "King's Order: Resolve Cases of Indian Workers in Saudi Oger Urgently", August 3, 2016, accessed 4 April 2017,  http://www.arabnews.com/node/964051/saudi-arabia.
[28] Ministry of External Affairs, Government of India, "India-Saudi Arabia Joint Statement during the visit of Prime Minister to Saudi Arabia," April 3, 2016, accessed April 2, 2017, http://www.mea.gov.in/bilateral-documents.htm?dtl/26595/IndiaSaudi+Arab….
[29] "In a first, Antony goes to Saudi Arabia on key defence visit," Hindustan Times, February 12, 20012, accessed April 2, 2017, http://www.hindustantimes.com/delhi/in-a-first-antony-goes-to-saudi-ara….
[30] Saurav Jha, India-Arabia Defense Ties Bloom," World Politics Review, March 8, 2012, accessed April 2, 2017, "http://www.worldpoliticsreview.com/articles/11706/india-saudi-arabia-de….
[31] Ankit Panda, "India and Saudi Arabia Sign Defense Cooperation Pact," The Diplomat, February 27, 2014, accessed April 2, 2017, http://thediplomat.com/2014/02/india-and-saudi-arabia-sign-defense-cooperation-pact/; and "India-Saudi Arabia Sign Defence cooperation pact," Livemint, February 26, 2014, accessed April 2, 2017, http://www.livemint.com/Politics/ZXWG4G6KKZe429KDnHhF7H/India-Saudi-Ara….
[32] The allocation of this subsidy has raised controversy both among Muslims and non-Muslims. Muslim 'ulema argue that providing the subsidy does not conform to religious norms, while a non-Muslim lobby accuses the government of appeasement. Recently, the Supreme Court of India has set a timetable for the withdrawal of the Hajj subsidy by 2020 and recommended that the funds be spent instead on education, health, and skills development aimed at empowering the Indian Muslim community. Another argument regarding the Hajj subsidy is over bailing out the loss-making government carrier Air India, which Hajj pilgrims are obliged to use. Each pilgrim has to deposit around 190,000 INR for a period of at least nine months. The government collects the interest on these deposits. For a detailed discussion see: Zakir Hussain, Saudi Arabia in a Multipolar World: Changing Dynamics (New York: Routledge, 2016).   
[33] Ministry of External Affairs, GOI. 
---
The Middle East Institute (MEI) is an independent, non-partisan, non-for-profit, educational organization. It does not engage in advocacy and its scholars' opinions are their own. MEI welcomes financial donations, but retains sole editorial control over its work and its publications reflect only the authors' views. For a listing of MEI donors, please click here.