If the Biden administration makes concessions to appease the Islamic Republic of Iran as part of the recently resumed Vienna nuclear talks, it will be a historic mistake. The Islamic Republic is facing a deep legitimacy crisis of its own making, as a series of disastrous decisions, including murderous crackdowns on protesters, the downing of an Ukrainian passenger airplane, mismanagement of the economy, and corruption among the elite, in addition to Supreme Leader Ayatollah Ali Khamenei's irresponsible Western vaccine ban, have hardened the people's views against the regime. These days, anyone who is seen to be throwing the Islamic Republic a lifeline will be wildly unpopular among Iranians.
How can we be sure of what is really going on inside Iran, if Western media aren't telling the truth about the country? The idea that the United States is about to throw a lifeline to the clerical regime has made the Biden administration deeply unpopular in Iran. That's according to the findings of our latest survey of 20,000 respondents living inside Iran, conducted in September 2021 by the Group for Analyzing and Measuring Attitudes in Iran (GAMAAN).
To those who know Iranians, their preference for the Western world isn't surprising. Our survey results show that half of the population is somewhat or very positive about the United States and the European Union. In contrast, almost 70% is somewhat or very negative about Russia and China, world powers that in recent years have secured long-term cooperation treaties with Iran. Only a minority believe that the United States should exert no influence on the Middle East, as 46% state that the withdrawal from Afghanistan harms regional security.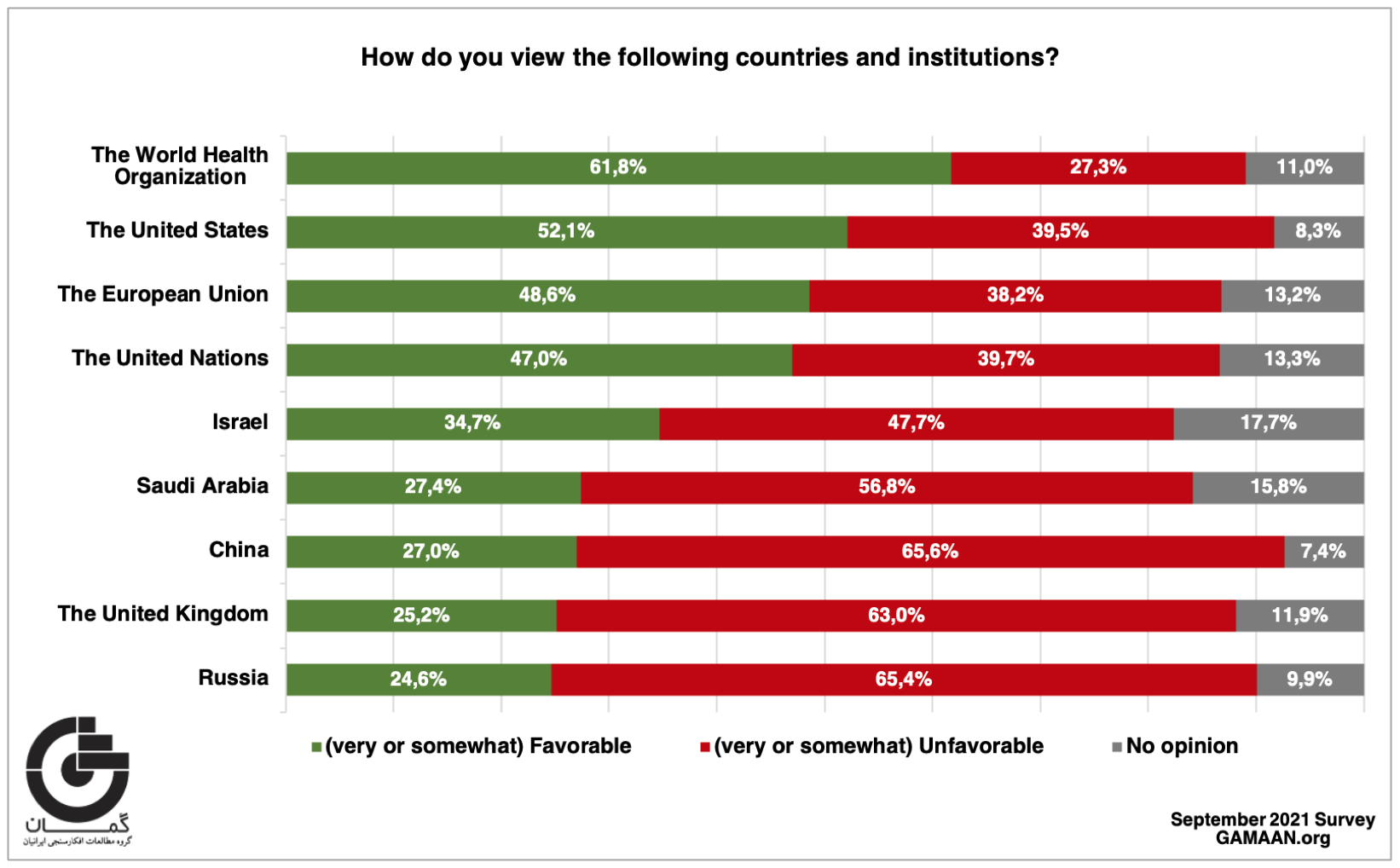 Contrary to the policy of the Islamic Republic, 55% emphasized that uranium enrichment should be suspended to get sanctions lifted. And yet, this should not be taken as evidence that Iranians support President Joe Biden's approach thus far. In response to the question, "Which USA president's foreign policy has most benefitted the Iranian people?," only 7% selected Biden, compared to 29% who chose Donald Trump, while 49% said neither president's foreign policy benefitted the Iranian people.
You might have read the opposite of these results: that Iranians supposedly favor the East and that their current president, Ebrahim Raisi, known for his role in the mass execution of political opponents, is astronomically popular. That's because the Islamic Republic depends on telephone and on-site surveys conducted inside and outside the country to provide evidence of its supposed legitimacy to Western audiences. But the reality is that the results obtained using such methods are misleading: They are a sign of widespread fear of state retribution, not the regime's popularity. To learn about Iranians' true opinions, one cannot simply knock on doors or call to ask about sensitive political issues.
That's why GAMAAN conducts surveys online, guaranteeing respondents' anonymity. We've repeatedly found a strong match between our results and those of reputable telephone and on-site surveys regarding non-sensitive questions. For politically sensitive questions, however, we've found substantial discrepancies. Our latest study on Iranians' attitudes toward international relations replicated results from the 2020 World Values Survey, as well as socio-economic external data on employment rates, income distribution, and the languages people speak at home. The large sample size of 20,000 was gathered from respondents living inside Iran, from all ages, income and educational levels, and provinces, and includes those with pro-regime political orientations (for more information about the survey's approach and results, see GAMAAN's report; for an academic justification of the approach, see this article presented at the 2021 IPSA World Congress of Political Science).
We asked respondents their opinion about pro-regime and protest slogans and chants. An overwhelming majority of 73% disagree with "death to America," 65% disagree with "death to Israel," while only 20% agree with these notorious expressions. Such results bring to mind the images of students refusing to walk on the flags of Israel and the United States. This is also reflected in the fact that, when given a stark choice, 86% of the population blamed domestic inefficiency and corruption over sanctions as having the greatest negative impact on Iran's economy.
The data unsurprisingly revealed Iranians' critical view of the Islamic Republic's regional policies: 57% oppose the Iranian intervention in Syria, and 64% agree with the chant "Not Gaza, not Lebanon, I sacrifice my life for Iran," heard during the 2009 post-election unrest, in the 2017 and 2019 protests that spread beyond the nation's urban centers, and again in 2021. This is in line with another finding that about 70% disagree with supporting Hamas in Palestine, Hezbollah in Lebanon, the Popular Mobilization Forces (al-Hashd al-Shaabi) in Iraq, and the Houthis in Yemen.
We believe these numbers demonstrate an overall dissatisfaction with the Islamic Republic's foreign policy, contrary to the results of telephone polls. It's telling that pro-regime media promote such results to gain legitimacy, while ordinary people risk their lives to protest in the streets and the majority of Iranians boycotted the recent elections. When 73% in GAMAAN's survey agree with the chant "Our enemy is right here, they lie that it's America" — heard once again at Isfahan's iconic Khaju Bridge this year — and when over 60% believe that world powers should not only monitor but act to defend human rights in Iran, Iranians are sending a clear signal to the West.
Right now, the Biden administration appears to have utterly failed in reaching Iranians' hearts and minds. The U.S. government should realize that ignoring the Iranian people's demands for human rights and democracy, while instead focusing on dealing with an unaccountable and unpopular regime, will result in a double loss: a fragile agreement and a disappointed nation.
Ammar Maleki is assistant professor of political science at Tilburg University (Netherlands) and the director of GAMAAN. Pooyan Tamimi Arab is assistant professor of religious studies at Utrecht University (Netherlands) and the secretary of GAMAAN. The views expressed in this piece are their own.
Photo by FATMEH NASR/ISNA/AFP via Getty Images
---
The Middle East Institute (MEI) is an independent, non-partisan, non-for-profit, educational organization. It does not engage in advocacy and its scholars' opinions are their own. MEI welcomes financial donations, but retains sole editorial control over its work and its publications reflect only the authors' views. For a listing of MEI donors, please click here.