In this week's Monday Briefing, MEI experts Charles Lister, Alex Vatanka, Marvin G. Weinbaum, and Gerald Feierstein provide analysis on eastern Syria as a new hotbed of geopolitical competition, Iranian responses to the Islamic State attack, additional U.S. troops in Afghanistan, and renewed Saudi succession speculation.
U.S. and Iran-Russia-Assad Compete for Syria's East
Charles Lister, Senior Fellow
Eastern Syria is fast becoming the center of a great geopolitical competition, pitching Iran, Russia and the Assad regime against the United States, the anti-ISIS Coalition and its Syrian opposition partners. On Sunday, a U.S. F/A-18 'Super Hornet' shot down a Syrian Su-22 after a unit of U.S.-backed Syrian Democratic Forces had come under air attack. That was the fourth time in a month that the U.S. military had attacked the Assad regime or Iran-backed assets in Syria, and the first time that an American aircraft had shot down an enemy aircraft in 18 years.
Within this context of cyclical escalation, Iran chose to launch six medium-range ballistic missiles at ISIS targets in Syria―the first such launch in 16 years. Despite Iran's claims, this was far more about exerting a greater role in Syria vis-à-vis the United States than it was about combating ISIS. However, with only two missiles hitting near their targets, it is hard to see the missile launch as anything more than a loud statement, at this point.
Intensifying dynamics in eastern Syria are in part the result of years of U.S. strategic ambiguity. Until recently, combating ISIS in Syria and stationing U.S. troops on Syrian territory was possible with minimal risk, as pro-Assad frontlines remained distant or otherwise distracted by more important priorities. Today, everyone's focus has converged in the same areas, with all major actors hurriedly engaged in a race to defeat ISIS and swallow up its remaining territory.
Unless the United States declares its long-term intentions in Syria more clearly, we will be faced by many more such acts of "self-defense," which combined are perceived by others as exactly the opposite: as offense. Enhanced U.S. assertiveness in Syria is not a bad thing, per se, but it remains dangerous when practiced through such an ambiguous lens.

Iran Flexes Military Muscle
Alex Vatanka, Senior Fellow
On June 18, Iran's elite Islamic Revolution Guards Corps (I.R.G.C.) fired six medium-range ballistic missiles against ISIS targets in Syria to avenge the June 7 ISIS attacks in Tehran.
On June 18, Iran also conducted joint naval exercises with China in the Sea of Oman. It involved 700 forces from each side, including destroyers and anti-submarine helicopters. One of the largest military exercises in recent years with a foreign partner, the Iranian-Chinese drills were touted to be purely aimed at enhancing maritime security for the mammoth Beijing-Tehran commercial trade. Iranian state-run media noticeably avoided casting the drill as aimed against any state. This is smart, if not essential.
The U.S.-China competition for power in west Asia is surely part of China's motivations. Still, Beijing does not want―at least for now―to be explicitly dragged into Tehran's feud with the United States or the Gulf Arab states, as China has a broad set of interests in the Middle East.
Meanwhile, the I.R.G.C.'s firing of missiles against ISIS in Syria is sheer posturing. I.R.G.C. generals must be the first ones to recognize that a military response to groups such as ISIS―that emerge in conditions of deep political-economic dislocation―will not suffice as a long-term solution. Will ISIS now be deterred from attacking the Iranian homeland? That is doubtful. A volley of missiles is a good show by the I.R.G.C., but what wiser heads in Tehran need to do is recognize that ISISism―as a long-term threat―can only be uprooted as part of broad regional political settlement.

Will More U.S. Troops Help Afghanistan?
Marvin G. Weinbaum, Director for Afghanistan and Pakistan Studies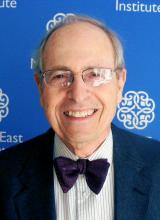 The Pentagon is expected this week to announce the deployment of around 4,000 more troops to Afghanistan, adding to 14,000 foreign troops there. With Defense Secretary James Mattis in charge, this is an effort to "correct," in his own words, a war that the United States "is not winning." The newly deployed forces will also conduct counterterrorism operations, in addition to their main job of training and advising the Afghan National Army (ANA).
More forces could buy time for ANA to build its capabilities against a widening Taliban insurgency and growing threats from the Islamic State. With rampant corruption, and high casualties and attrition rates, the ANA is struggling to hold on to territories against the Taliban, who now can manage large-scale raids on population centers. Training and advising the Afghan forces in brigade level will increase the quality of the training and intensity of support ANA would receive.
Mattis seemingly wants to undertake a regional approach in developing a new strategy, and has also spoken about bringing greater consistency to the U.S. commitment to Afghanistan. In dealing with a patient Taliban insurgency, he wishes to avoid a military escalation that draws down too soon as did the Obama administration's 2009 surge, which did not allow enough time for the Afghan forces to stand on their own. However, the Pentagon must credibly and clearly communicate the extent of its long-term commitment to counterbalance the Taliban's motives for fighting.
Syed Madadi contributed to this briefing.

New Saudi Royal Decree Renews Speculation on Succession
Gerald Feierstein, Director of Gulf Affairs and Government Relations
King Salman issued a new royal decree, June 17, removing oversight of the Public Prosecutor's office from Crown Prince Mohammad bin Nayef's portfolio and placing its supervision directly under the king. The official explanation included the assertion that the move is intended as a reform to the Saudi judicial system.
Linking the prosecutor's office to the king, in this analysis, will make it "completely independent of the executive authority," according to a report in Al Arabiya. The decree also directed an expert review of the General Investigation and Prosecution Authority with an eye to making additional changes, and included a number of personnel changes.
Although billed as a reform measure intended to bring the Saudi judicial system into closer alignment with international judicial practice, it's difficult to understand how the change will make the prosecutor's office more independent of executive authority. The move is instead being widely interpreted as another step to limit the powers of the crown prince as the parties prepare for an expected intense competition between bin Nayef and Deputy Crown Prince Mohammed bin Salman for dominance in the post-Salman era.
For the time being, momentum appears to rest with bin Salman. But with his name associated with several high-risk gambits, including the war in Yemen, confrontation with Qatar, and broad economic and social reform moves domestically, the potential remains that the crown prince will ultimately be viewed within the Al Saud as the safer, more experienced leader to succeed King Salman.