In this week's Monday Briefing, MEI experts Hassan Mneimneh, Robert S. Ford, and Mabrouka M'Barek provide analysis on recent events including Iraq's political storm, efforts to salvage the Syrian cease-fire, and the first Tunisia-U.S. Joint Economic Commission meeting starting later this week.
Iraqi PM Needs Support
Hassan Mneimneh, MEI Scholar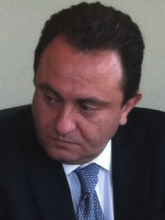 Iraq is enduring a dangerous political crisis. Its substance, however, is under dispute. For many, it is a valiant attempt at reform, and at fulfilling the long overdue promise of sound governance, against a system brought to a halt by corruption and dysfunction. For others, it is a questionable maneuver to restore autocracy, and to unravel the checks and balances that have been instituted over more than a decade. The truth, however, is not somewhere in between, irrespective of the many smokescreens that opponents of reform may raise.
Prime Minister Haidar al-Abadi may lack the patronage-based popular traction that some politicians have secured and may not have succeeded in meeting the expectations of the momentous assertion of the Iraqi civil movement that broke the factional dominance last year. Yet, Abadi has proven to be a determined executive in his drive to salvage the Iraqi political system through reform measures aimed at dismantling kleptocracy. His primary approach is the streamlining of a bloated government that has expanded manifold over the years in the service not of the public, but of politicians. He thus faces massive opposition from entrenched interests. Some of the 'support' that he has been receiving has also been questionable. The populist Sadrist movement has succeeded in sidelining much of the broad-based civil demands for reform, effectively hijacking the 'street' side of the anti-corruption movement.
Abadi needs the support of Iraqi civil society in order to keep his efforts focused on reform and to avoid their inevitable derailing were they to be equated with Sadrist demands. With Iran leveraging its influence across the competing interests, Abadi also needs the consistent backing from regional and international stakeholders, first and foremost the United States. Despite the fact that the Obama administration has appeared uneven in its engagement of Iraq, Vice President Joseph R. Biden's recent visit to Baghdad may provide some hope in this respect.
 
Kerry's Uphill Battle to Save Syrian Cessation Deal
Robert S. Ford, Senior Fellow
U.S. efforts to re-establish the cessation of hostilities nationwide will continue over the next days, but it is an uphill effort. Aiming to improve its standing before a peace deal, the Syrian government, backed by the Russian air force, continues to press forward on the ground in the eastern Damascus suburbs and around Aleppo against a variety of opposition forces. In some cases, the more moderate opposition forces are located close to Jabhat al-Nusra positions—the result of years of tactical cooperation against the common Assad enemy. The cessation agreement has a fundamental weakness in that were Assad to seize advantageous Nusra positions, his forces could then pivot and attack moderate rebels in a 'divide and conquer' tactic that would not face international retaliation. Assad's forces are focusing on Aleppo, which is a strategic and political prize.
U.S. Secretary of State John Kerry is trying to get opposition forces to relocate away from Jabhat al-Nusra in places like Aleppo. Kerry and Saudi Foreign Minister Adel al-Jubeir discussed this in Geneva on May 2. Jubeir stressed that military aid would continue to the opposition, and hedged about whether the United States would put restrictions on that aid. The Saudis, who continue to insist that Assad must go, will likely push for greater aid to the moderate rebels if they distance themselves from Nusra. The al-Qaeda affiliate will retaliate against moderate rebels who do not help it against the Syrian government, while the Russian political strategy aims to foster this fight to strengthen their ally, Assad.
 
Tunisian Minister to Visit D.C.
Mabrouka M'Barek, MEI Scholar
Zied Ladhari, Tunisia's minister of employment and vocational training, is scheduled to be in Washington this Friday, May 6, to kick off the first Tunisia-U.S. Joint Economic Commission meeting. Ladhari, a trained lawyer, is the only appointed minister who belongs to the Ennahdha movement, the Islamist party in coalition with Nidaa Tounes, the party of President Beji Caid Essebsi. The objective of the meeting for the Tunisians is to expand the U.S. market for Tunisian consumable goods including olive oil, dates and tuna. The trade balance between the two countries in 2015 was favorable to the United States, but only with a $15.9 million margin, as per the U.S. Census Bureau.
Needless to say that Tunisian efforts to generate trade surplus should be focused on other partner countries more inclined to import Tunisian goods. Certainly, the U.S. market is challenging partly because California already produces olive oil and dates. Furthermore, it is unclear how Ladhari can explain his mission to generate long-term domestic jobs by developing an export-led economy when his visit is motivated on agro-business sectors that support precarious seasonal jobs. Unless Ladhari's mission in D.C. is to market Ennadha's post-revolution brand of political respectability and technocratic, non-ideological, governance.
As the minister heads to D.C., large crowds of unemployed youths coming from the interior regions are flocking in front of the employment ministry demanding jobs. It is odd that Ladhari decided to lead the delegation in lieu of the investment minister. Ladhari would make better use of his time if he focused his efforts on the national strategy for job creation, with the first draft coming out of the National Dialogue of Employment last month. The strategic priorities, which were announced in the presence of U.N. Secretary General Ban Ki Moon, include many missteps that need to be addressed by the employment minister.