This article is part of a longer report from MEI's Turkey Program on the upcoming Turkish presidential and parliamentary elections, Turkey's 2023 Elections: Perspectives on a Critical Vote. 
 
As Turkey gears up for a crucial election later this month, the country is currently witnessing two very different political campaign styles. President Recep Tayyip Erdoğan, who is seeking re-election, is competing against Kemal Kılıçdaroğlu, the joint candidate of the Nation Alliance, who is also backed by the Labor and Freedom Alliance. The two candidates' wildly different political and governing styles are apparent in their campaigns: President Erdoğan follows a polarizing, negative, and fear-based approach focused on energizing his base, while Kılıçdaroğlu's campaign is dynamic, inclusive, and positive.
A one-man campaign using a populist playbook
Despite Turkey's serious economic problems — high inflation, a large current account deficit, a weak currency, and rising poverty levels — President Erdoğan and his Justice and Development Party (AKP) have maintained considerable support. However, their hold on power has been challenged by a unified opposition bloc, and recent polls suggest that victory may be within the opposition's reach. Turkey has a two-round system for presidential elections: If no candidate receives 50% in the first round, a second round is held two weeks later between the top two candidates. Thus, Erdoğan is primarily focused on winning in the second round and is working to maintain his core support in the first round. His campaign strategy revolves around a populist playbook based on creating an "us" vs. "them" division within society and portraying himself as "the only legitimate and real representative of the people." He aims to keep his base intact while convincing unhappy voters to remain loyal, and his electoral strategy has three main elements.
First, President Erdoğan's campaign style is characterized by a nationalist and Islamist tone. This ideological leaning is reflected in the broader People's Alliance, which includes the nationalist Great Unity Party (BBP) and Nationalist Action Party (MHP), as well as the Islamist New Welfare Party (YRP), and is being supported by the Islamist Free Cause Party (HÜDA-PAR), whose candidates are also on the AKP list. Erdoğan portrays himself and his alliance as "native and national," while describing the opposition as actors cooperating with "terrorists," foreign agents, and their domestic allies. Religion and morality are at the center of his campaign, with Erdoğan targeting Kılıçdaroğlu's Alevi identity to stir up religious sentiment among his base. President Erdoğan, a Sunni Muslim, is known for his conservative and Islamist policies, and often use religious symbols and discourse in his campaigns. His party recently released a video highlighting the conversion of Hagia Sophia from a museum into a mosque, a symbol of achievement for Muslims. His campaign also employs an anti-LGBTQ+ discourse, implying that opposition parties will allow a degeneration of values.
Secondly, Erdoğan relies on stoking fear and anxiety among his base to discourage them from voting for the opposition. Through his control of the media, he projects the message that if he were to lose, his supporters would suffer dire consequences. He seeks to paint the opposition as a threat to his supporters' values and way of life, for example emphasizing the risk of the headscarf ban being reintroduced. By playing on their anxieties and fears, he aims to persuade them to remain loyal and avoid voting for change. This fear-based approach is designed to maintain the status quo and secure his party's hold on power, even in the face of the significant challenges facing the country.
The third element of Erdoğan's strategy is to use harsh, polarizing rhetoric toward the opposition, which creates a sense of conflict and division. AKP members and ministers use exclusionary language to describe the opposition. For example, Minister of the Interior Süleyman Soylu even called the election a "coup attempt." This rhetoric is designed to create fear and urgency among Erdoğan's supporters, portraying the election as a battle for the nation's survival. Under these circumstances, there has been an increase in violent incidents, such as armed attacks on opposition party offices, including those of the Good (İYİ) Party and the Republican People's Party (CHP) in Istanbul. Even individuals who criticize Erdoğan and his allies can be targeted, as seen in the case of the graphic designer who was taken into custody for producing stickers critical of Erdoğan and MHP leader Devlet Bahçeli. This kind of repression and violence aims to suppress opposition voices and increase fear among opposition supporters.
Erdoğan also uses his media power and state resources to imply that only the AKP can ensure that areas hit by the devastating February earthquakes are rebuilt. He has already started reconstruction projects and given a sense of hope to those affected by the quakes. This strategy could work for some voters, despite the widespread anger toward the government. Erdoğan has also been highlighting his previous successes in carrying out mega-projects and recent advances in Turkish military technology, with the aim of appealing to voters' nationalist sentiments. Additionally, he is using economic tactics, like discounts on energy bills, to win votes as well.
Erdoğan's main campaign slogan, "Right time, right man," is ironic given Turkey's crippling economic crisis and the widespread destruction caused by the February earthquakes. In Malatya, a city that saw massive earthquake damage, a large poster of Erdoğan with his campaign slogan was displayed on one of the few buildings still standing. In addition, he is attempting to appeal to people's emotions by emphasizing that this will be his last term, which works for some of his loyal supporters. Erdoğan has made himself the centerpiece of his campaign; he is portrayed as a solitary figure even when accompanied by other AKP ministers and MHP leader Bahçeli. However, his team is not creating hope among voters and they are not as popular as previous AKP figures.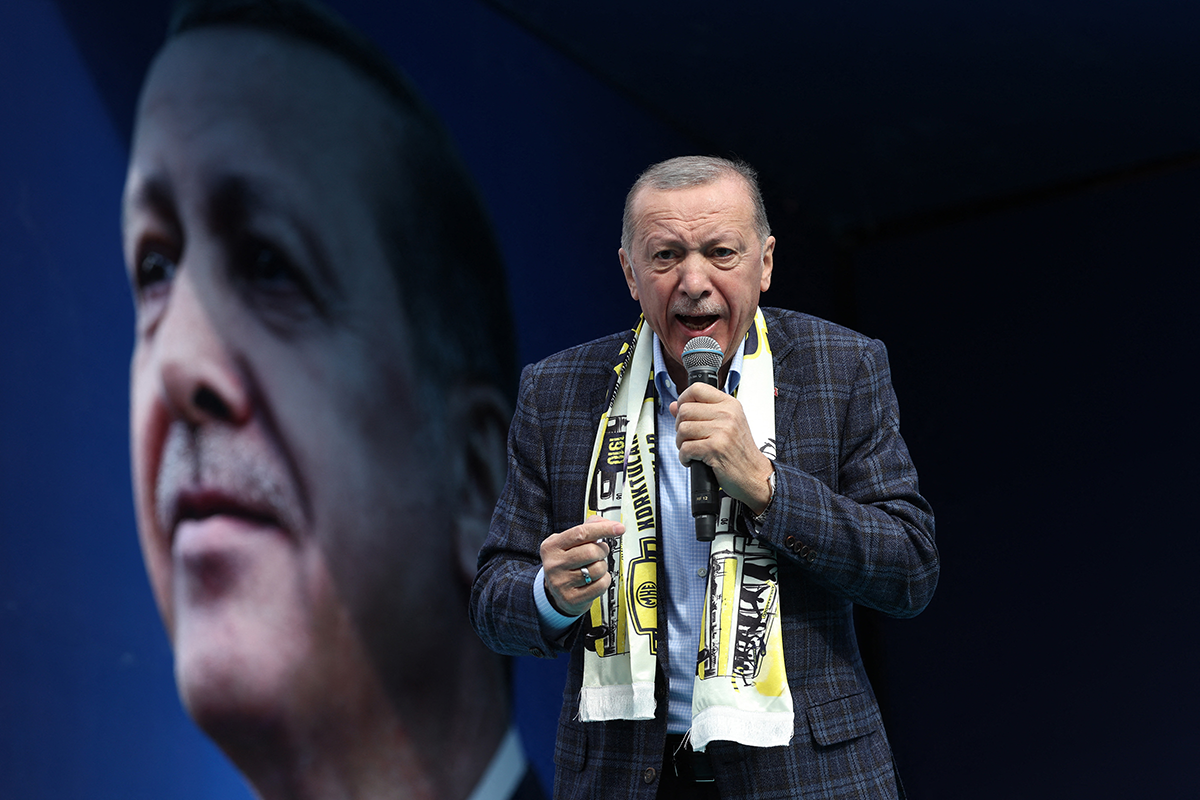 Kılıçdaroğlu's inclusive, positive campaign
As President Erdoğan escalates his harsh and divisive rhetoric, Kılıçdaroğlu's approach has been dubbed "calm power," and the CHP leader has successfully run an inclusive and positive campaign.
Kılıçdaroğlu has taken a dynamic team approach, in contrast to Erdoğan's one-man show. By holding rallies with popular mayors who would be appointed as vice-presidents if he wins, Kılıçdaroğlu's campaign has gained momentum. Mayors Mansur Yavaş of Ankara and Ekrem İmamoğlu of Istanbul appeal to different bases, with Yavaş gaining the support of nationalist conservatives while İmamoğlu is favored by youth and women. In contrast to Erdoğan's emphasis on mega-projects, Kılıçdaroğlu highlights their successes in local governance. Other leaders of the Nation Alliance are also actively campaigning and participating in huge rallies in major cities with Kılıçdaroğlu. The pro-Kurdish Peoples' Democratic Party (HDP), running under the Green Left Party (YSP) banner due to a party closure case, has begun to ask for votes for Kılıçdaroğlu as well, mobilizing large crowds in the Southeast. Başak Demirtaş, the wife of jailed HDP ex-leader Selahattin Demirtaş, is also actively rallying and asking for votes for both Kılıçdaroğlu and the YSP.
Kılıçdaroğlu's campaign strategy is characterized by inclusivity. His alliance with other political parties indicates that he is running as the candidate of diverse ideological groups, including Kurds, secularists, nationalists, and conservatives who want a more democratic Turkey. Unlike Erdoğan's polarizing rhetoric, Kılıçdaroğlu's campaign is centered around an inclusive message symbolized by a heart symbol. He is taking a page from his 2019 "radical love" campaign and focusing on positive messaging instead of fear-based tactics. By avoiding divisive issues and emphasizing hope and unity, Kılıçdaroğlu aims to appeal to a wide range of voters.
Kılıçdaroğlu is not ignoring Erdoğan's focus on identity politics and attempts to target him, however. Instead of simply responding to Erdoğan, Kılıçdaroğlu is directing his message toward the people and is presenting a vision for freedom and justice. Erdoğan frequently emphasizes Kılıçdaroğlu's Alevi identity, to which the Nation Alliance candidate responded by releasing a video acknowledging it and encouraging young people to choose a politics that does not exclude people based on their identity. This video has become the most watched of the entire campaign. Overall, Kılıçdaroğlu is trying to shift the focus away from identity politics and toward issues of justice and equality.
Kılıçdaroğlu has made the use of social media to communicate his plans and ideas to the public a central part of his campaign. Unlike the government, which relies on identity politics, mega-projects, and election-oriented economic inducements, Kılıçdaroğlu's focus is on providing solutions to people's everyday problems, especially economic ones. By emphasizing the importance of practical solutions, Kılıçdaroğlu hopes to gain the people's trust and provide them with a viable alternative to the government's policies.
Kılıçdaroğlu's main campaign slogan — "promise you, spring will again come" — offers a message of hope and renewal. It aims to inspire voters and give them optimism about the future, despite the challenges and difficulties Turkey is currently facing. They added a new slogan to their campaign, "Let's win" (haydi kazanalım), with dynamic music in the final phase of the election to motivate people to vote in an effort to win in the first round.
The upcoming election is crucial for the future of Turkey. Kılıçdaroğlu is committed to working toward a more inclusive and democratic country, whereas President Erdoğan is focused on retaining power and maintaining the status quo by provoking fear of change among his base. It remains to be seen who will win the elections, but it is evident that the choice voters make will have far-reaching consequences for Turkey's future.
Seren Selvin Korkmaz is the co-founder and executive director of IstanPol Institute, a lecturer and doctoral researcher at Stockholm University, a Marshall Memorial Fellow with the German Marshall Fund, and a non-resident scholar with the Turkish Studies Program at the Middle East Institute.
Photo by Burak Kara/Getty Images.
---
The Middle East Institute (MEI) is an independent, non-partisan, non-for-profit, educational organization. It does not engage in advocacy and its scholars' opinions are their own. MEI welcomes financial donations, but retains sole editorial control over its work and its publications reflect only the authors' views. For a listing of MEI donors, please click here.