Since its inception in 1993, the Sharjah Biennial has become the biggest art event in the Arab world. It is an enormous cultural podium whose breadth, scope, and ambition is unrivaled in the region. Encompassing new commissioned pieces, film screenings, video and audio installations, and copious talks throughout its lengthy duration, the Sharjah Biennial has transcended its fine arts origins to evolve into a global endeavor.
Unlike its flashy emirate sibling, Dubai, or oil-flooded Abu Dhabi, Sharjah is the most conservative emirate in the U.A.E.; a city whose olds souks, oriental cafes, and sprawling mosques render it the most overtly Arabian of all seven Emirates. At the same time, Sharjah happens to be the cultural capital of the U.A.E. It is an artistic oasis whose ruler, Sultan bin Muhammad al-Qasimi, is widely regarded as the grand patron of theater-makers, writers, and artists across the region.
Sharjah's radical contrasts are refracted in its biennial, a dizzying array of liberal politics, confrontational art, and different modes of representation. Anchoring this convoy is renowned Lebanese curator Christine Tohmé, director of Beirut's leading art institution Ashkal Alwan, who took the helm of Sharjah following the departure of Palestinian curator Jack Persekian in 2015.
In the following interview, Tohmé discusses the themes of Sharjah 13, and the state of art in the Arab world.
Joseph Fahim: Where did the Tamawuj (the title of Sharjah 13) originate from and what does it designate? Why did you decide to expand the biennial's activities to different cities this time around?
Christine Tohmé: The word Tamawuj, in Arabic, means a rising and falling in waves: a flowing, swelling, surging, or fluctuation. A wave is a variation in shape that is both progressive and regressive. A wave typically carries energy, nutrition, inspiration, and health, but it can also be a vehicle for corruption, erosion, and weathering.
The title is an attempt to encapsulate the many collaborations and networks through which this edition of the biennial was conceived. It is both a proposition for a structure of cultivation, as well as for a mode of working by processes of contamination where spillage, abrasion, and alteration render the original balance into a multitude of risk-taking interventions through the introduction of new compounds.
The approach of working with four interlocutors—Zeynep Öz, Lara Khaldi, Kader Attia, and Ashkal Alwan—on four off-site projects in Dakar, Istanbul, Ramallah, and Beirut respectively, came about as a response and a proposition to current realities — infrastructural, financial, socio-political, and otherwise — of institutions in the region. I took this invitation as an opportunity to support already existing art landscapes, institutions, individuals, collectives, and conversations. In this manner, the biennial attempts to become a model for practical and sustainable infrastructures, instead of a large-scale, one-off event.
JF: What are the main themes for Sharjah 13? There seems to be a dual emphasis on environmental issues as well as on the various conflicts and political problems of the Arab world.
CT: Earth, water, crops, and the culinary are all currencies of social interaction that shape our living conditions, which influence cultural production and inform how we make, circulate, and talk about contemporary art today.
I wanted to focus on how these four components, whether elemental or cultural, are in many ways resources that are in constant flux of migration, cultivation, and exchange. It is through these keywords that I wanted to touch on how art practice seeps in and out of other power relations and larger infrastructures we're part of and surrounded by.
JF: How does Sharjah 13 reflect the latest trends in Arab visual art? What are they?
CT: In SB13's exhibition in Sharjah we present 74 works, almost half of which were new commissions. This reflects my personal vision for this biennial to remain a conduit for production and circulation, where conversations could come about through difference and multitude, instead of a presumed coherence that responds to market demands. There are works that deal with ecological concerns, issues of language and translation, revisiting of the historical, or the body's proximity to the geo-political. Together, this breadth of inquiry featured in the biennial reflects the breadth of contemporary art practice today, both in the region and outside of it.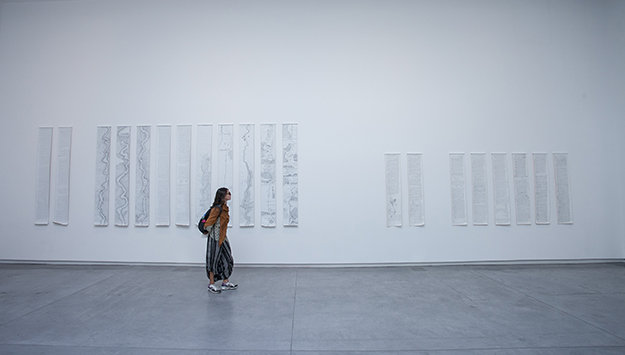 JF: You discussed in the curators' talk last month about the increasing difficulty of intellectual and physical mobility. In light of the Trump ban and increasing restrictions on mobility everywhere in the world, what's at stake for Arab artists? Do you see the direction of Arab arts changing or evolving as a consequence? 
Issues of mobility are, as we all know, not a new phenomenon, especially to those of us who are considered to be outside the cultural, economic, and geographical matrix that is called the West. The current heightened and accelerated surveillance tactics and travel restrictions do; however, reconfigure and give urgency to how we think about mobility of thought and the ways we can continue working together. This issue is one of many constraints we need to navigate by continuing to sustain existing collaborations, partnerships, networks, and build new ones.
My entire work for the past 25 years at Ashkal Alwan is underpinned by enabling the mobility of artists from all over the region to come to Beirut and exchange their thinking and practice with their peers and the audiences here. This is in many ways what sustains this city as a place among a few, where people can meet and talk and work together, regardless of their nationality and the mobility constraints that go with it.
JF: You also referred to the recent clampdown on art spaces in Egypt and elsewhere, stressing that things have also been equally bad in the '90ies. Can you explain this statement? And why do the authoritarian regimes of the region take a hostile stance towards an art-form that remains largely consumed by a limited group of connoisseurs?
CT: Firstly, I don't agree that the challenges art institutions are witnessing today, whether political or infrastructural, are unique to particular art forms. Publishing, cinema, and educational institutions have equally been affected and actively targeted in the past few years. Art institutions are among the most international and accepting spaces in our cities, enabling a true civic sphere where differences are celebrated, which makes certain people uncomfortable.
JF: Events like Sharjah 13 are often accused of catering mainly to the elite - a platform where the intellectual left employ to speak to each other. What are the initiatives adopted to expand the reach of art in both the U.A.E. and across the Arab World? 
CT: Anyone who's been to Sharjah Biennial over the years can witness, first hand, the incredibly organic relationship that the general public in Sharjah has to the arts. As a policy, many artworks have been presented in plazas, public parks, and open areas. The Sharjah Art Foundation has consistently been publishing content in both Arabic and English, not to mention its long-standing educational and outreach programs, which continuously brings new audiences and builds a generational connection with the arts.  
For SB13, and as part of this edition's commitment to looking into infrastructure and already existing networks, we launched SB13 School in Sharjah, a project that aims to support local cultural infrastructures in the middle, central, and eastern regions of the Emirate of Sharjah, and empowering their various communities.
During the exhibition, we went to great lengths to make films, publications, and performances available at least in Arabic and English, and occasionally in Urdu, one of the most spoken languages in the U.A.E. All films and video works were subtitled, and multilingual handouts for audio works make it accessible to more people.
The four off-site projects developed their own methods for addressing a general public in their cities. For instance, Kader Attia's event, Vive l'Indépendance de l'Eau (Long Live the Independence of Water), took the form of a symposium organized in the public Université Cheikh Anta Diop in Dakar, Senegal. This was a deliberate strategy to open up the conversation to a larger number of participants, and to include university students and the local academic society in Dakar. The same goes for Beirut, where ACT II of the SB13 will be organized between 15 and 21 October 2017, with a large public and free program of performances, film screenings, and talks, as well as two exhibitions curated by Reem Fadda and Hicham Khalidi.
Sharjah Biennial 13 concludes on June 12. Related off-site projects in Istanbul, Ramallah, and Beirut open on May 13, August 10, and October 15 respectively. For more information, visit http://sharjahart.org/biennial-13  
Photo credit: Sharjah Art Foundation
---
The Middle East Institute (MEI) is an independent, non-partisan, non-for-profit, educational organization. It does not engage in advocacy and its scholars' opinions are their own. MEI welcomes financial donations, but retains sole editorial control over its work and its publications reflect only the authors' views. For a listing of MEI donors, please click here.