In this week's Monday Briefing, MEI experts Charles Lister, Bilal Y. Saab, Marvin G. Weinbaum, and Gonul Tol provide analysis on recent and upcoming events including the unrelenting violence in Syria, President Trump's "Buy American" plan, the Taliban's anti-U.S. propaganda, and Erdogan's meeting with the Vatican.
Escalating violence in Syria
Charles Lister, Senior Fellow
Opposition-controlled areas of Syria were hit by two chemical attacks over the weekend, as Syrian and Russian aircraft dramatically escalated a bombing campaign in Damascus and Idlib. Victims of both chemical attacks displayed symptoms linked to chlorine exposure, with the attack on the Damascus suburb of Irbin delivered by a ground-to-ground rocket, and an attack on the Idlib town of Saraqeb coming as part of a barrel bombing. At least 145 additional airstrikes hit populated areas of Idlib province on Sunday alone, with multiple hospitals destroyed and a neonatal unit damaged and evacuated.
The dramatic escalation in Idlib came a day after a Russian Sukhoi-25 fighter jet was shot down by opposition fighters armed with a man-portable air-defense system (MANPADS). Two groups claimed involvement in the incident—the Free Syrian Army unit Jaish al-Nasr and the jihadist group Hayat Tahrir al-Sham. The jet pilot, who parachuted to the ground, fought off opposition fighters before blowing himself up with a hand grenade. Russia has requested Turkish assistance in retrieving his corpse.
This was the first Russian jet downed in Syria since late-2015 and the use of MANPADS raised intense concern in Moscow, where officials accused the U.S. and "Western countries" of providing antiaircraft missiles to "terrorists" in Idlib. However, MANPADS have been present in opposition hands since 2012. Most are of Soviet and Russian origin and were seized from regime stockpiles, while several small batches of often unreliable Chinese-made FN-6 systems were sent to groups in 2013 and 2016.
Russia's de-escalation zones are now crumbling, as all major actors inside and outside Syria now seek to define the terms of the "post-ISIS" reality. Without major international effort, further regime chemical attacks, indiscriminate bombing, and the targeted destruction of civil facilities is likely to continue unabated.

Buy American, but fix the system too
Bilal Y. Saab, Director of the Defense and Security Program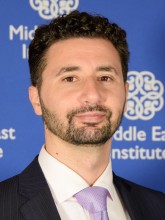 The Trump administration is expected to soon release a new plan—called "Buy American"—to shore up U.S. arms sales to global friends and allies.
It's pretty straightforward: Trump wants to sell more American weapons as a means to boost the U.S. economy and create more jobs. He sees how U.S. allies, especially the French and the British, often cleverly deploy their heads of state and top officials to negotiate arms deals worth billions of dollars, primarily with Arab Gulf countries. I suspect that Trump loves that approach, and is not only eager to copy it but also repurpose the entire U.S. security assistance system to do one thing better than anything else: convince U.S. partners to buy more American weapons.
I have no problem with Trump's inclination to further promote the U.S. defense industry and interest in reducing unemployment. I also have no problem with him asking Secretary of Defense Jim Mattis and Secretary of State Rex Tillerson to take more active roles in securing foreign arms deals (U.S. secretaries of state and defense do that anyway).
But here's where I have a big problem: it might work in inking more mega arms transfers but it will do nothing to fix the endemic problems of U.S. security assistance, at the top of which is the lack of integration of this gargantuan enterprise into the foreign policy process. Let's not confuse a better sales pitch, which Trump is trying to put in place, with a serious and much-needed attempt at reforming U.S. security assistance, which Trump doesn't seem to be pursuing here.

President's "no talking" remark suits Taliban playbook
Marvin G. Weinbaum, Director for Afghanistan and Pakistan Studies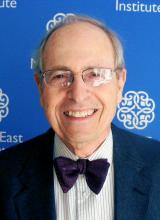 Early last week, President Donald Trump, remarking that the Taliban are "killing people left and right," declared, "We don't want to talk to the Taliban. We're going to finish what we have to finish." He was reacting to an attack two days earlier in which the Taliban detonated an ambulance packed with explosives in one of the busiest parts of Kabul, leaving more than 100 people dead and over 250 wounded.
In fact, the Taliban have shown little serious interest in peace negotiations, and an intensified air campaign against its forces in Afghanistan indicates that the U.S. already discounts the possibility of reaching a political settlement any time soon. Still, the President's forceful rejection of talks was unwise. Keeping the doors always open for negotiations has been an article of faith for what has been the belief in Kabul and Washington that the Afghan conflict can only end with a diplomatic solution. Until now, the Taliban and their assumed Pakistani enablers have been portrayed as the obstacles to starting a peace process.
The President's seemingly offhand remarks to White House reporters has played directly into the Taliban's anti-U.S. propaganda and allowed it an opportunity to throw the onus for prolonging the war on the United States. Its spokesman was quick to cite Trump's rejection as proof of U.S. insincerity and its plans to keep troops in Afghanistan permanently. This "occupation by foreigners" claim is regularly used by the Taliban to justify continuing the insurgency.

Erdogan's Vatican visit to touch on Trump's Jerusalem decision
Gonul Tol, Director for Turkish Studies
President Erdogan is on an official visit to the Vatican. He is the first Turkish president to visit the Vatican since 1959. According to Turkish media, on the agenda were the Syrian conflict, President Trump's Jerusalem decision, and rising Islamophobia.
The two had clashed previously when the pope described the mass killings of Armenians by Ottoman forces during World War I as "genocide." Turkey responded by accusing the pope of upholding a "mentality of the crusades."
But they seem to have found common ground on the status of Jerusalem after Trump announced his decision to recognize the city as the capital of Israel. Since then, Erdogan has been at the forefront of international efforts to condemn the decision. At the emergency meeting of the Organization of Islamic Cooperation convened after Trump's decision, Erdogan promised to legally challenge the decision and threatened to cut ties with Israel.
Trump's decision came at a time when anti-American sentiment in Turkey is very strong and Turkey has found itself isolated in the region. By leading international efforts to condemn Trump's Jerusalem decision, Erdogan is trying to boost his popularity at home and in the region.
The Turkish public has always been sensitive to the Palestinian question and an overwhelming majority of the Turkish public support Erdogan's efforts to challenge Trump's decision. But Erdogan's efforts are unlikely to win Turkey many friends in the region, where Ankara's policies are viewed by suspicion.
---
The Middle East Institute (MEI) is an independent, non-partisan, non-for-profit, educational organization. It does not engage in advocacy and its scholars' opinions are their own. MEI welcomes financial donations, but retains sole editorial control over its work and its publications reflect only the authors' views. For a listing of MEI donors, please click here.