Summary
Although the Syrian Democratic Forces (SDF) number over 60,000 and control nearly one-third of the territory of Syria, they face a number of challenges that threaten to destabilize their fragile control. Perhaps the most immediate is what to do with the influx of ISIS members and their families that have poured out of the Middle Euphrates River Valley, particularly since February 2019. The SDF is now holding thousands of Iraqi and Syrian fighters, as well as over a thousand foreign ones. The ultimate disposition of these fighters is a grave challenge. One has only to look at Iraq to see how prison breaks and an incapacity to deal with terrorist detainees can cause an insurgency to spread like wildfire. This paper lays out the problem and explores possible options for what to do, from repatriating the foreign fighters to their country of origin and housing them in Guantanamo Bay to trying them at the International Criminal Court in The Hague and turning them over to the Iraqi government. 
Key points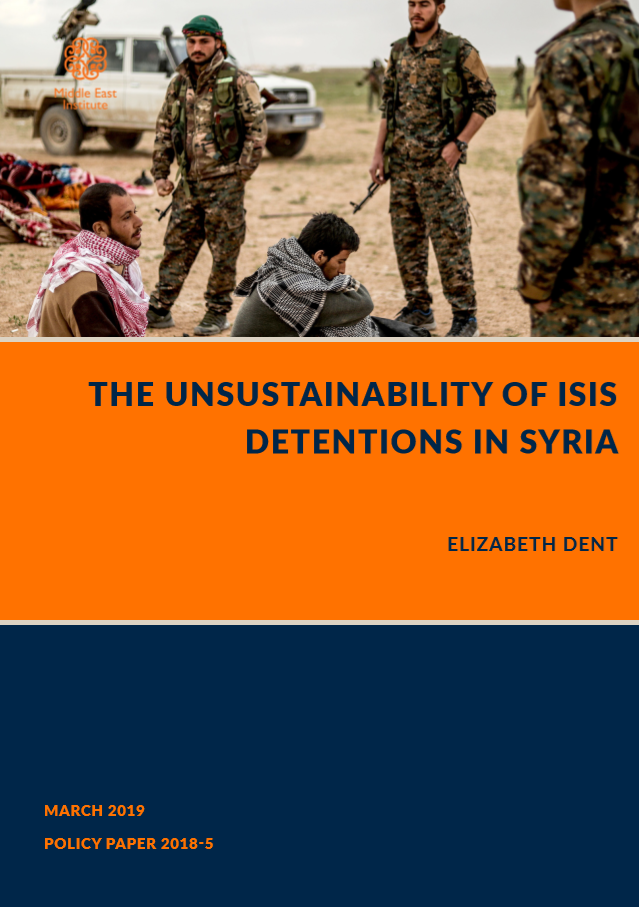 The seeds of ISIS 2.0 reside in the prison population being held in detention by coalition partners in areas liberated from ISIS.

This is particularly a threat in Syria, where the Syrian Democratic Forces (SDF) lack the resources, capacity, and support to detain ISIS fighters and their families indefinitely.

Without a commitment from coalition partners for resources and manpower to maintain these detention centers, the SDF may become vulnerable to insurgency tactics such as prison breaks, which helped give rise to the organization in 2012.

This problem is exacerbated by inconsistent and erratic decisions coming out of the White House, complicating matters on the ground and confounding diplomats, commanders, and coalition partners.

An inability to address this issue will jeopardize the gains made in the fight against ISIS, threaten the minimal stability the coalition and its partners have been able to reestablish in liberated areas, and pose a risk to a resurgence of attacks in Iraq and Syria, and potentially even the U.S. and its allies.
BULENT KILIC/AFP/Getty Images
---
The Middle East Institute (MEI) is an independent, non-partisan, non-for-profit, educational organization. It does not engage in advocacy and its scholars' opinions are their own. MEI welcomes financial donations, but retains sole editorial control over its work and its publications reflect only the authors' views. For a listing of MEI donors, please click here.