Wearing a dark, oversized, hooded sweatshirt, a tall man paced in front of a seemingly closed shop, glancing furtively up and down the street in Beirut's southern suburbs of Dahiyeh. As I walked past, I peered through the shop's slightly cracked outer metal door — athletic clothes were for sale. It was open for business.
Despite the government's March 15 announcement of a medical state of emergency to combat COVID-19 and orders to close all non-essential public and private institutions except those meeting vital needs such as pharmacies and supermarkets, numerous shops, especially in Lebanon's poorer, urban neighborhoods, remain open.
On March 21 the government tasked security forces with ensuring residents observe stay at home measures and on March 26 a nighttime curfew was imposed. On April 5 the Ministry of Interior issued measures further restricting personal travel.
But Lebanon's urban poor can't afford to oblige. "If we stay inside, we die from hunger. If we go out to work, we might get corona but at least we will have money to eat," one Dahiyeh resident said. Indeed, numerous trips to Dahiyeh throughout March and April revealed that reality — those who still had work crowded the streets, eager to earn money whenever possible. Some socialized in plastic chairs on the side of the road, even smoking shisha in groups. Some of Lebanon's other urban, poor neighborhoods, such as the area around the vegetable market in Tripoli, weren't much different.
In a country already beset by economic and financial crises, COVID-19-related lockdown measures, without accompanying government assistance, are increasingly pushing impoverished residents to the brink. Lockdown measures will gradually start to lift this week. But the lockdown only accelerated the inevitable economic freefall and lifting the measures will not solve the country's economic woes. Even if they are successfully lifted without triggering a corresponding uptick in infections, poverty is increasing but social protections are not. Before the outbreak, the World Bank predicted that 40 percent of Lebanese will be in poverty by the end of the year, a projection now considered outdated by Lebanon's economy minister. The International Monetary Fund (IMF) predicts that Lebanon's economy will shrink by 12 percent this year. The price of some food staples has more than doubled. Food security experts expect that, due to the multiple ongoing crises, prices will not return to previous levels anytime soon.
"There is a predicament coming that is much bigger than corona … the economy is the bigger crisis," a political activist in Dahiyeh says. Finger pointing among the country's political and financial elite has reached new levels. But the crisis is too big to be patched up by finite patronage networks, even for Hezbollah, the country's best resourced party. But the confessional political system's tentacles permeate most aspects of life and its disentanglement is tricky. Many warn of civil unrest. Protests have already begun.
Interconnected crises come to a head
Ten years of slowed economic growth and declines in Lebanese diaspora remittances have limited the quantity of U.S. dollars in circulation, on which the economy has long been dependent. Factors such as regional conflicts, overreliance on imports, real estate speculation, Ponzi schemes, declines in tourism, increased withdrawals from dollar accounts, and lack of confidence in the Lebanese banking sector came to a head in 2019. The subsequent U.S. dollar shortage has all but ended a two-decade-old peg between the dollar and Lebanese pound, with the pound sinking to less than half of its official rate. Last month saw Lebanon's first sovereign debt default ever. Informal capital controls persist. Lebanon is therefore battling interconnected monetary, economic, and fiscal crises, rendering many jobless and hindering the import of vital goods, including medical supplies. International financial support without reforms, long avoided by the political elite, is unlikely, although few economists foresee a way forward without such external assistance. The COVID-19 crisis is now further crushing the economy. Prospects for additional aid are complicated by the fact that the international community is similarly reeling from a health pandemic. For many Lebanese, the future is bleak.
Limited social protections
Since the creation of the modern Lebanese state in the 1940s, state welfare provisions have remained limited and fragmented. Registered employees access health insurance and end-of-service benefits through the National Social Security Fund (NSSF) or through their jobs as government civil or military employees. Lebanon lacks reliable and consistent data but it is estimated that more than 40 percent of the labor force work in the informal sector and do not benefit from any social protections. Few formal programs support the poor. The National Poverty Targeting Program (NPTP) set up in 2012 was widely criticized as inadequate and not reaching those most in need. Lebanese economist Jad Chaaban estimates that "only 10 percent [of those] who registered ended up receiving assistance due to limited budgets."
Others turn to local NGOs for social protections. "Social protections are often accessed through local NGOs, which in turn are funded by the state. The Ministry of Social Affairs (MoSA) has been outsourcing social services to around 250 civil society organizations (CSOs) that are in charge of delivery for around 40,000 beneficiaries. These NGOs are often sectarian or faith-based organizations. In other words, the MoSA funnels around 60 to 70 percent of its annual budget — public funds — to CSOs that tend to have sectarian denominations, which strengthens and deepens traditional sectarian relations. People don't realize it is usually the government funding these NGOS and instead perceive it to be coming from their sect's party or political leader," says Lea Bou Khater, a lecturer of development studies at the Lebanese American University.
But massive public debt, budget cuts, and insolvent political parties have reduced capacities and funding. Independent civil society and alternative political groups are also delivering aid but capacities are hamstrung by the economic freefall.
Personal networks act as a lifeline for those struggling economically to stay afloat. But now even U.S. dollars sent from abroad via money transfer services must be paid out in Lebanese pounds. Some economists even warn of the extinction of the middle class.
"If nothing is done, you will reach high levels of poverty very quickly. There has been a huge decrease in disposable income and whatever savings may be left. People have permanently lost jobs or have been pushed into jobs at much lower pay. This has huge implications for the labor market," cautioned Jad Chaaban.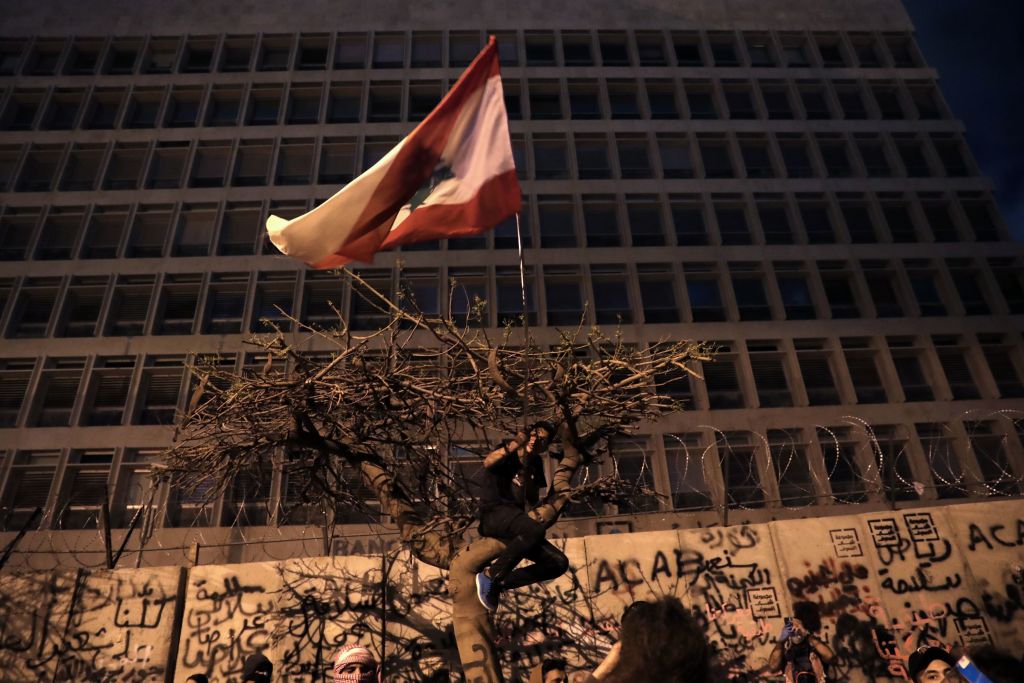 Service industry on life support
The service and sales industry is the largest employment sector in Lebanon. The vast majority of businesses are small to medium-sized enterprises, 90 percent of which hire less than five employees says Lea Bou Khater. Many informal workers also work in this sector.
The restaurant industry has been particularly hard hit. Between September and December 2019, 800 restaurants closed in Beirut alone, causing 25,000 people to lose their jobs. The majority of restaurants have subsequently closed. Maya Bekhazi Noun, general secretary of the Syndicate of Owners of Restaurants, Nightclubs, Cafes, and Patisseries, says that while 25,000 lost their job between September and December, this really affected about 100,000 people who depended upon those wages for survival. "A series of events have rendered the whole industry on life support. Currently the industry employs 125,000 people in Beirut. Everyone's job is at risk," Maya said.
Lockdown restrictions have now closed all restaurants. Delivery is allowed but must stop in time for the nightly curfew. The syndicate is calling for the extension of delivery hours and pressuring the Ministry of Tourism to lobby the government for life support for this flailing industry. No support has yet been received. Many restaurants that closed during lockdown may not reopen as restrictions ease in the coming months says Maya.
Former restaurant workers and delivery drivers living in Beirut's southern suburbs of Dahiyeh say they spend their days cramped into tiny apartments or congregating on the streets, waiting for the bad to get worse. One delivery driver's pay was periodically cut for several months until he was laid off last month when the restaurant went out of business. "We don't have any money saved because we never made enough to save. My house feels like a prison. … Lots of my friends talk about taking to the streets to protest, demanding that the government lift restrictions or give them help. They aren't afraid to be arrested. Prison might actually be better because you get free food," he said.
Another former, now unemployed delivery driver living in Bourj al-Burajneh camp in Dahiyeh said, "I really don't know how some of my neighbors are surviving this situation. The government is more harmful than corona." He said at night many shops remain open and people roam the streets in his neighborhood in defiance of the curfew, hoping to make whatever money they can.
Even those who still have jobs are struggling. Floundering businesses are paying reduced salaries and skyrocketing prices of basic goods and services have made navigating lockdown restrictions difficult. Public buses are running on a limited schedule and taxi prices are not within many service workers' budget. One Beirut hotel employee says he used to commute daily to work from his village in South Lebanon but can no longer afford to after buses stopped. "I made a deal with my employer to sleep in the hotel basement. Every ten days or so I split the cost of a taxi with others from my village to visit my family. I can't afford to go home more than that," he said.
Pushed to the brink — protests and hunger
Longstanding grievances exacerbated by the COVID-lockdown have already pushed some to the streets in protest. On April 21 protesters returned to the streets in Beirut and several other cities throughout the country, demanding reforms as Parliament met for one of its first legislative sessions in months. But since the beginning of the lockdown, it has been poorer areas, such as neighborhoods in Tripoli, that have witnessed more frequent, albeit irregular protests. As conditions quickly worsen, other areas have joined.
Lebanon's northern city of Tripoli has been a hotspot for protests since country-wide protests broke out in October 2019. Recently crowds of protesters have once again taken to the streets.
Northern Lebanon is one of the country's most deprived regions and suffered from some of the worst unemployment rates even before the economic crisis and pandemic. In Tripoli, political-sectarian clashes and security incidents between Tripoli's majority Sunni Bab al-Tabbeneh and Alawite Jabal Mohsen neighborhoods reignited in 2008 and ramped up during the war in neighboring Syria. In recent years the security situation has calmed but politically divided Tripoli has seen little socio-economic investment despite tremendous needs. Activists from both communities separately warned that the current levels of unemployment and lack of assistance are not sustainable.
When asked who is organizing protests in his neighborhood, an activist from Jabal Mohsen replied "hunger."
One activist from Bab al-Tabbaneh said, "The current economic situation in Tripoli will be more dangerous than previous security situations." People are unable to afford rent, buy diapers, or sometimes even food. Some landlords have allowed their tenants to stay without pay, others have been forced out and crowded into already overly cramped apartments housing members of their extended families. Even notoriously generous Arab hospitality can only go so far. "What happens when all your neighbors can't afford food? Who invites you to lunch then?" an activist from Jabal Mohsen asked.
While Tripoli and Northern Lebanon are particularly impoverished, all regions in Lebanon are witnessing rising unemployment and increasing inability to afford basic necessities.
A 50-year-old Lebanese man living in a village in the Bekaa working as a cleaner at the local primary school says he was let go after the schools were closed. He has not received any assistance despite promises from the school administration otherwise and does not have access to any state social protections. Even before, his pay only barely covered the essentials. He said he may be left with no option but to beg for food. "If no one helps me, what should I do for money? Steal? Kill?" He says the municipality distributed some food assistance earlier in the month but that aid was given to local party supporters only and he didn't receive any despite his dire circumstances. Unfortunately such cases are not uncommon.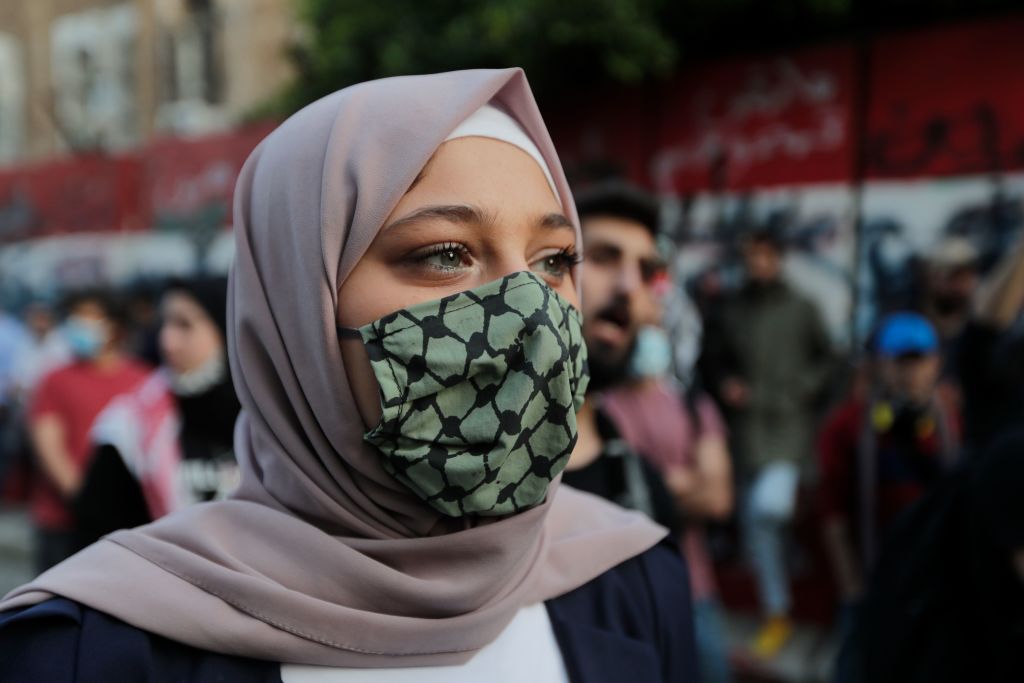 Political parties mobilize to reinvigorate clientelist networks
Like all crises, the COVID-19 public health crisis is not immune from political maneuvering. Eroding public trust in political elites came to a head in October 2019 when protests erupted across the country demanding a change to the power-sharing system set up after the end of the civil war in 1990. Elites' corrupt mismanagement of political and economic affairs, abysmal service provisions, and limited social protections united Lebanese as never before.
In attempts to reverse their losses, they are trying to capitalize on the crisis. Political parties are projecting public shows of power and largesse by stamping aid distribution with their party logo, disinfecting neighborhoods,[1] erecting roadblocks, and taking temperatures of drivers entering their village. Elites congratulate themselves for successfully mobilizing to contain the pandemic while wealthier nations ration ventilators.
Municipalities and other government agencies are staffed by political party members who answer to their leaders and strive to maintain patronage networks. So even when aid is not ostensibly party-funded, many use their positions to offer aid to those close to them and deny it to those who are not. While some local officials reportedly have done well managing the crisis so far, such actions are often contingent upon local officials' intentions and capacities, not due to transparent, standardized policies. This deferment of crisis management to local actors is similar to prior ad hoc municipal measures taken to "manage" the Syrian refugee crisis, whereby some municipalities imposed restrictive curfews and other discriminatory measures against Syrians in response to a huge refugee influx in previous years.
In the short term, people are desperate and most are in no position to refuse assistance, even if aid is more limited, and frustration with parties higher than before.
However, high-visibility political theatrics aren't the solution. In the longer term, public spectacles by cash-strapped political parties are no match for longstanding crises. Real reforms to resolve the crisis would undermine the very systems that keep them in power.
It has not gone unnoticed by activists and the public more generally that security forces took advantage of the lockdown to dismantle emptied protest camp structures in Beirut and Tripoli. The elite may be failing but they know their system won't be easily dismantled until well-resourced actors with sustained organizational capacity come to the fore.[2] This is no easy feat in a country where criminal defamation laws are used to silence critics, including protesters and activists calling for change.
Hezbollah moves to the forefront of the COVID-19 response
Hezbollah is at the forefront of parties projecting steadfast resilience, mobilization, and power during the crisis. Like other major parties, it seeks to clear its image and reverse reputational damage inflicted during the protests and its complicity in Lebanon's economic freefall.
Lebanon has avoided soaring infection rates witnessed in other countries but its hospitals suffer from chronic neglect. Dollar shortages exacerbate equipment and personnel capacities. "Gaps in supplies are covered by donations. At any given point, according to Dr. Firas Abiad, the head of Rafik Hariri University Hospital, based on current infection and hospitalization levels, supplies at the hospital will last only one week," Human Rights Watch Lebanon Researcher Aya Majzoub says. Like elsewhere, low levels of testing likely obscure real numbers of infections.
As such, Hezbollah and its government allies are positioning themselves as health warriors successfully combating corona. Hezbollah's Islamic Health Units showed off its convoy of ambulances during a press tour in Dahiyeh at the end of March after Executive Council head Sayyed Hashem Safieddine announced the mobilization of nearly 25,000 volunteers to treat patients, prepare medical centers, and other measures to "complement" the government's COVID-19 response. A similar show of "medical strength" was on display in the southern city of Sour this month.
A Hezbollah member from South Lebanon interviewed for this article denied its work has any political motivations and said that its Islamic Health Units have provided health services for years and have extensive capacities. "No one asked us to do this. We are providing a humanitarian service only. Our efforts are in support of the Lebanese people. This is only the first step," he said.
During a April 7 speech Hezbollah Secretary-General Hassan Nasrallah compared preparations for the fight against corona to efforts in the fight against Israel in the 2006 war. Nasrallah congratulated Hezbollah-backed Health Minister Hamad Hassan for his success in combatting the virus. Videos of anthems supporting the health minister circulate on social media. The party appears, at least for now, to have pinned its hopes on the health minister as an example of the success of the Hezbollah-approved government. But this is always a difficult public relations act. Such moves highlight how the party alternates between taking credit for perceived government successes and distancing itself as an alternative and reliable form of support when government policy failures elicit negative public backlash.
One Hezbollah supporter from Hermel in the Bekaa said, "Hezbollah is the strongest party in Lebanon and has a full team to combat the virus and help the needy. They are helping everyone, not just supporters. Now is the time for everyone to put aside their differences and fight the virus together." Twitter supporters circulated pictures of Islamic Health Units disinfecting Lebanese churches, highlighting alleged cross-sectarian unity and support.
Indeed others interviewed repeated the same refrain — now was a time for unity, not criticism (except of course when civil unrest requires the naming of a scapegoat to save face). One pro-reform activist from Nabatiyeh expressed frustration that criticism of Hezbollah's politics, somewhat tolerated during protests, now was quickly shut down and called out by other members of her community.
Hezbollah has been preparing for moments like these for a long time — an opportunity to project the image that despite the circumstances, Hezbollah is well resourced and capable of confronting whatever comes its way. Even one activist from the Bekaa who is critical of Hezbollah said its budget may rival that of the Lebanese state. For example, for months propaganda videos shared on WhatsApp depict men counting stacks of U.S. dollars, a rare commodity in Lebanon these days. One Dahiyeh resident said, "Such videos are a show of force for Hezbollah. Even if the Lebanese state is falling apart, Hezbollah remains intact, powerful, and well-funded. If you can't depend on the state, you can depend on Hezbollah."
Despite its posturing, it is unclear how many people are really benefiting from Hezbollah's aid. In the past, most aid has been limited to members and supporters.
Hezbollah's show of strength and self-described immense capabilities contrast sharply with the U.S.'s soaring death rates, political bickering, and eerie images of New York City's mobilization of refrigerated truck trailers to store bodies as morgues become overwhelmed with the number of dead from the coronavirus. All Hezbollah members and supporters interviewed for this article were quick to contrast Hezbollah's alleged success with the failure of the U.S. and Western nations in dealing with this crisis.
Indeed, Hezbollah's Manar TV April 9 evening news program eagerly covered a CNN story detailing some Americans refusing U.S. government assistance to repatriate to the U.S., saying it was safer in Lebanon. The story has subsequently been referenced multiple times during news programs and is a frequent talking point of Hezbollah supporters.
Hezbollah's projection of strength also aims to solidify its image of capability among international and regional audiences — both as a dependable partner within the Lebanese government seeking international aid and as a broker subduing regional tensions.
In neighboring Iraq, politicians struggle to confirm new government leadership and fractures among the predominantly Shi'a Popular Mobilization Forces (PMF) appear to grow. In contrast, Nasrallah congratulates Hezbollah and its allies for their successes in fighting the coronavirus and offers advice to Iraqi allies on expelling U.S. forces from the country. In February Reuters reported that Hezbollah helped lead efforts to unite Iraqi PMF leaders following the killing of Iranian Major General Qassem Soleimani and Iraqi PMF de facto commander Abu Mahdi al-Muhandis in a U.S. strike. In April AFP profiled Hezbollah's Iraq liaison Muhammad Kawtharani's allegedly rising profile as political coordinator following the assassinations.
Hezbollah has deep pockets and extensive international connections. But, like all other Lebanese political parties, the extent to which they weather this unprecedented crisis intact will depend in part upon governance. Increasingly the Lebanese people's basic needs are not met and there are fears that social unrest could spiral out of control. So far, neither Hezbollah nor other political parties seem willing to make enough sacrifices to institute needed reforms.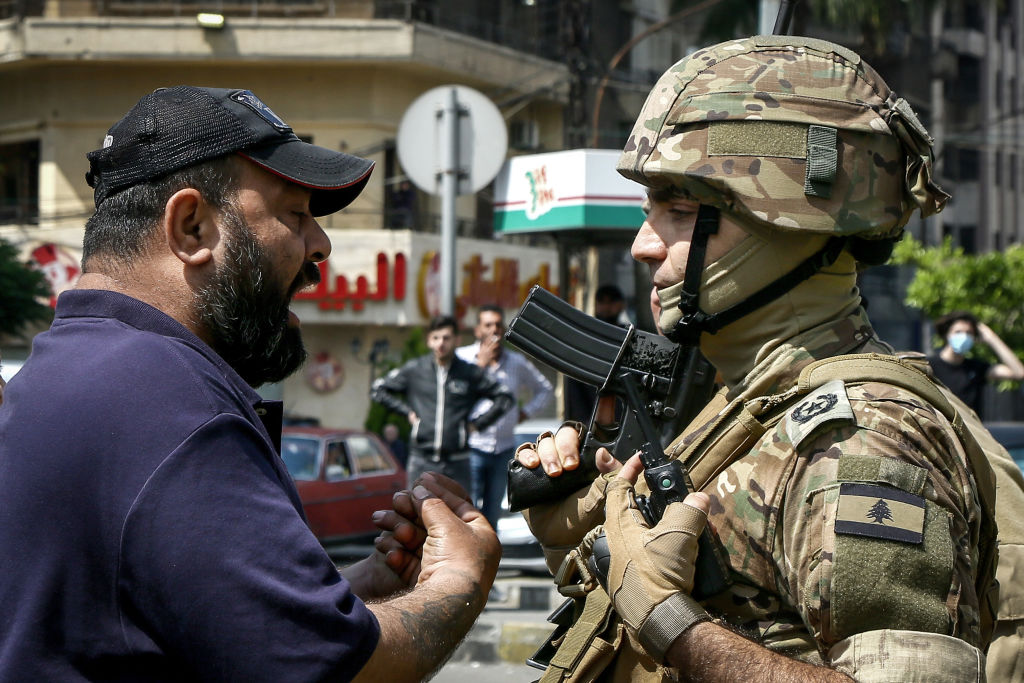 Political finger pointing, renewed protests
A fierce war of words erupted last week as elites exchanged accusations of blame and attempted to regain political ground. On April 24 Hezbollah-supported Prime Minister Hassan Diab blamed Central Bank Governor Riad Salameh for the rapid deterioration of the Lebanese pound and announced the auditing of the central bank as part of his commitment to transparency. In past speeches, Nasrallah similarly blamed the banks for the crisis.
In response, political opponents such as Progressive Socialist Party leader Walid Jumblatt denounced Hezbollah and its Free Patriotic Movement (FPM) political allies for allegedly trying to derail reform and eliminating their political opponents.
Neither political bloc seems willing to compromise or take responsibility for their share of the blame. In reality, many banking and political elites are interconnected. Central bank audits would spare few. Since the 1990s, the banking sector has been dominated by Christian and Sunni elites, with the support of Druze leader Jumblatt and Amal Party leader Nabih Berri. Hezbollah and FPM are relative latecomers to the political elite as they entered government post-2005. "Central Bank Governor Riad al-Salameh is part of Hariri's neoliberal legacy within the sectarian elite. Amal has been less critical recently and may not be ready to push out Salameh because they are also part of Hariri's political and economic legacy. They have profited a lot from these neoliberal economic policies, in which the banking system played a central role. That said, Hezbollah needs to maintain its coalition with Amal so while it may prefer a central bank governor who is more closely in line with its interests, Hezbollah is not seeking to upend a system from which it also benefits," says academic Joseph Daher.    
On April 28 Hezbollah Deputy Leader Naim Qassem appeared to walk back some of its harsher criticism to say "the governor of the central bank bares the responsibility, but not on his own." Nasrallah is scheduled to give a speech on May 1 to address recent developments.
On April 29 Salameh gave a speech dismissing accusations that he is responsible for the depreciation of the pound against the dollar.
On April 30 Prime Minister Diab announced that the government will seek IMF aid following the cabinet's approval of the economic rescue plan. Diab reportedly said that the government will ask for more than $10 billion from the IMF and seek to unlock $11 billion pledged at the Cedre conference in 2018. The plan has not been released to the public, but its final form is rumored to resemble a leaked draft circulating on social media minus the "haircut" — a percentage reduction in depositors or creditors' holdings. While politicians continue to bicker, many increasingly feel they are left with no option to effect change except through the street. In defiance of lockdown measures, sometimes violent protests sparked by increasing hunger and poverty reignited in several areas throughout the country. Starting last weekend, some protesters have targeted banks and central bank offices with Molotov cocktails. At one protest in Jal al-Dib on April 26, in response to one protester yelling he's hungry, a security officer yelled in response, "I'm hungrier than you."  
Since Monday evening, violent protests over hunger and poverty erupted in Tripoli, the heart of the protest movement, where protesters took to the street en masse. According to Human Rights Watch, on April 27, the Lebanese Armed Forces (LAF) used unjustifiable, excessive force, killing one protester and injuring scores more.
Polarizing populist rhetoric, government inaction and lack of political will for reform, and an increasingly unemployed and hungry population makes for a combustible combination.  
Government aid inadequate, reform and international support urgently needed
Government aid to help needy Lebanese has been woefully inadequate. On April 1 the government announced 400,000 LBP in cash aid to needy Lebanese but distributions were subsequently put on hold due to "mistakes" on the printed lists of families to receive the aid. In the meantime, the value of the Lebanese pound plummeted nearly 30 percent.
"By the time the 400,000 LBP had reached some families, its value had significantly decreased. This one-type payment is woefully insufficient, and the number of families who need aid to survive during the lockdown is much higher than the 200,000 set to receive the aid," Human Rights Watch Lebanon Researcher Aya Majzoub says.
This week, lockdown restrictions gradually started to lift. But incremental opening of the economy may only nominally relieve Lebanese economic and financial pains. Vulnerable families' circumstances will only worsen unless efforts to reach them greatly intensify immediately. The middle class are losing their jobs, closing businesses, and increasingly being pushed into poverty. Many fear further social unrest.
Lebanon has entered one of its most dangerous phases to date. On top of all the other crises, the state is suffering from a crisis of trust. Pessimism abounds. Some remain hopeful that this new phase could be a stimulus for change but past precedents suggest otherwise.
While naturally many Lebanese economic, financial, and political experts differ on the exact details of an ideal reform plan, during my interviews most agreed that a comprehensive approach of economic and fiscal policy corrections are needed to reform the system and jumpstart the economy. Many said that the Lebanese government should manage expectations and be transparent. People shouldn't be given false hope. Most of the money is gone. If Lebanese people are expected to make painful sacrifices during this process, they are owed an explanation of what happened, why, and what steps are necessary for the country to move forward. Otherwise, people will not accept it. While initiatives to recover funds are important, the reality is that this may take years, if it ever happens at all. More immediate action is also required and a singular focus on bank deposits obfuscates the depth of the crisis.
"The IMF is the only institution capable of providing the fast cash disbursements at the scale and speed that Lebanon needs," says Director of the Carnegie Middle East Center Maha Yahya. "Lebanon is not the only country to have gone through this kind of crisis, though it is among a rare 2 percent to have a triple crisis of banking, fiscal, and exchange rate. Policy options are out there. What is lacking is the political will to undertake the necessary reforms that would unlock external support and put Lebanon on a more sustainable path," Maha adds.
Foreign donors can help Lebanon through this difficult period by expanding the humanitarian donor response to ensure vulnerable populations do not go hungry and have access to basic social protections. Technical advice on expanding national social protection programs should be provided. Foreign donors should also support medium to long-term development projects to help kickstart the economy.
Lebanon's Western backers often subsidize the broken systems they aim to "fix." Beyond humanitarian support, further assistance should come on condition that reforms are actually being implemented. "What is important is the nature of conditionalities. They can help perpetuate the current political system or add pressure on it," says Sibylle Rizk, director of public policies at Kulluna Irada, a civic organization for political reform.
Haley Bobseine is a Middle East-based researcher and analyst. The views expressed in this article are her own. 
Photo by PATRICK BAZ/AFP via Getty Images
---
Endnotes 
[1] The World Health Organization (WHO) says this practice is of limited value in preventing the spread of the virus and the Lebanese Syndicate of Doctors considers the practice without benefit and has asked municipalities to stop doing it.
 
[2] Wins, such as election of independent candidate Melhem Khalaf to head the Beirut Bar Association, were celebrated by independents and reformists alike but activists say reforming a system that's ruled for nearly three decades will undoubtedly take time.  
---
The Middle East Institute (MEI) is an independent, non-partisan, non-for-profit, educational organization. It does not engage in advocacy and its scholars' opinions are their own. MEI welcomes financial donations, but retains sole editorial control over its work and its publications reflect only the authors' views. For a listing of MEI donors, please click here.