Only two days after an extremist attack that saw 14 missiles rain down on Erbil, and in the midst of a new coronavirus surge and lockdown, the Chaldean Catholic Archbishop of Mosul, Najeeb Michaeel, was optimistic about the upcoming visit of Pope Francis.
"Everyone is very happy about this historic event," he said of Iraq's inaugural papal visit, from his home in Ankawa, Erbil's Christian enclave, which has given refuge to thousands of those displaced by ISIS. A previously planned visit in 2000 by Pope John Paul II to Ur, birthplace of the Prophet Abraham, the Judeo-Christian-Islamic patriarch who has become a symbol of inter-faith harmony, was foiled by protracted negotiations with the government of Saddam Hussein. In 2020, Pope Francis had to cancel a trip due to security and pandemic concerns.
Speaking on the first day of Lent, the Jesuit-trained archivist who saved hundreds of ancient Christian, Muslim, and Yezidi manuscripts from Daesh in 2014 — once stored in the basement of Our Lady of the Hour church in Mosul — said in French, "The visit of his Holiness will be an opportune occasion to celebrate the brotherhood of man. Sunni, Shi'a, Yezidi, all express their joy at the visit of the Pope, whose mission is to unite all faiths."
The Archbishop, who was born in Mosul in 1955 and trained as an engineer before becoming a Dominican priest in France in 1980, also said that it would be a time to celebrate the 2,000-year presence of Iraqi Christians in the region, whose history in the country dates to Nestorian times.
 
Sadly, war and regime change have taken their toll on this historic population, whose numbers have dwindled from 1.5 million in 2003 to a mere 300,000 today. But villagers displaced by Daesh's reign of terror have slowly been returning to their homes in the Nineveh Plain. Other Iraqis have also flocked to Erbil, where freedom of religion is enshrined in the Kurdish Regional Government's constitution. Christianity flourished in Erbil from the 2nd through 7th centuries until Islamicization diminished the community considerably. Ironically, the post-2003 rise in extremism resulted in a kind of renaissance, with new churches, schools, and congregations emerging from the ashes of war. At the end of the 19th century, there were a few hundred Christian families in Erbil; post-2014, their numbers swelled to over 200,000.
In this land steeped in biblical history, where St. Thomas sojourned in the 1st century CE before travelling to the Malabar Coast in India, the Pope will visit Christian communities in several places during March 5-8th. After his official welcome in Baghdad, he will visit the Syro-Catholic Cathedral of Our Lady of Salvation, where 48 people were martyred during Mass on Oct. 31, 2010. On the 6th, the Pope will fly to Najaf (home of a major Shi'a hawza [seminary]) in the South for a meeting with Ayatollah Al-Sistani, followed by an inter-faith gathering in Ur.
There is even greater anticipation for his subsequent visit to Northern Iraq, where the majority of the nation's Christians have sought refuge. In Erbil, a huge interfaith Mass is planned (rather incredibly, in the midst of rising coronavirus cases). In Mosul, where the fingerbones of St. Thomas were saved by the Orthodox Archbishop Nicodemus Daoud Sharaf in August 2014 and taken for safekeeping to the nearby Mar Mattai monastery — one of the oldest in the Middle East — his Holiness will recite a prayer for the victims of war at Hosh al-Bieaa (Church Square) in the old city. Although still largely in ruins, some of the churches destroyed by Daesh and by coalition bombing during liberation are being rebuilt. Among these are the Dominican al-Sa'aa church or Our Lady of the Hour, whose archive of ancient manuscripts was saved through the efforts of Archbishop Najeeb. With funding from the UAE, UNESCO is restoring the church as well as the historic al-Tahera that was almost completely destroyed, via its Revive the Spirit of Mosul initiative, partly inspired by the Pope's visit to Abu Dhabi in 2019, where he signed an historic pledge of fraternity with the Grand Mufti of al-Azhar and expressed empathy for victims of war in Iraq and Syria. Invoking the spirit of the 8th centenary of the meeting between Saint Francis of Assisi and Sultan al-Malik al Kāmil at the height of the crusades, the Pope spoke of harmony between Islam and Christianity and the West and the Middle East. Soon afterwards, funds from the UAE became available to begin restoration work on the churches in Mosul's old city, marking the first time a Muslim-majority nation financed the reconstruction of churches in the Middle East. The Pope will also visit the largely Syriac-Catholic village of Qaraqosh, which was ravaged by ISIS but is slowly rebuilding its community.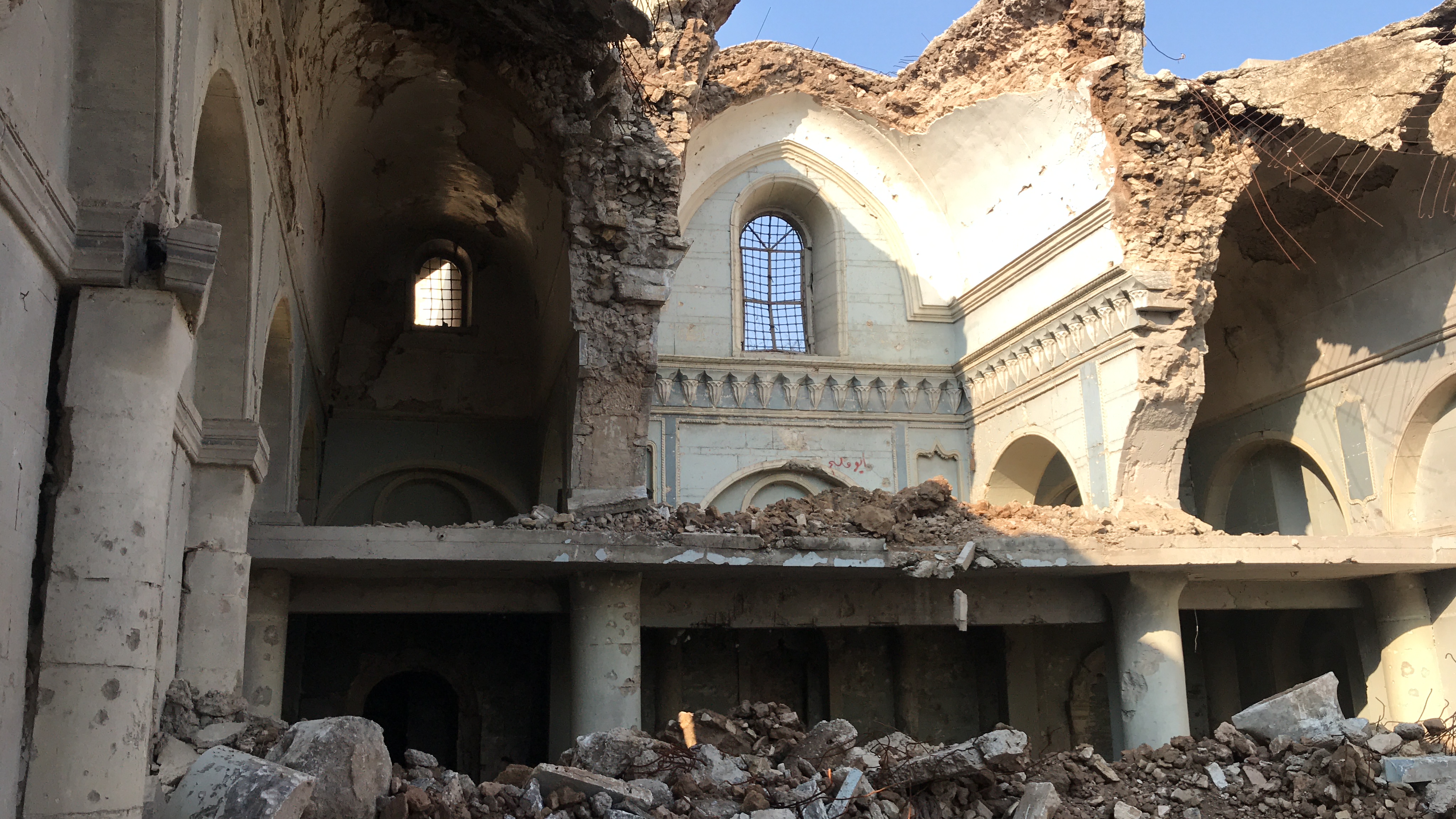 Discrimination against Iraq's Christian community did not begin or end with Daesh, Father Najeeb said, but was exacerbated by regime change in 2003, when Iraq shifted from a secular to a sectarian state. Daesh, said the archbishop, was an umbrella group formed from various factions including Salafists and other Sunni extremists. In fact, in the aftermath of the invasion, the once secular Baath party whose ranks had included the Chaldean Catholic Tariq Aziz, increasingly joined forces with Islamist fighters as part of the larger resistance efforts. Mosul, with its 1,500-year history of Christianity, became a hub for this strange new alliance.
At the same time, Father Najeeb established his Centre Numérique des Manuscripts Orientaux to preserve rare Christian, Muslim and Yezidi manuscripts from the Dominican priory in Mosul, largely through digitization. But by 2007, he said, the growth of Al-Qaeda in Iraq lead to targeted killings of priests in Mosul, where he had been the chief archivist at the Church of the Clock since 1990. His superiors ordered him to move to Qaraqosh, in the Nineveh Plain, 20 kilometers away, for his own safety.
Still, he would rise at dawn each day, dressed in civilian clothes, and drive to Mosul. He would tell the local children to alert their parents, and he would hold mass in secret in the underground caves below the church floor that had once held the first printing presses brought by the Dominicans in the 18th century. "Oui, comme des chrétiens du premier siècle," he told me, when I pointed out the similarities to the early Christians.
The Dominicans' intellectual tradition in the region — one that included schools and the spread of Syriac language studies — became their very refuge. The community had also sought shelter there, said Father Najeeb, when American bombs rained down during the 2003 invasion, and again in 2016, when the U.S.-led coalition forces carpet-bombed the old city during their campaign of "liberation" from Daesh.
Father Najeeb told me he had now digitized thousands of ancient manuscripts from the priory archive. Pas juste des manuscrits chrétiens, he emphasized, but also Muslim, Yezidi, Zoroastrian, and Mandean documents that spoke to the region's rich historical weave.
The Church of the Clock, which once hosted art exhibitions and outdoor cinema screenings for locals of all faiths, is near the al-Nuri mosque and the old Jewish quarter. While the 2003 invasion ignited the sectarian unravelling of the old secular state, the destruction of Mosul's old city erased the very physical evidence of the nation's diverse past. Preserving the manuscripts is not just about saving documents, said the archbishop, but about saving Iraq, or at the very least, to paraphrase UNESCO, reviving its long-suffering spirit.
Now these ancient manuscripts are stored not in church catacombs, but in the climate-controlled basement of Father Najeeb's residence in Erbil. These manuscripts are not about this religion or that," he said, "they are part of our human heritage."
Locals would bring manuscripts from their private collections to the center to be digitized, he explained. 'We managed to save the collection when Daesh arrived in Mosul. When the Salafists threatened us — before Daesh — in 2007, we took this collection to Qaraqosh for safe keeping and ongoing preservation. We went back and forth like I still do — from Qaraqosh to Mosul. I would go in an old car dressed in regular clothes to escape attention. Slowly we transported the entire collection and the hard drives. In 2014 we brought them to Erbil — just 10 days before ISIS attacked the Nineveh Plain. On July 25th I brought thousands of archives, manuscripts, paintings, objects from Qaraqosh to Erbil and put them in this center. We have four studios here for digitizing and cleaning and repair. This collection is now in a safe place — but thousands of books were in the church that weren't saved.'
"We preserved this collection of manuscripts, photographs, and archives," the archbishop continued, "this history of Mesopotamia and all its religious minorities. Daesh tried to destroy our heritage as well as our people. We tried to save both."
"You can't save a tree without saving its roots," he explained. "You have to save both together or they will both be destroyed. We have a history here. Christians have been here for over 2,000 years and our mother tongue is Aramaic. All this heritage — human and cultural — co-exists again, even though Daesh tried to destroy both. I wasn't alone of course — there were many priests and bishops and Christian families who tried to save their collections — and their children — at the same time.'
The day that Daesh invaded the Nineveh Plain, Father Najeeb told me, was the Chaldean holy day of the Transfiguration. "The 6th of August 2014," he said, his kind, lively eyes turning sombre. "The very night when Christ's body transformed into light became a dark one for us."
Qaraqosh was virtually emptied of its inhabitants in a few hours, and Father Najeeb recounted the events of that fateful night. 
'They were just on the other side of the border." I saw them with my own eyes, with their pick-up trucks, their kalashnikovs. We were almost done for. I was in my car, full of ancient manuscripts. Then in the early morning the Kurds opened the borders so that thousands of people could escape by foot. Cars were prohibited for security reasons. Only people. I had to stop and ask people fleeing — even children — to carry the manuscripts — these treasures from the 12th century and beyond — and bring them here to Erbil."
He paused and took a deep breath before describing "a child of 10 years old who carried seven precious manuscripts from the 13th and 14th centuries." 
Archbishop Najeeb said he hoped that the Pope's visit, "will bring the world's attention to the suffering of Iraq's Christians and show that war is not the solution, only peace."
In nearby Qaraqosh, the whole town was preparing for the highly anticipated arrival of Pope Francis, who is scheduled to visit the local community at the al-Tahira al-Kubra church on Sunday March 7th before the 10,000-person mass at the Franso Hariri stadium in Erbil.
Posters hung on streets with sayings of Pope Francis in Arabic: "God's forgiveness is stronger than any sin," "A little bit of mercy makes the world more just," and "Hope is like yeast that makes your soul rise."
A church choir was practising special Syriac Catholic hymns to be sung for the pontiff, and a local women's group was busy making a traditional Syriac scarf for his Holiness. A special Facebook page dedicated to his visit had become a virtual shrine, full of videos of prayers, intercessions for the Pope's safety, and performances by the church's youth group.
"We are waiting eagerly for the Pope's visit," said 28-year-old teacher and poet, Rami Esa Saqat, who fled with his entire family in 2014. "When he comes here, peace will prevail in Iraq."
Saqat said people in Qaraqosh were not afraid of recent missile attacks by extremist groups as they were far from American military bases in Erbil. "We hope the Pope's visit will create a feeling of reconciliation between Muslims and Christians."
When Saqat returned to his hometown in November of 2016, he said, "More than 150 houses were destroyed, many churches burned, including the Al Tahira church — built in 1932 — it was badly damaged." Seeing this made Saqat feel "paralyzed by grief," he said.
But now, as almost half the town's Christians have returned and the church has been rebuilt, "We hope that the Pope's visit will fill us with love and peace and blessing — and we thank him for coming."
Saqat's poetry includes lines about his displacement from Qaraqosh in 2014 and his identity as a Christian, such as: "It's terrible to awake with the sound of shelling that beats the church bell to the first light" and "We Christians are flowers in the heart of Iraq, our homeland." He has penned a special poem for the Pope in English:
"And now God's love and endless blessing/ Are embodied in Pope Francis' visit, dressing/ And curing our wounds which are deep and depressing/ And granting us a new soul and breath/ Which can always defeat death/ So, your love for us is our great wealth."
Saqat also hoped the Pope's visit would encourage young people, many of whom are keen to emigrate amidst growing uncertainty, unemployment, and corruption, to stay in the country. I have many friends and family members who live outside Iraq," he said, "but I want to stay in Iraq. I love my town. I feel a connection to my history and my people here. As a teacher, I can help educate young people and raise a new generation that can help Iraq rise and never have war again."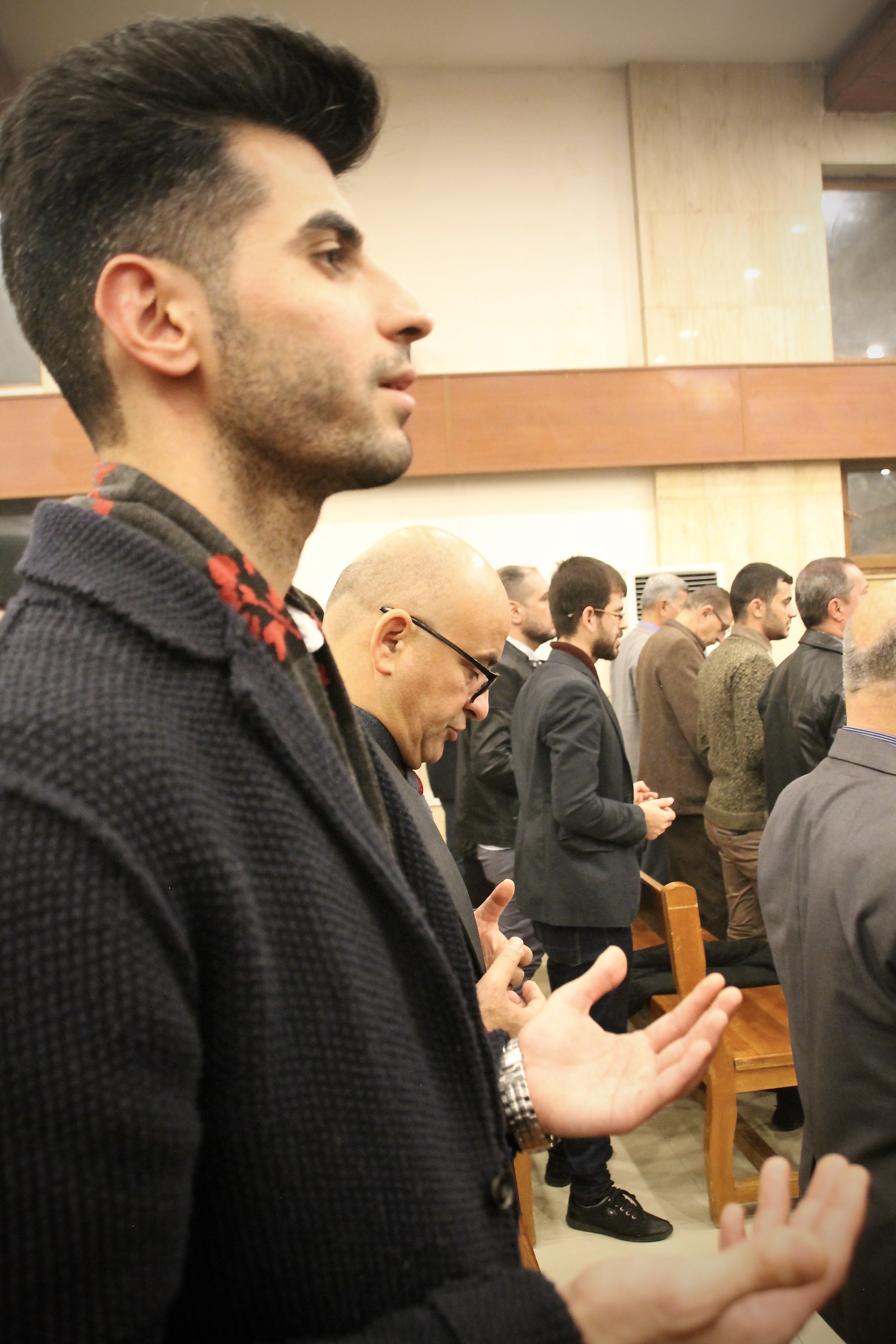 Still Christians face ongoing challenges in Iraq.
Many who fled extremism are still fighting an uphill bureaucratic battle to reclaim their homes from squatters connected to powerful militias. Human Rights Watch's 2019 report told of "taxation" on goods transported from Mosul into the Nineveh Plain by the Shi'a-dominated PMF Brigade, ongoing harassment of Christian women for not wearing hijab, and intimidation of Christians celebrating religious holidays that coincided with Muslim ones, like Ramadan or Ashura. Unsurprisingly there was a high rate of emigration and Syriac language school closures. Christian heritage sites were also targeted.
"At year's end," the report stated, 'the central government had not opened an investigation of the alleged ISF (Iraqi Security Forces) and PMF (the Shi'a dominated Popular Mobilization Forces) destruction of the second century tomb in Qaraqosh of religious notable Youhana al-Delimi, despite a lawsuit filed by Syriac Orthodox Archbishop Dawood Matti Sharaf in 2017. According to Syriac Orthodox Archbishop Sharaf, the government had neglected to address the issue."
When asked about how the coronavirus lockdown that has closed houses of worship and imposed a curfew on weekends and evenings through March 8th might affect the Pope's visit, he replied with a kind of magical thinking, "Maybe everything will change when the Pope comes."
Meanwhile, Iraqi Christians, some of the nation's original inhabitants, are still waiting for a miracle.
Hadani Ditmars is the author of Dancing in the No-Fly Zone: A Woman's Journey Through Iraq, a past editor at New Internationalist, and has been reporting from the Middle East on culture, society, and politics for two decades. Her book in progress, Between Two Rivers, is a political travelogue of ancient and sacred sites in Iraq. The views expressed in this piece are her own.
---
The Middle East Institute (MEI) is an independent, non-partisan, non-for-profit, educational organization. It does not engage in advocacy and its scholars' opinions are their own. MEI welcomes financial donations, but retains sole editorial control over its work and its publications reflect only the authors' views. For a listing of MEI donors, please click here.