In this week's Monday Briefing, MEI experts Gerald Feierstein, Paul Salem, Alex Vatanka, W. Robert Pearson, and Mirette F. Mabrouk provide analysis on recent and upcoming events including Secretary of State Mike Pompeo's recent visit to the Middle East, recent protests in Sudan, Iranian outreach to Baghdad, President Trump's discussion with President Erdogan on treatment of the Kurds, and the first meeting of the East Mediterranean Gas Forum.
Pompeo's visit raises more questions than it answers
Gerald Feierstein
Senior Vice President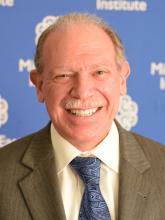 For a region looking for clarity on the Trump administration's policies and plans, Secretary of State Mike Pompeo's extended tour did little to satisfy his interlocutors. In an eight-day, eight-nation barnstorming tour of the Middle East, Pompeo set out to accomplish two goals: reassure friends and partners in the region that the U.S. commitment to remain engaged was unchanged and re-focus attention on Iran's malign behavior as the root cause of regional insecurity and instability. The highlight of the tour was to be a highly anticipated, high-profile speech attempting to establish those two principles delivered to an audience at the American University of Cairo (AUC) on Jan. 10. But the speech largely fell flat and the audience response in the AUC hall, as well as more broadly, was, at best, tepid.
In a sense, Pompeo (as well as National Security Advisor John Bolton, who was crisscrossing the region at the same time) was embarked on a mission impossible. His message of U.S. resolve and commitment was consistently undercut by President Donald Trump, who continued to tweet conflicting messages from the White House while Pompeo was struggling to project consistency. Even his announcement that the U.S. and Poland would co-host a ministerial, Feb. 13-14, in Warsaw left observers scratching their heads. Billed as a meeting to discuss Middle East peace and security, the State Department's announcement made clear that the issues on the agenda were focused on Iranian misdeeds. The ministerial "will address a range of critical issues including terrorism and extremism, missile development and proliferation, maritime trade and security, and threats posed by proxy groups across the region," the State Department announced. Oddly, Israeli Prime Minister Benjamin Netanyahu reported that he had been invited to attend the meeting, which will otherwise apparently be held at the foreign ministers' level.
In the end, Pompeo was forced to cut his tour short by a day to attend to a family emergency at home. His speedy departure from the region was undoubtedly a mercy to both Pompeo and his hosts.
@j_feierstein
Repression is not a viable future
Paul Salem
President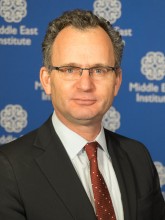 Jan. 14 marked the eighth anniversary of the Tunisian uprising, when an empowered public forced a corrupt dictator to abandon office. That demonstration of power galvanized publics throughout the Arab world to demand accountability and change. But of all the countries affected by that shift, only Tunisia has found a democratic path forward, with other countries succumbing to civil war or a ferocious reassertion of authoritarian power. The growing acceptance by regional states of the Assad regime after the most brutal repression of a population in modern times, painfully underscores the regional preference for authoritarian government, a preference that is shared by the rising powers of Russia and China, and — to say the least — not opposed by the current US administration.
But public demands for accountability and inclusion cannot be put back in the bottle. They reflect deep underlying changes in information and communications technology, education, and urbanization. As recent protests in Sudan demonstrate, the rising tide of public awareness and empowerment will continue to challenge authoritarian structures.
To seek to build more repressive states, as the main response to public empowerment, is neither wise nor sustainable. Increased repression will only make the eventual eruptions more severe, and a repressed and disempowered public is not a recipe for political stability or economic growth. Both republics and monarchies should find pathways to increase, not decrease, public freedoms and human rights, and work toward greater inclusion in politics and government and more public accountability of government officials and actions. Whether this goes in the direction of democratization or constitutional monarchy might vary from country to country, but resurgent absolutism should not be the future held out to the region's rising generations.
Iran moves to counteract US pressure on Iraq
Alex Vatanka
Senior Fellow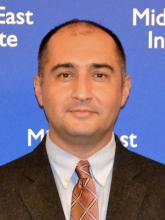 Iran was on the top of U.S. Secretary of State Mike Pompeo's agenda during his recent eight-nation tour of the Middle East. But it is American pressure on Iraq that Tehran seems most determined to counteract. Within a few days of Pompeo's visit to Iraq, Iran's oil and foreign ministers arrived in Baghdad, and President Hassan Rouhani is said to be on his way there soon. Tehran has good reasons to view Iraq as a prime battleground against American efforts to isolate Iran in the region. On the economic front, energy cooperation is a strategic factor. Tehran provides Iraq with both gas and electricity, even though the price has often been a point of dispute. Not only does Iran want to maintain its gas exports to Iraq, but it hopes to increase them. Iraq has emerged as a key buyer for Iran, which has plenty of gas but few export markets. Iran also needs Iraq to be cooperative to find a workable way for Tehran to be paid for its exports given the threat of U.S. secondary sanctions on entities that do business with Iran. The Trump administration has twice issued waivers to Iraq so it is able to buy energy from Iran, but it is uncertain if it will continue to do so in the future. While official Iraqi statements suggest that Baghdad cannot or will not adhere to U.S. sanctions on Iran, the Iranians are taking no risks, hence the flurry of senior officials visiting Baghdad. In a way, the biggest test to date for President Trump's "maximum pressure" campaign against Iran is still under way in countries like Iraq that are squeezed by both Iran and the United States.
@AlexVatanka
Trump and Erdogan try to start over
W. Robert Pearson
MEI Scholar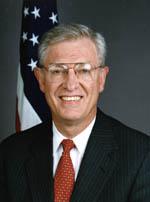 In their phone call on Jan. 14, President Donald Trump and President Recep Tayyip Erdogan appeared to have tried to start over from their conversations in December. Mr. Trump took a distinctly softer tone, asking Turkey not to "mistreat" the Kurds, and Mr. Erdogan did likewise apparently, saying he was "saddened" by Mr. Trump's threatening tweet of two days ago. Mr. Trump's policy zigzagging will be a constant worry for the Turks, but Mr. Erdogan, according to Turkish news reports, expressed the hope that in this conversation the U.S. and Turkey had reached a decision of "historic" importance. The U.S., he said, had given Turkey permission to enter northeast Syria to a depth of 20 miles (30 kilometers). In effect, he got from Mr. Trump exactly what he wanted — the right to enter and occupy Syrian territory with Turkish troops — and without firing a shot. The result casts Mr. Erdogan once again as the Turkish David against the U.S. Goliath and will strengthen his hand in the upcoming local elections across Turkey on March 31. In the coming days, Mr. Erdogan will insist that the U.S. turn over its Syrian bases and surrender to the Turks any U.S. heavy equipment in the hands of the People's Protection Units (YPG). He almost certainly will have other demands as well. Any that Washington refuses will be attacked by Ankara as aiding YPG "terrorists." Mr. Trump's original decision announced in December directed the flow of events in a new direction — to a decline in American influence in the Middle East and an advantage to Russia, Iran, Syria, and, in northeastern Syria, to Turkey.

A series of firsts for Egyptian gas forum
Mirette F. Mabrouk
Senior Fellow, Director of Egypt program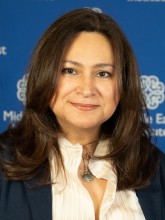 The regional gas forum Egypt hosted yesterday saw several firsts. It was the first such forum that the country had hosted, the invitees aren't usually found attending the same parties, and it has led to a declaration of the establishment of the East Mediterranean Gas Forum (EMGF), bringing together Egypt, Cyprus, Greece, Italy, Israel, Jordan, and Palestine. The new forum will be based in Cairo and is in line with Egypt's ambitions to establish itself as a regional hub for natural gas.
Israel was represented by Energy Minister Yuval Steinitz, the first such visit by an Israeli Cabinet member since the 2011 Arab Spring uprising. Steinitz referred to it as "the most significant economic cooperation between Egypt and Israel since the signing of the peace treaty 40 years ago," in comments to the Associated Press. "It brings all of us — Jordan, Israel, Cyprus, Greece, Egypt, the Palestinian Authority, and Italy — together."
Egypt and Israel signed a $15 billion gas deal last year and the first shipments, from Israel, are slated for early this year, from Israel's Tamar field via Delek Drilling and its U.S. partner, Noble Energy, which would sell a total of 64 billion cubic meters of gas over a 10-year period to Egypt's Dolphinus Holdings. The forum offers Egypt the promise of both financial reward and regional leverage.
Apart from the inclusion of both the Israelis and the Palestinians in any such forum, the announcement was particularly relevant because of its future implications. Europe is keen on encouraging new delivery routes in order to lever itself free of current Russian control over the region's energy market and the Eastern Mediterranean provides both new finds and delivery routes.
There are few factors that encourage regional stability like the promise of financial gain. It can, however, place pressure in the opposite direction, and there is potential for regional upset. Turkey has made no secret of its displeasure with Cyprus over the issue of energy and has demanded that it cease exploration operations. More to the point, Turkish President Recep Tayyip Erdogan directly addressed companies wishing to do business with Cyprus: "Energy companies who involve themselves in irresponsible steps taken by the Greek Cypriot side can never be met with understanding," he said. "They could lose a friend in Turkey."
Photo: ANDREW CABALLERO-REYNOLDS/AFP/Getty Images